By Jeff White (jwhite@virginia.edu)
VirginiaSports.com
CHARLOTTESVILLE –– He may be new to the University of Virginia football team, but Anthony Johnson is familiar with its home field. During his three seasons as a Louisville Cardinal, Johnson played at Scott Stadium twice. Virginia defeated Louisville there 27-3 in 2018 and 31-17 last fall.
"It's kind of ironic how it all worked out," Johnson said with a smile after practice Tuesday. "I'm 0-2 here, so if you can't beat 'em, join 'em."
A 6-1, 205-pound cornerback, Johnson transferred to UVA midyear after graduating from Louisville with a bachelor's degree in business marketing. He has two seasons of eligibility remaining and has been working with the first-team defense this spring.
"Anthony adds confidence, he adds urgency, he adds some experience, and he adds desire," head coach Bronco Mendenhall said. "He's currently playing well. He's physical. He really loves the game. Very teachable, very coachable, and he's a big physical presence. And so I've been impressed so far, and he's much-needed in our secondary."
Johnson, who plans to pursue a master's degree in the School of Education and Human Development, has "a good head on his shoulders," said Ricky Brumfield, who coaches the Cavaliers' cornerbacks. "He knows what he wants. I really like him."
Off the field, Brumfield said, Johnson is "a jokester. All he wants to do is joke. But when it's time to play ball, A.J. plays ball, and he has a great demeanor in everything that he does."
Johnson grew up near Fort Lauderdale, Fla., and attended Chaminade-Madonna College Prep. "Nice school, nice campus," he said. "It prepared me for the college transition."
He graduated from high school early and enrolled at Louisville in January 2018. Johnson appeared in 32 games for the Cardinals, with five starts. He's the only player in Louisville history to have broken up a pass on three consecutive plays, and his other highlights included a strong performance in a 2019 win over UVA at Cardinal Stadium.
After earning his bachelor's degree, though, Johnson was ready for a change.
"I was just looking for a new opportunity," he said, "a new place that I could call home that better fits my playing style and gives me the best opportunity to play at the next level."
After Johnson entered the transfer portal, the Cavaliers pounced. Defensive coordinator Nick Howell wasted no time in contacting Johnson.
"Everything happened fast," Brumfield said. "We knew we had a need at the cornerback position."
Johnson had no connection to the Cavaliers, "but it's a program I've always had an eye out for," he said "I'd seen them play football and saw they had played big corners, guys like Bryce Hall, Juan Thornhill, Tim Harris. Coach Howell thought I'd be a great fit with the kind of corner I am."
Brumfield described Johnson as "a physical corner" who specializes in press coverage. "He's more of an in-your-face type player," Brumfield said. "He did a lot of that at Louisville, and he's doing a good job of it here."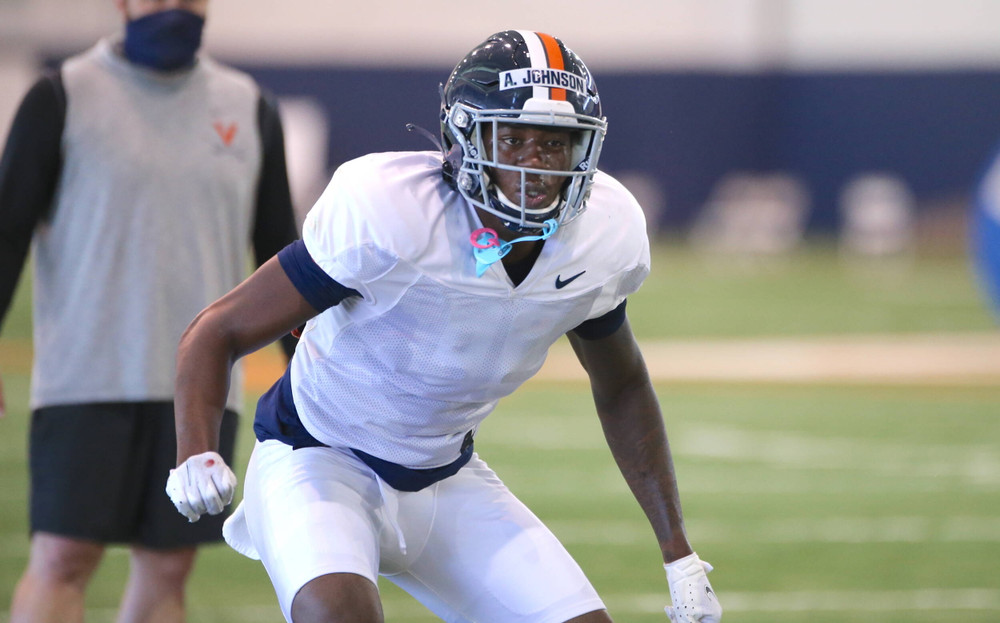 Johnson said it was important for him to enroll this semester, "just for me to be around the team and the camaraderie, just to get familiar with guys and bond with guys, to go through some of these hard workouts to get us conditioned. Now that we're here at spring practice, we've got a feel for each other, and it kind of feels like I've been here the whole time, honestly."
His new teammates could not have been more welcoming. "As a team, we all want to get better," Johnson said. "I think the competition here is going to make everybody play better, and eventually we're going to make a new standard for this defensive back group here and this defense."
For most of the spring, Brumfield said, Virginia has had seven cornerbacks available at practice: Johnson, Darrius Bratton, Tenyeh Dixon, Perris Jones, Dave Herard, Sean Moore, and Joe Comer, another midyear transfer. Three other corners are recovering from injuries: returning starter Nick Grant, Elijah Gaines, and Fentrell Cypress.
The Cavaliers' safeties include Joey Blount, De'Vante Cross, Antonio Clary, Coen King, and Chayce Chalmers, plus Donovan Johnson, who's recovering from offseason surgery.
Injuries ravaged Virginia's secondary in 2019 and again last season. That forced the coaching staff to thrust inexperienced players into major roles, and the Hoos' pass defense suffered. In retrospect, Mendenhall said last month, he "didn't adapt soon enough in terms of resources, time spent and possibly even schematic changes at that time to address what they currently were playing with. And so that in and of itself led to more big plays and really a defense that didn't allow us to have the [desired] kind of season."
To strengthen the defense, Mendenhall changed some coaching assignments early this year, putting Brumfield with the cornerbacks and Shane Hunter with the safeties.
"I've just basically shifted resources now to compensate for what I think is a need to be addressed," Mendenhall said, "but more importantly an organizational imbalance issue with workload that needed to happen probably a year ago."
There's also a heightened emphasis, Brumfield said, on keeping the secondary healthy. "We're trying to make sure we help the guys take care of their bodies better to limit the amount of injuries that we get, whether it's more hydration or stretching or extra flexibility," he said. "We're trying to help them take care of their bodies a little better."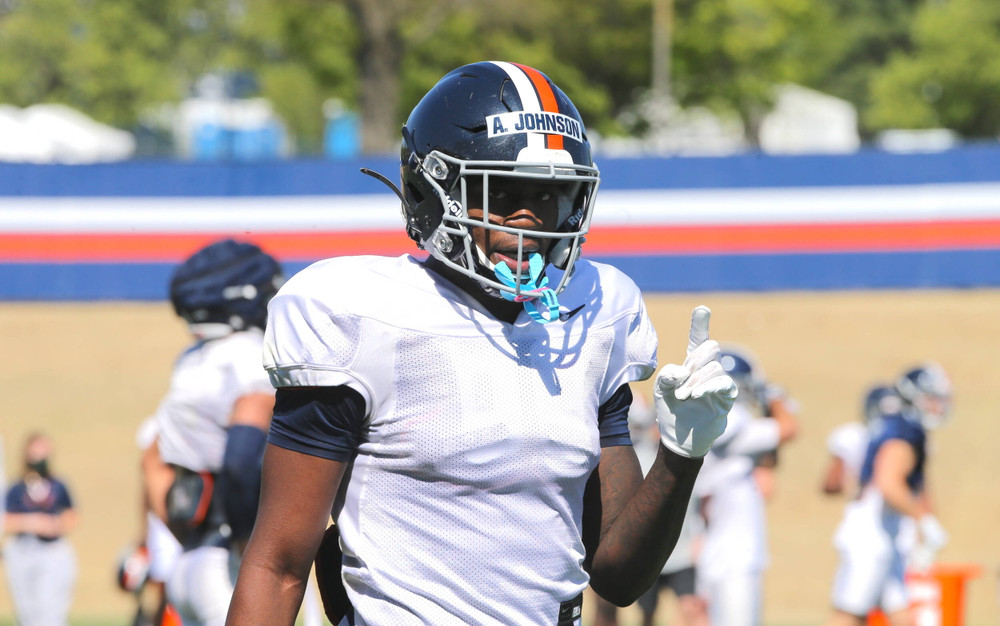 Johnson said the secondary knows it needs to elevate its performance. "We're getting guys getting back healthy and we're focusing on our technique and we're locking in on our assignments and limiting big plays down the field. We play the hardest position, because everybody sees the immediate results when it happens, but think we're going to have a great group this year in the secondary. We're doing a great job communicating, and I'm really excited for this group in the future."
He's meshed well with his new position coach, Johnson said. "Coach Brumfield brings a lot of energy. He brings a lot of passion and swag to the meeting room, and he does a great job detailing us on what we need to do and what we need to fix. He does a great job explaining and giving us examples of how to do it and not how not to do it, which is a great learning tool."
Floridians abound on the UVA roster, including defensive backs Herard (Fort Lauderdale), Clary (Jacksonville), Moore (Cutler Bay) and Johnson (Coconut Creek).
"I knew Dave Herard [from high school]," Johnson said, "and we had a little communication when I was home [over the holiday break]. Clary is from a little up north, but he did a great job of reaching out to me when I first committed, and he's the safety that plays with me in the boundary. We've got a great chemistry. He's a great, physical player. Very smart. Loves the game, and we do a great job on that side together."
Johnson is rooming this semester with Comer, to whom he needed no introduction. Comer also began his college career at Louisville.
"He's just looking for a new opportunity too," Johnson said.
To receive Jeff White's articles by email, click here and subscribe.