By Jeff White (jwhite@virginia.edu)
VirginiaSports.com
CHARLOTTESVILLE –– At the start of his team's 15th and final practice of the spring, Bronco Mendenhall took the microphone Saturday and looked around at the fans basking in the sun on a gorgeous afternoon at Scott Stadium.
"As UVA's head football coach, I want to welcome you back officially," Mendenhall said. "We have a Coastal championship to defend, and I'm so glad you're here."
The crowd responded to Mendenhall's comments with a warm ovation. As delighted as the fans were to be back at Scott Stadium, though, the Cavaliers' players and coaches might have been happier to look in the stands and see what they call the Fourth Side.
"It's amazing, honestly, to hear the crowd roar," linebacker Nick Jackson said. "Just seeing everybody out there when you run out, it's a different feeling. It just makes you get into the zone, gets you ready to play, and it's just fun. It's just way more fun."
The Cavaliers enjoyed a decided home-field advantage at Scott Stadium in 2019, when they won their first Coastal Division title and advanced to the ACC championship game for the first time.
In 2020, with the COVID-19 pandemic raging, the ACC scrapped divisional play, added Notre Dame as a temporary football member, and grouped all 15 teams together, with the top two advancing to the conference championship game.
At the Wahoos' home games, attendance never exceeded 1,000, and it was capped at 250 late in the season. But with the pandemic abating, 5,000 tickets were made available for UVA's spring game, and fans snapped up all of them.
"What a difference-maker that was," Mendenhall told reporters afterward, "to have more fans in the stands than we had all last year, and the number of tickets that were available, they were all gone. I was so appreciative of that, and my team was."
The Hoos learned last season, when they finished 5-5, that playing in near-empty stadiums is less than ideal.
Having fans in the stands "does make a difference in terms of the energy," Mendenhall said Saturday. "It does make a difference in terms of other people seeing you and kind of holding you accountable for your preparation, that makes a difference, and then it's just more fun. I would love to say it's the same with or without [fans]. It's not even close. It's way more fun when we have a Scott Stadium environment and a true Fourth Side. So I was just really thankful that those that could come made it today."
The crowd saw a lot of passing Saturday. With backup quarterbacks Ira Armstead and Jacob Rodriguez unavailable because of injuries, starter Brennan Armstrong took all the snaps in the 11-on-11 sessions, and he threw much more than he handed off.
For most of the spring, wide receivers Billy Kemp and Ra'Shaun Henry and tight end Jelani Woods, a graduate transfer from Oklahoma State, were featured prominently in the passing game. On Saturday, Henry was unavailable, and the coaching staff, knowing what Kemp and Woods can do, wanted to give more opportunities to other targets, most notably Dontayvion Wicks and Keytaon Thompson.
Both delivered. Wicks, a big, strong, explosive wideout who missed last season with an injury, caught several deep balls from Armstrong, including one for a touchdown.
"We're working to catch up Dontayvion as fast as we can," Mendenhall said. "So he's an essential part, not just an optional part, for our offense and for our receiving corps."
The 6-foot-4, 215-pound Thompson joined the program last summer after graduating from Mississippi State, where he primarily played quarterback. In his first season as a Cavalier, he lined up at receiver, running back and quarterback and finished with 332 all-purpose yards. He caught only seven passes in 2020 (for 98 yards and three touchdowns), but he's a more polished receiver this year, and he had that many receptions Saturday.
"We really like his ability to catch the ball," Mendenhall said. "We think we actually need another pass-catcher, and he's long, and he's got such a great catch radius that he's a tough match-up for linebackers or safeties."
Armstrong said the Hoos are looking to "push the ball down the field this fall," and Wicks and Thompson are excellent options in the passing game.
Wicks, who's 6-foot-1, 210 pounds, caught three passes for 61 yards and one TD as a true freshman in 2019 and was expected to play a leading role in the Wahoos' passing game last season.
"We always knew he was special," Armstrong said.
Wicks tore a ligament in his right foot last summer, though, and wasn't cleared until February. "Rehab was just long and hard," he said Saturday, "just getting up every day and doing the same thing. It gave me a lot of time to think, and having to do the same thing over and over helped me with consistency."
In Wicks' absence last fall, 6-foot-7 true freshman Lavel Davis Jr. emerged as a big-time target, catching 20 passes for 515 yards and five TDs. Davis injured his right knee in the Cavaliers' first practice of the spring, however, and he's likely to be sidelined at least until November.
Wicks said he's encouraging Davis, one of his close friends, to find ways to improve physically while rehabbing, "just to make him better for when he gets back."
His rehab was a grind, Wicks said, but it taught him valuable lessons. "It made me realize football is a privilege. It's not guaranteed. It helped me think about life after football, and the things that will happen after football, so it gave me a different perspective on life. So that just made me want to work harder, being that I'm able to come back and play the game again."
The Cavaliers averaged 30.7 points per game in 2020, and Armstrong believes the offense can be more productive this season. Virginia has an experienced offensive line, talented receivers, and a deep group of running backs, as well as a quarterback who totaled 552 yards rushing and 2,117 passing last season.
"Obviously in the spring I didn't use my feet too much," Armstrong said, "but I've still got my feet with me, I can still scramble and do all those other things that I'm kind of accustomed to. [The offense] could be pretty dangerous. I'm just excited because this is just the beginning of the offseason … We have a big summer coming up in workouts and then fall camp. We have a lot to improve on, but I'm super excited about where we're at now, and we've just got to continue to get better."
Virginia opens the season Sept. 4 against William & Mary at Scott Stadium.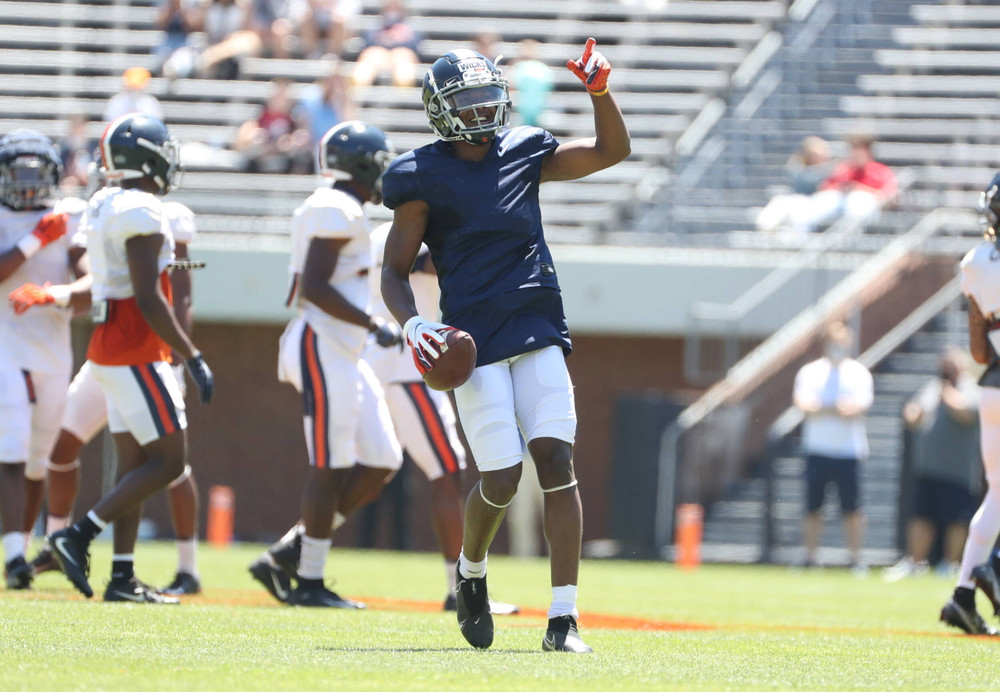 PROMISING GROUP: Six freshmen joined the program this semester after graduating early from high school: running back Amaad Foston, defensive backs Javin Burke and Langston Long, quarterback Jacob Rodriguez, linebacker James Jackson, and offensive tackle Logan Taylor.
"Amaad is most likely our best pass catcher out of the backfield, immediately," Mendenhall said. "And he's physical, and he's tough, so [he'll play on] special teams as well."
Rodriguez sat out the practice Saturday with a hamstring injury, "but he's done a really nice job, not only learning the offense, but he's an effective quarterback and very similar skill set to Brennan, which [would make for] kind of a seamless transition if he were to earn the backup role," Mendenhall said.
Overall, Mendenhall said, this is "the farthest-along group of first-years at midyear that we've had yet, and we have a whole other class coming, which I'm so excited about."
The rest of the 2021 recruits will arrive at UVA this summer.
ONGOING COMPETITION: Armstrong is entrenched as the starting quarterback, but the battle for No. 2 will continue during training camp, Mendenhall said.
The candidates are Ira Armstead, Rodriguez and Jay Woolfolk. A senior at Benedictine High in the Richmond area, Woolfolk will enroll at Virginia this summer.
The 6-foot-3, 210-pound Armstead flashed impressive athleticism as a true freshman last fall, but a knee injury cut short his first college season, and he wasn't a full participant in practice this spring.
"Jacob took way more reps the spring, was healthier, and probably is farther along in the mastery of the offensive content," Mendenhall said.
Woolfolk, like Armstrong, Armstead and Rodriguez, is a dual-threat quarterback. He's also a hard-throwing pitcher who plans to play baseball as well as football at Virginia.
"We're anxious for Jay to come as well," Mendenhall said. "And so I put him right side by side with the other two. We need a productive, durable player that can step in and be the No. 2, and so I'm really not willing to name it yet, because it's too close to the call."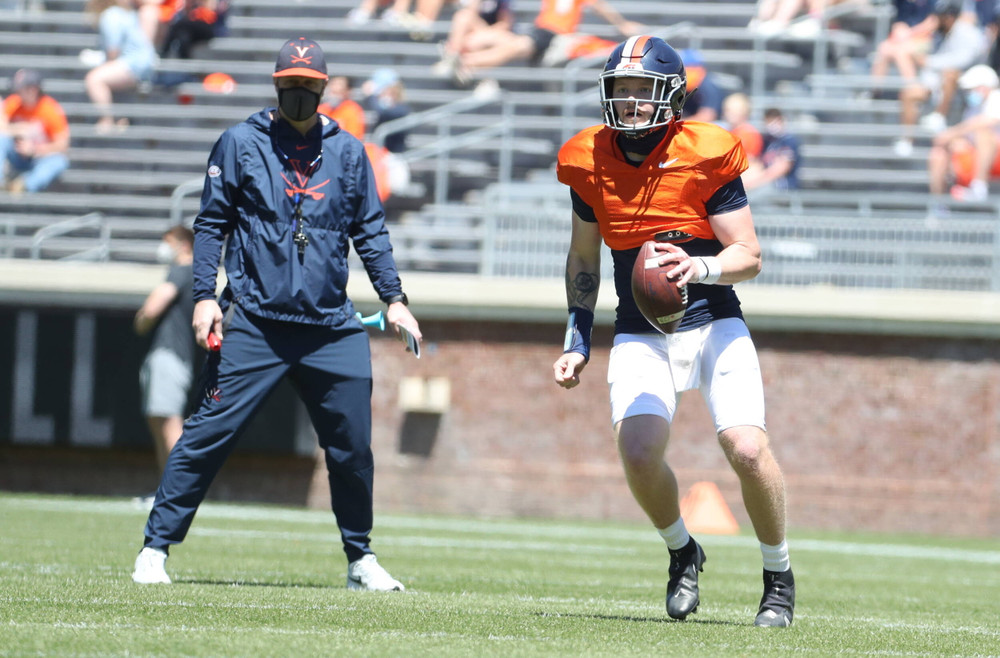 SOUND BITES: Available for Zoom interviews after the spring game were Mendenhall, Jackson, Wicks and Armstrong. Among their comments:
* Mendenhall on Ra'Shaun Henry, who had four TD catches last season: "He was, going into the spring game, our most productive receiver of the spring, and we really like how he's developed."
* Jackson, who led the Cavaliers in tackles last season, on the defense's performance: "I think that we took strides today, had a lot of people playing. The young guys, old guys, everybody took good reps. I think we were deliberate, and this whole spring I think that's a big thing that we're focusing on: just being deliberate every day and trying to get better every single day."
* Jackson on Virginia's offense: "All spring, they've just been giving us fits. Jelani, he's a matchup problem. Dontayvion, he's just an electric player that's always making crazy catches, crazy plays. You've got guys on that side of the ball who are just playmakers. You already know [Armstrong] is gonna make plays all around the field, and those guys are just really good. So just going up against them every single day, it's just fun, and it's good for the defense."
* Wicks on his first appearance at Scott Stadium since the 2019 season: "It was fun just playing with the team, connecting with each other, just getting back to what I do."
* Mendenhall on UVA's offensive philosophy: "There's been seven different Coastal winners. Someone has to win it again, we're the defending Coastal champion, and scoring points is directly tied to who's gonna win it. And so we're making an emphasis on playmaking personnel on the offensive side. That does not mean at the expense of the defense, but as many good players as we can put on the field that can catch and run and throw––or in Keytoan's case, any of those things––the better we're gonna be."
* Armstrong on the atmosphere at Scott Stadium for the spring game: "Just having people watching just brings a little bit more oomph to your game, and we're just excited to have hopefully a lot more people there this season."
To receive Jeff White's articles by email, click here and subscribe.