By Jeff White (jwhite@virginia.edu)
VirginiaSports.com
To extend its season for at least another week, the University of Virginia baseball team must win four straight games at the NCAA tournament regional in Columbia, S.C. That's a lot to ask of any team, but the Cavaliers have been under intense pressure for the past two months, and they haven't buckled.
"Certainly, our backs are against the wall like they have been in the back half the season," UVA head coach Brian O'Connor said Friday afternoon, "and we'll take that approach, starting tomorrow. It's win or go home."
The top seed in this double-elimination regional is Old Dominion, which edged fourth-seeded Jacksonville 4-3 on Friday night. The host team, however, is second-seeded South Carolina, which was third-seeded UVA's opponent in the opening game of the regional Friday.
USC fans made up most of the crowd of 5,444 at Founders Park, and they had more to cheer than did the Wahoos' supporters. The Gamecocks rallied for three runs in the bottom of the sixth inning, and Daniel Lloyd struck out the side in the top of the ninth to secure their 4-3 victory.
For UVA (29-24), this was its first NCAA tournament appearance since 2017. (The COVID-19 pandemic shut down the 2020 season long before the tournament was scheduled to be held.)
"It was a great college baseball game," O'Connor said. "Unfortunately, we came out on the wrong end."
The Gamecocks (34-21) will face ODU (43-14) in the winners' bracket Saturday at 7 p.m. UVA meets Jacksonville (16-33) in an elimination game Saturday at noon.
"We have a tough road ahead," Virginia pitcher Andrew Abbott said, "but as we were saying at the end of the [postgame team meeting], we've been here the entire year. We've had our backs against the wall the entire year. It's nothing we're not used to."
After dropping the opener of a three-game series with Georgia Tech in Atlanta on April 1, UVA was 11-14 overall and 4-12 in the ACC. However dire the Cavaliers' outlook might have seemed at that point, they weren't deterred.
Starting that weekend in Atlanta, they won six of their final seven series to even their ACC record at 18-18. Then, in Charlotte, N.C., UVA defeated Virginia Tech and top-seeded Notre Dame to reach the semifinals of the ACC tournament.
Junior third baseman Zack Gelof noted Friday that Virginia has extensive experience in must-win situations, "and certainly I think it will help tomorrow," he said. "As a group we're definitely disappointed today, but when it comes to tomorrow it's another chance to go out there and play with this group and this unit, so we're going to come out ready to go tomorrow and just have a lot of fun."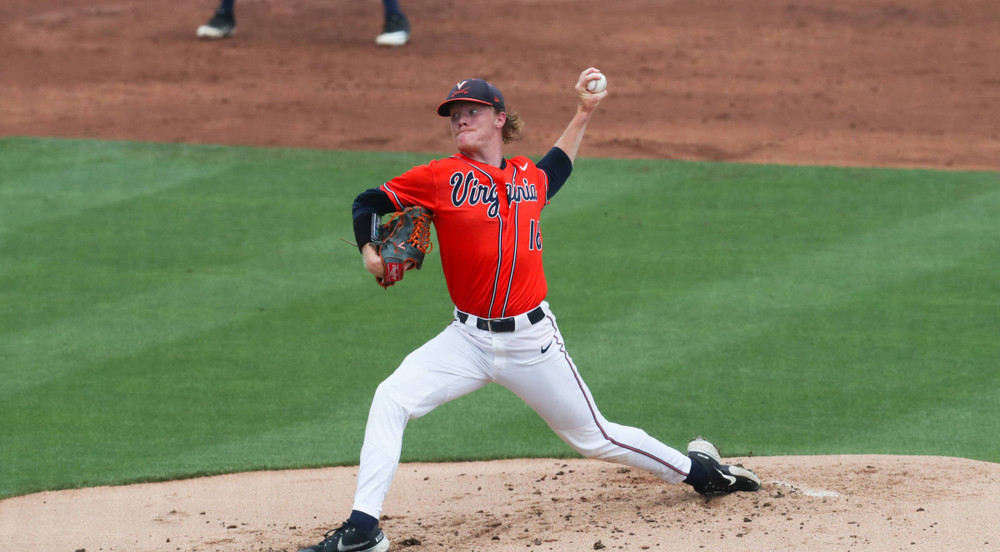 For some of the Cavaliers' veterans, this "will be their last opportunity to play in an NCAA tournament," O'Connor said, "so I know that they'll bring it tomorrow and the rest of the season."
Their clash Friday marked the first meeting between these perennial powers since 2011, when South Carolina ousted Virginia at the College World Series in Omaha, Neb. The Gamecocks went on to win their second straight NCAA title that season.
USC's starter Friday, Brett Kerry, entered the regional with a 5-1 record and 1.90 earned-run average and looked dominant for two innings. But Kerry gave up two solo home runs to Gelofs in the third––the first to freshman Jake Gelof, the second to big brother Zack–­–and didn't make it out of the inning.
The Hoos added another run in the fourth to stretch their lead to 3-1, and with their All-ACC pitcher in good form, they were in an enviable position. After giving up a first-inning home run to Wes Clarke, the slugger's 23rd of the season, Abbott retired 10 straight batters.
In the sixth, after walking the leadoff hitter George Callil, Abbott retired the next two Gamecocks. That brought up Clarke, and the 6-2, 236-pound junior delivered another big hit, this one a ground-rule double that moved Callil to third.
"He's a very, very good hitter," O'Connor said of Clarke, who graduated from Liberty Christian Academy in Lynchburg. "Hopefully you're not in the position that he can hurt you, and certainly he had a big day today, and he's proven that's why he is one of the great hitters in college baseball. You have to make your pitches against him. You can't make mistakes, because an elite hitter like that is gonna make you pay."
Josiah Sightler followed with a two-run double that tied the game, and senior Kyle Whitten took over for his classmate Abbott. Whitten faced only two batters, the second of whom singled in what turned out to be the winning run.
Until Friday, Abbott had gone 31 straight innings without allowing an earned run. He finished with six strikeouts and only one walk.
Against Clarke, Abbott said, "I missed my spots on both pitches, but he's a great hitter. You've got to give him his credit. He hits mistakes, and that's what good hitters do."
Junior right-hander Zach Messinger pitched the final 2.1 innings for UVA, striking out three, walking none and allowing only one hit, a seventh-inning single. In the sixth, the Cavaliers stranded runners at second and third, and they didn't mount a serious scoring threat thereafter.
Once the Hoos took the lead, they needed to extend it, Zack Gelof said. "At the end of the day we didn't really do enough."
Gelof, who went 3-for-5, did his part, and "there were other guys that that stepped forward," O'Connor said. "That's what it takes this time of the year. The team in the other dugout, no matter who we play the rest of the year, is a high-quality club that's earned the right to be here. So we need guys to step forward, and hopefully you have enough of them that do it."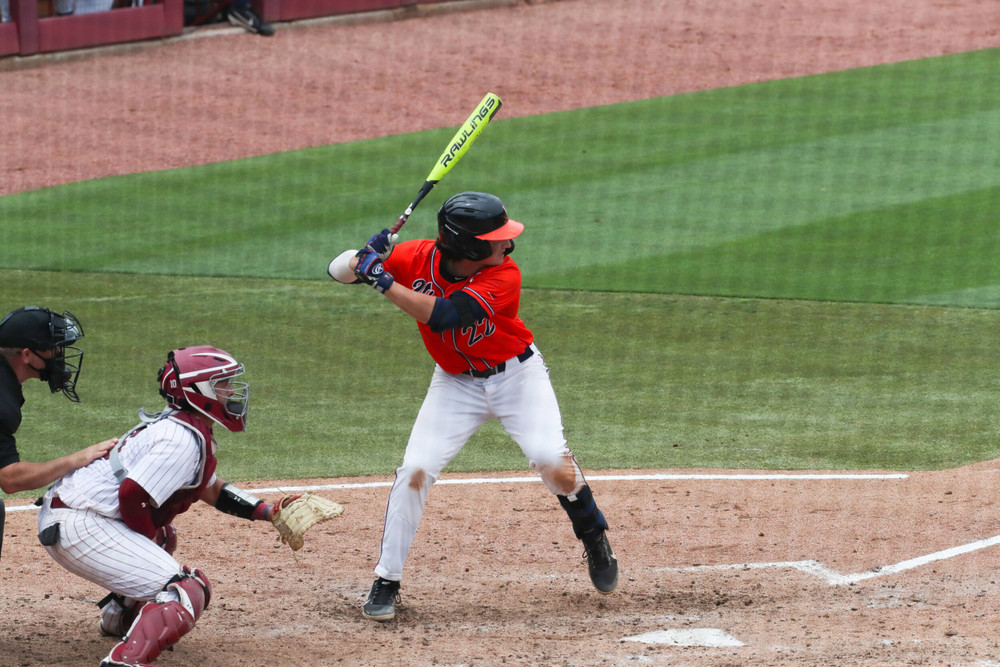 Abbott is confident the Cavaliers can do so. "We have a great pitching staff," he said. "We have guys left that can throw innings and get us through ball games. We have good hitters who are going to have good at-bats, whoever we play tomorrow, and produce runs for us, and then we're just taking it game by game."
Asked which pitcher would start for UVA on Saturday, O'Connor said he wasn't sure, but he knows the challenge facing his team is a daunting one. This is the Hoos' 15th NCAA tournament appearance under O'Connor, and in none of the first 14 did they win a regional after losing the first game.
These Cavaliers, however, have overcome significant obstacles, and they're conceding nothing.
"I feel good about the depth of our pitching staff to be able to do this" O'Connor said, "and we'll respond to be ready to play tomorrow."
From their regular-season struggles, Abbott said, the Hoos learned valuable lessons.
"We have to have timely hitting," he said. "We have to have pitchers that pitch in the clutch. We have to have all those things at one time so we'll be successful. Today we didn't have that, and we didn't come out on top. But then again, baseball is all about opportunity, and we have an opportunity tomorrow to come out and take advantage of those things."
To receive Jeff White's articles by email, click here and subscribe.