By Jeff White (jwhite@virginia.edu)
VirginiaSports.com
CHARLOTTESVILLE ––For the 64 teams that make the NCAA baseball tournament, the first obstacles on the road to Omaha, Neb., are the 16 double-elimination regionals held across the country.
Forty-eight teams get ousted in this opening round. The remaining 16 teams move on to eight NCAA super regionals, the winners of which advance to the College World Series.
The Virginia Cavaliers have made it to Omaha four times: in 2009, 2011, 2014 and 2015. In only one of those best-of-three super regionals UVA need fewer than three games to secure a berth in the CWS. In two of those super regionals Virginia lost the first game.
"They kind of went different ways," said O'Connor, who's in his 18th season at UVA.
When the NCAA tournament field was announced on May 31, Virginia was awarded the No. 3 seed in the regional at Columbia, S.C. Dallas Baptist was the No. 3 seed in the regional at Fort Worth, Texas. Each defied the odds and emerged victorious from its regional, and one of them will be heading to Omaha next week.
In their super regional, UVA (33-24) and DBU (40-16) will clash at least twice at Founders Park in Columbia. They're scheduled to meet at noon Saturday, at noon Sunday and, if necessary, at 1 p.m. Monday. ESPN will televise the series opener.
His players "know what's in front of them," O'Connor said Friday. "They know they need to be ready to play tomorrow, and then, no matter how it starts, it's about winning a series."
In a typical season, this series would be played in Dallas or in Charlottesville. But the NCAA, citing safety concerns related to the COVID-19 pandemic, decided ahead of the tournament that the super regionals would be held at sites that also and hosted opening-weekend regionals. And so the Wahoos and the Patriots will meet at a stadium that's about 1,000 miles from Dallas and 360 from Charlottesville.
"That's unfortunate," O'Connor said. "It really is. It's unfortunate for the Dallas Baptist team. It's unfortunate for the Virginia Cavaliers that we are not, whether it be in Dallas or Charlottesville, playing in front of a full stadium."
At each of the other seven super regional sites, one of the teams represented is the host school.
"It all stems back from the NCAA making a decision that everything was going to run through the [regional] sites when those things were decided," O'Connor said. "Unfortunately, this was the one match-up [where] you have two 3-seeds matched up."
He wishes the NCAA had reversed its decision, O'Connor said, but he added that he's "very, very thankful to the University of South Carolina. They have been tremendous hosts and continue to be tremendous hosts, when they don't even have a team in it. I'm sure it's incredibly tough for them, but they've been very, very gracious."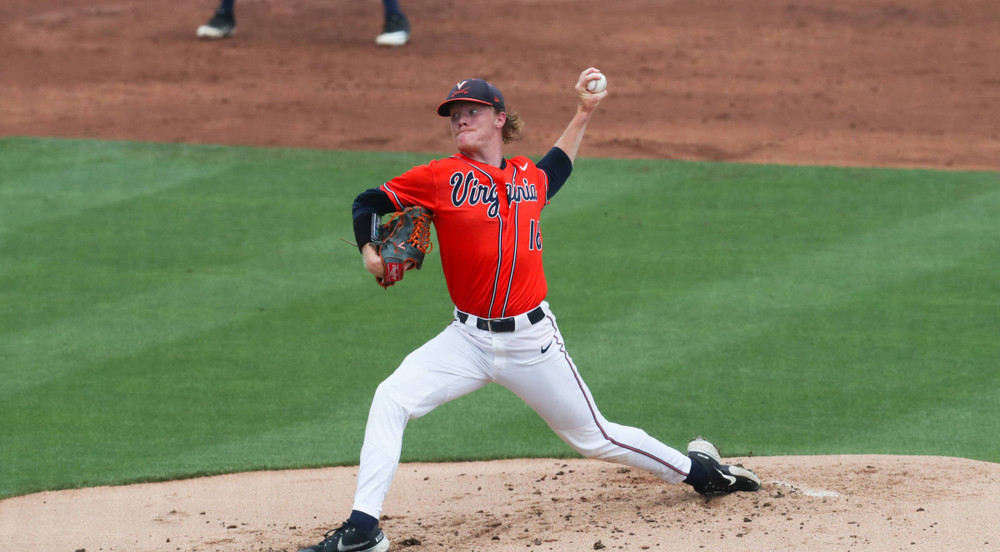 Columbia has become the Cavaliers' second home. After Virginia defeated top-seeded Old Dominion to win the regional Tuesday, O'Connor opted to not have his team bus back to Charlottesville and then return to South Carolina about 48 hours later.
"You play the amount of games we did in a short period of time with the heat here, our guys needed to rest, get off their feet, and not travel," said O'Connor, whose team won four straight games at Founders Park after losing its regional opener to South Carolina.
All-ACC pitcher Andrew Abbott (8-6, 2.82 ERA) will start for the Cavaliers in Game 1. The senior left-hander will be facing a formidable offense. Dallas Baptist averages 7.9 runs per game.
The Patriots have five players with 10 or more home runs, "and then they've got speed as well," O'Connor said. "They've got guys that can swipe a bag if they're not hitting the ball out of the ballpark. So there's multiple threats in their lineup."
Dallas Baptist's Game 1 starter, junior right-hander Dominic Hamel, is 13-2 this season. He's struck out 129 batters in 86.2 innings.
"This is the way it is the rest of the way out," O'Connor said. "You're going to face offensive clubs that are versatile, that can beat you in different ways, and you're going to face other pitching staffs, in most cases, that are as good as yours."
O'Connor and his Dallas Baptist counterpart, Dan Heefner, both have roots in Iowa, and they're good friends. Their teams also met in 2017, splitting two games at the NCAA regional that host TCU won in Fort Worth, Texas.
For the Cavaliers, that marked the 14th straight season they'd advanced to the NCAA tournament, which they won in 2015. But they missed the NCAAs in 2018 and '19 and then, off to a 14-4 start, saw the pandemic shut down the 2020 season well before any tournaments were scheduled to begin.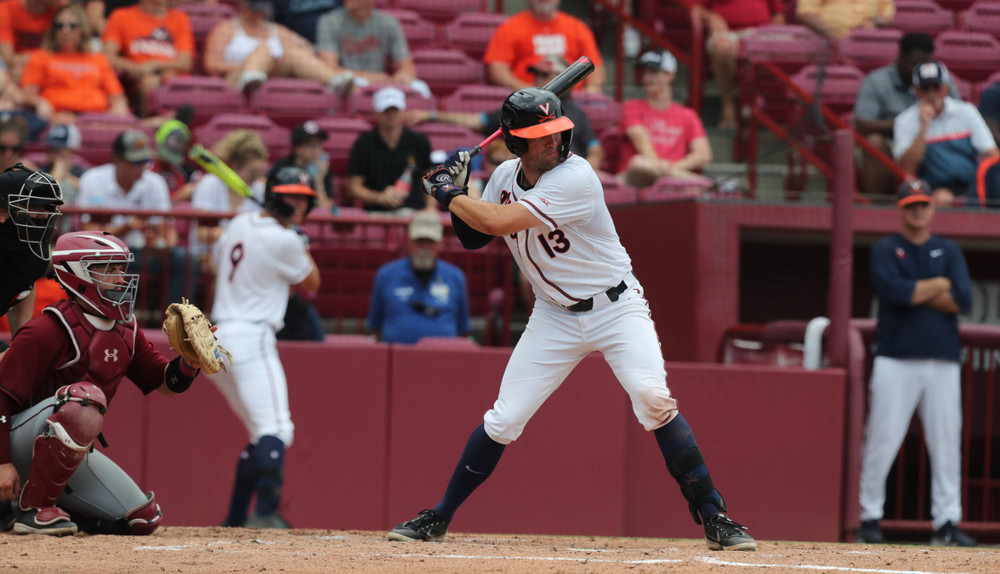 After losing 12 of their first 16 games in the ACC this spring, the Hoos were in danger of sitting out another NCAA tournament. But in early April they rallied to win the final two games of their series with ACC rival Georgia Tech in Atlanta, and they've stayed hot ever since.
Virginia won six of its final seven series to finish the regular season with an 18-18 conference record. The Hoos then won two games in the ACC tournament, one of which was a 14-1 rout of top-seeded Notre Dame.
"It's been a crazy ride, crazy turnaround, and I can genuinely say that I'm not surprised," senior Alex Tappen said Friday. "If any group of guys were to do that, to the extent of what we've done to where we're in a super regional, it's this group of guys. I've loved every minute of it, and it's just an unbelievable ride, unbelievable journey that we've been on.
"We kind of set the tone at Georgia Tech after we lost that Friday game. We were like, 'Our backs are up against a wall.' We went out and we understood that we had to win every single series from there on out to at least have a chance at making the tournament. And eventually we lost that series to Louisville, and we had to make it up with a sweep, which we did with Wake Forest. While it was all happening, it was such a changed view of the team. It was like in the beginning of the year, everyone was timid, everyone was on edge, kind of pressing. And then we got to Wake Forest and the last two weekends, and I was like, 'I have no doubt that we're gonna be able to do this. I have no doubt that we're gonna be able to make up the sweep and get to .500.' And then from there on out, the confidence in this team is just oozing right now, and it's an awesome group to be around right now."
UVA catcher Logan Michaels agreed. "You just look at this whole team, and we just never gave up on each other. We knew what type of team we had. We could have easily just sat down and thrown the season away when we got to be so low in the season, but everybody just each and every day kept showing up and working hard."
O'Connor noted that his players came to UVA in part because of its history of postseason success. They were familiar with the feats of teams that preceded them at Virginia, O'Connor said, and believed that with hard work "they might have this opportunity that's in front of them, to play in a super regional and have a chance to advance the Omaha. Honestly, I don't think it's a surprise to any of them, because I know they know the level of talent that's on this team. So they're just looking for the opportunity again, it'll start tomorrow, to get out there and compete."
Led by Stephen Schoch, the bearded closer whose exploits on and off the mound have made UVA games must-see viewing for many fans, the Cavaliers haven't let the pressure get to them during the postseason. They don't see that changing.
"Everybody is pretty confident with where we are right now," Michaels said, "and we're all having fun. We're just playing loose. When you see stuff like [Schoch's interviews] online, it just shows we're just having a good time. We're enjoying the moment, just enjoying where we are, and I think that's been a big part for us."
To receive Jeff White's articles by email, click here and subscribe.