By Jeff White (jwhite@virginia.edu)
VirginiaSports.com
CHARLOTTESVILLE –– Long before either of them enrolled the University of Virginia, Nic Kent and Connor Shellenberger were football teammates at nearby St. Anne's-Belfield School. On the Saints' middle school team, Kent, an eighth-grader, was a strong-armed quarterback. Shellenberger, a seventh-grader, was a swift running back.
"Connor would have been a great football player," said Nic's father, Brian Kent, who was the team's coach. "Just the way he moved was amazing."
Neither boy stuck with football, as UVA fans know. Shellenberger became a phenom in lacrosse, and as a redshirt freshman this spring he played a leading role in the Cavaliers' run to a second straight NCAA title.
UVA's postseason games were nationally televised, and it "was really cool hearing the announcers just talking about how much he has contributed and everything he's done," Nic Kent said of Shellenberger, who was named the NCAA tournament's Most Outstanding Player.
"I think all the people that have known him around here, and all the STAB people, know how good he is, so it's just cool seeing him do that here at UVA."
Kent has thrived at the University too. He's a three-year starter for the Wahoos' baseball team, which also has been featured on ESPN platforms during the postseason. For the fifth time in program history, Virginia has advanced to the College World Series in Omaha, Neb., and Shellenberger has been following his friend's progress. He's not surprised that Kent, who leads the Cavaliers with 45 RBI, is shining on this stage.
"I remember that he was always just super competitive," Shellenberger said.
In the summers, Shellenberger said, he'd go to STAB to work out "at 6 or 7 a.m., and Nic was there. You go in in the afternoons, and he was there. You drive by there on the weekends or late at night, and he was out there with his dad hitting balls in the batting cage."
Shellenberger grew up attending UVA lacrosse games at Klöckner Stadium, and Kent was a regular at Davenport Field (now Disharoon Park) as a boy. Both venues are visible from the St. Anne's-Belfield upper school campus.
"So for us to be able to live out these dreams, where we've been watching these teams play for so many years, it definitely makes it a lot more special," Shellenberger said.
Virginia's CWS opener is Sunday. At 2 p.m. EST, in a game ESPN2 will televise, UVA (35-25) meets Tennessee (50-16) at TD Ameritrade Park. For the Hoos, this will be their first game in Omaha since June 24, 2015, when they defeated Vanderbilt to capture to the NCAA title.
About two months later, Kent committed to Virginia, whose coaching staff had been aware of him for years.
"First and foremost, I love Nic Kent," UVA head coach Brian O'Connor said this week. "I remember when Nic Kent was just a young, young player, and watched him grow up in this town. So I'm really proud of Nic. It's pretty cool when you have a local player that's accomplished what he has accomplished … He has grown up in this program, he has gotten better in this program."
In the H3 youth baseball program, Kent served as a mentor to O'Connor's son, Dillon. "So I think the world of Nic Kent," O'Connor said.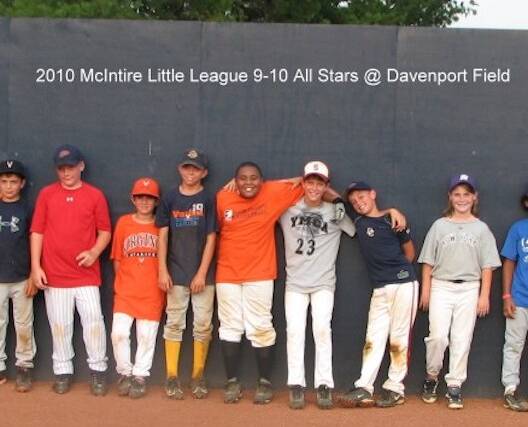 When he played travel ball for H3, Kent practiced at Davenport Field a few times, his father said. Nic Kent also attended camps at UVA, and his father has a photo of him working with former pitching coach Karl Kuhn. And so to see Nic playing as a Cavalier on that same diamond, Brian Kent said, has been "pretty awesome."
In 2019, Kent started 52 games at second base, hit .337 and became the first UVA freshman since Danny Hultzen in 2009 to be named to the All-ACC first team. As a sophomore, Kent switched to shortstop and was hitting .328 when the COVID-19 pandemic cut short the 2020 season.
His batting average has dipped this season, to .242, but Kent has dazzled at shortstop, and the 6-2, 185-pound junior has continued to deliver timely hits. Monday in Columbia, S.C., in the deciding game of the best-of-the NCAA super regional at Founders Park, Kent hit a solo home in the fourth inning to trim Dallas Baptist's lead to 2-1. On an afternoon when Kent also contributed defensive gems, the Cavaliers rallied for a 5-2 victory.
"He has been a nice leader in our program," O'Connor said. "I'm just happy for him, the local guy that's delivering for the Virginia Cavaliers. Pretty cool experience for him."
Brian Kent, who grew up in Charlottesville, said he and his wife, Missy, were delighted that Nic decided to become a Cavalier.
"We knew the type of kid Nic was," Brian Kent said. "We knew the kind of program that Coach O'Connor runs. We just knew it would be a great fit for him from day one."
The elder Kent coaches middle school football and basketball at St. Anne's-Belfield. Before stepping down in March 2018, he was head coach of the Saints' varsity boys basketball team for 17 seasons, and Nic played hoops for him there. They've spent untold hours together honing Nic's skills.
"I got a bum shoulder, just because of all the BP that I've thrown over the years," Brian Kent said, laughing. "He's always ready to grind and get in the gym or get on the field. Obviously, it was tough last year when the season ended. I thought my days of hitting ground balls and throwing BP were over, and then the pandemic hits, and we're in lockdown.
"Come March 2020, we're looking for fields to hit ground balls, looking for [batting] cages. But I'll cherish that time forever. He's a grinder, likes to work, enjoys it."
Missy Kent is a personal trainer who has taught her son the importance of "taking of care of his body the right way, and he listens to her," Brian Kent said. "He's always been a coachable kid, so even in this aspect of it he does the same thing. He gets rest, eats right, stretches, takes care of his body."
Nic's classmates include Zack Gelof, who starts next to him at third base. They've been close since joining the Cavaliers' program in the summer of 2018, and "I think the bond we have is special," Gelof said, "just setting a goal freshman year to get Virginia back in the tournament, and we did that, obviously, with everyone else included."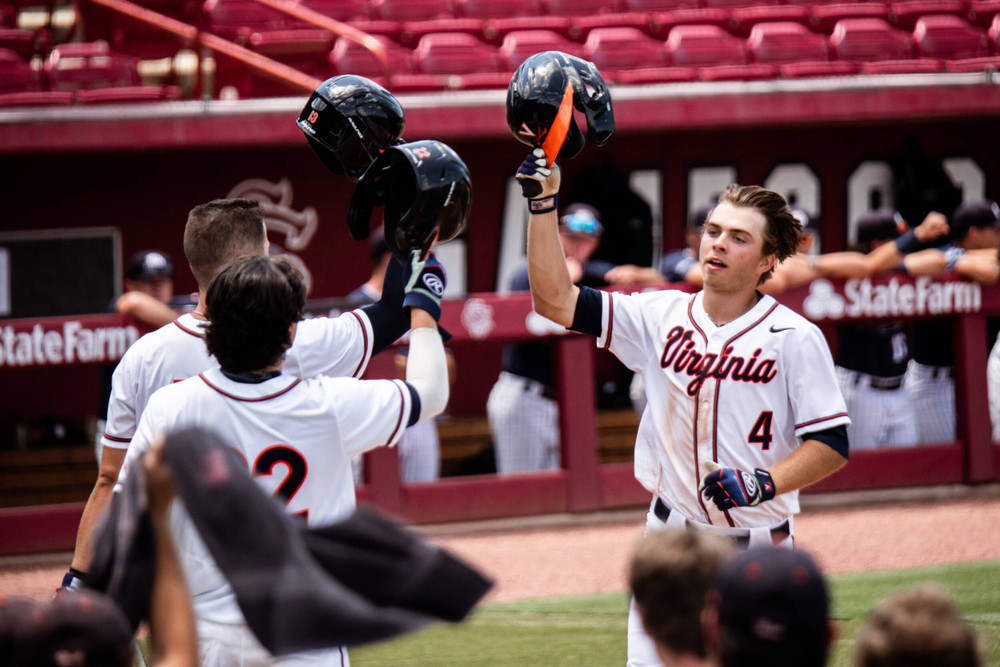 After advancing to the NCAA tournament in each of O'Connor's first 14 seasons in Charlottesville, the Hoos missed the field of 64 in 2018 and '19. The COVID-19 pandemic ended the 2020 season prematurely, and when UVA struggled early this year, the pressure mounted.
Kent said it "was definitely like, 'When is this going to happen?' " But the Cavaliers continued to battle, "and nobody ever stopped working," he said. "A lot of people doubted us after the first half of the season, but we still all knew that we could do it, and I think just the hard work that we put in every day has allowed us to get here."
To have helped Virginia return not only to the NCAA tournament, but to the College World Series, "means a lot for me," Kent said this week. "I always wanted to do it as part of the team, and now that we've done it, we're going to Omaha, it's definitely really special."
On a Zoom call with media members Wednesday, Kent was sporting one of the caps handed out to the Cavaliers after they clinched a spot in Omaha. Asked if he'd taken it off since leaving Columbia, Kent smiled. "I have a little bit, to shower," he said, "and then put it right back on."
Like Shellenberger, he enjoys playing in front of family and friends in Charlottesville. If the hometown connection brings added scrutiny, "there's also more encouragement," Kent said, "and they all support you."
Brian and Missy Kent flew out to Omaha on Thursday, and they'll stay there as long as the Hoos are playing. To look up in the stands and see the excitement on the faces of his parents and those of his teammates during UVA's eight NCAA tournament games in Columbia––five in the regional and three in the super regional––"was pretty cool," Nic Kent said.
He laughed. "They're all super nervous."
They're also super proud of their sons. The Cavaliers' CWS opener falls on Father's Day, and Brian Kent can't think of a better place to celebrate the occasion than Omaha.
"It's perfect," he said. "I couldn't ask for any better day."
To receive Jeff White's articles by email, click here and subscribe.