By Jeff White (jwhite@virginia.edu)
VirginiaSports.com
Little has come easily for the University of Virginia baseball team this postseason, and so it is again at the College World Series.
After suffering a gut-wrenching 6-5 loss Tuesday night to No. 7 national seed Mississippi State, UVA will play an elimination game for the seventh time in this NCAA tournament.
At 7 p.m. Thursday, Virginia (36-26) meets No. 2 national seed Texas (48-16) at TD Ameritrade Park in Omaha, Neb. The winner would then have to defeat Mississippi State (47-16) twice, first on Friday and then on Saturday, to advance to the best-of-three CWS championship series.
The Bulldogs are in an ideal position, and it's one the Cavaliers might well have occupied had the eighth inning gone differently Tuesday night.
Through seven innings, UVA starter Griff McGarry had a no-hitter and a 4-0 lead.
"I thought their guy was for six, seven innings as good as a pitcher we've faced in the last couple of years," MSU head coach Chris Lemonis said. "[McGarry's stuff] was electric. We couldn't get on it."
In the top of the eighth, the senior right-hander finally faltered. McGarry walked the Bulldogs' leadoff batter and then, with one out, gave up a two-run home run to Kellum Clark. The Wahoos then turned to Zach Messinger, who surrendered an infield single and a double.
Another pitching change followed, and Stephen Schoch took over for the Hoos. Mississippi State jumped on him, too. The first batter Schoch faced, SEC player of the year Tanner Allen, drilled a three-run homer to right to put the Bulldogs ahead 5-4.
The Hoos didn't want to walk Allen and load the bases, head coach Brian O'Connor said, and they didn't want to give him a good pitch to hit, either.
"So you want to make him earn it," O'Connor said, "and to his credit he did. He put a great swing on the ball. We didn't execute, and he made us pay for it, and that's what great players do."
For Schoch, it was his first appearance since June 8, when he threw a season-high 75 pitches against ODU in the final game of the Columbia regional.
"I watched him throw two days ago [in practice]," O'Connor said. "I thought he looked sharp. He told me two days ago, against Tennessee, that he was ready to go. And he told me that again tonight.
"The guy's been our guy all year long, and he just couldn't hold them, just couldn't get the job done."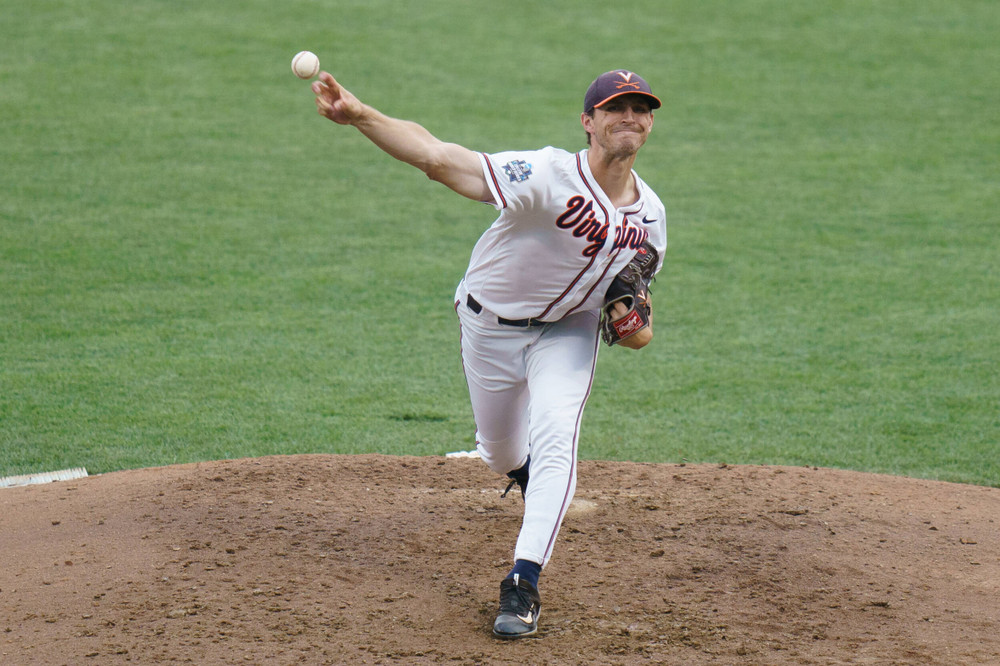 MSU added another run in the eighth, this one off Nate Savino, before Virginia finally recorded the third out. At that point, O'Connor noted, the Cavaliers still had six outs with which to tie the game or regain the lead.
"We're the home team," he said. "We still have two shots at it. Ultimately, it's the sixth run that ended up being the one that was the dagger that we just couldn't come back from."
In the bottom of the eighth, Chris Newell's solo home run made it 6-5. In the ninth, however, All-America closer Landon Sims retired the Cavaliers in order to seal the win for Mississippi State.
"We didn't do enough, we didn't finish the game, certainly, on the mound," O'Connor said, "and we had opportunities to extend our lead numerous times in the middle of the game, and we just didn't do it. And that's a credit to Mississippi State."
The Cavaliers stranded 10 runners, six of them in scoring position. In the second, after scoring three runs to extend its lead to 4-0, UVA had the bases loaded with one out. But Preston Johnson, who had relieved starter Christian MacLeod after 1.1 innings, recorded back-to-back strikeouts to keep the Hoos from blowing the game open.
In the fourth and again in the sixth, Virginia had runners on first and third with one out, but couldn't push another run across. The Bulldogs ended up using eight pitchers, only one of whom gave up a run.
Trailing 4-0, Lemonis said, his team couldn't afford to fall further behind. "You just can't let people score," he said. "It's hard enough for us to catch them. Just can't let them keep getting runs, and we were able to do that tonight."
And so UVA, which is making its fifth appearance at the College World Series, finds itself in a familiar position. In the four-team regional in Columbia, S.C., where the Cavaliers were seeded No. 3, they lost their opening game and then came back to win four straight and advance to the NCAA tournament's round of 16.
In its best-of-three super regional, also in Columbia, UVA rallied for two wins in a row after dropping the opener to Dallas Baptist.
His players, O'Connor said late Tuesday night, have "bounced back every time that they've been challenged, and we've been in this position before. And so we have an opportunity to come back out here in this great stadium [Thursday night] and represent Virginia baseball the right way. And I know that they'll be ready for that, because I know the character that they have."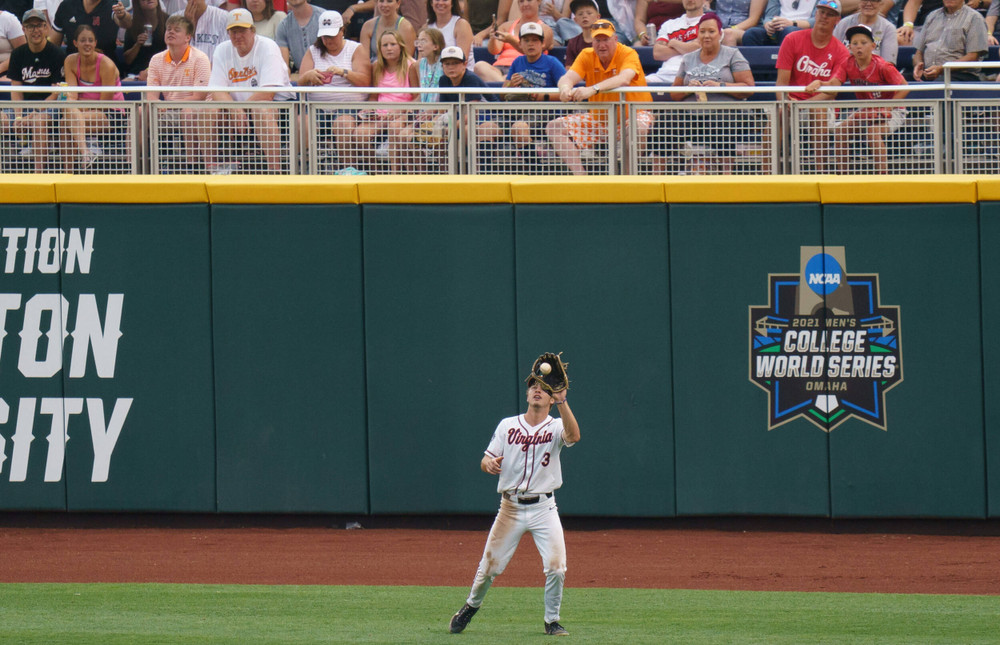 A constant for in this NCAA tournament has been the brilliance of McGarry. He struck out eight against top-seeded Old Dominion in the regional and fanned 10 against Dallas Baptist in the super regional.
Against Mississippi State, McGarry struck out eight and walked only one batter in his first seven innings.
"He was in complete control of the game," O'Connor said. "He responded like we had hoped that he would, and it's just unfortunate for him that we just couldn't finish it off, because he was spectacular tonight. And it's too bad that it ended the way it did for him."
McGarry said it was "definitely a roller coaster of a night. But, nonetheless, [it was] very exciting seeing my teammates kind of jump on an early lead."
Zack Gelof, who was 3-for-4, led off the Cavaliers' first with a single and moved to second on Max Cotier's sacrifice bunt. Kyle Teel (3-for-5) followed with an RBI single, and just like that Virginia led 1-0.
In the second, back-to-back RBI doubles by Newell (3-for-4) and Zack Gelof pushed UVA's lead to 3-0, and Cotier followed with an RBI single to make it 4-0, prompting a pitching change.
The Bulldogs were teetering, but they regained their balance, and Virginia's inability to add to its lead proved costly. It was a tough loss, but the Hoos are conceding nothing as they move into the losers' bracket. Six teams remain in Omaha, and UVA is one of them.
"I don't think it was a gut punch," McGarry said. "That's just baseball. It's a game that can go back and forth, and Mississippi State got the best of us tonight. But I'm hoping we play them again and we'll get another chance at them."
What the Cavaliers have shown "week after week, with their ability to step up and keep fighting, is impressive," O'Connor said. "So I've got complete confidence that they will be ready to play [Thursday night] and believe that we'll do the job. We might not win the game, but I know they'll be ready to play and I know they'll compete every pitch and give it the best they can. If we do that, we have a shot. And then we'll see what happens from there."
To receive Jeff White's articles by email, click here and subscribe.