CHARLOTTESVILLE, Va. – Virginia women's basketball head coach Tina Thompson announced the addition of six student-athletes to the 2021-22 team: freshman Annaliese Griffin (Joliet, Ill.) and five transfers from other universities — Corina Carter (San Antonio, Tex.), McKenna Dale (Storrs, Conn.), Eleah Parker (Charlotte, N.C.), Camryn Taylor (Peoria, Ill.), and Taylor Valladay (Chicago, Ill.).
"We are all so very excited about our incoming class," Thompson said. "This class gives us the opportunity to mature rather quickly and grow in size. We now have depth in all positions which will allow us to do a multitude of things defensively and offensively. They are a great complement to our returners. I see both groups coming together in good fashion."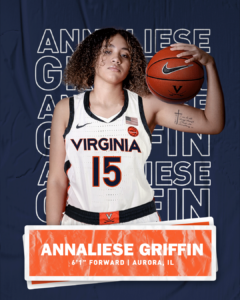 Two-time News-Gazette All-State second team
2021 Illinois AP Class 1All-State Girls Basketball Team
2021 McDonald's All-America nominee
Scored over 1500 points in her prep career
Averaged 20.6 points and 9 rebounds per game as a sophomore and 17.8 points and 10.4 rebounds per game her junior season
Played two years at Plainfield Central before transferring to Aurora Christian for her junior and senior seasons
Thompson on Griffin: Our lone first-year Anna brings versatility and a high competitive nature at her size. She has the ability to play a couple of positions, from the face-up or with her back to the basket. Her intellect and toughness will be key in aiding her growth.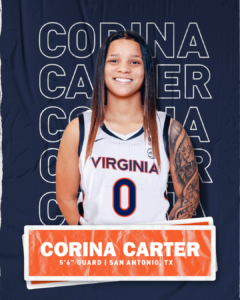 Played two seasons at New Mexico (2019-21)
As a sophomore, played in 19 games, averaging 16.9 minutes per game, scoring in double figures six times
Third on the team in assists in 2020-21 with 58
As a freshman, saw action in 31 of UNM's 32 contests, including one start, averaging 3.7 points, 1.5 rebound and 2.1 assists in 15.3 minutes per game
2020 Mountain West Academic All-Conference
Four-star recruit ranked 16th point guard and 64th overall player in the 2019 class by ESPNW
Thompson on Carter: Rina is a crafty pass-first guard with an impressive handle, having the ability to score at the rim or from long distance. The most impressive part of her game is her ability to apply pressure defensively.  With us being a defensive-minded team, that ability will be a great asset.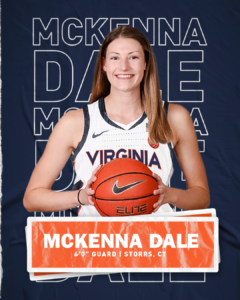 Played two seasons at Brown, (2017-18 and 2019-20) missing the 2018-19 season due to injury
During 2019-20 Ivy League play, ranked third in the conference in points per game (17.0), second in 3-point percentage (.385), first in free throw percentage (.851), and fifth in blocks per game (1.5)
Connecticut Gatorade Player of the Year, Hartford Courant Player of the Year, and New Haven Register Player of the Year honors as a senior in high school
Played for the New Zealand U18 team
Thompson on Dale: "With her reputation preceding her, the label of "sharpshooter" is very much fitting for Mac. With just a few workouts under her belt, everyone now knows when the shooter has entered the building. Mac is seemingly quiet in nature yet very big in-game. She finds a way to get to her shot. We welcome with open arms her ability to create opportunities for her teammates simply by stretching the floor and creating space.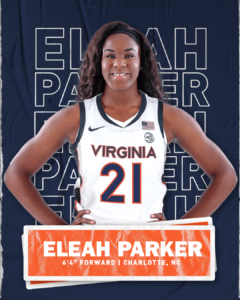 Played three seasons at Penn (2017-20)
Two-time Ivy League Defensive Player of the Year (2019-20)
2019 and 2020 first-team All-Ivy, second team in 2018 as a freshman
2019 Big 5 Player of the Year
2019 Ivy League All-Tournament Team
Invited to USA Basketball 2019 Pan American Games Trials
2018 Ivy League Rookie of the Year
Six-time Ivy League Player of the Week
Two-time USBWA National Freshman of the Week
Sat out the 2020-21 season after the Ivy League canceled all winter sports' seasons
Pronounced ee-LAY-uh
Thompson on Parker: Lay brings size to our interior game with her ability to score with her back to the basket or from the face-up with a plethora of moves. She poses a threat to any defense. She is an intentional shot blocker that enjoys defending. She provides us with a type of post presence we have been missing.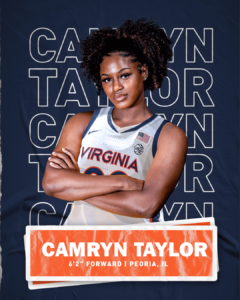 Played two seasons at Marquette (2019-21)
2020-21 All-BIG EAST honorable mention
2019-20 BIG EAST All-Freshman team
As a sophomore, averaged 12.0 points, 6.9 rebounds and 1.7 assists per game, finishing 21st in the BIG EAST in scoring and sixth in rebounding
Scored 15 points, two rebounds and an assist in the NCAA tournament against Va. Tech (3/21/21)
As a freshman, saw action in 31 games off the bench, finishing fourth on the team in scoring (9.3 ppg)
Ranked No. 28 at her position as a high school recruit by Blue Star
Thompson on Taylor: Energy and toughness are what come to mind when I think about Cam. She has an infectious presence that her teammates will not be able to escape. Her physical nature adds to the toughness of our team.  Her size and athleticism with a pinch of finesse reminds me of a player I am all too familiar with. Her versatility is a welcomes addition to our team.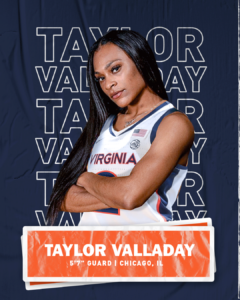 Played two seasons at Marquette (2019-21)
As a sophomore, averaged 5.2 points, 1.8 assists and 1.7 rebounds per game, appearing in every game off the bench
Had two double-digit scoring performances, scoring 12 points against Seton Hall (1/15/21) and Providence (2/13/21)
As a freshman, appeared in 20 games, scoring 14 points with 13 rebounds
2019-20 BIG EAST All-Academic Team
Thompson quote: Tay is all bark and all bite. There is no mistaking when she has entered the room or any space for that matter. She makes her presence felt immediately. With a gritty demeanor inside the lines, she loves to apply pressure defensively every moment she can. Her high energy is a welcomed addition I believe to any team.