CHARLOTTESVILLE, Va. – Senior Andrew Abbott (Republican Grove, Va.), junior Zack Gelof (Rehoboth Beach, Del.), Griff McGarry (Portola Valley, Calif.) and Mike Vasil (Wellesley, Mass.) were all selected on the second day of the 2021 Major League Baseball Draft on Monday (July 12). The draft concludes on Tuesday (July 13) with rounds 11-20 at noon.
UVA Draft Summary
Round 2 (53rd Overall) – Andrew Abbott – Cincinnati Reds
Round 2 (60th Overall – Zack Gelof – Oakland Athletics
Round 5 (145th Overall) – Griff McGarry – Philadelphia Phillies
Round 8 (232nd Overall) – Mike Vasil – New York Mets
Draft Notes
Virginia was one of 10 schools with three or more selections in the first five rounds and one of five schools with two picks in the first two rounds.
UVA was one of 15 schools to have four or more players selected in the first 10 rounds of the 2021 draft.
Virginia has boasted multiple picks in the first and/or second rounds in five of the last eight years.
The four selections so far in the 2021 draft are the most since 2018.
A total of 88 MLB Draft selections have taken place in 18 seasons under head coach Brian O'Connor.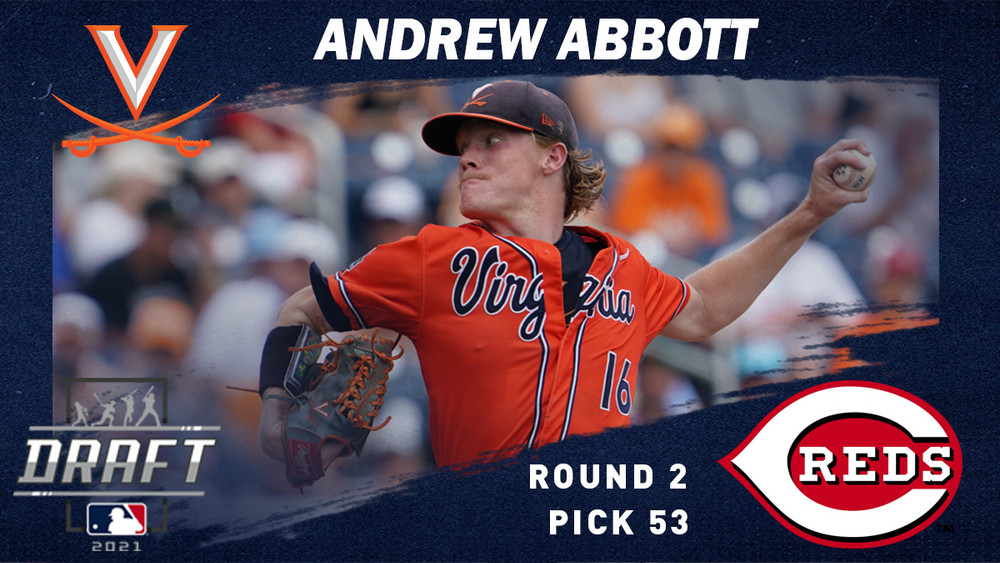 LHP – ANDREW ABBOTT
A consensus second team All-American, Abbott put together one of the best seasons in Virginia baseball history. The lefthander made 17 starts and pitched to a 2.87 ERA in 106.2 innings pitched as a senior. He fanned 162 batters, the third most of any pitcher in the NCAA and the second highest single season total in school history. He struck out 10 or more batters six times including a career-high 16 in 7.1 innings of the program's seventh no-hitter back on May 14 against Wake Forest. Abbott collected First Team All-ACC honors after leading the league in strikeouts and ranking in the top three in nearly every major statistical category. He totaled 327 batters in four seasons, only the second pitcher in program history to eclipse the 300-strikeout mark.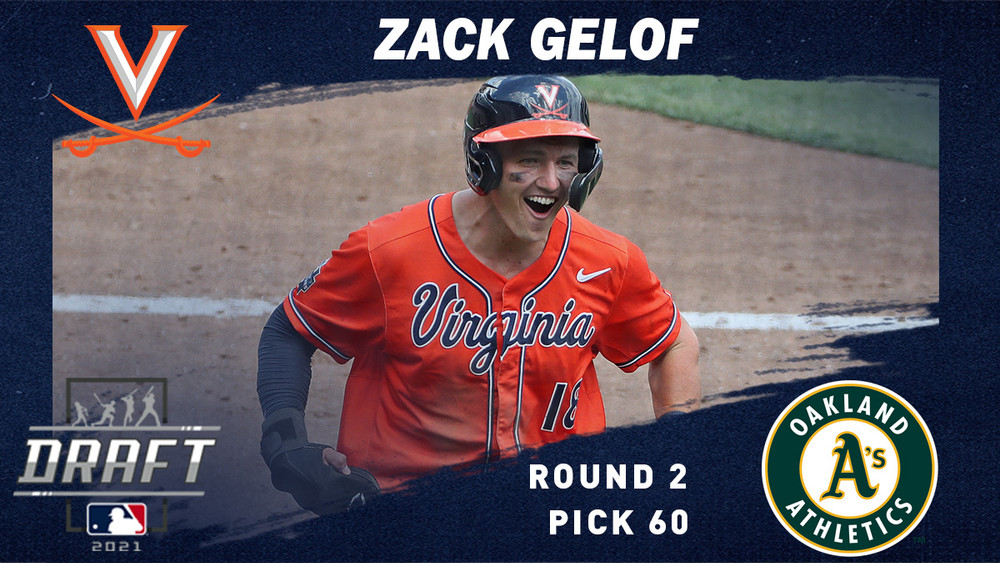 3B – ZACK GELOF
Gelof started all 137 games of his Virginia career primarily as the Cavaliers third baseman. As a junior in 2021 he earned Second Team All-ACC honors. He finished the season batting .312 with 18 doubles, nine home runs and 41 RBI. His 81 hits were the most of any ACC hitter. Gelof earned ACC All-Tournament honors, a spot on the NCAA Columbia Regional team and was named to the College World Series All-Tournament team. Gelof hit a go-ahead homer in the bottom of the eighth in game two of the Super Regional against Dallas Baptist. In three College World Series games, Gelof reached base nine times and went 7-for-12 with three runs scored, a home run and two RBI.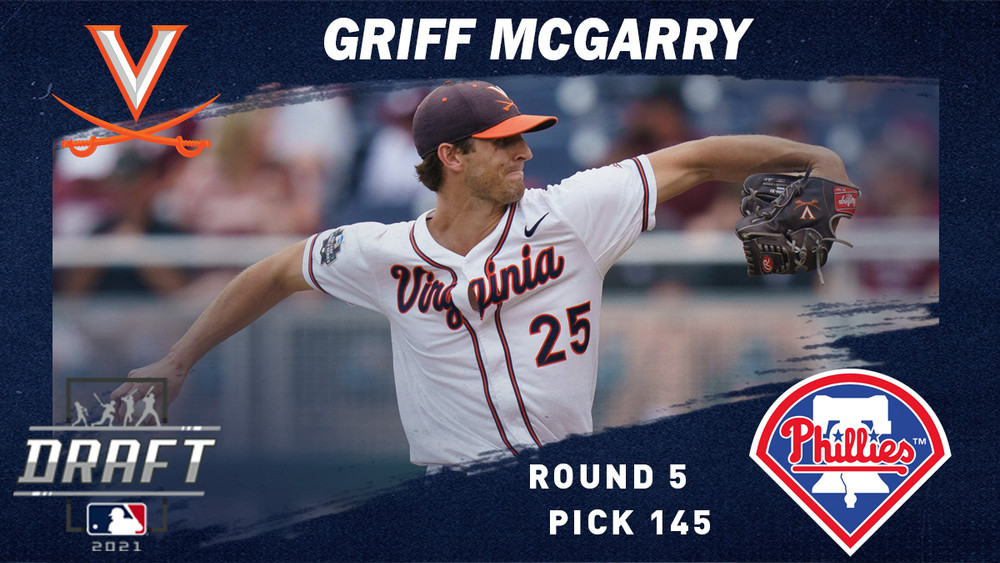 RHP – GRIFF McGARRY
McGarry appeared in 42 games for Virginia in four seasons including 28 starts. The righthander struck out 69 batters in 43 innings in his senior campaign. His last two starts in a Cavalier uniform, McGarry took a no-hitter into the seventh inning in a 4-0 win over Dallas Baptist in the super regional. He took another no-hitter into the eighth inning against eventual national champion Mississippi State in the College World Series. McGarry pitched the final inning of Virginia's seventh no-hitter, a 17-0 win over Wake Forest on May 14. Over the course of his career, McGarry struck out 186 batters in 134 innings and combined for five career shutouts.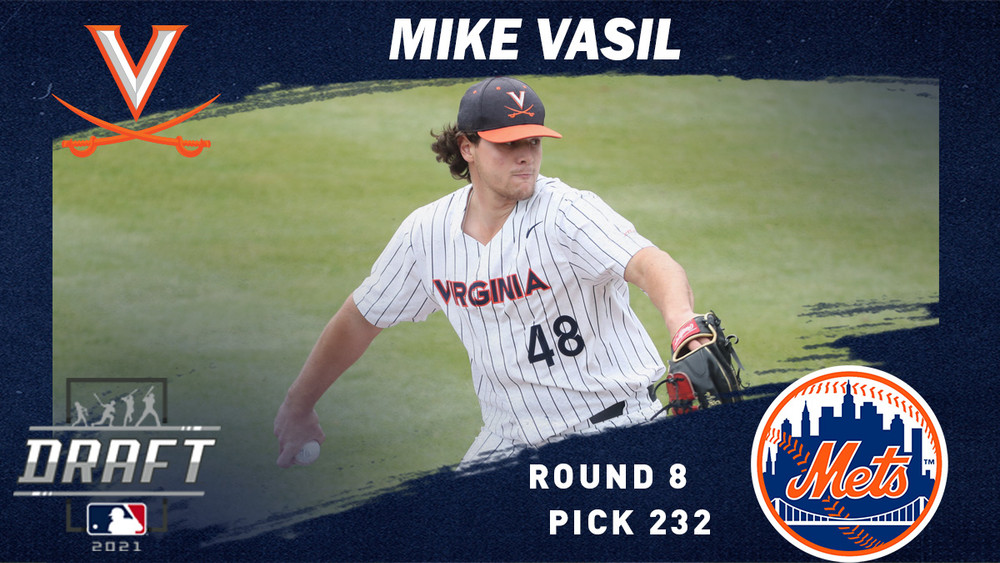 RHP – MIKE VASIL
A staple in the Virginia weekend rotation since arriving to grounds in 2019, Vasil turned in his best season of his UVA career in 2021. The righthander went 7-5 in 16 starts while boasting a 4.52 ERA in 81.2 innings pitched. Of Vasil's seven wins, six either clinched a series (UConn, Georgia Tech, Duke and BC) or helped UVA avoid a sweep (UNC & FSU). In his final start in a Cavalier uniform, Vasil delivered his eighth quality start of the year in a CWS elimination game against Texas. He pitched seven innings allowed one run and fanned eight batters, one shy of his career high.