By Jeff White (jwhite@virginia.edu)
VirginiaSports.com
CHARLOTTE, N.C. – Around 3 p.m. Wednesday, Brennan Armstrong stepped into a hallway at the Westin hotel after finishing another in a seemingly never-ending series of question-and-answer sessions.
"Is that the last one?" said Armstrong, who would not have objected to an afternoon nap.
Alas for the University of Virginia quarterback, his day was not done at ACC Football Kickoff. More interviews followed for the three players who represented the Cavaliers at the league's annual media extravaganza––Armstrong, multi-purpose athlete Keytaon Thompson and safety Joey Blount––until Thompson emerged at 5 o'clock from the room in which Bally Sports RSN had set up.
Game over.
"It was a hard-fought day," Blount said, tongue in cheek. "Nah, I had a lot of fun doing a lot of interviews, photo shoots, talking to different people. I learned a lot about myself, and what I like to do is talk––not the bad talk, but conversating with people and meeting new people."
Armstrong, Blount and Thompson arrived in Charlotte on Tuesday evening, and head coach Bronco Mendenhall flew in later that night. For the players, a typical summer weekday in Charlottesville would include a morning workout under the supervision of director of football development and performance Shawn Griswold, and so Wednesday gave them a rare opportunity to sleep in.
By 10 a.m., though, they were downstairs, dressed in suits for the occasion. Some last-minute sewing by Jim Daves, UVA's assistant athletics director for media relations, had repaired a hole in one player's slacks, and the players looked dapper, particularly Thompson, who wore a bow tie with his three-piece suit.
"It looks good on him," Blount said.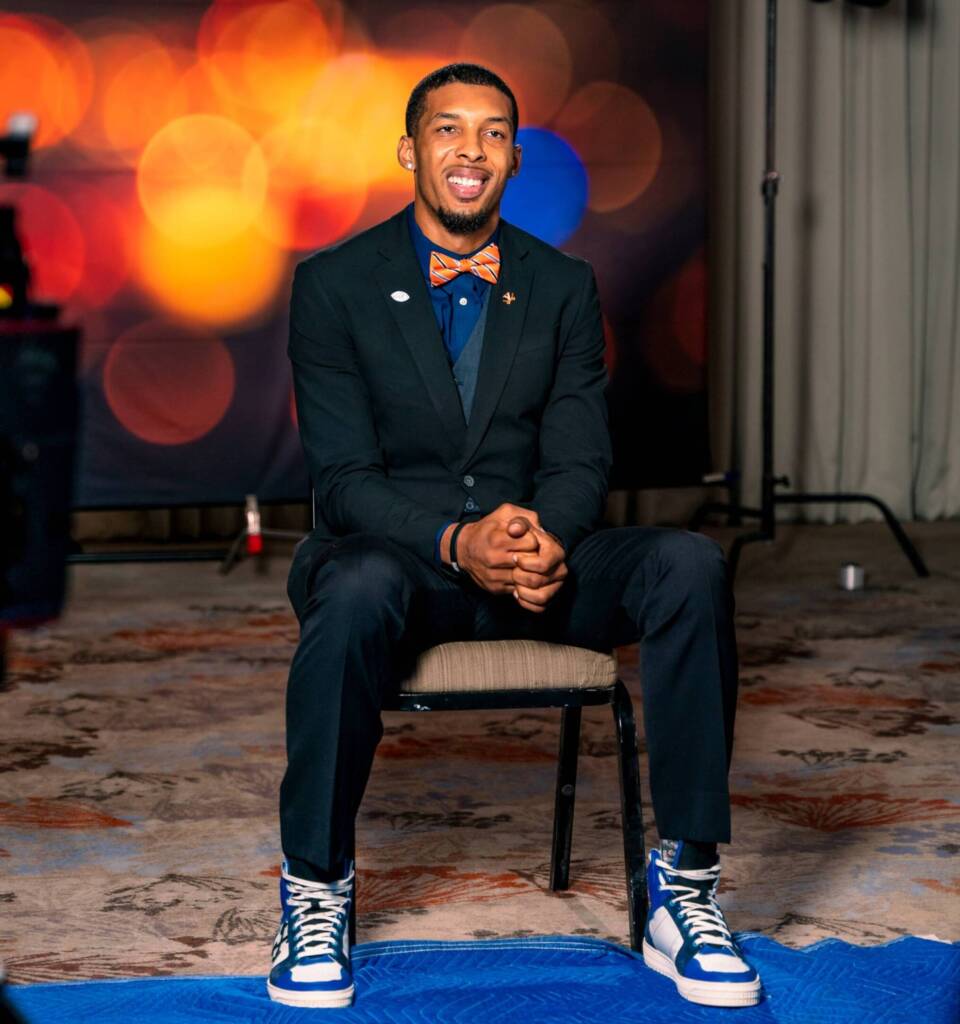 Radio interviews kicked off the day for the players. Blount talked to a station from Louisville, Ky., and the host asked him about UVA cornerback Anthony Johnson, a graduate transfer from the University of Louisville.
After the interview ended, Blount FaceTimed with Johnson and told him about the interview. Then Blount handed his phone to Louisville athletics director Vince Tyra, who chatted with Johnson and wished him well in Charlottesville.
Later in the morning, former UVA football player Stan Norfleet interviewed Armstrong for WFNZ, a Charlotte radio station.
"That was fun," said Armstrong, who's heading into his second season as the Cavaliers' starter.
At 10:50 a.m., the players split up for sessions with ESPN GameDay and ACCN Features, which shot video to use throughout the coming season. In the GameDay room, Armstrong didn't hesitate when asked which player he considered the Wahoos' secret weapon.
"Jelani Woods," said Armstrong, referring to the 6-foot-7, 265-pound tight end who transferred to UVA from Oklahoma State this year.
In the ACCN Features room, Thompson, who's from New Orleans, was asked to name his favorite Thanksgiving dish, and he singled out his mother's spicy cornbread dressing.
To a question about which Coastal Division memory stood out for him, Armstrong cited UVA's win over North Carolina at Scott Stadium last season. Thompson sealed the victory for the Cavaliers by running for a first down on a fake punt in the game's final minute.
Questions sometimes veered into the absurd. "When you clean a vacuum cleaner, do you become a vacuum cleaner?" Armstrong was asked. "When you drop soap on the floor, is the floor clean or is the soap dirty?"
During their lunch break, the players took turns answering questions sent in by UVA fans. At 12:10 p.m., the interviews resumed. Most were captured on videotape, and the players were recorded shouting out various phrases, including "This is ACC football!" and "Fourth Side!" and "Break the Rock!"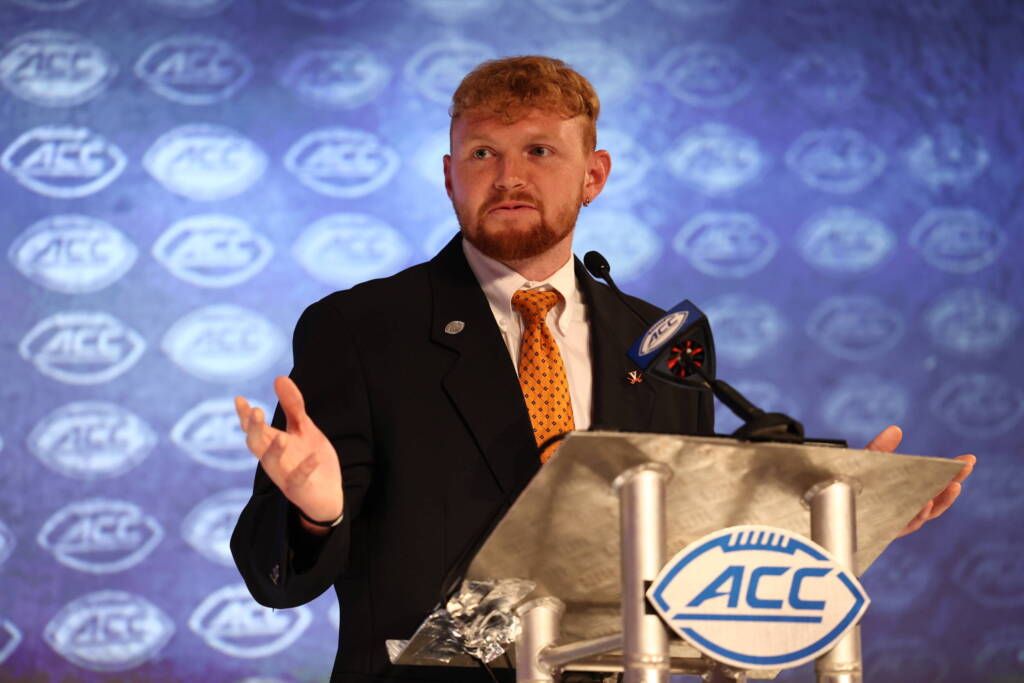 Outside the locker room, Thompson usually comes across as soft-spoken, but that can be deceiving. He possesses a booming voice that he broke out several times on camera Wednesday.
"My teammates know me as a more outspoken and louder guy," said Thompson, who at various times lined up at quarterback, running back and wide receiver last season. "I knew it was going to be a long day today, and I knew I just couldn't be serious. I had to have fun and be myself."
College football is coming off a year in which concerns about the COVID-19 pandemic dramatically reduced attendance at stadium. In the session with ACC Photo, Blount was asked about getting to play in front of large, loud crowds again.
"It's going to be exhilarating," he said.
Asked for his prediction for the next Super Bowl, Armstrong went with Tampa Bay over Buffalo, after which, he said, Tom Brady would retire. Blount picked his hometown Atlanta Falcons to meet the Cleveland Browns.
"Crazy matchup," Blount said. "Nobody's going to see that coming."
The players found common ground when asked about potential breakout players for Virginia. As Armstrong had that morning, Blount and Thompson immediately brought up Woods, and Blount also praised Dontayvion Wicks, a wide receiver who missed the 2020 season with an injury.
There were questions, naturally, about Name, Image and Likeness and how the legislation might change college athletics.
"I think NIL is great," Thompson said. "It's great for college football––the athletes, at least."
He added, though that he hasn't "given much thought to the NIL. I have a lot going on right now with school and football. I'm just trying to take care of that first before I get into the NIL thing."
On stage in a huge conference room at the Westin, the players showed impressive poise as, in turn, they stood up to field questions from the media members in front of them.
"No nervousness," Blount said. "It was something cool to do."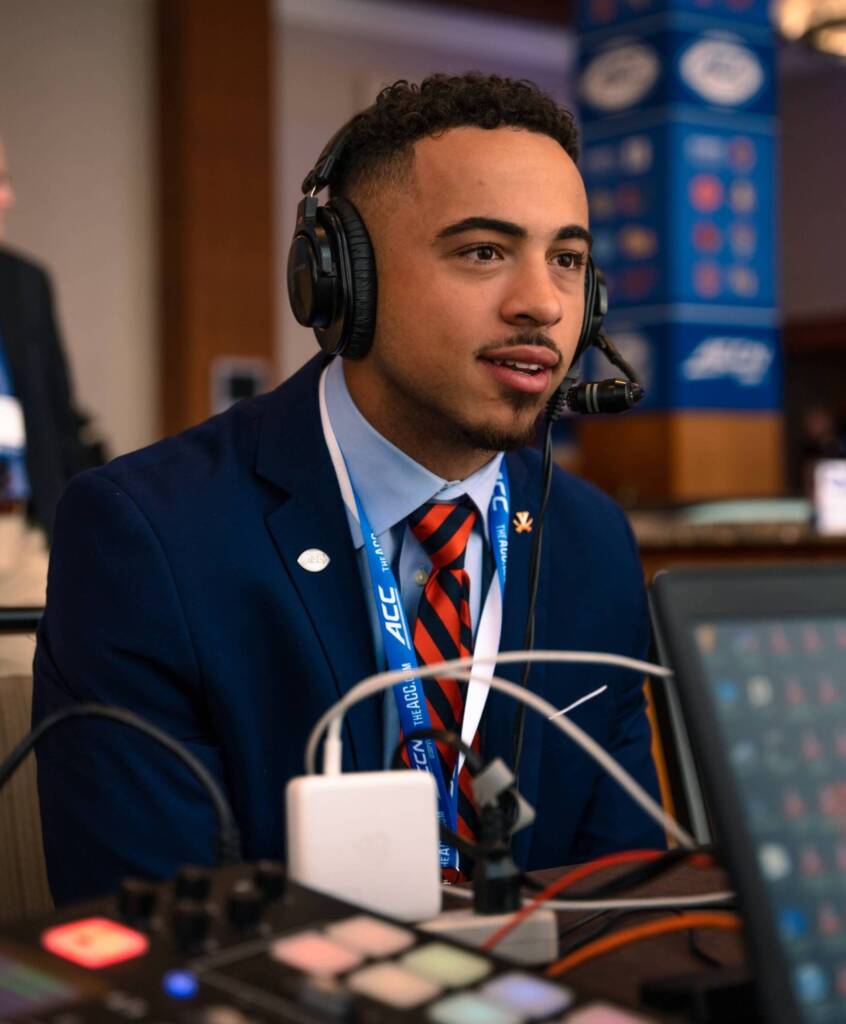 Blount, whose father was an All-ACC defensive back for the Cavaliers, told his audience about the day Mendenhall met with him at John Paul Jones Arena and offered him a scholarship.
"He handed me a sheet of paper to read out loud," Blount said. "Of course I was nervous reading in front of a head coach. I wanted to make sure my words were right and I wasn't stumbling on everything."
The last paragraph of the letter, Blount said, "just stated: We want to offer you a full scholarship, essentially, to the University of Virginia.
"I remember looking up in that moment. I looked at my dad, my dad was crying, I'm crying, Coach Mendenhall was just proud, smiling at me, saying that it's not just about football here, it's about becoming an all-around man, a good human being. At that moment I felt like there was more purpose in life than just football."
Blount is heading into his fifth season with the Cavaliers, and he's battled injuries at times during his college career. "But Coach Mendenhall really meant the world to me and still does," he said. "He's giving me opportunities day in and day out to be the best person I can be."
Mid-afternoon, the players and Mendenhall spread out at separate tables in a conference room for breakout sessions in which they took more questions: some about football, others about their dogs and off-the-field interests.
"I'm getting more goofy with my answers, because I'm getting tired," Armstrong told Thompson as the day wore on.
For the loquacious Blount, the highlight of the day was his live appearance on ACC Network's Packer and Durham Show. Blount caught up with host Wes Durham, whom Blount has known for years; wished the ailing Mark Packer well; and sent out greetings to his parents watching back in Atlanta.
Could he see himself on the other side of the microphone one day?
"I think I could," Blount said. "I just feel comfortable up there. I think I could this for a living."
Thompson was never more animated Wednesday than during his appearance alongside Blount with host Chris Spatola and former Georgia Tech football star Roddy Jones on SiriusXM Radio's ACC Today show. (The UVA players also met former NFL great Torry Holt on the set, another thrill for them.)
Before the interview started, the subject of hoops came up, and the 6-foot-4 Thompson came alive.
"I'm a better basketball player than football player," he declared.
Thompson led Landry-Walker High School to back-to-back state basketball titles in Louisiana and, had he not enrolled at Mississippi State in January 2017, might have collected a third championship in that sport.
When he was in middle school, Thompson told Spatola and Jones, he was rated ahead of Trae Young, who now stars for the NBA's Atlanta Hawks.
"All facts," Thompson said, laughing.
Spatola scored 1,543 points during his outstanding basketball career at the U.S. Military Academy, and he said he was looking forward to taking on Thompson the next time he calls a game in Charlottesville.
"Meet me at the gym," Thompson said, smiling.
Armstrong shined on the SiriusXM show, too, as he talked about the Cavaliers' offense, whose starting line returns from 2020. "I'm just more comfortable back there now," Armstrong said.
Given Thompson's versatility––Blount calls him "Trick Bag"––it's not difficult to envision him throwing a pass to Armstrong this fall.
"I'm thinking the wheel route down the sideline," Armstrong said. "K.T., you still got that in you?"
"Oh, yeah," Thompson replied.
Asked about the Cavaliers' defense, Blount praised its "collective leadership" and stated that he believes it should rank among the ACC's best. He knows, however, that Virginia struggled defensively late last season, especially, in the secondary.
"Realistically, I think we have a lot to prove," Blount said.
The first opportunity for the Hoos to do so will come Sept. 4, when they host William & Mary at Scott Stadium. By then, ACC Football Kickoff may seem like a distant memory to Blount, Armstrong and Thompson, but they enjoyed their experience in Charlotte.
"It took me five years to get there, but I'm glad I got picked to do this," Blount said. "It was a blessing and an honor."
Armstrong said: "It went well. I didn't really have any idea what to expect. I just knew it was going to be a bunch of media stuff and talking. It's a quick trip, so it was all fast-paced: do this, do that, do the other. Long day, but it was fun."
Media day tested his stamina at times, Thompson said, but "the trip was great, just to meet all the different people and really get out and answer questions and see what people care about, what they're curious to know."
Over the course of the day, it became apparent that none of players, however talented they might otherwise be, could pull off a credible impersonation of Mendenhall. He didn't mind.
"I'd proud of you," Mendenhall told them before heading off to a meeting of ACC head coaches.
To receive Jeff White's articles by email, click here and subscribe.