By Jeff White (jwhite@virginia.edu)
VirginiaSports.com
CHARLOTTESVILLE –– It was only one practice, the first of many before Virginia's Sept. 4 opener against William & Mary, and Bronco Mendenhall cautioned that he would need to review it on videotape before reaching any definitive conclusions. Still, the Cavaliers' head football coach liked a lot of what he saw Friday morning.
Watch Bronco Mendenhall's post-practice comments.
"So far, so good," Mendenhall said.
Virginia's players headed into this training camp, their sixth under Mendenhall, after nine weeks of training with director of football development and performance Shawn Griswold and his staff. The color of each player's workout gear reflects his progress in Griswold's strength and conditioning program. The players who reach the highest level are in black, and the next group is in blue. Below those groups are orange, gray and, for newcomers, white.
The Cavaliers completed testing last week with two players in black (cornerback Nick Grant and defensive lineman Mandy Alonso) and 26 in blue. Ten players moved up to blue, Griswold said, and seven to orange.
"Lots of what we call 'state changes'––guys moving from one color to another––and from what I saw today, the team was fit and able to handle a pretty strong workload on day one," Mendenhall said. "And that really is my first test. I usually see the strength numbers and I see the state changes, and I'm always impressed by those. Until I see my team practice, I'm hesitant to put my stamp on it. But from what they were asked to do today and the volume they were asked to cover and carry, they were well-prepared."
The mood at practice was upbeat Monday, and not only because players and coaches were happy to be back on the field together. Everywhere they looked, they saw reminders of how much things have changed on Grounds since last summer, when strict COVID-19 protocols were in place throughout the University.
"It's nice to talk without a mask on," Mendenhall said, "and it's nice to get a team prepared without the COVID protocols being front and center and the very first thing that I consider every day. And it's nice to just be able to have a disproportionate, or maybe a regular, amount of time to focus on football.
"So far, so good, and I'm cautiously optimistic that it will continue to be that way … It felt much more like normal, and it's been a long time."
The Wahoos are coming off a season that included a four-game winning streak but ended on an unsatisfying note. In the season finale, UVA lost 33-15 to Virginia Tech in Blacksburg to finish 5-5.
"To this day, I still can't sleep at night, just remembering how the Tech game ended [and UVA's other losses]," outside linebacker Noah Taylor said. "It still just gives me bad memories. But it gives me motivation too. If I'm in the film room and I want to leave a little early I'm like, 'No, because I'm not losing to Tech this year. No, because I'm not losing to this team this year.' I see Notre Dame on the schedule … that's a lot of motivation built in."
Taylor is in fourth year at UVA. This is his first one, however, without his mentor, Charles Snowden, who's in camp with the Chicago Bears.
"Definitely it is weird," Taylor said. "Every time I approach the field, every time I'm talking or communicating, I'm always thinking about Charles, thinking about the impact that he had not only on me, but this program."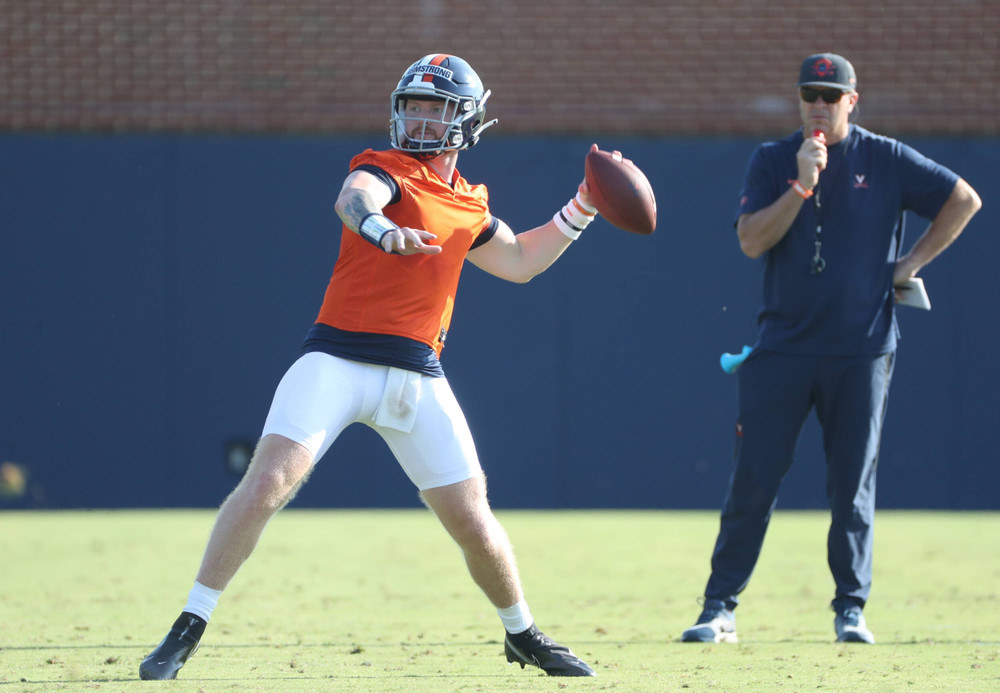 With the pandemic ongoing, the NCAA granted an extra year of eligibility to student-athletes who competed in 2020-21. Snowden, with degree in hand, chose to leave UVA to pursue a professional career, but many teammates who also were technically seniors in 2020 opted to return, in part because of the way last season ended.
After finishing 2-10 in 2016, their first season under Mendenhall, the Hoos won six games in 2017, eight in 2018, and nine in 2019, when they captured the ACC's Coastal Division title and played in the Orange Bowl.
The program took a step back in 2020, and the seniors "didn't like the finish last year and they didn't like the circumstances in which it finished," Mendenhall said.
That group includes Grant, Alonso, defensive lineman Adeeb Atariwa, linebacker Elliott Brown, safeties De'Vante Cross and Joey Blount, wide receiver Ra'Shaun Henry, and offensive lineman Chris Glaser.
Before inviting them back for 2021, Mendenhall said, he told them not to return "unless you're passionate about this program improving, you improving, and really want to come back. And so it wasn't a chance just to be a placeholder year, and to their credit they've worked really hard. There's experience for us coming back, and increased commitment, which is great."
Griswold saw that commitment during the offseason strength and conditioning program. "For us, the more leadership we have, the better they are walking across that white line, and the better we're going to be," he said.
For Taylor, seeing "guys that want to come back strictly because of how last year ended, that motivates me, like, 'OK, they're doing this, I've got to do it for them. It's not just me. I'm working for them, too, now.' It definitely builds motivation."
Returning starters, including quarterback Brennan Armstrong, abound on both sides of the ball, and Mendenhall hopes his team's collective experience will allow the coaches to accelerate their teaching in training camp.
"Our practice format certainly is designed to reflect that," Mendenhall said, "and I'll assess the first few days to see if that's actually possible. But from what I saw today, the experience is allowing us to start in a different practice model than we usually do, and so far, so good."
Even veterans need to be pushed from time to time. "All you guys that have been here  for a while, go!" running backs coach Mark Atuaia yelled during one drill. "Let me slow you down."
In another drill, a linebacker was unable to knock the ball out of the hands of a running back who'd caught a short pass from Armstrong.
"Get the ball out! Get the ball out!" linebackers coach Kelly Poppinga shouted. "Attack the ball! We want turnovers. They can't score if they don't have the ball, right?"
Virginia lost two players to knee injuries during spring practice, one of them big-play receiver Lavel Davis Jr., and two offensive linemen (Jonathan Leech and Derek Devine) were unable to practice Friday.
"The rest of our team is ready to go," Mendenhall said.
That includes wideout Dontayvion Wicks, who missed last season with a foot injury. Like Davis, the 6-foot-1 Wicks a deep threat, and he had several long receptions in practice Friday.
"So we basically traded [Wicks for Davis]," Mendenhall said. "I'd rather have them both."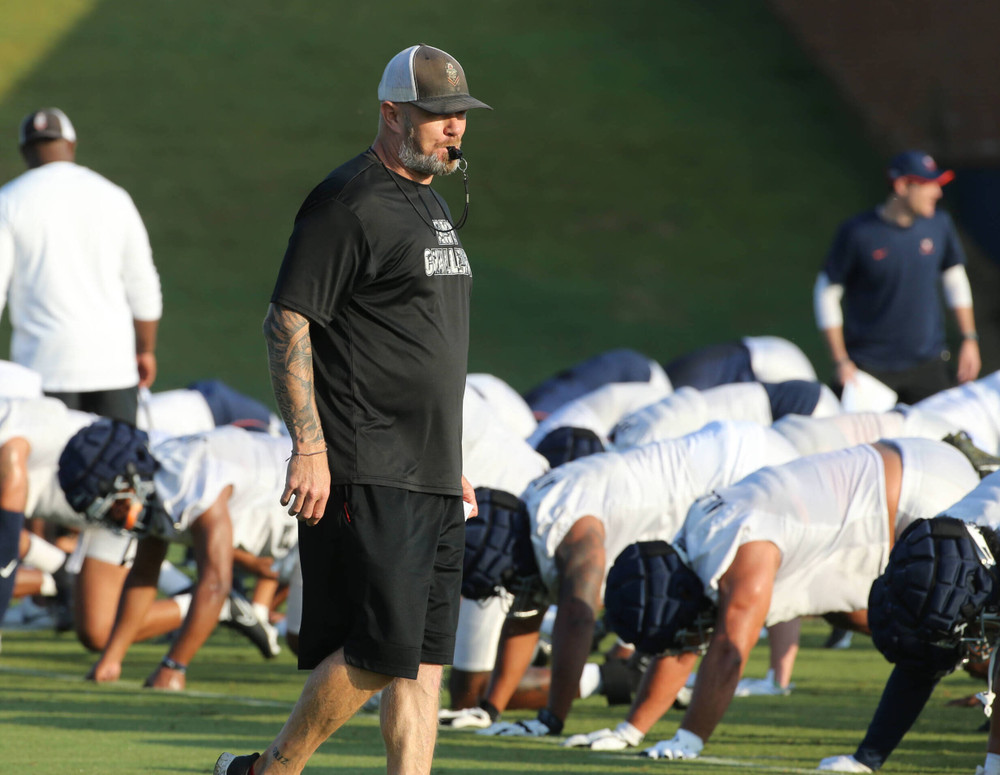 The Cavaliers have added six graduate transfers since the end of last season: running back Devin Darrington (Harvard), wide receiver Artie Henry (Marshall), tight end Jelani Woods (Oklahoma State), punter Jacob Finn (Florida), and cornerbacks Josh Hayes (North Dakota State) and Anthony Johnson (Louisville).
Mendenhall said the newcomers have amped up the "competition and urgency from existing players at that spot. There's a pretty standard old saying, that competition makes us better coaches, and that's what I saw today. There was more urgency and a higher level of concentration and production at the positions where there are transfers that came in."
Running back, where the Hoos have Darrington, Wayne Taulapapa, Ronnie Walker Jr., Mike Hollins and true freshman Amaad Foston, is probably the team's deepest position.
"All of us are in blue," Taulapapa said. "So to see the numbers that these guys are putting up in the weight room, as well as the speed numbers, it's exciting."
The running backs, center Victor Oluwatimi said, are "all veteran, they're all older, they're all strong, they're all fast, they're all quick, and they all can boogie. It's just on us opening the lanes … and doing what we have to do. I'm very excited for all running backs this year."
Armstrong led the Cavaliers in rushing last season. Among the team's running backs, Taulapapa rushed for the most yards (395).
That's a modest total, but Mendenhall said he believes "it has a lot less to do with Wayne and a lot more to do with our offensive front and the holes he has. Wayne is a really good player, probably our best special teams player, and capable in every area. And so when the holes are bigger, when the blocking is more consistent, the traditional run game will be better."
Taulapapa started eight games last season. The starting job won't be handed to him this year, but "good luck beating out Wayne," Mendenhall said. "He just seems to win every drill any time they're competing, and he's demonstrated that. I like his chances."
He also likes Virginia's offensive line, where returning players with starting experience include Oluwatimi, Glaser, Ryan Swoboda, Ryan Nelson, Joe Bissinger and Bobby Haskins. Several of them played extensively in 2019, too, and they've grown into a cohesive group.
"I know what Chris is doing," Oluwatimi said. "Chris knows what I'm doing. We're just all on the same page, and there's less talking. Obviously, there's communication between me and Brennan as far as protections, and with me communicating with the running backs, but much is non-verbal, and that's just playing and trusting and anticipating."
Asked about the offensive line, Mendenhall said, "I'm optimistic."
WELCOME BACK: Former UVA quarterback Lindell Stone recently joined the coaching staff at Hampden-Sydney College. That opened a graduate assistant position at Virginia, and Mendenhall wasted no time filling it with Chris Peace.
Peace was standout linebacker for the Cavaliers early in Mendenhall's tenure in Charlottesville.
"Chris Peace was labeled by an NFL general manager to me, face to face, the hardest practice player he'd ever seen," Mendenhall said. "Who better would you want your team to learn from, than the hardest practice player that a general manager with gray hair had ever seen?"
The team's graduate assistants include Peace, Donte Wilkins and Joe Spaziani, all of whom played for Mendenhall at UVA. The fourth GA is Charles Mack, whose brother, Jordan, was a standout linebacker for Mendenhall.
Also, Mendenhall said Friday, former All-America safety Quin Blanding has rejoined the program as part of the recruiting staff.
To receive Jeff White's articles by email, click here and subscribe.