By Jeff White (jwhite@virginia.edu)
VirginiaSports.com
CHARLOTTESVILLE –– After a pandemic-related hiatus, the Dirty Dozen returned to the University of Virginia football program this summer for the first time since 2019.
Named for the classic film about World War II that was released in 1967, the group is made up of players who rated highest in the Cavaliers' offseason strength and conditioning program.
Receiving coveted black Dirty Dozen T-shirts on Saturday were running backs Perris Jones and Devin Darrington, defensive backs Chayce Chalmers and De'Vante Cross, linebackers Nick Jackson and Elliott Brown, tight ends Jelani Woods and Sackett Wood, defensive lineman Mandy Alonso and offensive linemen Ryan Swoboda, Chris Glaser, Joe Bissinger and Olusegun Oluwatimi.
"It was super competitive," said Shawn Griswold, Virginia's director of football development and performance. "I didn't know if it would be, after the year off, but it was pretty talked about, especially in the big group, with the O-line and D-line. Those guys were always in [the weight room] trying to figure out what they had to do to make it."
At the end of the summer, players are tested in the bench press, squat, clean, vertical jump, broad jump, pro agility drill, shuttle and 225, Griswold said. In a typical year, the Dirty Dozen consists of four players from each of three position groups: skill (running backs, wideouts, quarterbacks, defensive backs), big skill (linebackers, tight ends, punters, kickers), and big (linemen).
This year, though, five bigs made the cut, giving the group 13 members.
"Swoboda and Glaser gave us a baker's dozen," Griswold said, "just because when you put all the testing things we do together, it just shot out the same points for those two, so they tied."
Several other players barely missed earning Dirty Dozen status.
"It was as close as they come," Griswold said. "I think now that it's back, [players will be] more and more like, "What can I do to get into the Dirty Dozen?' "
Griswold, who came to UVA in January 2018, has held similar competitions at other schools where he's worked.
"It's a badge of honor-type thing," he said, "and they've got to be durable, consistent and productive in everything we ask them to do."
The holdovers from the 2019 group are Alonso and Bissinger. Alonso was also in the inaugural Dirty Dozen in 2018, and that he made the grade again this year is no surprise. (Because of the COVID-19 pandemic, the Wahoos weren't able to have their customary strength and conditioning program last summer.)
Late last month, Griswold paid tribute to Alonso's unsurpassed work ethic by selecting the fifth-year senior to punctuate the end of summer workouts by breaking a ceremonial rock on one of the practice fields. On Saturday night, his teammates gave Alonso the honor of being the first player to select his jersey number for this season.
"That guy's been super consistent and diligent about getting better, and he's still that way," Griswold said. "He works hard, he's consistent, durable and productive, and for us that's a key component of the program.
"Mandy has not had a down day. It's pretty impressive to keep up that kind of workload and intensity throughout an entire offseason."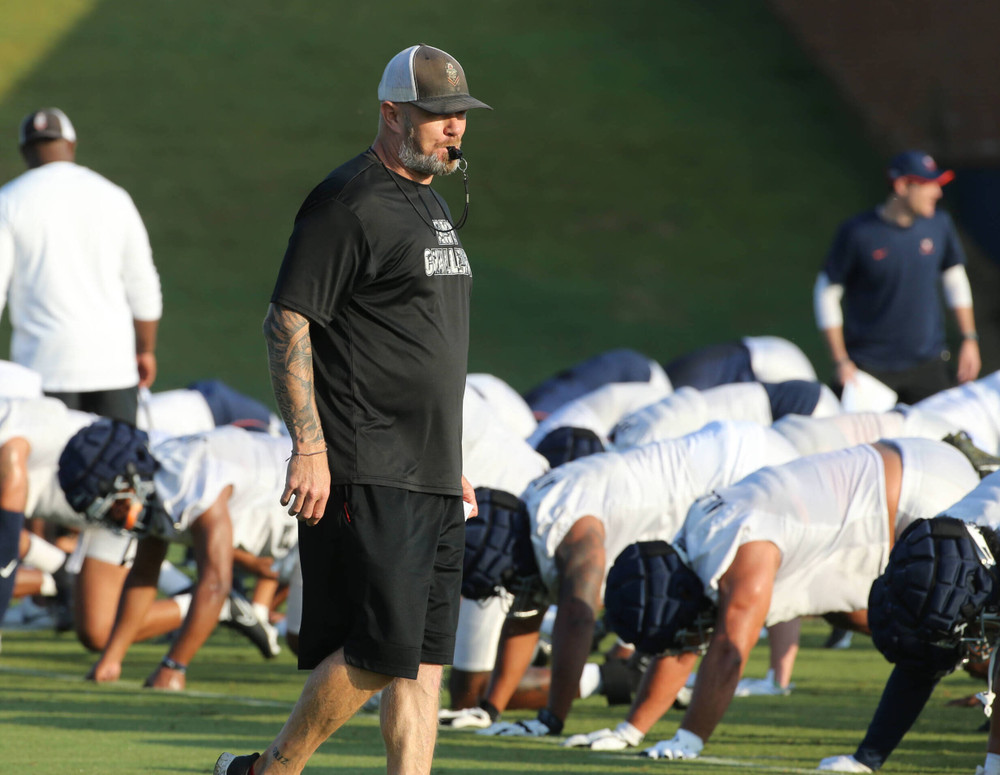 Of the players who made the Dirty Dozen in 2019, four are still on the roster: Alonso, Bissinger, defensive back Nick Grant and linebacker Noah Taylor. Grant and Taylor were coming off injuries this summer and weren't cleared to take part in some of the testing. Otherwise, Griswold said, they likely would have made it again.
"In the summertime, you have to be able to do every single test," Griswold said, "so if you don't do something, because of injury or soreness or whatever it may be, you're not going to make it, because you're not going to get any points for that test."
Darrington and Woods are graduate transfers––from Harvard and Oklahoma State, respectively––who joined head coach Bronco Mendenhall's program this year. At 6-foot-7, 265 pounds, Woods is a mismatch in the secondary, and he has the speed to match his size.
For Wood, a graduate of E.C. Glass High School in Lynchburg, this has been a memorable week. At the end of practice Saturday at Scott Stadium, Mendenhall awarded the 6-foot-3, 250-pound Wood a scholarship.
"It shows you the dedication he's had," Griswold said.
At 6-foot-10, 325 pounds, Swoboda is the largest member of the Dirty Dozen, and he's made remarkable strides in Griswold's program.
For a player that big to move as well as Swoboda is "super impressive," Griswold said, "and then you take in all the strength numbers. It's not easy for a a guy who's 6-10 and change to squat, or to clean what he cleans. A 350-plus power-clean guy that's 6-10, that's a long way to pull a weight."
Members of previous Dirty Dozens at UVA:
* 2019 –– Bryce Perkins, Joe Reed, Nick Grant, Bryce Hall, Jordan Mack, Noah Taylor, Charles Snowden, Nash Griffin, Mandy Alonso, Joe Bissinger, Richard Burney, Eli Hanback.
* 2018 –– Bryce Perkins, Juan Thornhill, Olamide Zaccheaus, Jordan Ellis, Jordan Mack, Malcolm Cook, Chris Peace, Zane Zandier, Marcus Applefield, Richard Burney, Mandy Alonso, Eli Hanback.
To receive Jeff White's articles by email, click here and subscribe.