By Jeff White (jwhite@virginia.edu)
VirginiaSports.com
CHARLOTTESVILLE –– Preseason camp provided University of Virginia head football coach Bronco Mendenhall with reams of information about his team. He understands the limitations of that information.
"Practicing against yourself always gives you a partial view, never a complete view, of how you'll match up versus opponents," Mendenhall said Monday on the first of the season's weekly Zoom calls with media members. "But it does allow a point of reference for previous teams I've coached against, other teams that I've coached, and kind of [shows] where the progress lies."
Virginia opens the season Saturday at 7:30 p.m. against William & Mary at Scott Stadium. Mendenhall isn't sure exactly what to expect from his team, but experienced players dominate the two-deep, and that allowed the Cavaliers to accomplish more in camp than in years when newcomers were cast in prominent roles.
"Because of the maturity, the practice formats have been different, the acceleration rate, the install, all these things have been different and accelerated, because [the players have] been able to handle it," said Mendenhall, who's in his sixth year at UVA.  "Really we put a lot of emphasis, too, on just managing the health of our team to make sure the players with experience are in the best physical shape and health to start the season."
In training camp, the Wahoos had fewer sessions in which they tackled and blocked to the ground, Mendenhall said, though physicality was still emphasized.
"There is kind of a difference in there in terms of construct, but we are as healthy as any team that I've coached probably in my entire career coming out of fall camp," Mendenhall said. "That doesn't mean perfectly healthy, but our emphasis shows in the health of our team right now, which I'm so thankful for."
The Cavaliers' veterans include offensive tackle Ryan Swoboda, who's in his fifth year in Mendenhall's program. He noticed a difference in this camp.
"I think [the coaches] definitely put an emphasis on workload," Swoboda said, "but I think when you get veteran guys who know how to maximize every rep, you can do that. If you've got guys who haven't really gone through a fall camp, you might need to give them 40, 50 plays just to show them how to really work and get that work in, but with veteran guys you can give them 20 plays, and we can go hard to make those 20 plays be as taxing as 50.
"My body feels great. At this point in camp, I've never felt this good, to be honest. Usually you've got some bruises and you're sore and stuff like that, so I appreciate the emphasis on the workload."
UVA is asking fans to wear orange to the game, which will be broadcast on Regional Sports Network. The atmosphere at Scott Stadium promises to be festive. The COVID-19 pandemic touched most areas of college football last fall, and attendance at Scott Stadium was limited to 1,000 for four of Virginia's home games and to 250 for the other two. No such restrictions are in effect for the opener.
"I can't wait to see it," Swoboda said. "I know it's gonna be electric."
One of the pillars of Mendenhall's program is the 4th Side. It consists of the fans in the stands and the UVA players on the sideline who cheer on their teammates on the field.
The return of a full-fledged 4th Side, Mendenhall said, "might be the thing [UVA players are] looking forward to most. As we show film from a year ago and sometimes the camera pans and there is just nothing there [in the stands], it's just, 'Wow, what a challenge.' "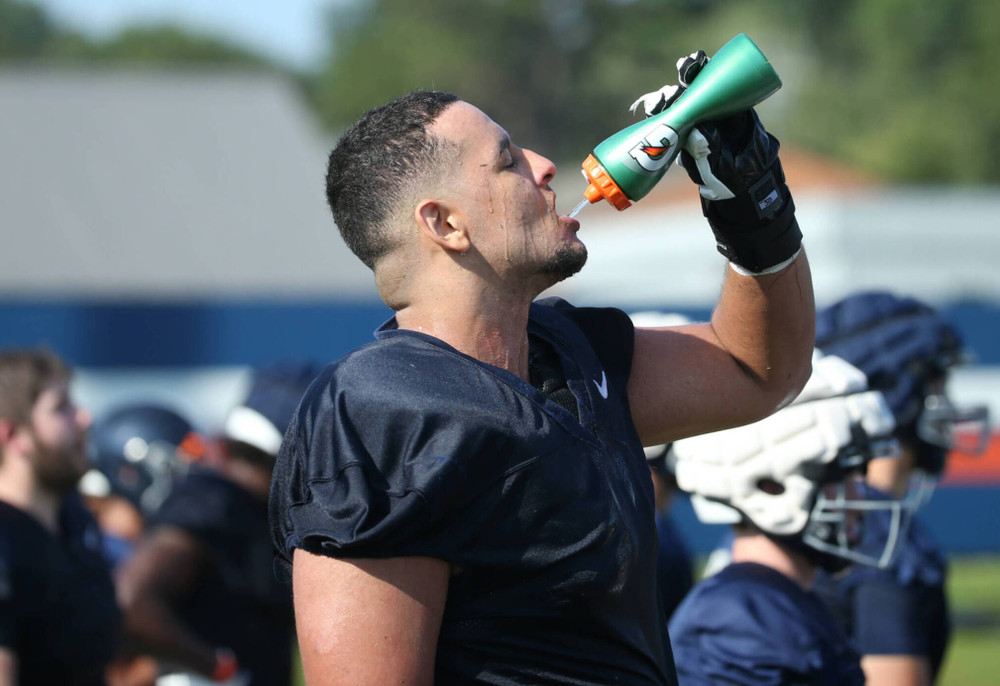 The Cavaliers finished 5-5 in 2020. They took a four-game winning streak into their regular-season finale in Blacksburg, but struggled in all phases of the game in a 33-15 loss to Virginia Tech. The Hoos chose not to play in a bowl game, and so their season ended on a disappointing note.
"My team really hasn't brought that up or thought about that much," Mendenhall said. "They're just anxious to play in a new year."
Virginia averaged 30.7 points per game last season, and many of the key players from that offense are back, including quarterback Brennan Armstrong, running back Wayne Taulapapa, wide receivers Billy Kemp IV and Ra'Shaun Henry, and linemen Olusegun Oluwatimi, Chris Glaser, Joe Bissinger, Ryan Nelson, Bobby Haskins and Swoboda. Joining that veteran core at midyear was tight end Jelani Woods, an immensely talented graduate transfer from Oklahoma State.
And then there's Keytaon Thompson, who lined up at running back, wideout and quarterback for the Cavaliers last season. On the depth chart UVA released Monday, Thompson is listed as an FBP, which Mendenhall said stands for "football player."
"I'm excited any time we have a returning quarterback, and especially one of the quality Brennan is," Mendenhall said. "But then if you think about the other players that will have significant touches or have a chance to touch the ball at the skill positions, there is lots and lots of experience, as well as in the offensive front."
The offensive line is the team's most experienced group, and that manifests itself on and off the field.
"We're comfortable with being able to coach each other," Swoboda said. "When you've been together so long, there are things that I'm going to know that other people aren't going to know and vice versa. So we have conversations daily trying to coach each other up, and just being able to communicate with each other as efficiently as possible is a huge benefit."
The offensive line wants to dominate this season, but its members "understand we can't let our expectations exceed our preparation," Swoboda said. "We have to recognize that we have to pay rent every single day … If we want to do the things that we want to do, rent's due every day. So we have expectations, but we know that our preparation has to exceed that."
Veterans abound on the defense, too, though not all of them were in the program last season. Cornerback Anthony Johnson is a graduate transfer from Louisville who went 0-2 against the Cavaliers at Scott Stadium.
"So if you can't beat 'em, join 'em," Johnson said, smiling. "That's why I'm here."
Johnson said he's excited about playing for the home team at Scott Stadium, one of his favorite ACC venues.
"I'm just excited to feel the 4th Side and just be a part of a new atmosphere and see what the Virginia Cavalier fan base has to offer," Johnson said. "It looks awesome. I just can't wait to be a part of it."
Johnson, who enrolled at UVA midyear, quickly won over his new teammates and coaches. He was in the first group of players to select jersey numbers this month.
"That was a really great feeling," said Johnson, who chose jersey No. 3. "I almost had tears in my eyes. It really felt like it was an honor just to have my peers and the coaches think so highly of me with me just being here for a short period of time."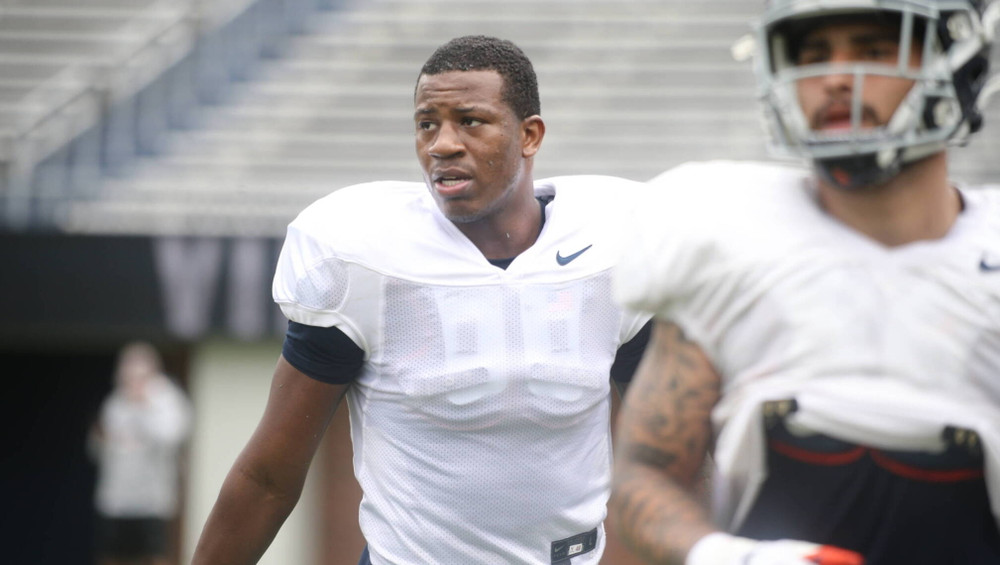 It's been a hot, humid month in Charlottesville, and practices were draining. UVA's players are ready hit someone else.
"Everybody's very amped up that it's game week," Johnson said. "I feel like we've been practicing very well, practice has been very intense, and we're excited to get out on the field."
Virginia holds a 30-6-1 lead in its series with William & Mary. In the teams' most recent meeting, UVA romped 52-17 at Scott Stadium in the 2019 season opener.
Mendenhall's predecessor at UVA, Mike London is in his third year as W&M's head coach. One of the Tribe's wide receivers, Cole Blackman, began his college career at UVA, and London isn't the only member of his staff who's familiar with Scott Stadium.
W&M's associate head coach, Vincent Brown, is a former UVA assistant, and Tribe assistants Gordie Sammis, Matt Johns, Ras-I Dowling, Keenan Carter and Darryl Blackstock are former UVA players. Johns was a graduate assistant for Mendenhall in 2018.
Mendenhall came to UVA from BYU after the 2015 season, and many of his staffers followed him from Provo, Utah, to Charlottesville. Most are still working with him at Virginia.
"When you're a head coach, to have people like that, that you know and trust that are also capable and skilled, it's just a much more enjoyable experience and, I think, a more productive experience," Mendenhall said. "So I think what Coach London has done at William & Mary, it makes complete sense to me. It's the exact model that I believe in and use and will continue to. I love hiring from within and building from within. I think that's where your culture can remain the strongest."
To receive Jeff White's articles by email, click here and subscribe.