By Jeff White (jwhite@virginia.edu)
VirginiaSports.com
CHARLOTTESVILLE –– From the opening kickoff, Virginia's defense asserted itself Saturday night, forcing William & Mary into one three-and-out after another at Scott Stadium. The Cavaliers' offense was on a different schedule.
"It just took a little time," UVA head coach Bronco Mendenhall said.
Twenty minutes into the season opener, Virginia's only points had come on a 39-yard field goal by Justin Duenkel. But once the Wahoos hit their stride on offense, they didn't slow down. The Hoos finished with 545 yards in a 43-0 win over the Tribe, which is in its third season under head coach Mike London.
"We continued to play, we continued to improve, and it got cleaner and better as it went," said Mendenhall, who succeeded London at Virginia after the 2015 season.
If the victory pleased Mendenhall, so did the sea of orange that filled the student section in the crowd of 42,982. When the gates opened Saturday night, long before kickoff, students rushed to their seats.
"That was a moment that I'm not going to forget," Mendenhall said. "That was just gratifying."
COVID-19 protocols kept students away from Scott Stadium last season, and they were in full voice for much of the opener.
"They brought a lot of energy, they brought a lot of juice, and we missed the 4th Side last year, so it was great to have them back," UVA middle linebacker Nick Jackson said.
Jackson recorded a game-high 12 tackles and safety Joey Blount added eight for the Hoos, who limited the Tribe to 183 yards. Outside linebackers Noah Taylor and Hunter Stewart contributed two and 1.5 tackles for loss, respectively.
Missed tackles are often an issue in season openers, but the Cavaliers graded out well in that area Saturday night. William & Mary, an FCS program whose coaching staff includes five former UVA players, didn't record a first down until the 8:06 mark of the second quarter.
"We didn't tackle much in fall camp, in working to keep our depth as healthy as possible for a long season," Mendenhall said. "So that was a little bit of an unknown, except we had experienced players, so I was hopeful that we would see [a good performance], and it looked like it was the right call."
Virginia's special teams sparkled Saturday night. Duenkel was 2 for 2 on field goals and had five touchbacks. Jacob Finn, a graduate transfer from Florida, had a 55-yard punt on his first kick as a Cavalier. Billy Kemp had a career-long 55-yard punt return, and Mike Hollins had an apparent touchdown on a 100-yard kickoff return negated by a holding penalty.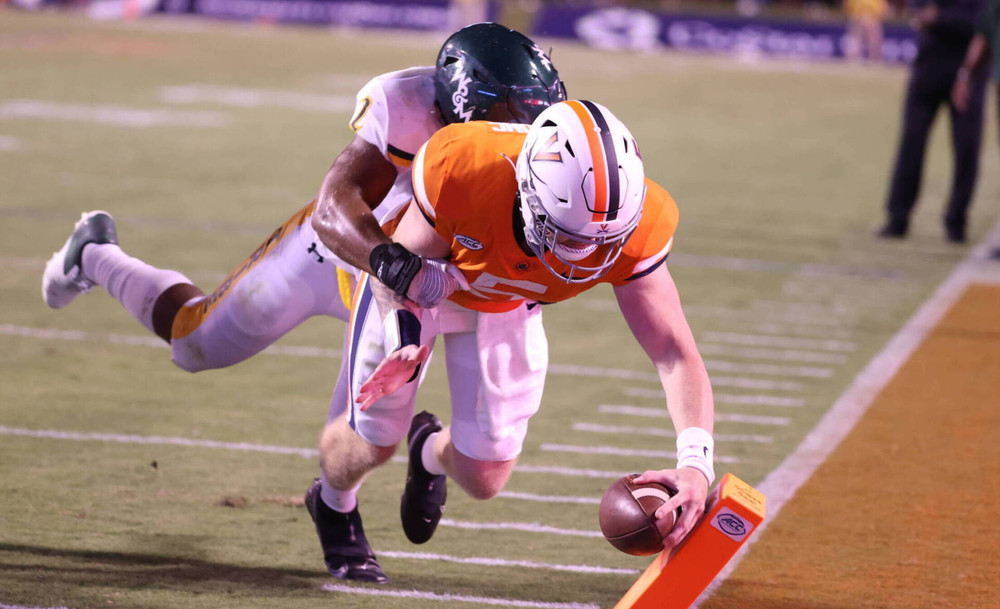 On offense, quarterback Brennan Armstrong had a hand in four touchdowns. He rushed for two scores and completed 21 of 31 passes for 339 yards and two TDs, with no interceptions. After the game, Mendenhall chose No. 5 to break the ceremonial rock in the locker room, the second time Armstrong has been so honored during his UVA career.
Armstrong's first TD pass, on a fade pattern, was a 5-yarder to wide receiver Ra'Shaun Henry. The second, to wideout Demick Starling, went for 65 yards. Other standouts in the passing game included wideouts Keytaon Thompson (five catches, 66 yards), Dontayvion Wicks (four catches, 94 yards) and Kemp (four catches, 55 yards).
Tight end Jelani Woods, a highly regarded graduate transfer from Oklahoma State, caught one pass for 5 yards before leaving the game. Woods appeared to be cramping up.
Back-to-back completions from Armstrong to Wicks gained 53 yards on the Cavaliers' first touchdown drive, and from that point the offense rarely sputtered.
"I think in the first half, I was trying to push the tempo," Armstrong said. "I was just moving a little too fast, wasn't letting things slow down, wasn't reading [the defense] too much, was kind of trying to push. Once we got to the second half, I wasn't pleased with what happened in the first half, so I just tried to slow things down, like Coach Mendenhall mentioned before."
Fortunately for the Cavaliers' offense, their defense kept W&M off the scoreboard. If the Tribe had been racking up points, the game "turns into a shootout," Armstrong said, "and I'm happy our defense did that. That's what their goal is. They said they're gonna try to get a shutout every week, and they did that. And so that takes a lot of stress off us, especially when we weren't clicking in the first half … But they kept battling, they kept doing their part. And so we were finally kicked it on and got some points to make it a little bit easier for them to relax and start playing."
Blount said the defense has "been there as well. The offense has held us up when we've been down, so I think today it was just a good way for us to keep them up. All around the defense was clicking on all cylinders. In the run game, we were stopping the run. They didn't take many deep shots so we kept everything in front of us. I think overall as a defense we were tackling really well. I think it was just a really good job of playing complementary football and just staying positive and staying there for the offense and just encouraging them to get it going."
Of Virginia's 32 carries, 20 were by players who joined the program as quarterbacks: Armstrong, Thompson, Iraken Armstead and Jacob Rodriguez. Thompson had a 40-yard gain, Armstead had a 20-yard run, and Rodriguez picked up 24 yards on a second-half carry.
"There's appearing to be the makings of a pretty diverse offense with a lot of different opportunities," Mendenhall said, "with room to grow on the execution."
With 10:22 left and the score 36-0, the Cavaliers' coaches debated whether to rest Armstrong. They decided to give him one more series, and it was a beauty. On a 91-yard drive that ended with Ronnie Walker Jr.'s 9-yard touchdown run, Armstrong was 4 for 4 passing, including a 23-yard completion to Wicks.
"That last drive felt the best," Armstrong said. "I felt like I was looking over, reading through my reads, seeing everything I needed to see."
Mendenhall said: "The last drive that Brennan was in, that was a glimpse to me of what I'm hopeful to see more of. The game looked slower, we looked just tempo-driven and so decisive."
Virginia's stable of backs didn't get much work Saturday night, but the traditional running game "wasn't really the focus in terms of what we were trying to accomplish," Mendenhall said. "But as you saw the game go on, you saw more capability there and, and so I was satisfied with what we did."
UVA stretched its winning streak to nine in non-conference home games.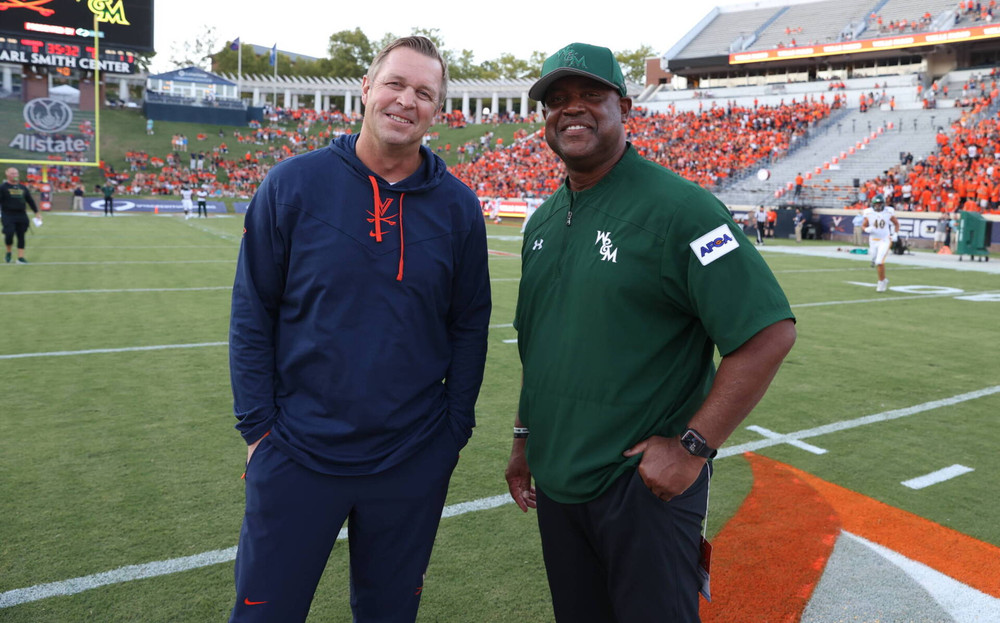 WELCOME HOME: Among the former players on the UVA sideline were Bryce Perkins, Joe Reed, Charles Snowden and Hasise Dubois. Also in attendance was former Virginia basketball standout Trey Murphy III, whom the New Orleans Pelicans selected in the first round of this year's NBA draft.
GAME BALLS: There were too many standouts to name for UVA, which increased its series leads to 31-6-1, but here are several:
* Dontayvion Wicks. After missing the 2020 season with a foot injury, he made a triumphant return Saturday night. Wicks' four receptions were one more than he had as a true freshman in 2019.
* Demick Starling. As a true freshman last season, when the Hoos finished 5-5, he caught four passes for 20 yards. Starling blew past the Tribe's secondary midway through the third quarter Saturday night, caught a perfectly thrown pass from Armstrong, and raced to the end zone.
"It's coming," Mendenhall said, "and we're going to need him. So he has really good speed, and he's aggressive and he's tough, and he can block, and he's a deep threat."
* Nick Jackson. The Hoos' leading tackler last season in his first year as a starter, he assisted on stops on each of the game's first three plays Saturday night.
"It felt like I was locked up for a while now," Jackson said. "Nine months without playing a game, so I was really excited. I was really excited, ready to fly around, and the line held 'em up, and I was able to make some plays."
* Justin Duenkel. He kicked off for the Cavaliers in 2020, but until Saturday night he hadn't attempted a field goal in a college game. He connected from 39 and 25 yards against William & Mary.
* Nick Grant. The sixth-year senior, who moved from cornerback to safety last month, flew off the edge and blocked a field goal in the third quarter. Grant also had two tackles.
UP NEXT: The Cavaliers don't play many 11 a.m. games, but that's the starting time for Illinois' visit to Scott Stadium next Saturday. The game will air on ACC Network.
"It was a good little icebreaker this week," Armstrong said. "Now we start getting to [Power Five games] with Illinois. I'm excited to go continue to get better this next week and figure out what we need to work on."
The Fighting Illini, who are in their first season under head coach Bret Bielema, fell to 1-1 with a 37-30 loss Saturday night to the University of Texas at San Antonio.
Virginia is 0-2 all-time against Illinois. The teams' most recent meeting came on Dec. 30, 1999, in the Micronpc.com Bowl. The Illini won 63-21.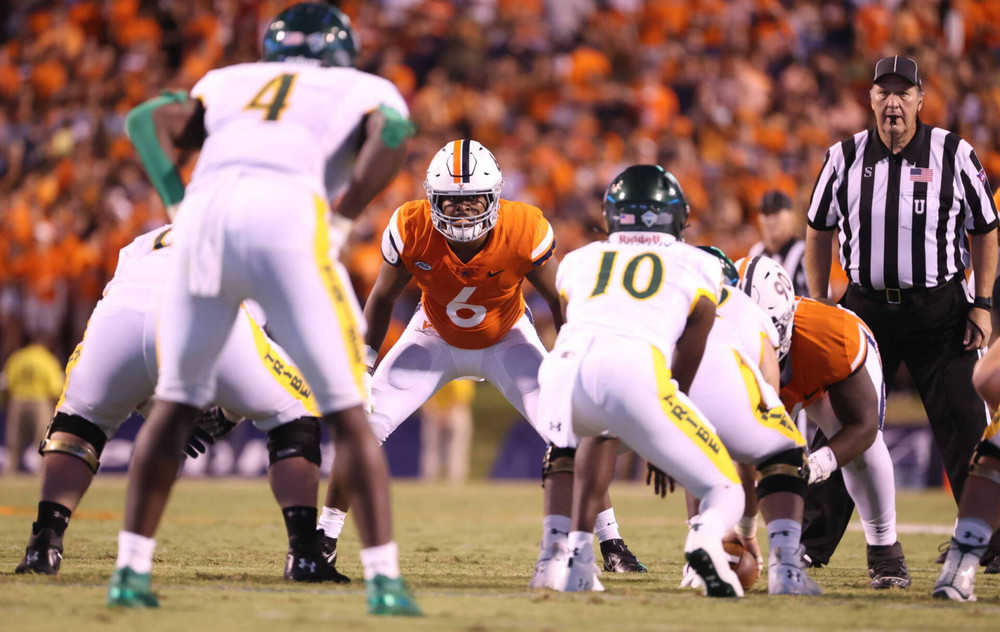 SOUND BITES: The victory was the Cavaliers' 13th in their past 14 games at Scott Stadium. Among the comments afterward:
* Mendenhall: "I think there's a lot to build off and certainly a lot to work on, but I liked the start of our season, and I liked what I saw in terms of potential diversity, the numbers of players contributing with room to grow.
* London: "I thought we did a good job defensively in the first half. So that's something to be proud of, but it's not good enough when you don't win the game. So there's a lot of things that we could get better at. The goal is always to win a game no matter who you're playing."
* Starling: "Our offense has a lot of weapons."
* Jackson: "It feels good to get the shutout. All the hard work from the offseason paid off."
* Blount on the secondary's play: "I think today was a good day, a good outing for us to show where we've come from last year …  I really do think that the team that we were last year as a secondary [compared] to this year is night and day, and I truly believe I think today was a good outing for us all. I think there's things that need to go back to the chalkboard and chalk it up and really get better at, though."
* Armstrong: "I figured we'd come out a little bit faster, but we didn't. And so that's something we've got to fix this coming week against Illinois."
To receive Jeff White's articles by email, click here and subscribe.