By Jeff White (jwhite@virginia.edu)
VirginiaSports.com
CHARLOTTESVILLE –– The contrast could hardly be more striking.
In five-plus seasons under head coach Bronco Mendenhall, UVA's football team has a record of 24-10 at Scott Stadium. Eight of those home losses came in 2016 and '17. Since then, the Cavaliers have won 19 of the 21 games they've played in friendly surroundings.
Away from Charlottesville, however, they've been a different team, posting an 8-22 record under Mendenhall.
"I don't know what it is on the road," UVA defensive lineman Mandy Alonso, a fifth-year senior, said Monday. "But we definitely feel more comfortable at home."
In 2019, when the Wahoos won the ACC's Coastal Division for the first time, they went 7-0 at home and 2-3 on the road. (They were 0-2 at neutral sites.) In 2020, though, they went 0-4 on the road and finished 5-5 overall.
To contend for the Coastal Division title, Mendenhall believes, a team usually must win about 50 percent of its road games.
"We are currently not doing that," Mendenhall said at ACC Football Kickoff in July. "That's the next level of expansion. To have consistency in our program, to maintain what we're already doing at home, which is very strong, then that has to travel, and that hasn't yet. That's one of the areas of growth."
In Mendenhall's 11 years as BYU's head coach, many of his teams excelled on the road.
The key, Mendenhall said Monday on his weekly Zoom with media members, was "absolute mindset, mindset, mindset. We relished going someplace else and not being welcomed. The harder the better. We looked forward to it. We celebrated it. The louder teams were against us, the better it was, the more we would cheer. The harder it was, the more we liked it, and that what was fostered over time.
"When you're building a program, and that's not to say that I haven't tried to do it all at the same time, but there has been different emphasis."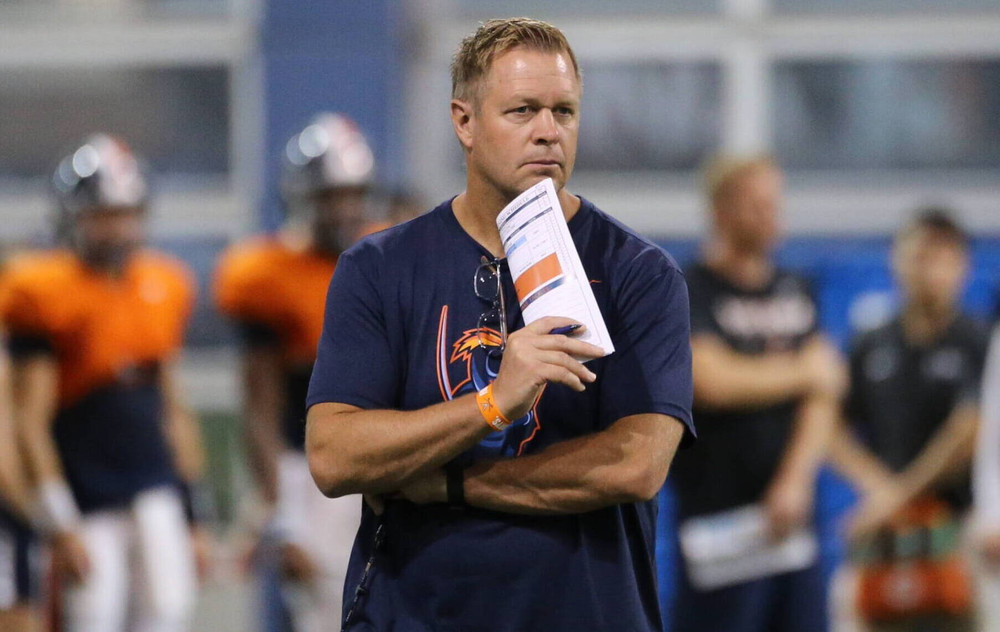 In the Hoos' first game under Mendenhall, on Sept. 3, 2016, they suffered a one-sided loss to FCS team Richmond at Scott Stadium. After that, Mendenhall said, his immediate priority was help UVA "become exceptional at home first, and that's taken a lot of work to become 19-2 and now 15-1 over the last little bit. That's one of the best records in college football at home."
UVA opened the season Sept. 4 with a 43-0 romp over William & Mary at Scott Stadium. A week later, on the same field, the Cavaliers cruised to a 42-14 win over Illinois.
"So we have to hold the ground we've taken and now expand," Mendenhall said.
For the Hoos, the first opportunity of the season to demonstrate progress in that critical area comes Saturday in Chapel Hill, N.C.  At 7:30 p.m. in a Coastal Division game to air on ACC Network, UVA (2-0) meets No. 21 North Carolina (1-1) at Kenan Stadium.
The Hoos are 2-0 in Chapel Hill under Mendenhall, and a win Saturday would give them their first five-game winning streak in the series in more than a quarter-century.
"Just the fact that UVA hasn't lost to [UNC] the past four years, it's very sweet to us, and it's something that we take pride in," Alonso said.
UVA closed the 2020 season with a 33-15 loss to Virginia Tech in Blacksburg. Since then, Mendenhall has focused on reversing the Cavaliers' fortunes on the road. To that end, during the spring and in training camp last month, he periodically put his players on buses and had them practice away from Charlottesville.
"They were all surprise road trips," Alonso said, "and it was just to get us off guard and not expect it, so it could be a road game and a road game that is happening quick. I think it was really good for us to experience that, just getting on the buses and going somewhere different, whether it was 20 minutes away or an hour away. It doesn't really matter. But it's the experience of getting on the buses and going to a different place. That was the whole experience that he wanted us to have."
Mendenhall said: "That doesn't mean immediate results, it doesn't mean automatic returns, but it does mean emphasis. Again, while we're holding the ground we've won, we are now working hard to expand that and with pretty unique methodologies, and I think they'll gain traction over time."
Offensive guard Chris Glaser, another fifth-year senior, said he believes the practices outside of Charlottesville "have been helpful, and we'll see if they have been."
In Chapel Hill, UVA will face a UNC team intent on ending its losing streak in a series that dates back to 1892. That the Cavaliers start experienced players at most positions should help them Saturday night.
"You just know what to expect," Glaser said. "We've been there, we've done it, and we just have to do it again and at a higher level, since UNC is a good team and they'll be gunning for us, especially since it's been four straight."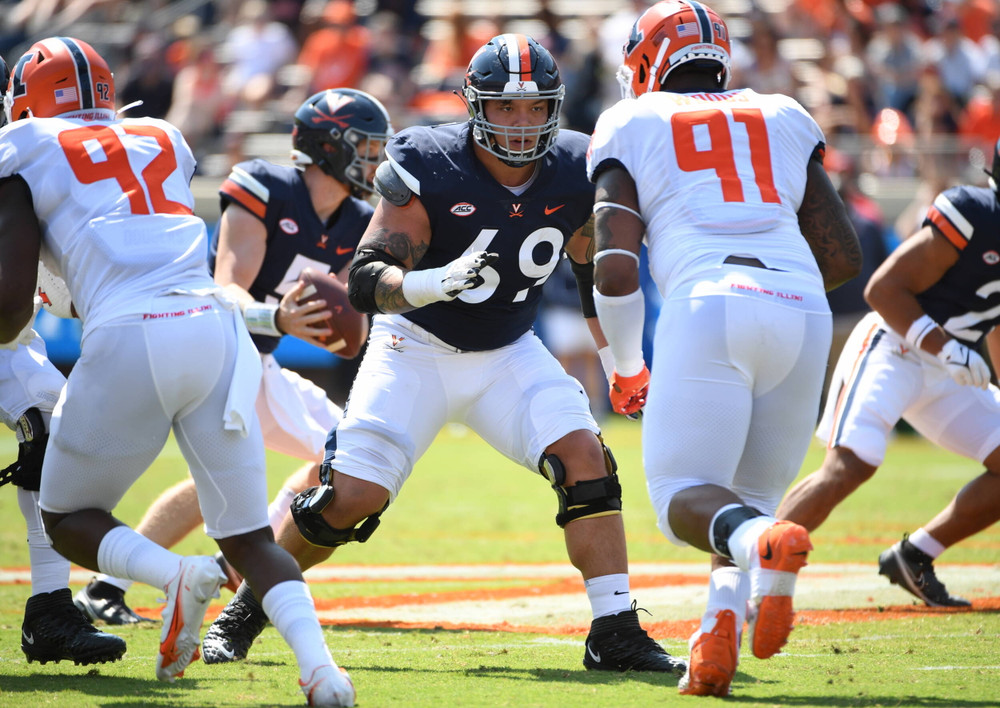 The Tar Heels, who have an All-America candidate in quarterback Sam Howell, entered the season favored to win the Coastal Division, but they stumbled in their opener, losing 17-10 to Virginia Tech in Blacksburg.
The Hokies intercepted Howell three times at Lane Stadium, but he rebounded Saturday night in a 59-17 rout of Georgia State, rushing for 104 yards and two touchdowns and passing for 352 yards and three more scores.
In Carolina's 44-41 loss to UVA at Scott Stadium last season, Howell threw for 443 yards and four touchdowns. The Heels lost several high-level players from their 2020 team, including wide receiver Dyami Brown and running backs Javonte Williams and Michael Carter, but with Howell back their offensive approach hasn't changed significantly.
"It looks very similar with different personnel," Mendenhall said. "The scheme is well-thought out. It's very well-coached."
In Brennan Armstrong, UVA also has a quarterback who puts up big numbers. But even if another shootout unfolds at Kenan Stadium,the points of emphasis will remain the same for the Cavaliers.
"You have to be physical," Mendenhall said. "You have to be tough. You have to play hard. And then you have to execute your assignments and techniques. That is kind of the core of what it takes to repeat as a division champion or to remain consistent in college football, even with all the [various offenses in today's game]. If you don't address that part, when you need it it's not there, and that's usually in really critical moments."
The Hoos haven't defeated a ranked opponent on the road since Nov. 19, 2011, when they upset No. 23 Florida State in Tallahassee.
"Having games as big as this one is, is very fun," Glaser said. "One that a lot of us recall is the FSU game about two years ago, and UNC at night a couple years ago. They're just fun games to play in and be in front of a big crowd. Yes, there's a lot more weight on our shoulders to perform and win, but that's kind of what you want when you play college football."
Alonso said: "I want to be able to leave UVA saying I've never lost to UNC, no matter who is back there at quarterback or running back, or whoever's on their defense."
To receive Jeff White's articles by email, click here and subscribe.