By Jeff White (jwhite@virginia.edu)
VirginiaSports.com
CHARLOTTESVILLE –– Back-to-back 20-point losses have put the University of Virginia football team in an unenviable position: 0-2 in ACC play.
A week after giving up 59 points and 699 yards to No. 21 North Carolina in Chapel Hill, N.C., UVA took on unbeaten Wake Forest in much friendlier surroundings.
The change of locale did not produce the desired result for head coach Bronco Mendenhall's team. In a nationally televised game Friday night, Virginia fell behind early and never recovered in a 37-17 loss. The defeat was only the Cavaliers' third in their past 22 games at Scott Stadium.
By the fourth quarter, only a smattering of fans remained in the stands, but the student section and the hill were packed early in the game.
"I was so thankful for the crowd and the energy," Mendenhall said, "and we were trying to give them every chance to stay with us and into the game. But the reality is I didn't have our team executing well enough to maintain the home-field advantage. That's just something we've taken such great pride in and made so much progress [in], and that probably hurts maybe more than anything."
Before taking questions at his postgame press conference, Mendenhall made a point of taking responsibility for his team's performance. The Wahoos (2-2, 0-2) allowed six sacks, gave up 473 yards and were penalized 11 times (for 83 yards), with several of those flags coming at crucial junctures.
"We have lots and lots of work to do in terms of execution, in terms of discipline, in terms of making the right plays at the right times, and having that sustained consistently from beginning to end," said Mendenhall, who's in his sixth season at UVA. "Again, that's a direct reflection of my leadership, and the [assistant] coaches are now an extension of that, and how the players play reflects preparation. I've always believed teams play as they're prepared."
The Demon Deacons (4-0, 2-0) took the opening kickoff and needed only nine plays to cover 75 yards, the final 39 coming on Sam Hartman's touchdown pass to a wide-open Taylor Morin.
Trailing 7-0, the Hoos responded with an impressive drive. They had first-and-goal at the 4-yard line after a pass interference penalty against Wake, which struggled all night to contain wide receiver Dontayvion Wicks.
Two straight runs netted only a single yard, however, and quarterback Brennan Armstrong threw an incompletion on third down. Virginia's offense stayed on the field, and the Deacons broke up Armstrong's fourth-down pass.
Wake followed that defensive stand with a long, methodical drive that ended with the first of Nick Sciba's three field goals, and the Cavaliers, who had trailed 14-0 against UNC, found themselves down 10-0.
"They're a really talented football team," Wake head coach Dave Clawson said, "but that was a huge stop. Early in the game, how much does it mean, I don't know, but you certainly like to play with a lead."
In Chapel Hill, Virginia never forced the Tar Heels to punt, and it was more of the same for three-plus quarters Friday night. Early in the fourth quarter, on third-and-18 from its 48, Wake completed a 29-yard pass to receiver Ke'Shawn Williams, wide open in the secondary.
By the time the Deacons' punt team ran onto the field for the first time, with 8:36 remaining, it was 37-17. Still, Mendenhall said, he saw progress from his defense on a night when the Deacons averaged 6.4 yards per play.
"I actually thought we played better tonight defensively than against UNC, and I would say significantly better, [though] not anywhere close to where we need to be," Mendenhall said.
"What I didn't see coming was our inability to protect Brennan. I didn't expect six sacks. I didn't expect only 17 points. I expected more big plays, and so the picture of our team is continuing to become clear. Right now, tonight was kind a reflection on the other side, where we've been moving the ball at will and scoring lots and lots of points and protecting our quarterback, and we didn't do either of those this evening."
On defense, Mendenhall said, "I thought we were more consistent [than against UNC], and I thought we were more execution-sound, and I thought we had more positive plays when I was looking out there, from beginning to end. But still, [there were] mistakes at critical times … There's key third downs, key fourth downs, things like that, where you have to make those plays to get enough opportunities for your offense to score."
Safety Joey Blount and middle linebacker Nick Jackson recorded 11 tackles each for the Cavaliers, who did not have a takeaway. Outside linebacker Noah Taylor added eight stops.
"I don't think effort's the problem," Taylor said when asked about the defense's woes. "I just think we need to lock into our assignments more … There's a lot to fix, a lot to get better at."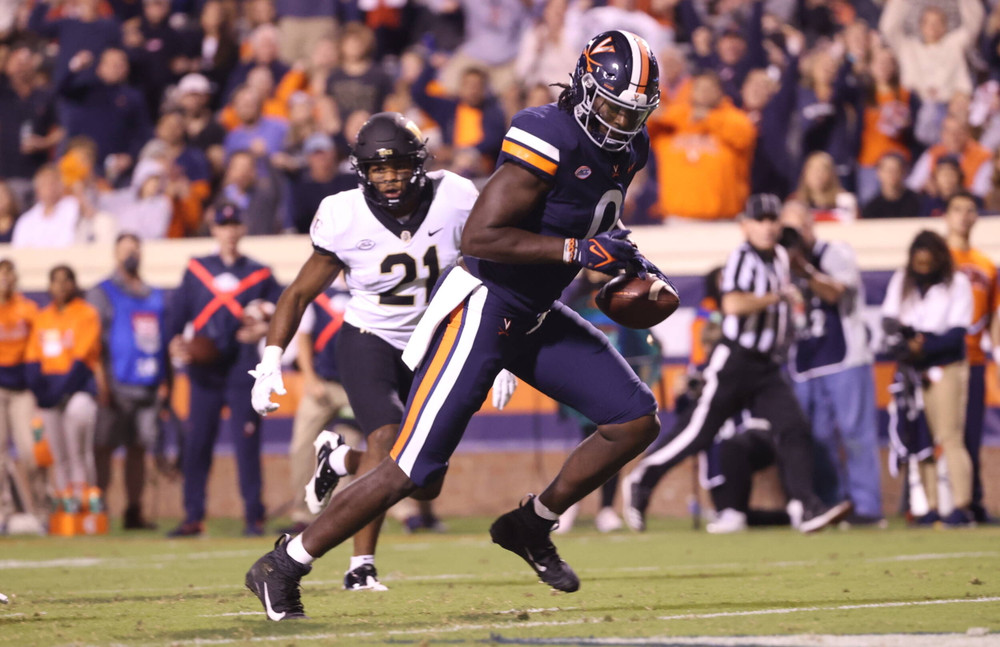 When a defense is struggling the way UVA's has been, the offense has little margin for error. It has to score on almost every possession to keep the opponent from pulling away, and the Cavaliers were far from efficient Friday night.
They totaled 506 yards, but 191 came in the final quarter, after the outcome had effectively been settled.
Armstrong, who passed for a program-record 554 yards against UNC, completed 33 of 59 attempts for 407 yards and two TDs, with one interception. The Deacons sacked him four times in the first half and went into the break with a 20-3 lead.
"As a team, we have to finally figure out a way to start off fast and get going," UVA tight end Jelani Woods said, "because starting off slow, especially against a team like that, just hurts us off the get-go and just puts us behind, and you never want to be in that position as a team."
Woods, a graduate transfer from Oklahoma State, caught a 17-yard pass from Armstrong for the Cavaliers' first touchdown, and Justin Duenkel's PAT made it 20-10 early in the third quarter. Wake answered with an 83-yard TD drive.
Armstrong's second TD pass was a 22-yarder to Wicks, who made a diving catch in the end zone with 5:02 left in the third period. Brendan Farrell's extra point made it 27-17, and the Hoos briefly had hope. Once again, however, the Deacons responded with a touchdown drive, this one covering 75 yards.
On this possession, Wake faced third-and-goal from the 12 and still came away with seven points. On a pass route that burned the Cavaliers time and again, wideout A.T. Perry shook cornerback Fentrell Cypress' coverage and caught a pass from Hartman for the score.
"Football is a game where one repetition is 11 individual battles, and we have to win more of those, and we're not," Mendenhall said.
For the second straight week, Wicks was spectacular. He finished with a career-best eight receptions for 114 yards. Another wideout, Billy Kemp, caught seven passes for 65 yards, and the 6-foot-7, 265-pound Woods added four catches for 73 yards.
In 2019, the Cavaliers won the ACC's Coastal Division for the first time, and they came into this season with the stated goal of adding another championship trophy. That hasn't changed, UVA players said late Friday night.
"No hope is lost," running back Mike Hollins said.
The loss to Wake "hurts a lot," Woods said, "but I feel like as a team, we're gonna bounce back, we're gonna get down to the details of what's going on and what we need to do, just hammer that out to just start fresh."
Taylor said: "Now our backs are against the wall. Now we don't have a choice."
ANOTHER SHORT WEEK: Next up for UVA (2-2, 0-2) is a Thursday night date with Miami (1-2) at Hard Rock Stadium in Miami Gardens, Fla. ESPN will televise the 7:30 game.
The Hurricanes, who have yet to play an ACC game, host Central Connecticut (1-2) at 12:30 p.m. Saturday.
This will be the third straight season in which Virginia visits Miami. The Cavaliers haven't won at Hard Rock Stadium since 2011.
The Canes lead the series 11-7 and have won five of the teams' past six meetings.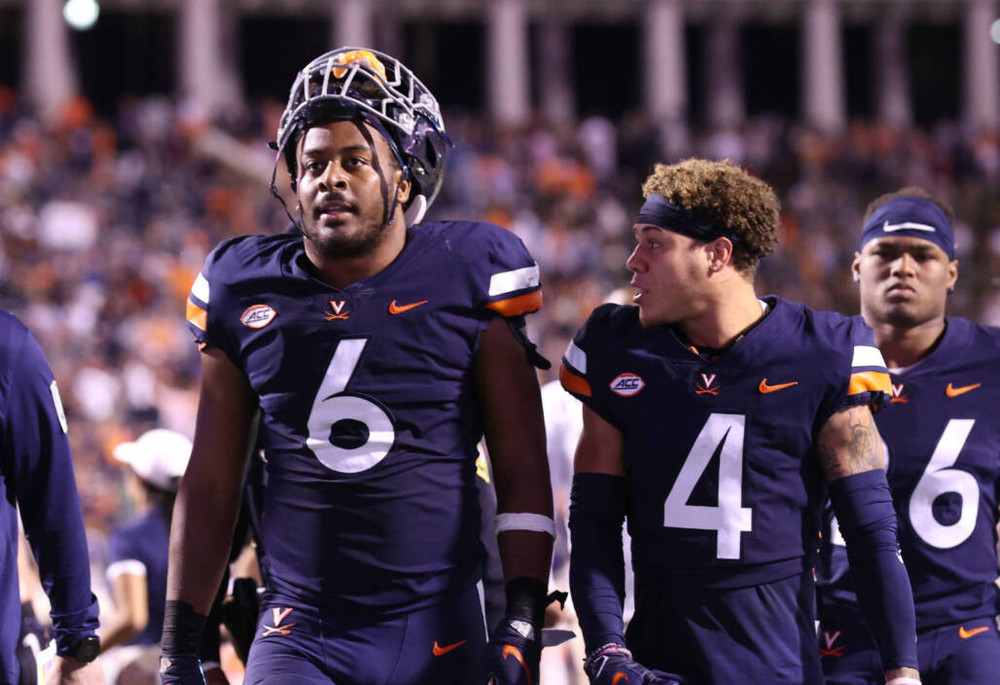 BANGED UP: The Cavaliers played without their No. 1 running back, Wayne Taulapapa, who suffered a concussion against UNC. Hollins started in Taulapapa's place and led Virginia with 127 all-purpose yards.
"Wayne's my brother, and I'm out there playing every play for him," Hollins said. "If he's out, I'm up, and it's my time. There's no drop off. I practiced all week to come out and execute and do my job, like I do every week. And with Wayne being out, it's just an extra chip on our shoulder."
Virginia's most versatile offensive player, Keytaon Thompson, hurt his hand against UNC and played sparingly Friday night, as did defensive end Adeeb Atariwa, who had missed the previous two games with an injury.
Thompson finished with two receptions for 35 yards but didn't carry the ball.
Duenkel opened the scoring for Virginia with a 21-yard field goal, but he suffered an injury on a second-half kickoff, and Farrell handled the kicking duties the rest of the way.
Woods limped to the locker room late in the game and had his right foot in a protective boot after the game.
"My leg feels fine," he said. "I should be good next week against Miami."
SOUND BITES: The win was Wake's fifth straight in a series Virginia leads 34-17. Among the postgame comments late Friday night:
* Mendenhall: "I'm not happy with the result. I thought our team was willing and I thought they wanted to try, and I thought they did try, and I thought they did battle, and I loved a lot of the efforts [from] our younger players at the end. But effort alone is not going to do it. You have to execute, you have to be clean, you have to play with great poise, and not any of those things are in a place right now that I am proud of or think is good enough to win the Coastal Division. And so we have lots and lots of work to do."
* Clawson: "Any time you can get a win on the road in the ACC it's a good win."
* Mendenhall on keeping Armstrong in until the end: "Brennan is our leader, and we're working to improve, and he's the catalyst. There's eight games remaining, and I love who he is, what he is, and I want and need his leadership, and our team thrives off of that. And there is certainly risk, I get it. Right now he's essential to our team's development. I don't expect everyone to agree."
* Mendenhall on the Coastal race: "I'm not ruling us out, but it's really clear that we have lots of work to do."
* Taylor on the loss: "It was definitely frustrating, but you just gotta put it behind you … We've got a good opponent in Miami this week, so the best thing we could do is just put that behind us and just focus on this Thursday night game we got coming up."
To receive Jeff White's articles by email, click here and subscribe.