By Jeff White (jwhite@virginia.edu)
VirginiaSports.com
CHARLOTTESVILLE –– The COVID-19 pandemic forced the ACC to revamp its 2020 schedule, and some of the resulting quirks carried over to this season.
Consider Virginia's series with Duke and Miami. The Cavaliers hosted the Blue Devils at Scott Stadium in 2019 and '20, and the longtime foes will meet there again on Oct. 16.
UVA holds no such advantage over Miami. The Hurricanes hosted the Wahoos at Hard Rock Stadium in 2019 and '20, and that's where the Coastal Division rivals will clash again in ESPN's Thursday night showcase this week.
Virginia (2-2, 0-2) meets Miami (2-2), which has yet to play an ACC game, at 7:30.
The Hoos haven't won at Hard Rock Stadium since 2011. They lost to the Canes there 17-9 in 2019 and 19-14 last season. The 2020 season was Keytaon Thompson's first as a Cavalier, and he hasn't forgotten his first game against Miami.
With COVID-19 protocols in place, attendance was limited at Hard Rock Stadium, where the crowd was announced as 9,940, and "it was really humid," Thompson, a graduate transfer from Mississippi State, recalled Monday. "I know guys were cramping up and stuff."
The Cavaliers can expect more of the same Thursday. A high of 88 degrees is predicted for Miami Gardens, with a low of 76. "So making sure you're hydrated and well-rested before the game will be really big," Thompson said.
Outside linebacker Elliott Brown has played four times at 71,000-seat Hard Rock Stadium, home of the NFL's Miami Dolphins. (Virginia played Miami there in 2017 and met Florida there in the 2019 Orange Bowl.)
"It's a big facility, and it's hot," Brown said Monday. "So we just gotta prepare our minds, prepare our bodies for that change in temperature, change in weather, and then change in atmosphere."
SENSE OF URGENCY: Since posting one-sided wins over William & Mary and Illinois, Virginia has lost two straight games, both against ACC foes. Against North Carolina, the Cavaliers allowed 699 yards, and they gave up 473 against Wake Forest last weekend.
"Do I think we played better [against Wake] than we did the previous week? Yeah. But satisfied? No," UVA defensive coordinator Nick Howell said after practice Tuesday.
UVA ranks last among ACC teams in total defense, having allowed an average of 423.0 yards per game.
Mendenhall said the defense "has lots of work to do to continue to improve, especially in critical moments, playing assignment-sound, with great effort and great production, on critical downs: on third down, on fourth down, the times where you can get off the field. That specific niche right now, we're not affecting the quarterback and quite frankly not making the plays we need to with consistency."
The Cavaliers convened Saturday to review film from the previous night's loss to Wake.
"We're big on accountability," Brown said, "so in team meetings we'll put the mistakes up there for our whole team [to see], so we can all be accountable to our peers. And then we'll also put up what we do well, so we can be accountable for those actions. We just build up what we do well, and correct what we did bad, so we can get back after it this week."
Brown said UVA's defenders "have extreme faith in ourselves. Whenever we watch film, that kind of cleanses our sins, and we'll come back [ready to play] the next week."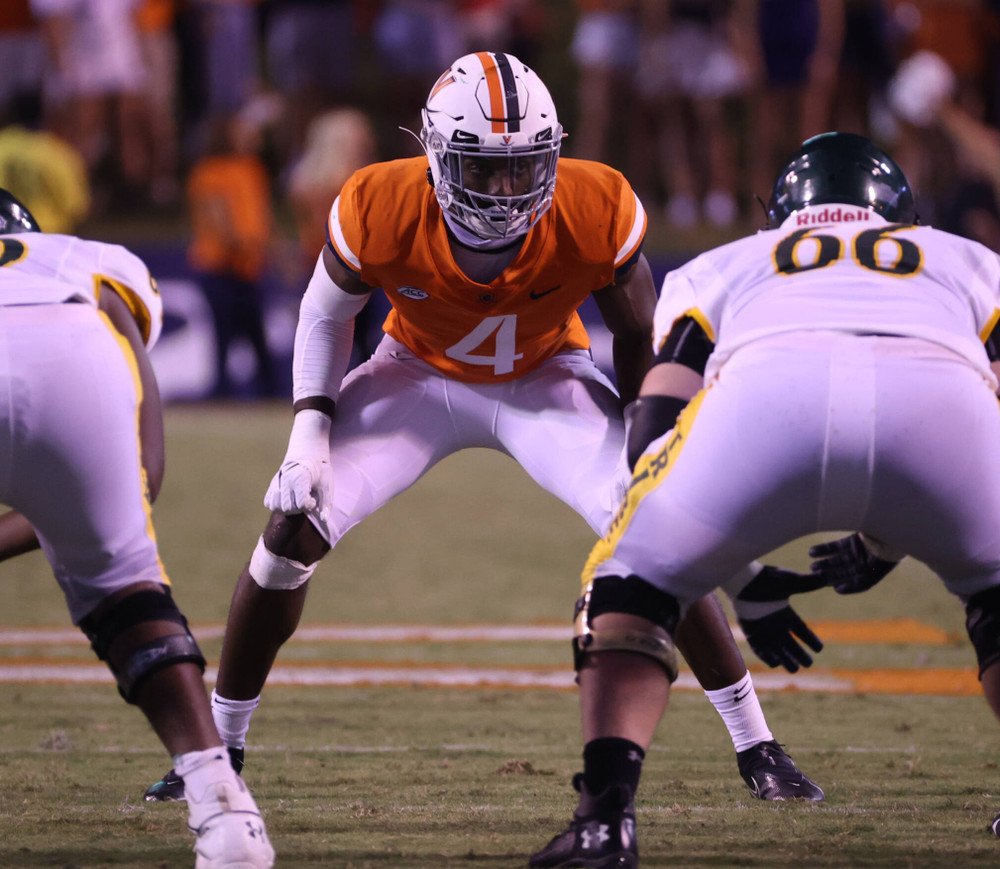 LEARNING CURVE: This is Mendenhall's sixth year with the Cavaliers, whose base defense for his first five seasons was a 3-4. UVA has modified its scheme this year, and Nick Jackson is often the only inside linebacker on the field.
Jackson, who led Virginia in tackles last season, is first again this year, with 40, but the transition hasn't been seamless.
"It's been different for him," linebackers coach Kelly Poppinga said, "and there's been frustrations along the way. But I think he's learning and growing and developing in that, and I think with the type of person that he is, it'll help him develop and learn and grow faster."
OFF NIGHT: After averaging 41.3 points in their first three games, the Cavaliers scored only 17 against Wake, despite gaining 506 yards.
"On offense, we had opportunities and did not capitalize on those opportunities," offensive coordinator Robert Anae said Tuesday. "That's the challenge: to score touchdowns in the red zone. We did not do that. So our focus this week is a new opponent, get back on track moving the ball, converting on third [down], and getting to the red zone and putting points on the board."
The Hoos totaled only 366 yards in their 19-14 loss at Miami last season.
"I'd like to hope that we've grown from last year," Anae said. "Looking forward to the opportunity."
SEEING YELLOW: UVA is averaging 73.8 yards per game in penalties. Among ACC teams, only Syracuse (73.8) is averaging more.
"We can't be shooting ourselves in the foot like that, especially when we're trying to come back [from] a deficit," Thompson said.
Virginia fell behind 14-0 against UNC and 10-0 against Wake.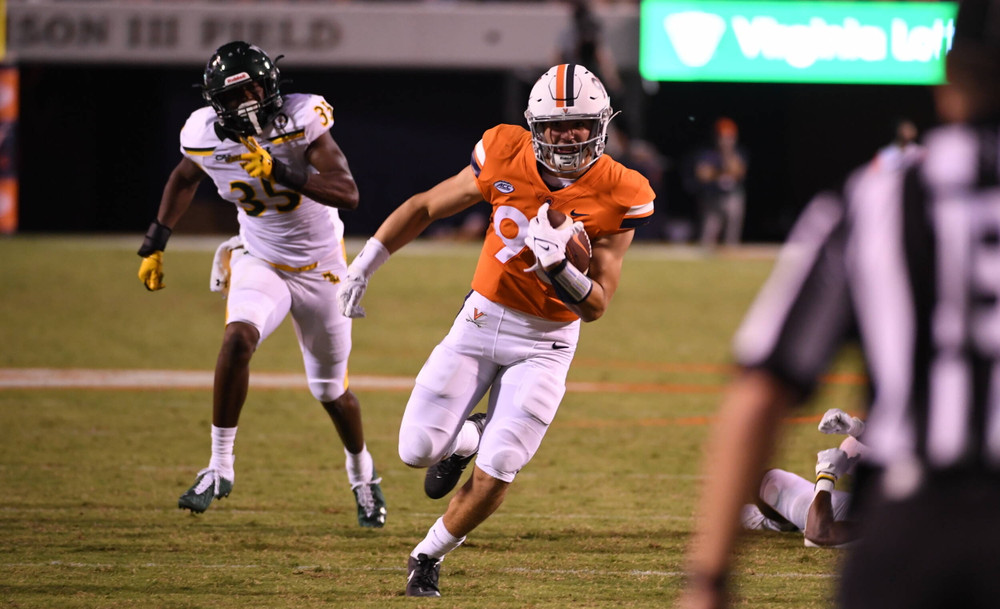 STEPPING UP: One of the bright spots for Virginia against Wake was the play of true freshman Malachi Fields, who caught three passes for 35 yards.
A 6-foot-4, 220-pound wide receiver who wears jersey No. 86, Fields graduated from nearby Monticello High School.
"He's a young man that was way under-recruited," Anae said, "and, boy, did he way over-deliver in his ability to make plays physically. What an outstanding recruit. And he's right here from Charlottesville. That was a huge plus when we finally got him in the program and got him going. I'm looking forward to his upside and a couple of years of really good football from him."
For the season, Fields has four receptions for 43 yards. He impressed during training camp last month, but as more information was thrown at Fields, "his head started spinning, as all first-years do," Mendenall said.
As Fields got back up to speed, the offense began "making more sense" to him, Mendenhall said, and his playing time has increased. "I would anticipate that role growing and growing and growing," Mendenhall said. "He's doing a nice job."
ON THE MEND: Thompson broke his left hand against North Carolina. He played with a cast against Wake but had a quiet night by his standards. He caught two passes for 35 yards but didn't carry the ball.
He said Monday that he's getting more comfortable in the cast. "It was kind of bugging me a little bit last week, but I'm feeling much better now."
For the season, Thompson has rushed 12 times for 78 yards and one TD. He's caught 16 passes for 232 yards. He's not sure how long he'll have to wear the cast, but he's determined to play through the injury.
"I think I can do pretty much everything," he said. "Obviously, it's a little different catching with the cast on, but I feel like I can still catch the ball and still run the ball. I  don't think it has that big of an effect on me playing."
In practice, Thompson added, he's working on "catching with the cast on. It is slightly different, but it's nothing I can't handle, so I think I'll be fine."
Anae's take?
"If you can't catch it with your hand, catch it with your cast," he said, smiling. "If you can't get to what your cast, catch it with your hand, your elbow and anything else you got available. And he's the kind of kid I think [will] figure it out that way."
UNDERSTUDY: On the Cavaliers' depth chart, the multi-talented Thompson is listed No. 1 at FBP, which is short for "football player." His backup is true freshman Jacob Rodriguez, who like Thompson joined Mendenhall's program as a quarterback.
Thompson wears jersey No. 99. Rodriguez is No. 98.
The 6-foot-1, 215-pound Rodriguez, who enrolled at Virginia in January, has yet to attempt a pass this season, but he's carried six times for 45 yards and caught three passes for 23 yards.
"He's a great guy, a really tough kid, strong kid," Thompson said. "He's learning really fast, and he can do it all as well. He runs the ball really, really hard, he has a great football mind, and he's just learning that receiver thing, as I was last year and continuing to get better at that part of it. I'm really excited for him, and you guys will see him more and more as the season goes on."
To receive Jeff White's articles by email, click here and subscribe.