By Jeff White (jwhite@virginia.edu)
VirginiaSports.com
CHARLOTTESVILLE –– The University of Virginia football team played a Saturday night game at Kenan Stadium, followed by a Friday night game at Scott Stadium and then a Thursday night game at Hard Rock Stadium.
The back-to-back quick turnarounds taxed the Cavaliers mentally and physically, but they're fresher this week as they prepare for a second straight ACC road game, this one against the Louisville Cardinals.
"The long weekend really helped," UVA safety Coen King said Monday.
After edging Miami 30-28 in ESPN's Thursday night showcase, the Wahoos flew home to Charlottesville. It was around 4 a.m. by the time they got back to the McCue Center on Friday, but there was no practice that day. The players had only a light weightlifting session on Saturday and were off Sunday.
The break in the schedule has helped his players "rest, recover, heal mentally and physically," head coach Bronco Mendenhall said Monday on his weekly Zoom call with reporters. "Good to berecalibrated. Doesn't mean everything is now magically fixed and healed as far as body parts or anything else, but the rest came at the right time."
UVA (3-2 overall, 1-2 ACC) meets Louisville (3-2, 1-1) at Cardinal Stadium on Saturday. The 3 p.m. game will air on ACC Network.
The Cavaliers' coaching staff was able to get a jump on preparing for Louisville, which lost at then-No. 24 Wake Forest on Saturday afternoon. "Player-wise, we really allowed them to rest and recover," Mendenhall said. "I'm sure they were on their iPads watching game film and all that."
Safety Nick Grant said Monday that the "last couple of days have just been huge on getting our minds right, getting our mind, body, spirits right, just to keep going and keep the direction that we want for the rest of the season … It has been a blessing just to get a couple of days just to lift and watch film and get right back on track to almost like a quote-unquote normal schedule."
King agreed. "We're really dialed in on more film than we would have [been the] past few weeks, and we finally get a full week of practice."
This is the Cavaliers' sixth season under Mendenhall. The win over Miami improved their record to 9-23 in games away from Scott Stadium during his tenure. The victory was the Hoos' first at Miami under Mendenhall.
"We've really worked hard to become more consistent and better not only at home, but on the road," Mendenhall said. "To have a tangible result that reflects progress is always important. It doesn't mean we've arrived, but it was accomplished. That counts. It counts in any way that you can get it. Now we use that and build."
Virginia never trailed Thursday night, but Miami appeared poised to steal a last-second victory when Andy Borregales came out to attempt a 33-yard field goal. His kick hit the left upright and bounced away as time expired, however, and the Cavaliers could finally exhale.
The Hoos were far from flawless against a Miami team missing its top two quarterbacks, but their good plays outnumbered their bad ones at Hard Rock Stadium.
"Our team, man, they held together and they battled," Mendenhall said, "they held together and battled, they encouraged one another, held together and battled."
Grant echoed those comments. "What we can take from last Thursday is just that we have heart," he said. "No matter what it is, we're gonna stay together and we can finish games. It's going to take everybody, every road game, and like you just saw, it's gonna come down to the wire here in the ACC. So we know that we can win those games, and it's just about building upon the confidence that we already have and just keeping going no matter what, no matter the outside circumstance or what anybody has to say."
The Cavaliers hadn't won at Miami since 2011. They've never won at Louisville. UVA is 4-1 against the Cards at Scott Stadium and 0-4 against them in Louisville.
When the teams met at Scott Stadium last season, Virginia won 31-17, but Louisville quarterback Malik Cunningham rushed for 197 yards and two touchdowns and passed for 161 yards.
Cunningham is back this season for the Cards, and he's again putting up big numbers. He's rushed for 10 touchdowns and has completed 104 of 163 passes (63.8 percent) for 1,307 yards and seven TDs, with two interceptions.
Mendenhall said he'd put Cunningham "at the top of the dangerous scale in terms of how fast, how athletic [he is]. He can pull it down and run on any given play. I'm just really impressed with him. I think he's a really good athlete. I think his throwing accuracy and precision has improved. On any given play, he's a threat."
Asked Monday if the Hoos had seen another quarterback with Cunningham's skill set this season, Grant shook his head.
"If I'm being honest, no," said Grant, who's in his sixth year in Mendenhall's program. "He's electric, and he can run all over any team in the nation, honestly. So it's just about having a plan for him and executing it."
To contain a dual-threat quarterback like Cunningham, Mendenhall said, all 11 defenders must do their jobs well.
King elaborated on that statement. The Cavaliers' linemen, he said, have to make sure they don't run past Cunningham. If that happens, then Cunningham will have only a linebacker to beat to reach "the third level of the defense," King said.
The defensive backs, meanwhile, must cover their men as long as possible. "It's complementary football," King said. "I just think it all goes together with D-line, linebacker, DBs, all doing their job."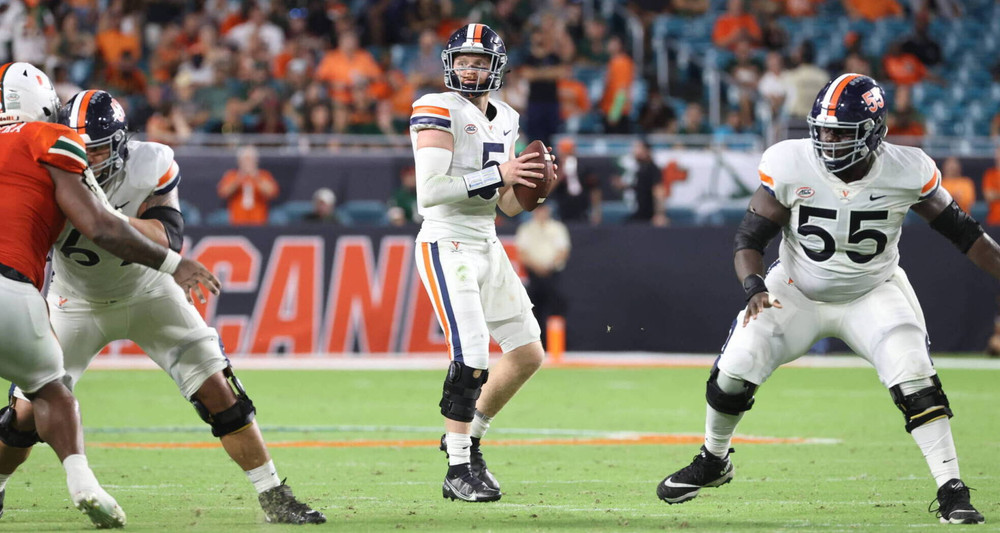 Virginia played without two defensive starters Thursday night: lineman Adeeb Atariwa and safety Da'Vonte Cross. Mendenhall didn't have an update on Atariwa's status Monday but said Cross, who had been dealing with undisclosed personal and family issues, was back with the team.
UVA's defense remains a work in progress. In the Cavaliers' 20-point losses to North Carolina and Wake Forest, they allowed 699 and 473 yards, respectively. Miami totaled only 372 yards Thursday night, but 278 of them came in the second half.
Still, it was a step forward for the defense, Mendenhall said. Mandy Alonso, a Miami native, led the way. He had three tackles for loss, including a safety, and was named ACC defensive lineman of the week.
"I see us just chipping away at it," Mendenhall said. "There's clear progress being made everywhere from that point of reference … It's showing yield. We need to add consistency to it, but I see it happening, yes, from not only the Miami game but the Wake Forest game. I saw progress in both."
The Hoos finished 5-5 last season, in part because of their tendency to give up explosive plays. Virginia's defense is improving in that area, Mendenhall said.
"You still see an assignment mistake or two, especially if it's at a critical time," he said. "We had one of those in the Miami game where we had an assignment mistake. [But the Cavaliers are] chipping away at it. You can feel it happening. It's not perfect yet, but I see progress and it's real."
Cunningham, of course, won't be the only marquee quarterback playing Saturday at Cardinal Stadium. Virginia's Brennan Armstrong leads the ACC in total offense (408 yards per game) and passing yards per game (394.6).
"He's really good," Mendenhall said of Armstrong, who's in his second year as UVA's starter. "He can make every single throw, he's tough, competitive, smart, durable. Anyone that doesn't think that, I guess they'll find out the hard way, right? All you have to do is watch him play, and the production speaks for itself. I'm really impressed. He has tons and tons of room to improve as well, but capability is right there in every level."
Armstrong wasn't happy with his performance against Miami, especially the interception he threw early in the third quarter. It took the Hurricanes only 37 seconds to turn that takeaway into a touchdown.
"How refreshing to win that kind of game, to battle and all that," Mendenhall said, "and  then have your quarterback, the very first thing he's thinking about is how to improve."
The Cavaliers dominated the first half, but their lead at intermission was only 16-7. In the second half, as Miami's offense found its rhythm, Virginia's sputtered.
"We had chances to separate in that game both offensively and defensively," Mendenhall said. The Canes did not allow them to do so, however, and "we didn't execute well enough on either side to pull away," Mendenhall said. "That tells you where we are, but also where Miami is, right? It's not just one-sided."
Virginia's offensive line has undergone some changes recently. Ryan Nelson, who's spent most of the past two seasons at left tackle, is now at left guard. Jonathan Leech started at left tackle against Miami but later gave way to Bobby Haskins.
Haskins, who started 13 games at left tackle in 2019, when Virginia won the ACC's Coastal Division, battled injuries last year, and he's been banged up for much of this season.
He's returning to form, though, and once he entered the game Thursday night, Haskins "kept showing up and blocking really well and playing through the whistle," Mendenhall said, "just performing in a way that we knew he could, but he's been a little bit hampered by injury."
To receive Jeff White's articles by email, click here and subscribe.