By Jeff White (jwhite@virginia.edu)
VirginiaSports.com
CHARLOTTESVILLE –– The final tally was 1,029 days, but who's counting?
Brendan Farrell, that's who.
Farrell, who's from Atlanta, played his final football game for the Marist School on Nov. 30, 2018. He enrolled at the University of Virginia the next summer and joined head coach Bronco Mendenhall's program as a recruited walk-on.
He didn't play for the Cavaliers in 2019 or 2020, and he didn't earn a jersey number either year. Daily updates on his phone reminded him that the days were mounting since he'd last kicked in a game, and Farrell was determined that 2021 would be different.
"You set goals in the offseason, and one of my goals was to play, and I knew that if I played in our first game against William & Mary, it would have been 1,009 days," Farrell said.
"It's one of those things where he hasn't forgotten," said Drew Meyer, UVA's special teams analyst. "He hasn't come into the program and said, 'OK, I'm not playing, I'm just going to do [take up a spot on the roster].' He wants to play, and he's always been competitive. He's been very motivated."
Farrell began the season as the backup at both punter (to Jacob Finn) and kicker (to Justin Duenkel). He didn't play against W&M on Sept. 4, Illinois on Sept. 11, or North Carolina on Sept. 18.
As the Wahoos' Sept. 24 game with Wake Forest approached, Farrell stopped by special teams coordinator Ricky Brumfield's office in the McCue Center and told him he was closing in on 1,029 days.
"He was ready to roll," Brumfield said, "and I told him, 'Hey, be ready, you never know what will happen.' "
Sure enough, Farrell's opportunity came against the Demon Deacons at Scott Stadium. After Duenkel got hurt on a kickoff in the second half, Farrell was summoned from the bench. He coolly kicked an extra point, and his only kickoff went for a touchback.
"He just stepped right in and did a real good job," Brumfield said.
Farrell went into UVA's Sept. 30 game against ACC foe Miami knowing he'd be handling all the kicking duties, and he met the moment. He was 2 for 2 on field goals, connecting from 43 and 30 yards, and all six of his kickoffs went for touchbacks. He was 2 for 2 on extra points.
"I'm extremely excited for him," Meyer said. "He's waited a long time for this."
Danny Caracciolo is the long-snapper on field goals and extra points, and Finn is Farrell's holder.
Farrell's second field goal put the Hoos up 30-21 early in the fourth quarter, and they held on for a 30-28 victory at Hard Rock Stadium, where the crowd included Farrell's mother, Kathy.
"I definitely felt prepared," Farrell said. "I'd been waiting a long time."
He had no trouble staying poised against Wake, Farrell said, and "it was the same thing in the Miami game: just out there and do my job. As long as I hit a clean ball on kickoffs, it should be a touchback every time, and if I get clean rotation on field goals, it should go through. I'm not even aiming between the posts. I'm just aiming for a target out in the distance, so I don't even think about that."
The victory was UVA's first over the Hurricanes at Hard Rock Stadium since 2011, and No. 53 was instrumental in the breakthrough.
"Brendan was exceptional," said Mendenhall, who's in his sixth season at Virginia, "and to come in and do what he did … what a great story. He was the anchor of that game for us. I was just so, so, so proud of him."
In the locker room after the game, Mendenhall cited Farrell's contributions before choosing defensive lineman Mandy Alonso, a Miami native who recorded three tackles for loss, to punctuate the Cavaliers' win by breaking the rock.
"It was great," Farrell said of Mendenhall's praise. "As you know, he's a man of few words, so to have him say something was very nice."
Farrell received plaudits from others, too.
"The guys on the team were definitely excited," Farrell said. "They understand that I'm a hard worker and that I've put in a lot of time, and so they respected it and they were happy that I came through. I heard from coaches here as well. They were pumped up about it. It was their first win at Hard Rock Stadium. So I was excited that we were able to get that, and then I heard from people back home as well."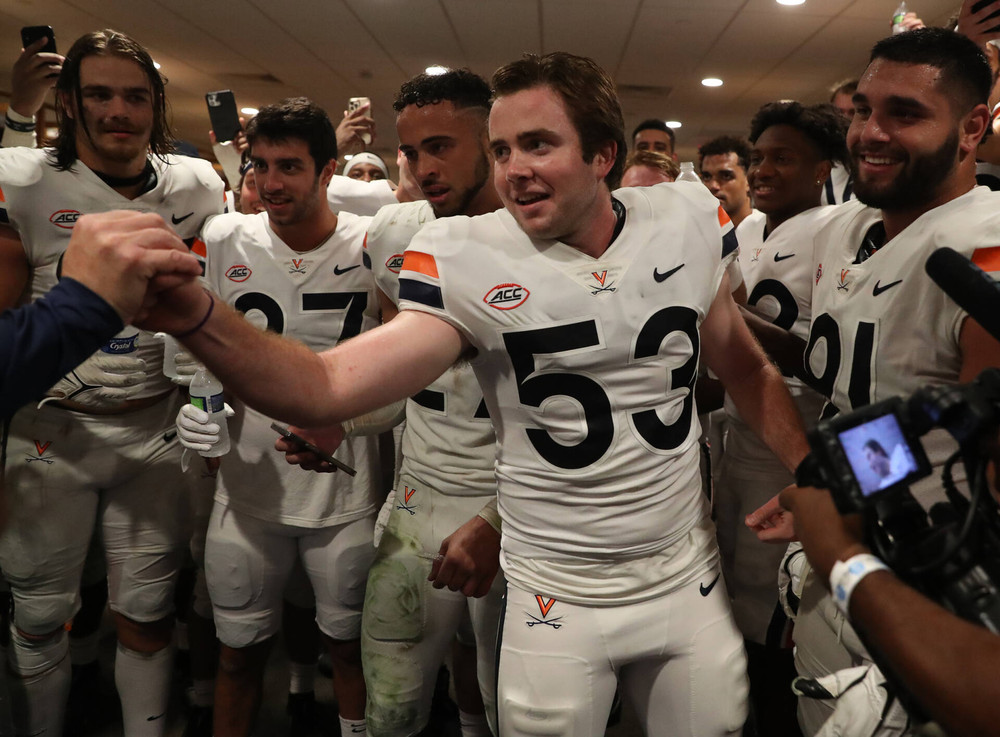 Virginia has an opportunity to end another streak Saturday. At 3 p.m., UVA (3-2, 1-2) meets ACC rival Louisville (3-2, 1-1) at Cardinal Stadium. The Hoos are 0-4 all-time in Louisville.
Kicking on the road can be fun, Farrell said. "I like those types of moments, where the pressure's on. I love that."
At Hard Rock Stadium, Miami's "student section was right by my kicking net on the sidelines, so there was a little chirping from them the whole game," Farrell said. "So any time you can go out there, make a kick and shut 'em up, it's always a good thing."
Virginia's starting specialists in 2020 were punter Nash Griffin and kicker Brian Delaney, and both are now in the working world. Farrell went through spring practice this year as the Cavaliers' only punter, but Finn, a graduate transfer from the University of Florida who joined the program in early July, won the starting job during training camp.
"Honestly, it was discouraging," Farrell said. "I thought I finally had a chance to play, though of course they had to bring [another punter] in. I was expecting that. But Finn's a great dude and awesome punter. I'm glad he's here, and he's helping our team out a lot. So it's been good."
When training camp started, Farrell was the No. 3 kicker, behind Duenkel and Hunter Pearson, "and he wasn't even taking field goal reps at the time," Meyer said.
Farrell, in fact, was the holder for Pearson on field goals, as he'd been during spring practice. Early in camp, however, Pearson suffered a season-ending injury, and suddenly Farrell's role changed.
"When Hunter got hurt, it was like, 'All right, are you ready to go?' " Meyer recalled, "and Brendan said, 'Heck, yeah.' So he started kicking in case Justin ever went down, and sure enough, here we are."
Farrell, a history major, entered the year with four goals. He wanted to earn a jersey number for the first time; be on the travel roster for road games; to reach gray, the second level in the Cavaliers' strength and conditioning program; and start in a game.
"I knocked out all four of them," he said.
Each year, most of the Hoos' players select their jersey numbers ahead of the season opener, and this time Farrell was part of that group.
"It took a long time, but happy I could finally get it," he said. "It was one of the goals to check off the list. I never looked at myself as the backup to the backup, or however you want to describe it, but it was definitely nice to get the recognition."
Farrell was born in Norwalk, Conn., and lived there for about three-and-a-half months. His family then moved closer to New York, where his parents worked, and later to Cleveland. The Farrells spent eight years in Ohio before moving to Atlanta in 2013, and Brendan still roots for the Browns.
When he was in Cleveland, he played soccer with the son of former Browns kicker Phil Dawson, who "always talked about how he had to be even-keeled," Farrell said. "[A kicker] can't fluctuate too much. You've got to be steady-headed."
The Atlanta area is well-represented among UVA student-athletes. Katie Goldberg and Jefferson Dockter, who play softball and men's tennis at Virginia, respectively, attended Marist with Farell, and Mendenhall's program has numerous players from that part of Georgia, including inside linebacker Nick Jackson.
Jackson graduated from the Lovett School, one of Marist's rivals in football.
"He blocked my first-ever field goal attempt in high school," Farrell said, smiling, "so he doesn't let me live that down. His locker's right next to mine, so I'm well aware."
To receive Jeff White's articles by email, click here and subscribe.