By Jeff White (jwhite@virginia.edu)
VirginiaSports.com
CHARLOTTESVILLE –– In a football series that dates back to 1890, the opportunity for Virginia to collect a seventh straight victory over Duke comes Saturday at Scott Stadium. Don't expect UVA head coach Bronco Mendenhall to bring up that winning streak with his players this week.
People outside the program might talk about the Cavaliers' recent success in the series, but "it's not coming from me," Mendenhall said Monday. "My job is just to buffer our players from the external environment."
For a reminder that history doesn't always mean much in these games, the Wahoos need look no further than their Sept. 18 visit to Chapel Hill, N.C. The Hoos came to Kenan Stadium having won four in a row over North Carolina, but lost 59-39 that night.
At 12:30 p.m. Saturday, in its Homecomings game, Virginia (4-2 ACC, 2-2 overall) meets Coastal Division rival Duke (3-3, 0-2) at Scott Stadium. The Cavaliers opened the 2020 season with a 38-20 win over the Blue Devils, also at Scott Stadium, but that result won't have any bearing on their meeting Saturday, Mendenhall said. "It's just the next game, ACC game, Coastal game, this year's version, and nothing else before or after is relevant."
After posting back-to-back ACC road wins for the first time since 2011, the Hoos will play four of their final six regular-season games at home. Virginia has won 19 of its past 22 games at Scott Stadium.
"We know important it is to take care of business at home," safety Antonio Clary said Monday.
In their past two games, the Cavaliers have produced a season's worth of drama. They won 30-28 on Sept. 30 at Hard Rock Stadium, where Miami missed a 33-yard field-goal attempt as time expired. Nine days later, they rallied for three fourth-quarter touchdowns to edge Louisville 34-33 at Cardinal Stadium.
"We're on a roll," Clary said. "We've just got to keep it up."
In 2019, the Hoos won the Coastal Division for the first time. They're currently tied with Georgia Tech in the Coastal, but with so much of the regular season remaining, the Cavaliers have more immediate concerns than the standing.
"We don't really pay attention to that," Clary said. "We just take one week at a time, and we let that unfold how it will unfold."
Duke, which coming off a 31-27 loss to Georgia Tech in Durham, N.C., features one of the ACC's top running backs, Mateo Durant, who's averaging 131.3 rushing yards per game.
Among ACC teams, the Hoos rank last in rushing defense, having allowed an average of 201.2 yards per game, and they gave up a 52-yard touchdown run to Louisville's Hassan Hall. Overall, though, Mendenhall believes UVA's run defense is improving.
"I think you can see lots and lots and lots of progress," he said. "There's two or three plays per game that right now have to be addressed and fit more appropriately and then tackled before they become big gains. In between that, yes, lots of progress. I'm encouraged."
Clary said: "Our run defense, we did well in the first half [against Louisville], but in the second half there were some gaps that you could see that were open. People weren't in the right gaps, and like Coach says all the time, the ball goes where somebody isn't doing their job. So, we got some things we got to fix gap-wise and [with] run fits … We'll work on that this week at practice, because Duke has a great running back. So we'll have to be on our A-game."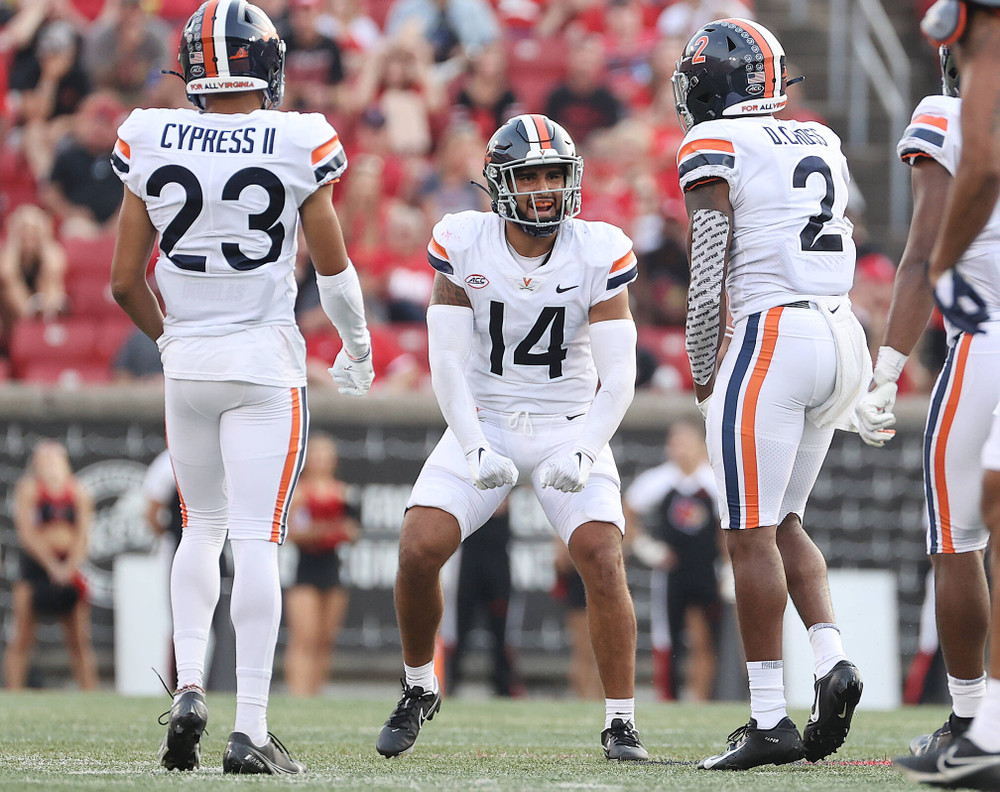 Starting defensive end Adeeb Atariwa is sidelined with an injury and has missed four of Virginia's past five games, with only a brief appearance during that span. In Atariwa's absence, alongside fifth-year senior Mandy Alonso on the defensive line have been less experienced players like Nusi Malani, Ben Smiley, Jordan Redmond, Jahmeer Carter and Olasunkonmi Agunloye.
They've been progressing "as you'd expect," Mendenhall said, "incrementally and positively and slowly and inconsistently, but trying really hard. Every rep is experience that is going into the vault of performance, and they are improving where everyone is racing against the clock. When you have someone that gets hurt and you're looking for the next player to then perform the same, normally the next player won't perform the same because they're not as experienced or for whatever reason, so you do your best to build, inspire and just move on, and that's what we're doing, and we're making progress. I see it. Just chipping away."
Another defensive lineman, Aaron Faumi, started four games in 2018 and five in '19, but he opted out last season because of the COVID-19 pandemic. After an uneven start this season, Faumui is "trending in the right direction the last two weeks," Mendenhall said.
On offense, the Cavaliers have one of the nation's most productive quarterbacks in Brennan Armstrong. In his second season as the starter, the 6-foot-2 left-hander has completed 185 of 284 passes (65.1 percent) for 2,460 yards and 17 touchdowns, with six interceptions.
On UVA's final possession Saturday, Armstrong led a 75-yard touchdown drive that ended with his 1-yard pass to tight end Grant Misch. Brendan Farrell then kicked the extra point, putting Virginia up 34-33 with 22 seconds left.
Twice on that final drive, Armstrong completed fourth-down passes to Keytaon Thompson.
"It was just amazing to witness and watch, and I'm so lucky they're both on our team," Mendenhall said.
Thompson is one of four Cavaliers with at least 400 yards receiving this season. No other team in FBS has as many. Dontayvion Wicks, who left the Louisville game with a head injury during the first series and didn't return, leads UVA with 554 yards receiving. Billy Kemp has 426, Thompson has 419, and Ra'Shaun Henry has 412.
Virginia loves to get creative with the multi-talented Thompson, who's second on the team in rushing. He's doing all of this while wearing a cast to protect his broken left hand.
"I know he's hurting," Henry said, "but he's fighting, and he's gonna continue to do that."
Another one of Armstrong's favorite targets, 6-foot-7, 265-pound tight end Jelani Woods, missed the Miami game with an ankle injury. Woods played sparingly against Louisville but had a TD catch during the Cavaliers' fourth-quarter comeback.
Armstrong passed for 487 yards against Louisville, spreading his 40 completions among 11 teammates.
"I feel we can impose our will against a lot of defenses," Henry said, "just from our standpoint of having so many guys that are on our offense that can make plays at any given moment. But it's a blessing for this opportunity for all of us to go out there and just really showcase our abilities."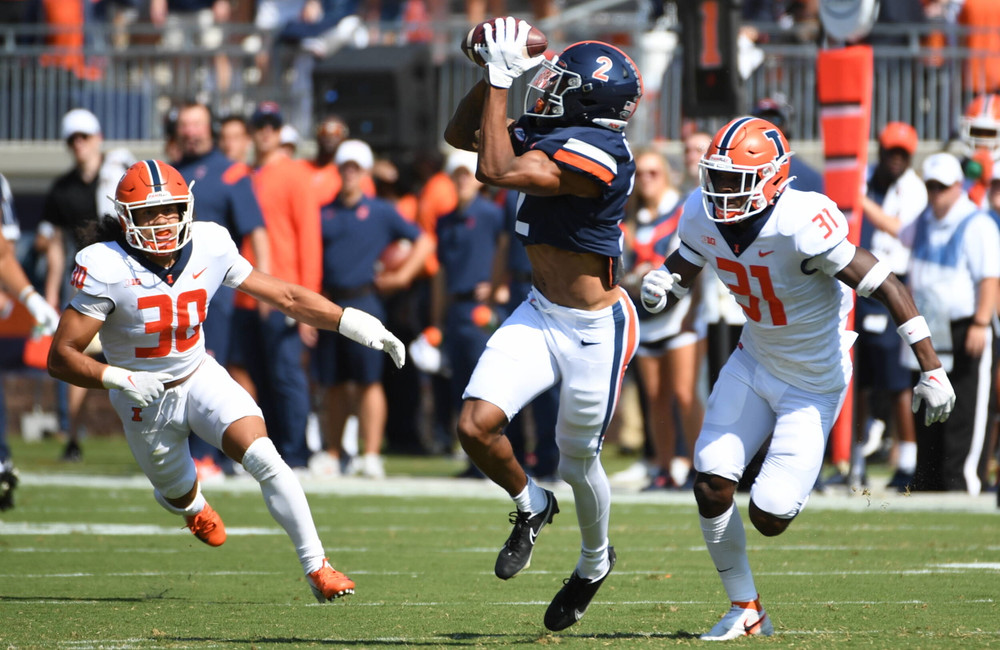 At 5-foot-9, Kemp is the smallest of the Cavaliers' receivers, but pound for pound there's not a tougher player on the team, or maybe in the ACC.
"He's like a mini-pit bull," Henry said, laughing. "But he does an outstanding job of keeping guys on their toes and making sure that we know what the task at hand is."
Mendenhall said Wicks' status for the Duke game remains uncertain. Wicks was injured at the end of a 19-yard reception, and a Louisville defender initially was called for targeting. After a video review, officials reversed that call but penalized the Cardinals 15 yards for unnecessary roughness.
That decisions on targeting seem to vary from game to game (and, sometimes, play to play) is frustrating for all parties involved, Mendenhall acknowledged, and rule changes might be necessary.
"I think everyone wants to get it right," he said. "I think the officials really do, and I think the coaches certainly do, and I think the players certainly do, and I think the league offices certainly do … There's lots of variants and, again, everyone is trying to get it exactly right, but we're not there yet."
MOVING ON: Cornerback Josh Hayes, who has appeared in three games for UVA this season, has entered the transfer portal for the second time this year.
Hayes joined Virginia's program this summer as a graduate transfer from North Dakota State, which won three FCS championships during his four seasons there. He suffered an injury during training camp in August, missed the Cavaliers' first three games, and has played little since being cleared.
Mendenhall declined to discuss the specifics of Hayes' decision to depart.
"Most of those things are personal and private, and I think it's best to keep it that way," Mendenhall said. "I just really, really always want every player that comes to our program to have a magical experience and to be completely fulfilled."
Most of the graduate transfers Virginia has taken during Mendenhall's tenure have worked out, but "then for various reasons, sometimes it's not ideal for one side or the other," he said. "I love Josh, he's an amazing young person, and we'll see where that goes for his future. I really hope it's exactly as he wants it to be."
To receive Jeff White's articles by email, click here and subscribe.