By Jeff White (jwhite@virginia.edu)
VirginiaSports.com
For the University of Virginia women's basketball team, the 2020-21 season, played amid the COVID-19 pandemic, consisted of only five games, all of them losses. The Cavaliers canceled or postponed six other games before finally shutting down the season on Jan. 14 due to health and safety concerns.
As trying as the season was, head coach Tina Thompson said Wednesday at the ACC Tipoff event in Charlotte, N.C, some positives came out of it.
"We were able to get back into the gym and just focus on detail, and develop and get better individually," Thompson said, "which sometimes gets lost in the season, because you're doing so much preparation [for upcoming games]."
Also, she said, the players who endured that adversity came out tougher. "We're different. We experienced so much, and it was really, really hard, even though it was the right decision. Sometimes the right decision is the hardest decision you have to make, but we figured out who we were in a really, really tough moment, and we came out on the right side of it, so culturally we're different. How we interact with one another and our closeness and our camaraderie and how we communicate is a lot different also. Of course, everything is not perfect, but we're different in a good way."
Representing the Cavaliers at the ACC's annual preseason gathering were Thompson, 5-foot-10 guard Amandine Toi and 6-foot-2 forward London Clarkson.
Toi, who is from France, is a graduate student who's in her fifth year at UVA. She was averaging a team-high 14 points per game when the season was canceled in January. She missed her first two seasons at Virginia with knee injuries, and the pandemic presented another challenge for her.
"I think it was a test, but at the end of the day I love to work hard and try to get better," Toi said, "so just having conversations with Coach Tina and the coaching staff [about] what I could do during those moments when I was not on the court, really helped me shape what I wanted to do and what I'm doing right now."
Clarkson, who is from Texas, transferred from Florida State to UVA after the 2019-20 season. She's eager to make her debut as a Wahoo and believes the experience she went through in 2020-21 is paying dividends for her.
"Personally, I just felt like it's been a lot of growth for me as an individual," Clarkson said Wednesday, "[after] kind of just stepping back and looking at myself, and that just kind of helped me grow as a player and as a person."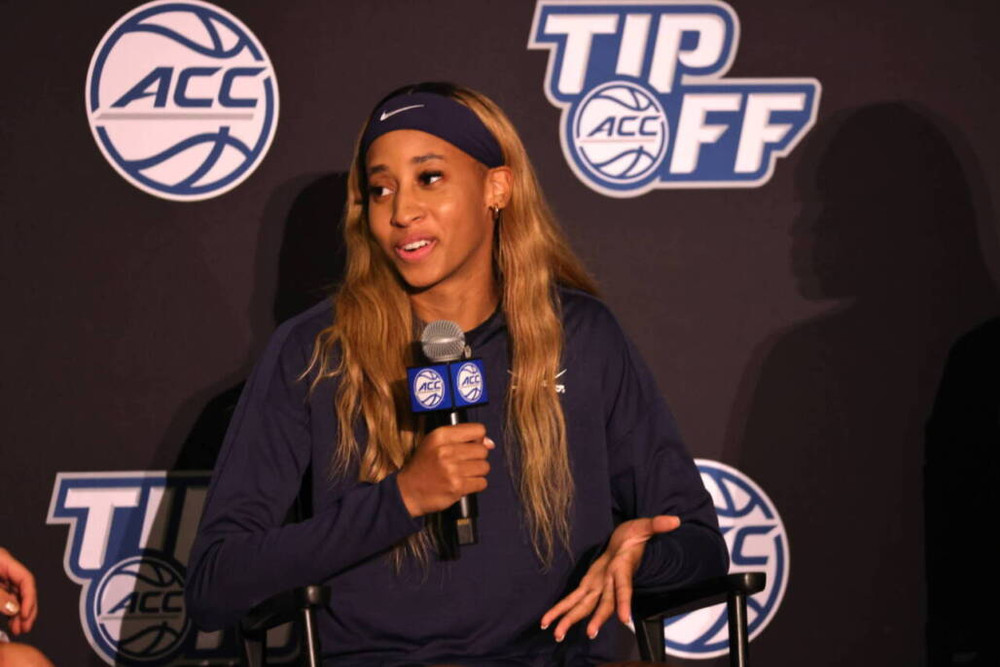 The Cavaliers' coaching staff, which added assistant James Posey this summer, has revamped the team's roster. New to the program are freshman Annaliese Griffin and transfers Corina Carter (New Mexico), McKenna Dale (Brown), Eleah Parker (Penn), Camryn Taylor (Marquette) and Taylor Valladay (Marquette).
The Hoos have significantly more size––Parker is 6-foot-4, Taylor is 6-foot-2, and Dale is 6-foot––more talent and more depth than at this time last year.
"We have a full roster," said Thompson, who's heading into her fourth season at Virginia. "That's a blessing in itself, but that just gives us versatility [and] allows our players to be able to play in their true positions. When we were limited in roster, [Toi] was playing about four, for sure a solid three positions."
Now, though, Virginia has legitimate post players who "can play with their back to the basket and finish and also face up," Thompson said. "It gives us a level of versatility that we didn't have. I can actually look down the bench and see faces and have to make a decision on who I'm going to put in based on the moment in the game, and that's just a luxury we didn't have [last season]."
The transfer portal was an option of which Thompson and her staff took full advantage.
"We were very intentional about the players that we picked," she said. "We needed maturity, for sure, and we needed specific things based on what we already had."
Parker, a two-time All-Ivy League first-team selection, provides size, shot-blocking ability and prowess in the low post.
Dale, who averaged 17 points per game for Brown in 2019-20, is a "lights-out shooter," Thompson said, "and we needed that to be able to create space for forwards like London and Camryn, and also [to help Toi] get to the basket, although she's improved her game and added to her versatility and her shot has become a lot more efficient."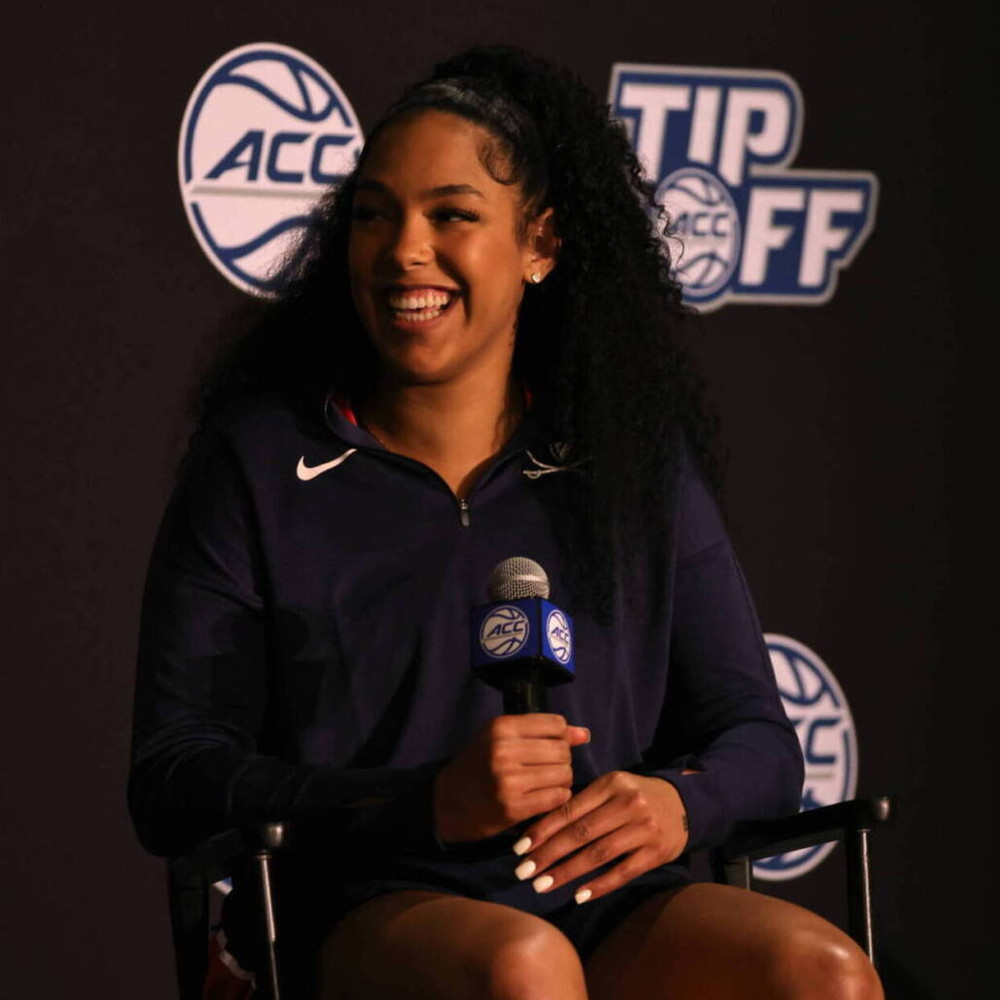 Carter and Vallady are "experienced point guards, and they're different," Thompson said. "They bring something different to our game, so we're able to play different ways, but still be able to play with pace, which we like."
Clarkson and Taylor, who averaged 12 points, 6.9 rebounds and 1.7 assists per game for Marquette last season, add size and energy, Thompson said, "and they play really hard. So there were elements that we needed to add but also as a coach that I just wanted, because it allows us to be able to compete at the level necessary to be competitive in the ACC."
UVA opens the season Nov. 9 against JMU in Harrisonburg. The Cavaliers' first game at John Paul Jones Arena is Nov. 14 against Southern California, Thompson's alma mater.
At end of a question-and-answer session Wednesday, the players and Thompson were asked if they had any messages for UVA fans.
"I hope you guys are ready, because we are," Toi said, "and I think it's been a long time. You didn't see a really competitive Virginia team [in 2020-21], but this year is gonna be special, so I hope you guys are going to stick with us and have fun with us this year."
Thompson echoed Toi's comments.
"We're really excited for our fans to be able to come back, and we hope that they come out in big numbers," Thompson said. "We've turned the corner, and it's a special group and they're really excited about getting back on the court, and we're just so appreciative of the support that we've received up into this point … We're turning the corner and that hard work is coming into fruition, so we are definitely putting together a product that's worth seeing."
To receive Jeff White's articles by email, click here and subscribe.