By Jeff White (jwhite@virginia.edu)
VirginiaSports.com
CHARLOTTESVILLE –– For the final quarter of a one-sided ACC football game, Virginia enjoyed a rare luxury Saturday afternoon at Scott Stadium. On the field were players who typically back up the Cavaliers' starters and who often spend much of the game on the sidelines.
UVA head coach Bronco Mendenhall loved it.
"It's my favorite part," Mendenhall said after Virginia blanked Duke 48-0 on Homecomings weekend. "We need depth, and we need to continue to develop that, and injuries happen down the stretch."
For the reserves "to get the number of snaps they got … and to hold the shutout, that mattered to them and us. Lots of smiles," Mendenhall said. "The team's always happy after a win, but when more players play, it's just better."
The victory was UVA's seventh straight over Duke, which played at Scott Stadium for the third year in a row. Not since 2008, when the Wahoos defeated Maryland 31-0, had they shut out an ACC opponent.
"I did not see the outcome or the type of game this turned out to be," Mendenhall said. "I did not see that coming. But I'm certainly thankful and grateful for the preparation our players put in, and how clean and how well they played collectively. And I'm really proud of them."
Coming off back-to-back road wins that weren't decided until the final seconds––Miami and Louisville each missed a field goal that would have won the game––the Hoos made sure there was no such drama Saturday afternoon.
"It was a pleasure to not be worrying in the second half," UVA wide receiver Billy Kemp said. "Those nail-biter games are tough, but a win is a win and at the end of the day you are happy with every one you get. Today really just showed the work we put in."
Mendenhall said: "Those last two games were super emotional and draining and tough and physically taxing and so you never quite know how that's going to affect your team."
The Hoos (5-2, 3-2) clearly were happy to be home. They piled up 368 yards in the first half and led 34-0 at the break, as Brennan Armstrong once again shredded an opponent's defense.
"I think he's the best quarterback in the ACC, and I wouldn't trade him for anyone," Mendenhall said.
In the first half, Armstrong passed for 296 yards and two touchdowns, the first to wide receiver Dontayvion Wicks and the second to tight end Jelani Woods.
Armstrong, who didn't play in the fourth quarter, finished 25-of-45 passing for 364 yards and two touchdowns, with no interceptions. He also rushed eight times for 34 yards and a TD.
"Brennan is a great quarterback, a great leader, and I feel like the position just comes natural to him," Kemp said.
Kemp finished with six catches for 65 yards Saturday, and Wood had five receptions for 58 yards and a TD. And then there was Wicks, who was knocked out of the Louisville game after taking a blow to the head on UVA's first drive.
Against Duke, Wicks showed no ill effects from that hit. He caught seven passes for a game-high 125 yards, and on his 27-yard TD reception he deftly put one foot down before going out of bounds on the left side of the end zone.
When big-play receiver Lavel Davis Jr. suffered a knee injury on the first day of spring practice this year, his teammates and coaches were left "feeling like we wanted to wear black armbands," Mendenhall said, and the Cavaliers wondered how they'd function without No. 81.
"How we're going to function is Dontayvion Wicks," Mendenhall said Saturday, "and can you imagine them both being healthy? Now that would be fun. But Dontayvion, to his credit, has just stepped in and up to replace Lavel from a year ago."
The second half didn't produce as many offensive highlights, but Devin Darrington and Ronnie Walker Jr. each had a TD run for Virginia. Darrington's 7-yard touchdown followed his 34-yard gain.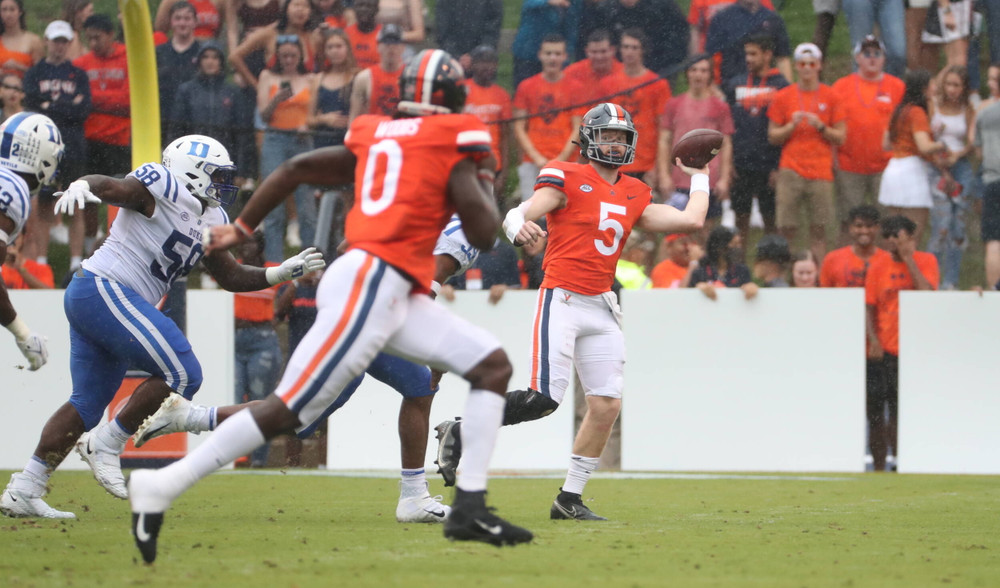 For the Cavaliers' defense, its resurgence continued. Since giving up 699 yards and 59 points in a Sept. 18 loss at North Carolina, Virginia has steadily improved on that side of the ball. The progress wasn't as readily apparent against Wake Forest, Miami and Louisville as it was against Duke, but UVA's coaches saw it when they reviewed game tape.
"Has it been perfect? No," Mendenhall said. "Have there been lapses? Yes. But I have seen that trend."
He singled out his defensive coaches, as well as graduate assistants Donte Wilkins and Chris Peace.
"You can't work any harder," Mendenhall said. "They've been working their guts out, and I'm grateful for that … But, really, coaches can only coach if players let themselves be coached, and our team is responding well, and I'm happy for those kids to have that kind of success today."
The Cavaliers came up with four takeaways against Duke (3-4, 1-3), intercepting two passes and recovering two fumbles. Nick Jackson led the Hoos with 11 tackles. Four were for loss, including a sack. Virginia held Duke tailback Mataeo Durant, who came in as the ACC's second-leading rusher, to 82 yards on 17 carries.
"We're playing more physical, we're playing with more passion," Jackson said. "We're having fun out there."
Late in the game, Duke had first-and-goal at the 1, and the Hoos' shutout was in peril. But on first down, safety Joseph White stopped Jordan Moore for no game. On second down, backup quarterback Riley Leonard fumbled the snap, and Virginia linebacker T.C. Harrison recovered the ball with 1:43 remaining.
The shutout was safe, and defensive coordinator Nick Howell and co-defensive Kelly Poppinga rushed onto the field to celebrate with their players.
"That was awesome," Jackson said. "To hold the shutout, that was awesome right there."
The shutout victory was the second of the season for Virginia, which opened with a 43-0 win over William & Mary. Not since 2008 had the Cavaliers posted two shutouts in a season.
"It means the world," Jackson said. "As a defense, you never want anyone to cross into the end zone. We're at home, defending our turf, and just to see that shutout [means] all the hard work throughout the week paid off."
HAMMER TIME: The honor of breaking the rock in the locker room, a tradition after every UVA win, went to kicker Brendan Farrell, who was 2 for 2 on field goals and 6 for 6 on extra points Saturday. Six of his nine kickoffs went for touchbacks.
Farrell, who joined the program as a walk-on in 2019, began training camp in August as the Cavaliers' No. 3 kicker. He moved up to No. 2 after Hunter Pearson suffered an injury in camp and then took over the starting job in the second half of the Wake Forest game on Sept. 24 when Justin Duenkel got hurt. Since then, Farrell is 6 for 7 on field goals and perfect on extra points.
"He just puts it through the uprights, and it's an amazing story," Mendenhall said.
He smiled. "I don't want to make too big a story [of it]," Mendenhall added, "because I want to just to keep going like it is, but, man, it's awesome."
GROUNDBREAKERS: Rain fell intermittently throughout the game, but fans at Scott Stadium had much to cheer, and not only the Cavaliers' dominance.
Among those recognized during breaks in the action were former players Harrison Davis, Gary Ham, Stanley Land, Kent Merritt and John Rainey, who integrated the UVA football program in 1970. Ham joined the varsity as a walk-on that season, and Davis, Land, Merritt and Rainey, the first African-American scholarship players in program history, played for the freshman team.
Al Groh, who later became head coach at UVA, his alma mater, oversaw the freshman team in 1970. Groh was recognized with his former players Saturday, and the crowd saluted them with a standing ovation.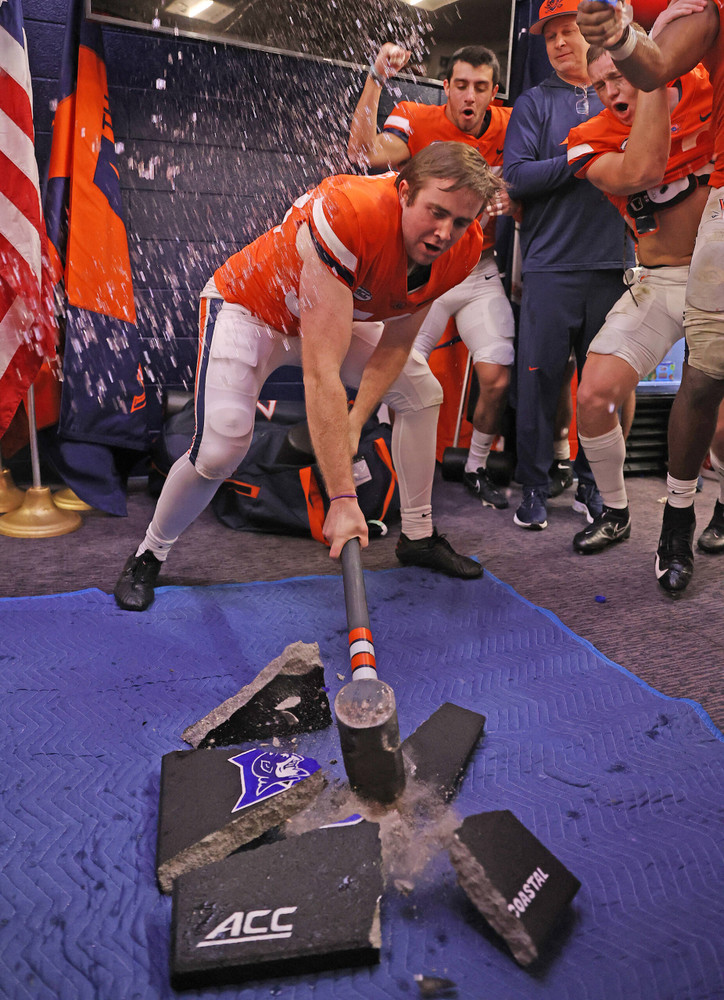 UP NEXT: The ACC revised its 2020 schedule because of the COVID-19 pandemic, and for the first time since 1981 there was no game between UVA and Georgia Tech.
The Coastal Division foes renew their rivalry next Saturday at Scott Stadium, where the Hoos take on the Yellow Jackets (3-3, 2-2) in a 7:30 p.m. game to air on ACC Network.
The Jackets lead the series 21-20-1, but the Cavaliers have won three of the teams' past five meetings, with all of those wins coming at Scott Stadium.
Georgia Tech is off this weekend.
SOUND BITES: The victory was the Cavaliers' 20th in their past 23 games at Scott Stadium. Among the comments afterward:
* Kemp, who has 150 career receptions, on moving into sixth place on UVA's all-time list: "It means a lot. It's just a testament to all the work that the receiving group has put in. I wouldn't be here without the group, and I'm thankful for them every day."
* Safety Joey Blount, who had one of Virginia's interceptions, on returning to the lineup after missing the Louisville game with an injury: "Every game missed, you realize how grateful you are for the game and how much the game gives to you and how much work you put in. Games like today, you really see you reap what you sow."
* More Blount: "I'm ecstatic about this goose egg that we put on the board. It's really big for our defense, our confidence, our consistency, and we're trending in the right direction."
* Blount on the UVA reserves' extended action Saturday: "It's a lot of fun cheering on other guys when you care and you love other people on the team. You hear them cheering for you, but having opportunities like that to cheer other people on, that's what makes football so fun to me."
* Wicks on the offense's potential: "We haven't played our best yet. There's a lot more we can do."
* UVA center Olusegun Oluwatimi: "We're a confident team right now, and I think we're playing like it just as you saw today."
* Mendenhall, who is close with Duke head coach David Cutcliffe, on his mixed emotions about the one-sided game: "I know that there's a professional part, but there is a personal part, and that hurts me because of my support of him."
* Cutcliffe on the Blue Devils' lopsided defeat: "We will take our time, we'll be patient with this. None of us individually have all the answers. We're gonna hear a lot of people with a lot of answers, and it's just not that easy."
* More Cutcliffe: "These are the times you start wondering if the sun's gonna rise, but it does."
To receive Jeff White's articles by email, click here and subscribe.