By Jeff White (jwhite@virginia.edu)
VirginiaSports.com
CHARLOTTESVILLE –– For the University of Virginia baseball program, autumn is a time for instruction and for learning, a period when newcomers start to mesh with veterans. No two falls are exactly alike, UVA head coach Brian O'Connor noted, but this one stands out, and for good reason.
"We have the most new players we've ever had in my 19 falls," O'Connor said Tuesday.
From the team that rode an improbable postseason run to the College World Series in Omaha, Neb., the Cavaliers lost such position players as Zack Gelof, Nic Kent, Logan Michaels and Brendan Rivoli, as well as pitchers Andrew Abbott, Blake Bales, Griff McGarry, Zach Messinger, Stephen Schoch, Mike Vasil and Kyle Whitten.
The Cavaliers' fall roster includes 12 freshmen and five transfers.
"Last fall we had very much a veteran team," said O'Connor, under whom the Wahoos have made five trips to College World Series, which they won in 2015. "This year we had so many new guys that initially you're instilling in them the standards of our program for how they go about their business every day, not only in the game and on the field, but off the field. So this fall there was an incredible amount of teaching and teaching again and teaching again.
"Even with guys like Kyle Teel and Jake Gelof, they played last year, but they're still only second-years. So there's just a lot of teaching and then reminding and coaching and teaching. But I was really excited about what I saw, because I saw a lot of growth and development from the beginning to the end, especially in our new, young position players, and also our transfer pitchers. Even though they have some college experience at a variety of different levels, they still needed to learn what we feel like it takes at this level. So seeing some of them really come along and show that we're going to be able to count on them was exciting."
Virginia's players will continue to train at Disharoon Park, individually and in small groups, for the next three weeks, but fall ball officially ended Sunday with an exhibition against East Carolina.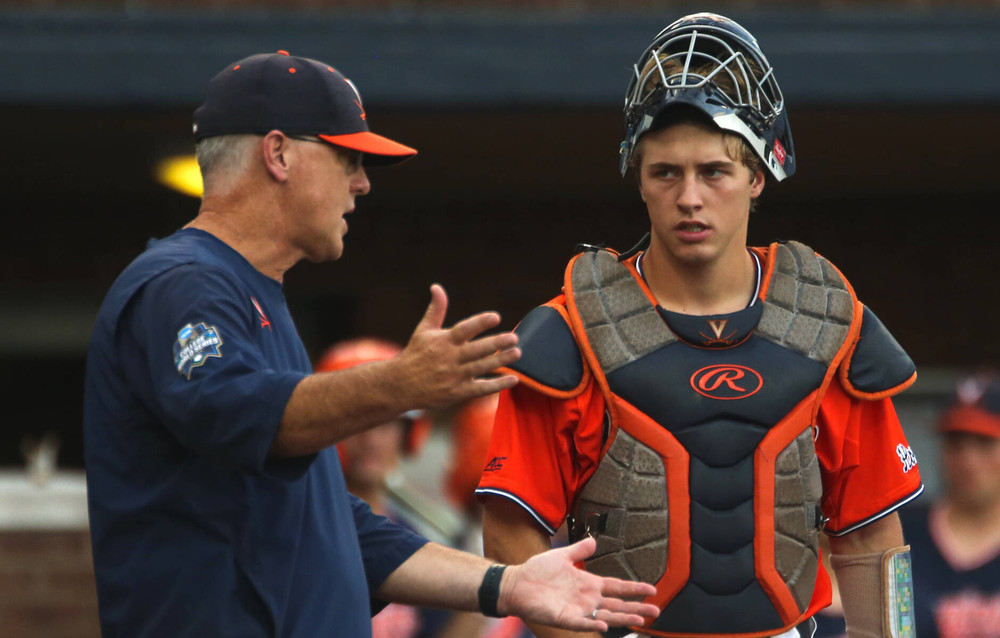 Among their position players, the Hoos return six everyday starters from last season: Teel, Gelof, Devin Ortiz, Max Cotier, Chris Newell and Alex Tappen. "That's pretty good," O'Connor said.
Ortiz and Tappen chose to come back for their fifth years at Virginia, a development O'Connor called "very, very significant. It was like we got two of the biggest recruits in the recruiting class. They have experience, they know what it takes, and they can be great leaders. They're both doing very well."
Tappen struggled at the plate for much of last season––he went into April batting .113––but heated up late and finished the season with six home runs. Ortiz hit eight homers, the most dramatic of which was a walk-off shot that lifted the Hoos to a 4-3 victory over Old Dominion in Columbia, S.C., and sent them to an NCAA super regional for the first time since 2015.
In that same game, Ortiz, who'd made only two pitching appearances all season, started on the mound for the first time as a Cavalier. He struck out six and allowed only one hit in four scoreless innings, and he's likely to be throwing again in 2022.
"He'll still be an offensive option for us," O'Connor said, "but I'm going to give him every opportunity in the preseason to potentially take on a significant role for us pitching.
"We'll see how that plays out. That might mean DH and pitching. That might a little bit of first base and pitching."
The right-handed Ortiz was the Cavaliers' starting first baseman until late April, when he injured his left shoulder, after which he became their designated hitter.
He had surgery on that shoulder in the offseason and wasn't able to play this fall, but Ortiz will be ready for the start of practice next semester. Even with the addition of Ortiz, though, the pitching staff figures to be the Cavaliers' biggest question mark in 2022. It's light on Division I experience.
"That's part of the reason we were good last year," O'Connor said. "We had veteran after veteran on the mound."
UVA pitchers threw 560 innings last season. Gone are the pitchers who combined for nearly 70 percent of those innings.
"We return around 160 innings," O'Connor said. "It's the most innings we've ever lost as a pitching staff, and it's not even close."
Which is not to say the Hoos lack talent on the mound. Potential weekend starters include Matt Wyatt, Brandon Neeck and Nate Savino, each of whom has had brilliant moments as a Cavalier. Also back is graduate student Paul Kosanovich, who battled injuries last season.
In the NCAA tournament, the right-handed Wyatt sparkled in wins against South Carolina and Dallas Baptist, and the left-handed Neeck struck out 16 in 5.2 innings against ODU, a program record for a postseason game.
Wyatt, Neeck and Savino, like Ortiz, did not pitch this fall.
"I'm a big believer in these guys taking eight weeks off at some point in the calendar and putting the ball down for eight weeks," O'Connor said. "This was the right time to do it. They've already started their throwing program in preparation for the season. So they're playing catch right now, they're throwing right now. It just meant they couldn't pitch innings this fall."
That in turn created "a lot of opportunities for other guys," O'Connor said. "I think there's talent and there's enough options. We just don't have many guys that have done it [at this level]."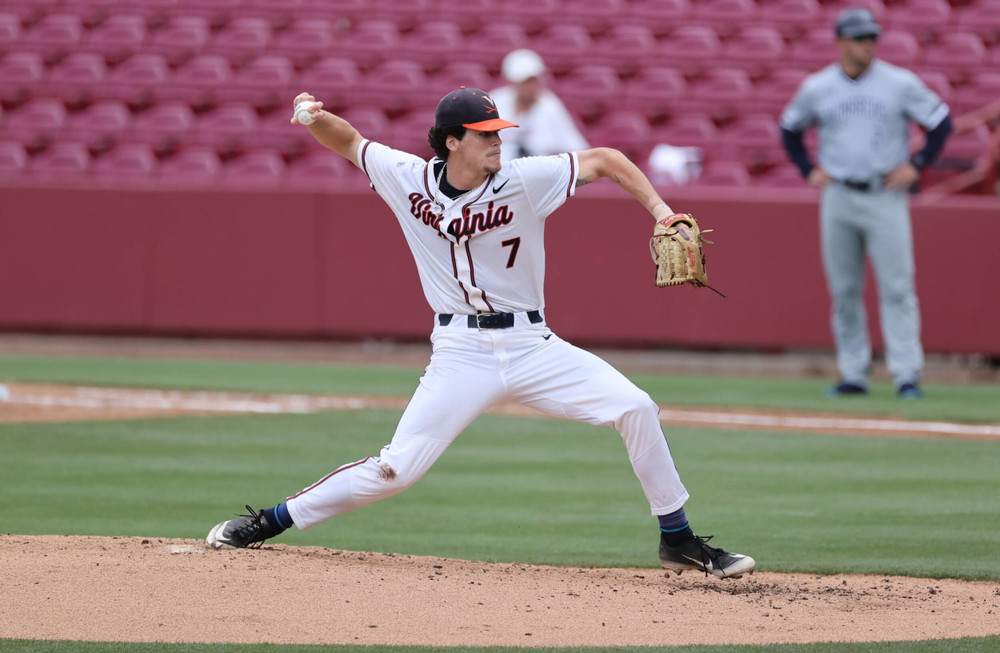 All five transfers are pitchers. One of them, right-hander Mason Dillow, is recovering from knee surgery and wasn't available this fall, but the other four (right-handers Dylan Bowers, Joe Miceli and William Geerdes and left-hander Brian Gursky) worked extensively with pitching coach Drew Dickinson.
"All four are going to make a significant impact for us," O'Connor said.
Gursky, a graduate transfer from the University of Southern California, "got better and better and better," O'Connor said. "He's going to really help us. He's vying for a spot in our rotation."
Geerdes, a grad transfer from Columbia, started against ECU and pitched in relief in another exhibition. "He's really gotten better and better as well," O'Connor said.
Bowers, a grad transfer from Northern Colorado who's listed at 6-5, 250 pounds, has been working at closer.
"He looks like a good, viable option for us," O'Connor said. "He looks like he should be playing on Saturdays. He looks like an NFL tight end. I love his mentality, I love the approach that he's brought to the table."
Miceli, like Dillow, is a junior-college transfer, and he's impressed UVA's coaches with his versatility. "He could potentially pick a couple different roles for us as well," O'Connor said.
Numerous freshmen distinguished themselves this fall, O'Connor said, including Ethan Anderson, Griff O'Ferrall, Justin Rubin, Casey Saucke, Anthony Stephan, Tristan Shoemaker and Colin Tuft. O'Ferrell and Rubin are competing for the starting job at shortstop.
"Obviously, things can change," O'Connor said. "The fall's always different than the spring. Sometimes guys have great falls and when the lights come on, it's different for them. But those guys proved to their teammates that they can make contributions immediately. The combination of those guys, I think, is going to give us some really good depth. And I think all of them, in different ways, are going to have opportunities to show that they can help our team this year."
Teel and Gelof did all of that and more as freshmen last season. Teel led the Hoos in hitting (.335) and tied Gelof's big brother, Zack, for the team lead in home runs (nine). The younger Gelof hit .252, with four homers, and emerged as a top-flight first baseman after Ortiz got hurt.
"They both had really good falls," O'Connor said of Teel and Gelof. "They're both very, very aggressive offensively. They obviously made huge contributions for us last year, and now this is kind of the next step, to where they've got to lead and their roles change a little bit. They're both going to hit in the middle of the lineup for us."
Gelof has been working at first base and third base, his brother's position for the past three seasons. Teel will be behind the plate.
"He'll be the No. 1 catcher," O'Connor said. "That's what he came here to do, and he's athletic enough that we can also put him in the outfield if necessary."
Other returning players who have impressed this fall include senior Drew Hamrock and sophomore Addie Burrow.
Hamrock, who primarily played right field this fall, is "a scrapper that can run and knows what's going on," O'Connor said. "He's a veteran guy that I think is going to make some nice contributions."
Burrow, who appeared in only six games last season, "has shown some promise this fall as well," O'Connor said. "He's been around here a year and understands what our standards and expectations are. So we've got some really good experience, position player-wise, coupled with some good, athletic youthful players.
"We have a lot of work to do, no question, over the next three-and-a-half months till opening day, but I'm really excited about what I see."
To receive Jeff White's articles by email, click here and subscribe.