By Jeff White (jwhite@virginia.edu)
VirginiaSports.com
CHARLOTTESVILLE – In each of its past two football games––Oct. 30 against BYU and Saturday night against Notre Dame––Virginia faced a ranked non-conference opponent in a nationally televised broadcast. Such opportunities rarely come around, and for the Cavaliers, that made their inability to capitalize either one more disappointing.
UVA lost 66-49 at then-No. 25 BYU in a game that record-setting quarterback Brennan Armstrong left with a rib injury. With Armstrong watching from the sideline, the Wahoos fell 28-3 to No. 7 Notre Dame before a crowd of 48,584 on a chilly night at Scott Stadium.
"That was a great opportunity that we had for ourselves tonight," Virginia cornerback Anthony Johnson said. "It just didn't go our way. But I think that we're going to be focused and locked in for these next two weeks, knowing what's at stake. We control our own destiny."
The Wahoos came into the season, their sixth under head coach Bronco Mendenhall, with three overriding goals: to capture the Coastal Division title, to reclaim the Commonwealth Cup with a victory over Virginia Tech, and to win the ACC championship. All remain possibilities.
His players, Mendenhall said late Saturday night, realize what's at stake in marquee non-conference games and "would love to capture the opportunities that come to advance the program and increase the perception and all the things that gain momentum. But they said it before I did as we came in [the locker room], they know what's still remaining, and I'm excited for that and they're excited for that."
The Hoos (6-4 overall, 4-2 ACC) have two regular-season games left. They visit No. 25 Pitt next weekend and then host Virginia Tech (5-5, 3-3) on Nov. 27. If the Cavaliers win both, they'll collect a second straight Coastal crown. (The COVID-19 pandemic resulted in major changes to the ACC schedule last year, and the conference scrapped divisional play.)
"We have a great opportunity ahead of us," Keytaon Thompson, one of Virginia's standouts against Notre Dame. "We're deep in the season and all of our goals are still right there for the taking."
Virginia, which had a bye last weekend, came into the Notre Dame game averaging 545.2 yards per game in total offense, which ranked first among FBS teams. Without Armstrong, though, the Cavaliers' offense sputtered against Notre Dame.
Jay Woolfolk, the first true freshman to start at quarterback for UVA since Bryan Shumock in 1977, acquitted himself well overall. Collectively, though, the offense failed to meet the standard it set through the season's first nine games.
With Armstrong out, Mendenhall said, the rest of the offense "has to now be better. The protection, the separation on the routes from a defender, everything has to now be better from more sources."
That was not the case on a night when the Hoos' defense, which has been plagued by breakdowns this season, came up with two takeaways and made two fourth-down stops.
"I think the defense played great tonight," Thompson said. "That's good to see, the defense constantly improving. The offense just needed to step it up tonight, and we didn't do that."
The Hoos, who came in averaging 38.9 points per game, totaled only 278 yards and gave up seven sacks. Their points came on a 34-yard field goal by Brendan Farrell early in the fourth quarter. Not since a 17-9 loss to ACC rival Miami in 2019 had Virginia failed to score a touchdown in a game.
"That's unacceptable," offensive tackle Bobby Haskins said. "Our goals are much, much higher than that, and we're all frustrated and disappointed with our performance, but we know that this team's got a lot left to give in the last two weeks of the season. And we're excited for what's ahead."
The Cavaliers hope to have Armstrong, who ranks second nationally in passing yards per game (395.2), back for the Pitt game, but that will depend on how his injury heals in the coming days. Armstrong didn't practice last week, but felt better "every day and even all the way till warmups [Saturday night]," Mendenhall said. "We're not ruling anything out, but it literally is day by day."
If Armstrong isn't available, the Cavaliers have faith in Woolfolk, a graduate of Benedictine High School in the Richmond area.
"Brennan's numbers speak for themselves," Haskins said. "He's an incredible quarterback, he's an incredible leader, incredible person, and we would love to get him back whenever he's ready. But if it's Jay, we know that we're equally capable, confident in him. And whoever's at quarterback, there's no excuse for not winning a football game."
Mendenhall said: "Jay's got a bright, bright future."
Against one of the nation's better defenses, the 5-foot-11 Woolfolk completed 18 of 33 passes for 196 yards, with two interceptions, and he ran well when the opportunity presented itself.
"I thought he did a really nice job under all the circumstances," Mendenhall said, "and I really like who he is, how he plays, his potential. I thought on that stage against that team in his first start, I'm still viewing a lot of positive things out of it."
Thompson, whom UVA uses in a variety of roles in the offense, started his college career at Mississippi State, where he played quarterback. He understands better than most what Woolfolk faced against the Irish (9-1).
"I've kind of been in this position earlier days in my career, being thrown in as a young guy with not much experience against a quality opponent," Thompson said. "I think he did pretty well. He didn't get rattled, he made some some great plays. I don't think we did a good enough job as receivers and as an offense as a whole to help him out, to take some of that pressure off of Jay."
Woolfolk will be better for the experience, Thompson said, however challenging it might have been.
"You can't coach it," Thompson said. "You can't coach experience, and you just have to go through it as a quarterback. All of our circumstances are different, and Jay just so happened to be going up against a top-10 team. For the most part I thought he did well."
Thompson caught nine passes for 110 yards, and running back Mike Hollins carried nine time for a team-high 44 yards. But wide receiver Dontayvion Wicks, who came in averaging 108.0 yards per game receiving, had only two catches (for 32 yards), and another big-play wideout, Ra'Shaun Henry, had one reception (for 4 yards).
"I didn't see a significant difference in Notre Dame's approach [defensively]," Mendenhall said. "What I just saw is that Jay's processing takes longer. Where Brennan would have had the ball out so fast, so quick, and it makes you pay when you bring extra [pass-rushers], Jay's processing, as it should be, is just a little slower, which then allowed the pressure to get home more. So I really didn't see anything different other than it just wasn't Brennan Armstrong, it was Jay Woolfolk in his first start and it just took a little longer."
Coming off a week of practice in which Woolfolk took hundreds of snaps, the Cavaliers had hoped to be more productive on offense, "but it took a little time," Mendenhall said. "In the second half I saw more glimpses, especially as Jay was finding Keytaon and as Mike [Hollins] was stepping up, and others will emerge. It's a different chemistry and a different group without Brennan. Now it takes a little more time."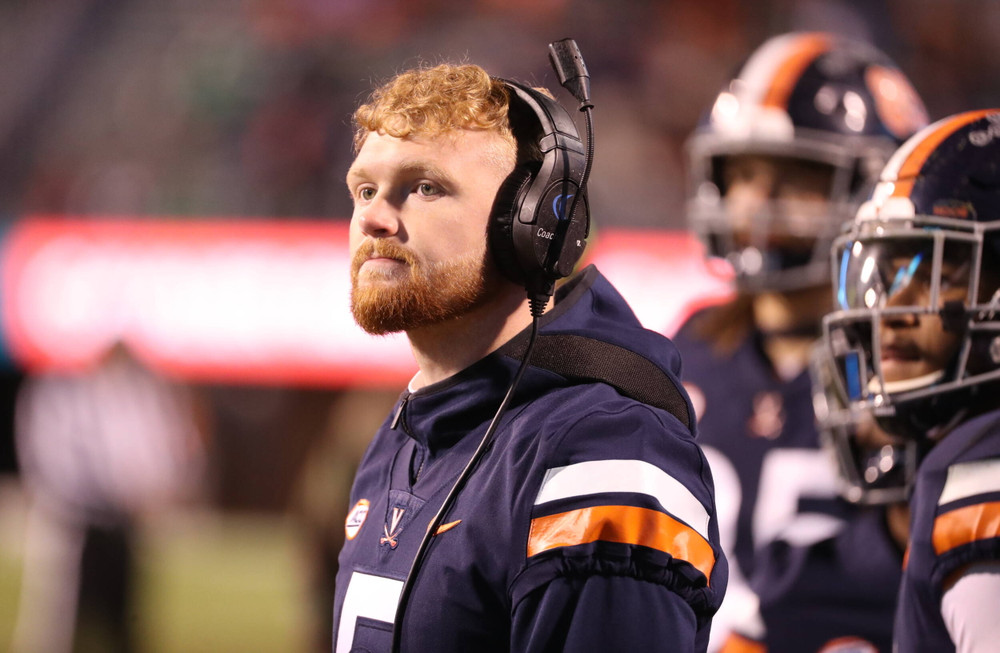 BUILDING BLOCK: The Irish, who totaled 423 yards, averaged 6.6 yards per carry Saturday night, and UVA missed multiple tackles, especially in the first half. Still, for a defense that gave up 734 yards against BYU, there were signs of progress.
"Notre Dame still had a nice night on third down," Mendenhall said, "but fourth down matters and getting off the field matters. And we did that more. [The Cavaliers forced a] couple turnovers, which helped, and I thought they played hard and better and more consistent, and I saw improvement."
Johnson, a graduate transfer from Louisville, had an interception, his second of the season, and outside linebacker Noah Taylor recovered a fumble for the Hoos.
"The score didn't come out on our way," Johnson said, "but just getting those fourth-down stops and those turnovers is really positive and something that we're gonna feed off of going into these next two weeks."
SHORT-HANDED: Of the Cavaliers' four captains, only linebacker Nick Jackson and defensive lineman Mandy Alonso played Saturday night. Armstrong was in sweats, as was running back Wayne Taulapapa, who suffered a concussion against BYU.
Also unavailable was starting safety De'Vante Cross, who's in his sixth year in the program. Cross recently was diagnosed with a season-ending knee injury, Mendenhall said, "that has to be fixed and fixed right away. And so he's working through that news, and we're supporting him with that news, and we miss him. And I'm thankful to him for just all the effort and commitment to our program and what he's helped us do."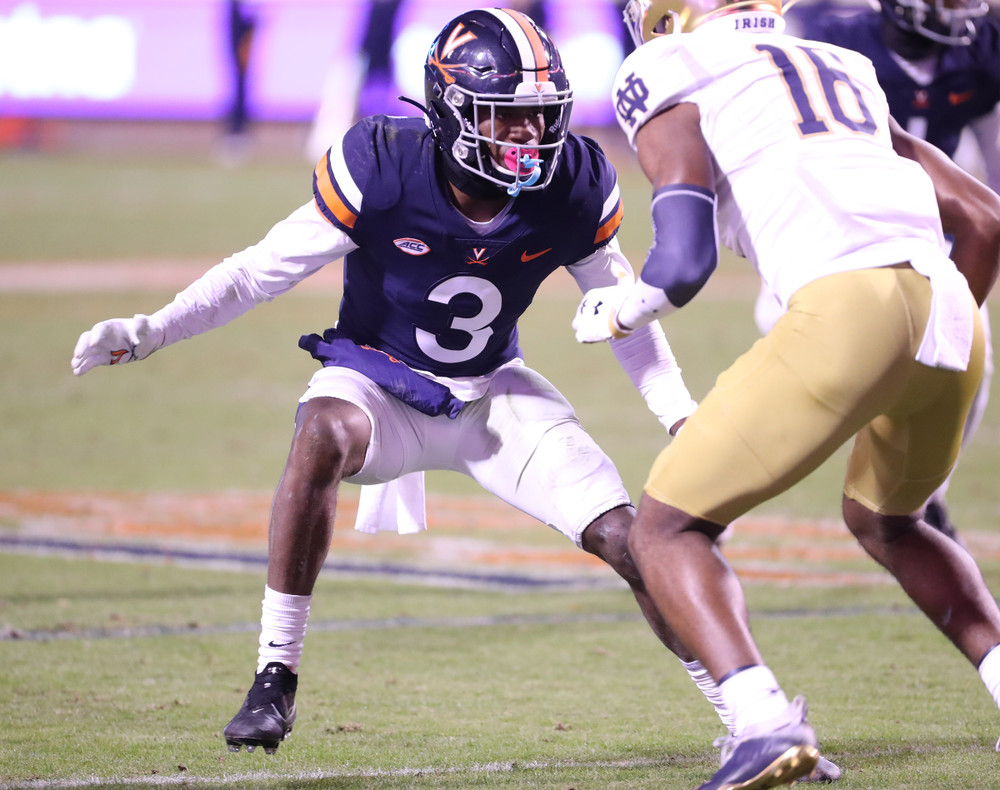 UP NEXT: By the time the Cavaliers arrive at Heinz Field on Saturday for their 3:30 p.m. game against Pitt, four weeks will have passed since they last played an ACC opponent. That was on Oct. 23, when Virginia defeated Georgia Tech 48-40 at Scott Stadium.
ESPN2 is televising the UVA-Pitt game.
The Panthers lead the series 8-4. The teams did not meet last season. In 2019, Virginia won 30-14 at Heinz Field, ending a four-game losing streak in the series.
Pitt defeated North Carolina 30-23 in overtime Thursday night at Heinz Field.
SOUND BITES: The road victory was the 10th straight for Notre Dame, which improved to 4-0 all-time against Virginia. Among the postgame comments:
* Mendenhall on what he learned about Woolfolk: "He's so poised and was not rattled. So even though it was a lot, he was confident, he was poised, he was calm, he was confident … He can make every throw and he's good with his legs. So now it's just a matter of him diagnosing, assessing and seeing things faster, so he can run the offense more effectively. It was just what he was seeing and how long it took him to see, that was the biggest thing. And so we'll take that data point into the week and help him with that."
* Haskins on Armstrong's role on the sideline: "He was helping Jay evaluate defenses and helping him with the looks he was getting, talking to receivers about the routes they were running against the looks that they were getting, and then also just keeping everybody together, keeping everybody motivated, keeping everybody's energy up. We love Brendan to death. And even though he wasn't suiting up for us tonight, he had an impact on the game for sure."
* Haskins on Woolfolk's play in practice last week: "Every day he took a clear step forward. He's got a lot of confidence and a lot of swagger, moxie. Whatever you want to call it, he's got it in spades, and we all love him to death and are really excited for what he's gonna do down the road as well."
* Mendenhall on Notre Dame tight end Michael Mayer, who had seven catches for 84 yards and one touchdown: "He's a really good player: big, fast, strong, tough, capable, physical. And I don't think we had much more success than anyone else in defending him … He'll keep playing, I think, for quite a while."
To receive Jeff White's articles by email, click here and subscribe.