By Jeff White (jwhite@virginia.edu)
VirginiaSports.com
CHARLOTTESVILLE –– When the Virginia Cavaliers' football schedule for 2021 was released in January, the initial reaction was that it was backloaded, with a closing stretch of BYU, Notre Dame, Pittsburgh and Virginia Tech. Ten months later, that assessment looks accurate.
­
In the latest Associated Press poll, Notre Dame is No. 6, BYU is No. 14, and Pitt is No. 20. The Hokies aren't ranked, but they often seem to save their best for their battles with Virginia.
The Wahoos, who lost 66-49 to BYU on Oct. 30 and 28-3 to Notre Dame on Saturday, close the regular season against Virginia Tech at Scott Stadium on Nov. 27. First, however, Virginia (6-4 overall, 4-2 ACC) visits Pitt (8-2, 5-1) for a Coastal Division game Saturday at 3:30 p.m.
The stakes couldn't be much higher. If the Panthers win, they'll capture the Coastal title and clinch a spot in next month's ACC championship game. If the Hoos win Saturday, a victory over Virginia Tech would allow them to retain Coastal crown they won in 2019. (The ACC scrapped divisional play in 2020.)
"We still have the power to control what we want to control," Virginia linebacker Josh Ahern said Monday.
"We were the defending [Coastal] champion going into COVID," UVA head coach Bronco Mendenhall said Monday. "Coming out of it we want to repeat. We have every chance to do that with two Coastal games remaining. I like that opportunity, and I like how hard the program has worked to earn that chance. So here we go."
UVA quarterback Brennan Armstrong leads the ACC in passing yards per game (395.2), and his Pitt counterpart, Kenny Pickett, is second (351.7). It's unclear, however, if Armstrong will be available Saturday. He suffered a rib injury against BYU and was unable to finish that game. The Hoos were off the next weekend, and Armstrong, wearing a headset, watched from the sideline Saturday night at Scott Stadium.
"I'm hopeful," Mendenhall said Monday when asked if he thought Armstrong would be able to practice more this week.
The Panthers, meanwhile, are preparing to face No. 5.
"I think they saved him up," Pitt head coach Pat Narduzzi said Monday at his weekly press conference. "He will be primed and ready for an ACC clash, so we do expect to get their best player, which they didn't have Saturday."
Against the Fighting Irish, Jay Woolfolk became the first true freshman to start at quarterback for UVA since 1977. Woolfolk, who like Armstrong is a dual-threat quarterback, made more than a few superb plays Saturday night, but the offense's productivity plummeted.
"So we have a lot of work to do, and a lot more to do to help him out," wide receiver Dontayvion Wicks said Monday.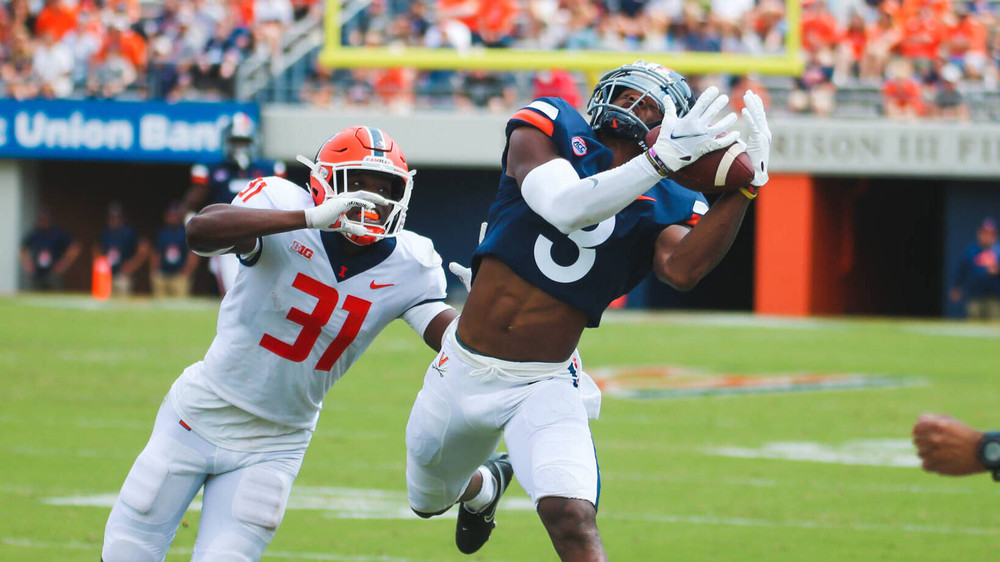 The Hoos took the field at Scott Stadium averaging 545.2 yards and 38.9 points per game. They totaled only 278 yards against the Irish, and Brendan Farrell accounted for all their scoring with a fourth-quarter field goal.
"We've got to be able to throw and catch the ball so that we can help the team or help the defense out," said Wicks, who ranks third among ACC players in receiving yards per game (100.4) but had only two receptions against Notre Dame. "I feel like [the defense] played a great game on Saturday, with keeping them to 28 points."
The Irish sacked Woolfolk seven times. UVA's veteran offensive line did not bear responsibility for all of those negative plays, Mendenhall said.
"Our pass protection has been excellent throughout the year and consistent, which has allowed Brennan and our offense to score a lot of points," he said. "Protection is where it all begins. I think that has been very good.
"Most of what happened in terms of pressure or sacks on Saturday was a matter of timing, where it was taking Jay a little longer to see, diagnose the coverage, deliver the ball prior to pressure arriving. Very seldom was there an unblocked player or someone getting beat. Kind of within the normal time frame of delivery, reads and balls could have been thrown.
"However, let's just be clear with the expectations. We're talking now about a first-year quarterback that is seeing, reading, and his timing is becoming [better] with every rep. A lot of that was just growing pains in terms of the timing, seeing it quickly enough. It was just taking him a little longer, like it would any of us, to see, read and react."
After facing a top-10 opponent, Wicks said, Woolfolk has a better sense of "the speed of the game. [That will help] him focus more on what he needs to do to help us out and what he needs to see better."
Pickett is as experienced as Woolfolk is unseasoned. He's started 46 games in his Pitt career, and he's been a nightmare for opposing defenses this season. Pickett has thrown 32 touchdown passes, with only four interceptions, and he's also a capable runner.
That Pickett is so well-versed in the Panthers' system is apparent from "where the ball is going and how fast it's going there," Mendenhall said. "He's seeing things really quickly. When he's delivering it, he's confident. He knows where it's going, why it's going there, and versus what coverage. If he doesn't like that, then he's mobile. He's difficult to sack."
The Panthers have eight players with at least 19 receptions apiece this season, led by wideout Jordan Addison (60 catches for 1,070 yards and 11 touchdowns).
"Very similar to our offense, the ball goes to a lot of different places," Mendenhall said. "The quarterback is really skilled, capable of making any throw, mobile, he can scramble and elude pressure. Then there's just a lot of different challenging concepts they use offensively, which have generated a lot of points."
Ahern said: "Their offense overall is just very explosive. They got weapons everywhere. So it's definitely going to be a pretty big challenge for us."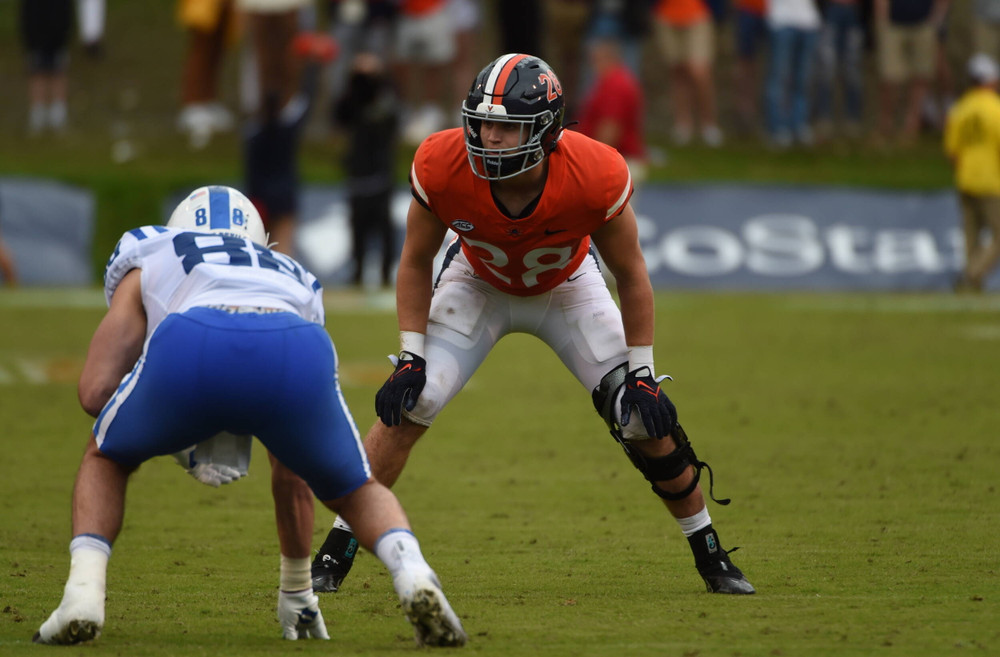 If the teams have similar offensive profiles, it's been another story on defense. Pitt ranks fifth among ACC teams in total defense, having allowed an average of 348.9 yards per game. Virginia (461.9) ranks 13th.
UVA, with 12 sacks, ranks last in the ACC. The Panthers lead the conference with 36.
"They have an aggressive mindset, just within their scheme," Mendenhall said. "Probably some of the most pressure in all of college football, meaning numbers. They certainly aren't afraid to use six rushers. Six rushers is about the most you can bring consistently. Pitt makes that kind of commonplace. They do it really well. They mask their coverage with that."
The Panthers' defensive backs like to play aggressive man-to-man defense, and that's fine with Wicks.
"Oh, yeah, that's the most fun thing to go against, because [it's] 'mano y mano,' " Wicks said. "Let the best man win."
The Cavaliers have posted two shutouts this season and in another game, a one-sided win over Illinois, gave up only 14 points. More often, though, Virginia has struggled to stop opposing offenses, most notably against BYU, which totaled 734 yards.
Notre Dame gained 423 yards on Saturday night, but there were positives for Virginia's defense. The Hoos had two takeaways and made two fourth-down stops. Their biggest problem in recent games has been missed tackles.
"I think the majority of the time we have a guy in [the right] spot," Ahern said. "It just comes down to making plays, and I think we'll be capable of doing that [against Pitt]. I think we are very capable of doing that. It just needs to happen."
To receive Jeff White's articles by email, click here and subscribe.