By Jeff White (jwhite@virginia.edu)
VirginiaSports.com
PITTSBURGH –– They'll be ready to battle for the Commonwealth Cup next weekend. The Virginia Cavaliers who spoke to reporters Saturday night at Heinz Field left no doubt about that. Still, head coach Bronco Mendenhall acknowledged, the pain of UVA's 48-38 loss No. 20 Pitt would linger for a while.
"I think that any time there's something that you care really deeply about, to expect any person––grown, old, young, whatever––to now just move on and be ready by the time we get on the bus [is unrealistic]," Mendenhall said. "No, it's gonna take some time. Because we were planning on being the Coastal champion. That's been a goal."
A win over the Panthers would have kept the Wahoos in the hunt for the ACC's Coastal Division title. That dream ended around 7:15 p.m. Saturday. Pitt secured the Coastal crown with a 48-38 victory that ignited a joyous celebration at Heinz Field.
The Hoos' emotions were much different.
"For the next couple of hours, the rest of today, all day tomorrow, it's gonna hurt a lot," linebacker Noah Taylor said. "But [starting] Monday morning we have a great opportunity in front of us. We get to play a state championship game and after that we're still bowl-eligible, we get to play in a bowl game."
At 3:45 p.m. Saturday, UVA (6-5, 4-3) plays Virginia Tech at Scott Stadium, and quarterback Brennan Armstrong said he planned to turn his attention to the regular-season finale by the end of this weekend.
"That's just kind of how I roll with life, I guess," Armstrong said. "I kind of keep pushing forward, because we got a big game and a lot of people from Virginia, UVA side, they want us to win that game. So you just got to move on. It sucks that we lost tonight, but we got a big game next week, so it makes it even more fun to focus on that. It gives you something else to push for. We'll figure it out. Be ready for Monday. Get to work."
Armstrong, who continues to shatter school records in his second year as a starter, hurt his ribs in the fourth quarter of UVA's Oct. 30 loss to BYU in Provo, Utah. The Hoos were off the next weekend, and No. 5 missed Notre Dame's visit to Scott Stadium last weekend.
The Panthers (9-2, 6-1) weren't as fortunate. Wearing a flak jacket, Armstrong returned to the lineup Saturday and showed no ill effects of his injury. He completed 36 of 49 passes for 487 yards and three touchdowns. His only interception came on a Hail Mary on the final play of the first half.
"Cleared the mind, came in with confidence, was excited to play finally again," Armstrong said. "Feel good. Just disappointed with the loss."
Until this year, no UVA quarterback had thrown more than 28 touchdown passes in a season. Armstrong is up to 30, with more games to come. Moreover, his 50 career TD passes ranks third all-time at Virginia, behind Matt Schaub (56) and Shawn Moore (55).
"Brennan is exceptional," Mendenhall said. "There aren't many people in any field that are like that, and our team knows we're never out of a game, and we'll never not have a chance to win, when he's our quarterback."
Virginia finished with 514 yards of total offense, to 509 for Pitt. The multi-talented Keytaon Thompson, tight end Jelani Woods and wide receiver Ra'Shaun Henry each had a touchdown reception for the Cavaliers, and Dontayvion Wicks caught a career-best 10 passes for 144 yards. Wicks has 1,148 yards receiving this fall, and he's closing in on the single-season record (1,190) for a UVA wideout set by Herman Moore in 1990.
"Brennan's exceptional, but he also throws it to really good targets," Mendenhall said. "It's been consistent all year. We have a really good receiving corps. We have a really good quarterback, we have an exceptional offense, and they showed it again tonight."
The Hoos were far from flawless overall, however, and they'll rue their mistakes. They gave up a kickoff return for a touchdown, and they surrendered two long TDs on fourth-down passes. Moreover, early in the fourth quarter UVA twice extended a Pitt drive with a fourth-down penalty, one of which was an offsides infraction on a field-goal attempt.
The Panthers capitalized on that error by scoring a touchdown that pushed their lead to 41-31. The Cavaliers needed only 25 seconds and two plays––completions of 36 and 39 yards to Wicks and Henry, respectively––to cut Pitt's lead to 41-38, but their lapses ultimately cost them.
"Certainly you've got to play cleaner to win a championship," said Mendenhall, who guided the Cavaliers to the Coastal title in 2019. (The ACC scrapped divisional play in 2020.)
For Pitt, which led 24-21 at halftime, quarterback Kenny Pickett completed 26 of 41 yards for 340 yards and four TDs. The Cavaliers sacked Pickett three times and picked off two of his passes, but they could not stop his favorite target. Wideout Jordan Addison caught 14 passes for 202 yards and four TDs.
"I think [Pitt] used him really well," Mendenhall said of Addison. "Right at the end, I thought we had an interception, and somehow he comes up with the ball. He's tough to defend, and I think he has been all year."
With the score 41-38, Pickett dropped back on third-and-5 from the Pitt 38 and lofted a pass toward Addison, who was well-covered by UVA cornerback Darrius Bratton. But Addison came down with the ball and, after Bratton fell trying to make the tackle, sprinted to the end zone for his fourth touchdown.
The Cavaliers led only once Saturday, at 7-0, but after a sack by linebacker Nick Jackson forced a punt midway through the fourth quarter, they had a prime opportunity to make Pitt play from behind. Instead, they self-destructed.
On second-and-7 from the UVA 46, miscommunication between center Olusegun Oluwatimi and Armstrong resulted in a fumble that running back Devin Darrington recovered. Darrington tried to run, only to be corralled for a 14-yard loss. Armstrong passed to Woods for an 8-yard gain on the next play, but the Hoos had to punt, and by the time they got the ball back, with 2:10 remaining, they trailed by 10.
Safety Joey Blount and cornerback Anthony Johnson each had an interception for UVA, and Blount also had a sack. Jackson recorded a game-high 12 tackles, and fellow linebacker West Weeks, a true freshman, made eight stops and broke up two passes.
The Cavaliers blitzed at almost every opportunity and repeatedly put Pickett under pressure. That wasn't enough against the Panthers' high-powered offense. Pitt totaled 28 first downs.
"Whoever gets the most stops, that wins the game," Johnson said, "and with our offense, they're so dynamic and they do so many good things, we've just got to get off the field and give Brennan the football."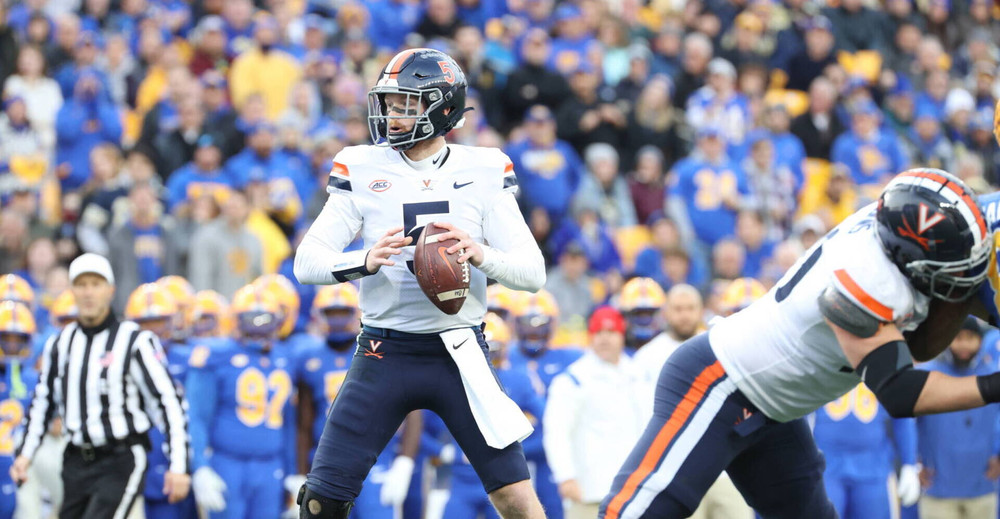 BUSINESS AS USUAL: Armstrong didn't practice during the Cavaliers' bye week. He started throwing early last week, though, and his workload in practice increased as the Pitt game approached.
He "felt fine" during the game, said Armstrong, and he showed no discomfort at the press conference afterward.
"Still normal," he said.
Until Saturday, he hadn't worn a flak jacket during a game, "which was just me being stubborn," Armstrong said. "I just never was a fan of it. But I guess now and in the rest of my career here and further on, I'm gonna be wearing a flak jacket … It felt good, honestly, having extra protection."
GRAND FINALE: With the Commonwealth Cup on the line, UVA (6-5, 4-3) hosts Virginia Tech (5-6, 3-4) next Saturday at Scott Stadium. The game will air on ACC Network.
"We just got to eventually push past [the Pitt loss] and get to the next game," Armstrong said, "because we got a lot on our table still with that game."
Virginia Tech, which dismissed head coach Justin Fuente on Tuesday, lost 38-26 to ACC rival Miami on Saturday night at Hard Rock Stadium.
The Hoos and the Hokies first met in 1895. Tech leads the series 58-38-5.
In 2019, UVA ended a 15-game losing streak in the series with a 39-30 win over Virginia Tech in Charlottesville. The Hokies reclaimed the Commonwealth Cup with a 33-15 victory in Blacksburg last year.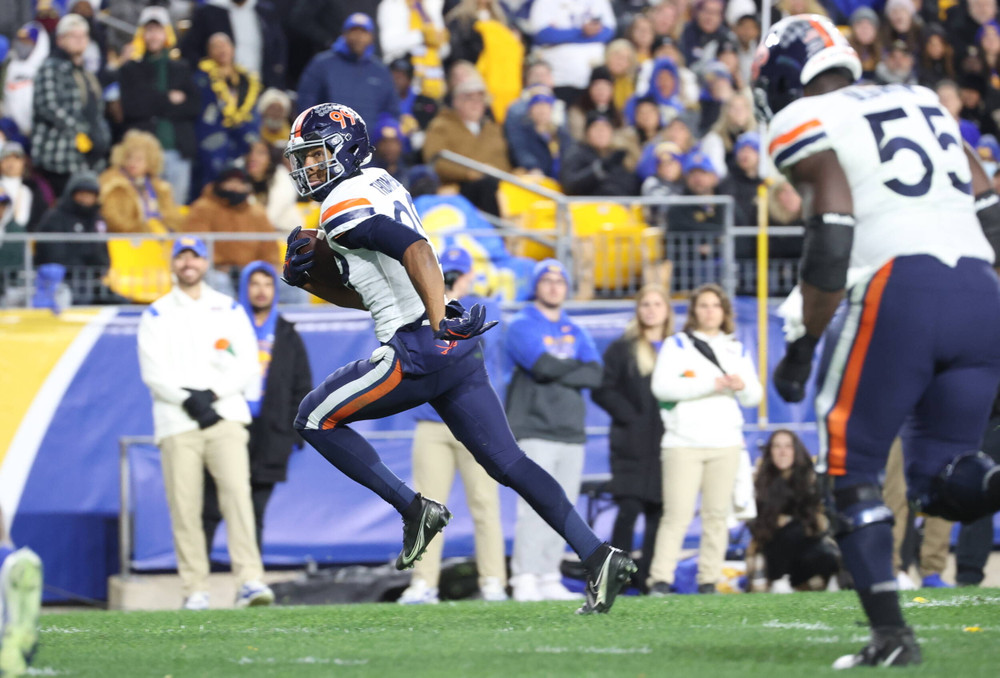 SOUND BITES: The Hoos were seeking their first road win over a ranked opponent since 2011, when they edged Florida State 14-13 in Tallahassee. Among the postgame comments at Heinz Field:
* Taylor: "This is not the end of our 2021 story."
* Mendenhall on seeing Pitt clinch the Coastal title: "When it's a goal that you have for the entire season and you know that you had every chance to compete and perform and win, then to see it go to someone else, it hurts."
* Mendenhall on his team's blitzing tactics: "It's the Coastal championship. We weren't going to save anything, and we weren't going to keep anything uncalled or undone, and so we did everything we could."
* Mendenhall on UVA's breakdowns: "Just too many mistakes in critical times. Or credit Pitt for making great plays on fourth down to win the game. I prefer to look at it that way. You gotta  give credit to where it's due, and in championship games you have to make the critical play at the right time."
* Pitt head coach Pat Narduzzi: "From the first minute to the 60th minute, it was a ball game. We knew we were in for a dogfight. I'll give Brennan Armstrong and Bronco Mendenhall a lot of credit."
* Narduzzi on the Cavaliers' offense: "They've got good players and got a good scheme. They've done that to every team they've played. Didn't do it to Notre Dame because [Armstrong] wasn't out there. It would have been a different story if a different guy was out there. I've got a ton of respect for Armstrong. He's outstanding."
* Taylor on Weeks: "He's definitely ahead of most first-years. He came in and we knew he was going to going to be a really, really good player. And as the season went on, his role has increased, just because of his work ethic and how much hard work he puts into football in the film room."
 To receive Jeff White's articles by email, click here and subscribe.