By Jeff White (jwhite@virginia.edu)
VirginiaSports.com
CHARLOTTESVILLE – Devin Darrington remembers walking out onto the grass at Fenway Park for the first time and taking in his surroundings at the storied stadium. It was Nov. 17, 2018, and Harvard was about to play Yale in football, an annual clash known in Ivy League circles as The Game.
"It's definitely a different experience, seeing all the baseball things around and the baseball names and jerseys," Darrington said Monday morning. "Walking out there for the first time was an experience I'll never forget."
Darrington, then a sophomore, rushed nine times for 91 yards and two touchdowns to help Harvard defeat Yale 45-27 that day. "Very memorable game for me," he said.
Now a graduate student at Virginia, Darrington hopes to make more good memories at the Boston Red Sox's stadium. That's where UVA (6-6) will meet Southern Methodist (8-4) in the inaugural Wasabi Fenway Bowl on Dec. 29. ESPN will televise the 11 a.m. game.
"Obviously, we're excited," defensive lineman Mandy Alonso, one of the Cavaliers' captains, said Monday. "I've never been to Boston, and the stadium, it's got a lot of history. So that'll be really exciting."
Darrington said he wasn't expecting the Wahoos to end up in this game, and he was delighted when the news broke Sunday.
"It was amazing," Darrington said. "I hit up my friends and everybody up in Boston: 'Hey, come to the game.' It'll definitely be great to go back. It's going to bring me back to when I was playing at Harvard."
Among UVA's players and staffers, Darrington and graduate assistant Joe Spaziani probably have the most familiarity with New England. (Spaziani, a former Virginia long-snapper, is from Hingham, Mass.)  The Cavaliers haven't played a football game at Boston College since 2010, so this will be uncharted territory for most of them, including head coach Bronco Mendenhall.
"I haven't been to Boston before," Mendenhall said Sunday night.
For Mendenhall, who's in his sixth season at UVA, this is not just another bowl game, and not only because it'll be the first one played at Fenway Park. He announced Thursday that he'll be stepping down as the Cavaliers' head coach after the season finale.
"I think the whole team was pretty much in shock, because nobody saw it coming," Alonso said. "We didn't really talk about it [with each other] until Saturday or Sunday, after we processed it. It was crazy."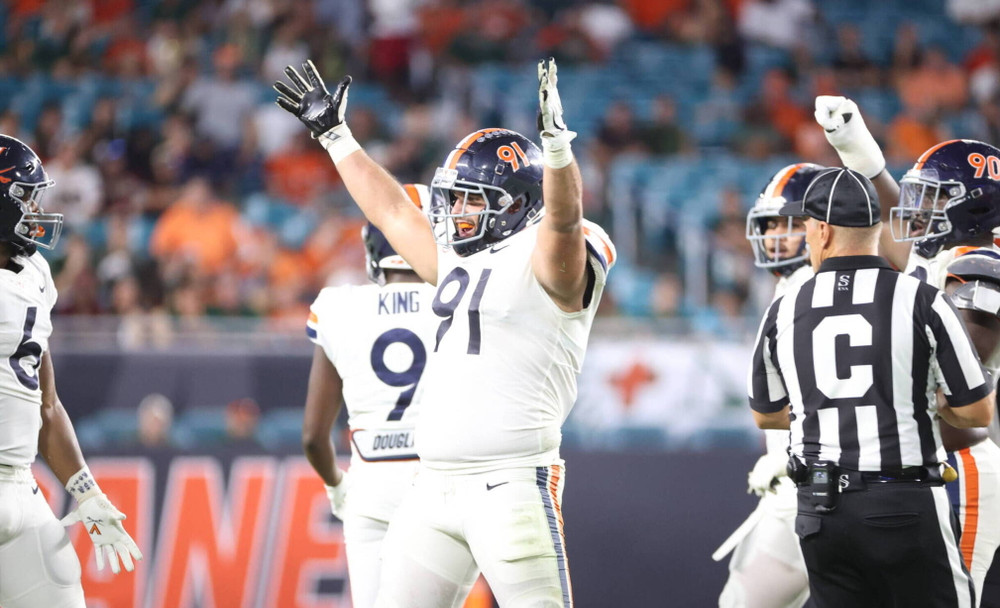 UVA is likely to hire Mendenhall's successor well before the bowl game, and he acknowledged that the coaching change may be a distraction for the team initially.
However, Mendenhall said, "I don't think it will continue once we focus on the opponent. And because the game is a significant time away still, and players still have finals, there'll be a lot of just lifting and running and conditioning and renewal for the players after the season to kind of get back to a place that they're ready to play."
Once final exams end at UVA, bowl practices will begin, and Mendenhall said he believes "it will take the whole process to then end up being at a place where we can move forward. I think it would be unrealistic for me to expect otherwise. However, I do believe once the prep starts for the game and the schemes are installed and the practices specifically for the opponent begin, I think that'll really help."
Alonso said he's confident the players will be able to focus on the game.
"We know this is going to be Mendenhall's last game," he said, "and it'll give us a little bit more fire, hopefully, to play for him and for this coaching staff, because we don't know who's going to stay, who's going to go. And just for the seniors, it's going to be a huge game for us: the last we all play together as a whole program, really."
Since defeating Georgia Tech on Oct. 23, Virginia has lost four consecutive games. The first three were, in order, to BYU, Notre Dame and Pitt, teams ranked Nos. 12, 5 and 13, respectively, in the latest Associated Press poll. In the regular-season finale, UVA fell 29-24 to Virginia Tech at Scott Stadium.
"I think a lot of people are motivated to get back in the win column, just because it's been so long," Alonso said. "We're really tired of [losing], and with all this happening, with Coach leaving, we're just really motivated to end this season the right way."
Mendenhall said: "I want it for our team. I love my players, and I would love to see them have success one last time together."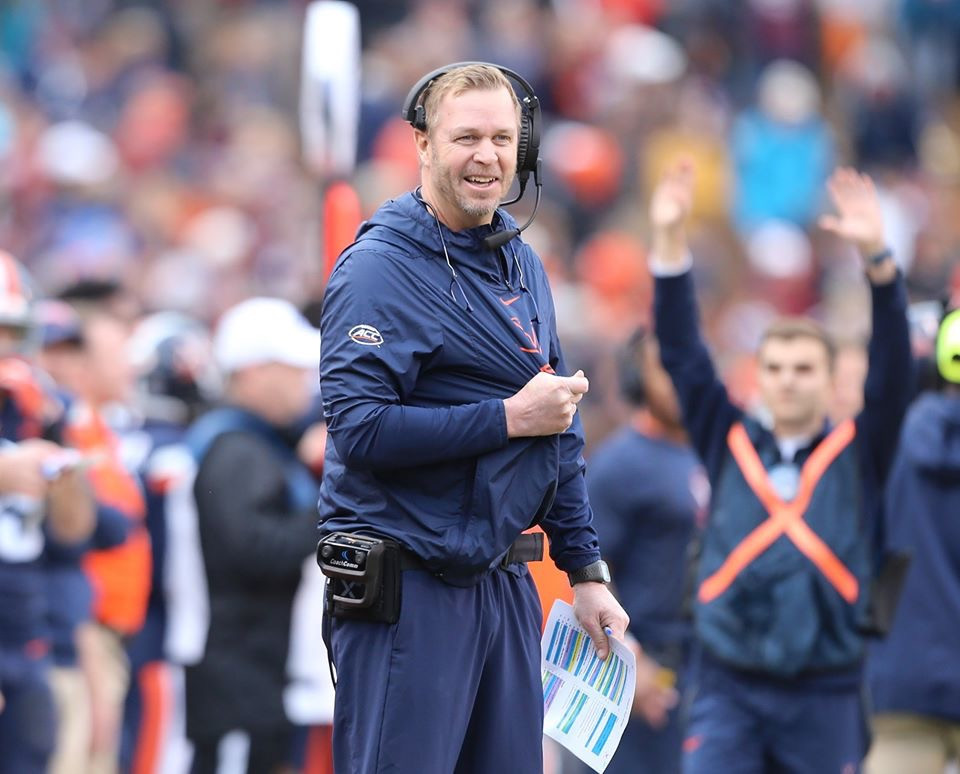 The team met Monday morning in the George Welsh Indoor Practice Facility, where Mendenhall laid out the schedule the Cavaliers will follow leading up to the bowl game.
"His message was just that we get one final chance to end the season the right way, end our careers the right way, and just finish," Alonso said.
Amid the uncertainty about what happens next in the program, several UVA players have entered the transfer portal, and more may follow. Under normal circumstances, Mendenhall said, he would not allow such players to remain part of the team. But this situation is different, he said, and "I want them to have every chance to continue to grow and practice and improve their skills."
Players in the transfer portal will be permitted to practice with the team, Mendenhall said, and once the new coaching staff is in place some or all might decide to stay at UVA.
"They're anxious to meet their new staff and new coaches as soon as possible so they can choose, because it's very difficult to walk away from the University of Virginia and the education and experience here," Mendenhall said. "So many are hopeful to stay. But they also have to be ready in case, for whatever reason, that might not fit at this particular time."
Mendenhall said he's been working closely with athletics director Carla Williams to determine how best to proceed this month.
"I want the University of Virginia to grow and progress and advance from here forward," Mendenhall said. "I don't want it to flatten. I don't want it to go down. I want it to advance. So it's a complete team effort between myself and Carla to move the program forward, not backwards, in every decision we're making. And the same is happening with my staff. So there's no misalignment. This is just a unique time prior to my last game at UVA."
This marks the fifth straight season Virginia has been eligible to play in a bowl game. (The Hoos chose not to do so in 2020, a season played under strict COVID-19 protocols). The Cavaliers played in the Military Bowl in 2017, the Belk Bowl in 2018, and the Orange Bowl in 2019. Now comes a trip to Fenway Park.
"I really liked the idea of going to Boston and playing the football game in that stadium," Mendenhall said. "Our team hasn't been [to Boston] in my time here. It's a historic stadium, really good matchup, and it just seemed like a really good opportunity to continue to grow and advance UVA's football program. And so it made a lot of sense to me, and I was hopeful that this would be the game we were selected for."
SMU has a football program in transition, too. Head coach Sonny Dykes left late last month to take the same position to Texas Christian University. His successor is Rhett Lashlee, who was the Miami Hurricanes' offensive coordinator this season.
Several SMU assistants, including offensive coordinator Garrett Riley, are following Dykes to TCU, and it's unclear who'll coach the Mustangs in Boston.
The Wasabi Fenway Bowl will feature two of the nation's most productive offenses. Led by quarterback Brennan Armstrong, the Hoos averaged 515.8 yards and 34.6 points per game during the regular season. The Mustangs averaged 465.9 yards and 38.4 points.
Armstrong, in 11 regular-season games, passed for 4,449 yards and 31 touchdowns. SMU's Tanner Mordecai threw 39 TD passes in 12 regular-season games.
After checking out the Mustangs' statistics, Alonso said, "I was just like, 'We're basically playing Brennan.' I haven't watched film yet, so I don't really know how they look, but I've looked at some of their stats, and they look pretty good."
To receive Jeff White's articles by email, click here and subscribe.