By Jeff White (jwhite@virginia.edu)
VirginiaSports.com
CHARLOTTESVILLE –– As the inaugural Wasabi Fenway Bowl approaches, this much is certain: It will be Bronco Mendenhall's final game as UVA's head coach. His successor, former Clemson offensive coordinator Tony Elliott, has been hired and will take command of the Cavaliers after their Dec. 29 game in Boston.
Elsewhere in the program, however, questions outnumber answers as the end of Mendenhall's tenure nears. His assistants are exploring their options, as are many of the Cavaliers' players. Some might end up staying at Virginia. Others may move on to new schools or, in the case of quarterback Brennan Armstrong, to the NFL.
This uncertainty, Mendenhall acknowledged Wednesday, stems from his stunning news of Dec. 2, when he announced he'd decided to step down after six seasons at UVA. It's less than ideal for the Wahoos (6-6), who will meet SMU (8-4) on Dec. 29 at historic Fenway Park in Boston, but he's hopeful that they'll rise to the challenge.
"This a test of maturity for us all, and we're trying to handle it the best we can of a situation I created," Mendenhall said. "So I'm responsible, and I've said that to our team. So I'm doing the best I can to help."
Jacob Rodriguez, Jordan Redmond and Ira Armstead have left the program since the regular-season finale, but no players have opted out of the bowl game.
"I honor the power of choice, though, and I just want them to be educated choices," Mendenhall said. "That's fair, because this is something I created. I'm not mandating anything other than anyone that wants to play and will, I'm glad to be their coach."
Two of Mendenhall's assistants––offensive coordinator Robert Anae and special teams coordinator Ricky Brumfield––are no longer with the program while pursuing other coaching opportunities. For the bowl game, quarterbacks coach Jason Beck will also serve as the Hoos' offensive coordinator. Matt Edwards will coach the tight ends and inside receivers, and another analyst, Drew Meyer, will coordinate special teams. Also, Mendenhall said, safeties coach Shane Hunter will oversee the special teams coverage units, and linebackers coach Kelly Poppinga is in charge of the punt and kickoff return teams.
Beck followed Mendenhall from BYU to UVA after the 2015 season and has tutored three highly productive quarterbacks in Charlottesville: Kurt Benkert, Bryce Perkins and Armstrong, who's in his second year as a starter.
The bowl game, Mendenhall said, is "great opportunity for Jason and for him to show his level of preparation and readiness."
Armstrong has complete faith in Beck, who's known for his calm temperament.
"It's awesome," Armstrong said. "I thought for him that was his next step in whatever he was going to do. He's coached three great quarterbacks. He's a young offensive mind. I'm excited to see him. He gets a chance to do it in the bowl game. I'm happy for him."
Keytaon Thompson, the offense's most versatile player, and running back Wayne Taulapapa echoed Armstrong's comments.
"I'm really excited," Thompson said. "We believe wholeheartedly in Coach Beck and his ability to call plays … He has a great [grasp of the offense], and he's a really smart coach. Knows a lot about the game. I think he knows a lot about each player as well individually, and I think that really helps him put us in the best position to be successful."
Taulapapa agreed. "All the players have rallied around him. He's a great leader. It's very easy to follow him in the things he has us do."
Thompson and Taulapapa are among the UVA players who'll have eligibility remaining after this season. Both said Wednesday that they have yet to decide what they'll do in 2022. Armstrong, who's waiting to receive feedback from the NFL about where he might go in the 2022 draft, said he's in a similar position.
"I don't know yet," Armstrong said. "We'll find out after the bowl game. I still haven't decided myself, so I can't tell you anything yet."
As for the UVA players who entered the transfer portal in the aftermath of Mendenhall's announcement, he said Wednesday that he hopes they wait to see the makeup of Elliott's coaching staff before making any decisions. Elliott has yet to announce any hires.
"I would really like UVA to succeed," Mendenhall said. "I'd like the program to continue to grow. I would like his point of references to be accelerated from the exchanges we're having. I'd like him to have his best chance to continue on and have just a great career here. And so besides Coach Elliott, I would like every person in the portal to see who's going to coach him. It's UVA. Where would they go and why that could be better? But certainly the [assistant coaches] matter, and so I've just asked them to wait as long as possible to see who will be the next version of UVA, and then make sure that's considered."
Players in the portal, Mendenhall said, often have "outside sources" urging them to make quick decisions without having access to all the relevant information.
"I want them to see everything," Mendenhall said. "I want them to know all their options, and I prefer they all remain [at UVA] to continue on. However, they get to choose, just like coaches get to choose, and I think that's fair. But my hope is that they would not choose until they know exactly what happens here."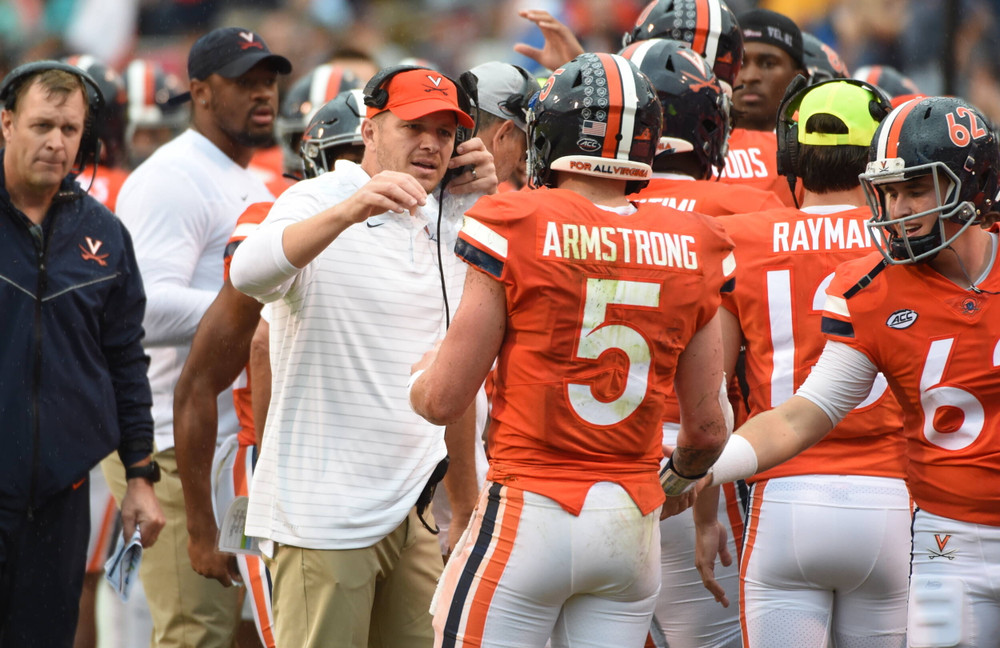 Elliott, who's been an observer at two of the Cavaliers' bowl practices, met with Mendenhall for about 90 minutes each morning last week to learn more about the program.
"I'm so impressed," said Mendenhall, who had not met Elliott before this month. "We'll be friends. Bright, articulate, thoughtful, substantive, successful. Compelling history, family man. It feels good that there is another addition to head coaches in college football that I'm impressed with."
Such a transition may be unusual in college football, Mendenhall said, "but I don't know why it has to be. I don't know why it can't be a collaboration to help a program continue on to become [more successful], to benefit the people that are here and the institution. And that's my intent. It's been really valuable, and I'm thankful for that opportunity."
Armstrong also has met with Elliott, who was hired Dec. 10. They've "talked about the offense and where that's going to lead," Armstrong said. "He has the credentials. He's been there, done that, coached the best of the best. He knows what a championship team looks like, and I think he's a great fit for us. I think he's kind of what this next step for this program kind of needs. I'm excited to see where he takes it."
Elliott's message to Armstrong?
"Just keep leading," said Armstrong, who's had a record-setting season. "I'm focused on the present right now, so I'm trying to lead this team to a win to send Coach Mendenhall, the seniors off, and just to spring into the offseason. Whether I come back or leave, having a win [heading] into the offseason, it's a great feeling. You don't want to go into the offseason with a loss. We did that last year, and it wasn't fun."
The Cavaliers closed the regular season with four straight losses, the last one coming against Virginia Tech at Scott Stadium on Nov. 27. Mendenhall's unexpected announcement followed five days later, and since then "there's been a lot of hurting and healing and everything in between," he said Wednesday.
With bowl practices starting this week, however, players and coaches have settled back into a familiar routine. Mendenhall said he's seen "the demeanor go from kind of furrowed brows and anxiety to security and optimism and hope and competence. … And so there has been upheaval, but this feels normal and it feels good, I think, to everybody."
He never considered not coaching in the bowl game, Mendenhall said. "That wasn't acceptable to me. It's my team, and I want them to have their best chance to have another great experience together, but also to express my appreciation and, selfishly, [to] be with them. My days aren't as good when I'm not, same with my staff, and so that was never even an option. Nor will it ever be."
That Mendenhall will be on the UVA sideline one more time "means a lot" to the players, Armstrong said. "We don't want to send him off with the V-Tech game. I'm glad we get one more opportunity to send him on a good note, send our fifth-year seniors out, and the COVID-year seniors. That's my goal. That's what I really want: to send those guys out on a high note, because you always remember your last game here, and you want it to be a W."
Among the UVA players who'll miss the bowl game because of injuries are offensive tackle Bobby Haskins, linebacker West Weeks and wide receivers Billy Kemp and Demick Starling. The Cavaliers would rather have a full complement of players, of course, but the injuries haven't dimmed their enthusiasm for the game at Fenway.
"We're gonna go out there, have some fun, try to put some points on the board, light up the scoreboard and walk off with a smile on our face," Armstrong said.
To receive Jeff White's articles by email, click here and subscribe.