By Jeff White (jwhite@virginia.edu)
VirginiaSports.com
CHARLOTTESVILLE – She always knew she would complete her master's program in the University of Virginia's Frank Batten School of Leadership and Public Policy, but Jocelyn Willoughby didn't plan on returning to the classroom so quickly.
An injury changed that. Willoughby, a former UVA basketball star, was beginning her second year with the WNBA's New York Liberty when she tore her left Achilles tendon during a scrimmage on May 3, 2021. She'd signed a contract to play professionally in France after the WNBA season ended last year, but Willoughby had to void that deal and begin the long rehabilitation process.
She made the best of an unfortunate situation. Willoughby, who'd needed only three years to earn a bachelor's degree in global studies from UVA, was halfway through her master's program when she left Charlottesville in the spring of 2020 to pursue her pro career. Now, as she weighed her options, Willoughby decided a return to Grounds made sense, and she re-enrolled in Batten at the start of this academic year.
"I said, 'Well, I have a year left. I can do my rehab here in Charlottesville, and I have one year left in my master's program. So let's get it done,' " Willoughby recalled. "And so there's been a silver lining."
The 6-foot Willoughby, who led the ACC in scoring during her senior season at UVA, was the 10th overall pick in the WNBA draft in April 2020. After her first season with the Liberty, she played in Israel and then returned to the United States last spring.
She'd dealt with nagging injuries at times during her basketball career, but nothing as serious as a torn Achilles. Her rehab, she said, is going well.
"I'm making good progress," said Willoughby, whose 1,677 career points rank No. 9 all-time at Virginia. "It's interesting. Obviously, injuries are part of the game and sports, some more acute than others. Seeing other people go through injuries, you don't necessarily have an appreciation for how long of a process it is, so I'm having to really celebrate the small victories and steps throughout.
"It's a long process, but I'm making really good headway to get back, and I'm excited about getting back on the court and being able to do what I normally do."
Her injury, Willoughby said, has given her a different perspective on the sport to which she's dedicated untold hours over the years.
"It's been, I guess, a mixture of feelings," she said. "I think stepping away and not being in the weeds every day has made me appreciate the game more. I feel like I never really took it for granted. Especially through college, seeing some of my teammates suffer major injuries, that kind of instilled in me [the understanding that] this isn't anything that's guaranteed. One day you could be playing and the next day you could be [sidelined], whether it's for a long period of time or for forever.
"And so I feel like I always appreciated the game and never really took it for granted. But there are things I miss. I miss being able to compete out there. I miss the team environment. It's very different rehabbing and working on your own versus being in the mix with the team. And so there's things like that where I'm like, 'Man, I miss this aspect,' or watching some games and seeing nail-biters and being like, 'I miss those moments, the crowds, and all of that.' So I'm like, 'OK, let me just keep that in mind and continue to work knowing that I can get back to that to that level.' "
Willoughby trains regularly at John Paul Jones Arena with Mike Curtis, the renowned strength and conditioning coach for the UVA men's basketball team. Other UVA staffers help her, too.
"I'm not totally back on the court, where I'm able to play against people, and I'm still kind of working on change of direction and just trusting and being able to do so at a full-speed explosion and everything," Willoughby said. "But I am running, jumping and able to do more basketball activities. It's just not necessarily to the full capacity or strength and explosion as I would normally be used to. So right now, it's a process of building back up to that."
On a typical day when school is in session, Willoughby will work out or rehab at JPJ in the morning, then attend class, after which she'll "pretty much do homework and be somewhat of a normal student," she said. "I think that was a unique adjustment for me. I'd never, as a student-athlete, taken an evening or afternoon class, but last semester most of my classes were in the evenings. And so that was neat, just seeing a different aspect of Grounds. It's been kind of cool being able to have more autonomy of my time and being able to say I want to work out here, do this then and make my own schedule."
Before returning to Grounds, Willoughby made sure UVA's athletics medical staff and the Liberty's medical staff were aligned on her rehab schedule.
"If I wasn't confident about being able to continue my rehab here in Charlottesville, then I probably wouldn't be here in Charlottesville coming back to school," said Willoughby, who grew up in East Orange, N.J. "The hardest part was just coordinating all the stakeholders. I'm still in touch with the Liberty and their medical staff, and so getting the different groups in contact with each other to make sure we're all on the same page, that was one of the more challenging things, but it's been a smooth transition, and I'm thankful to still have the relationships here at UVA so I can use facilities and be able to do what I need to do from the rehab standpoint. And then the Liberty have also been super supportive, so overall, it's been pretty smooth. It was just getting the connections and laying the groundwork initially."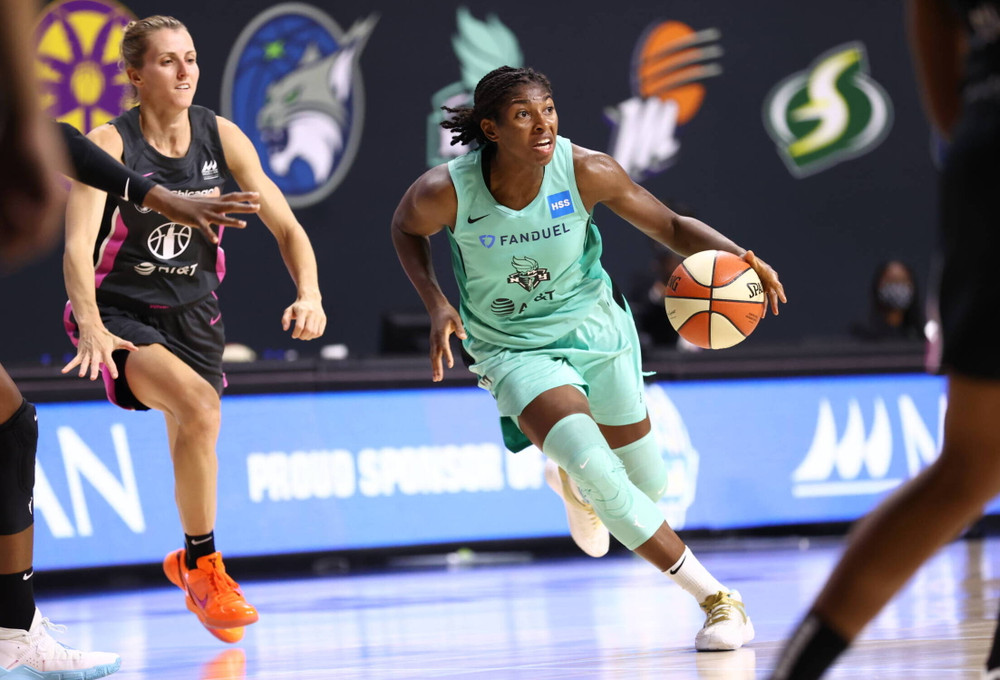 Willoughby, who lived on the Lawn as a third-year student, said she went through a period of transition after returning to UVA last summer.
"Charlottesville is a very different area than Brooklyn, culturally and geographically," she said, "so it took me a little bit of adjustment again, rather than having been here for four years and being immersed in the Charlottesville culture. So that was definitely a difference. I think the other big thing is not recognizing how much you change in a year as an adult without being in a college bubble."
Willoughby laughed. "My first couple weeks, it was definitely, 'Wow, everyone seems young. I feel like I'm really an adult now.' And so that was a little bit of an adjustment as well. And then just having more control over my time and schedule, that allows me to be able to socialize and meet my classmates more, whereas before it was kind of like, 'OK, I see you in class, but then I have to go off to practice.' There wasn't as much opportunity to learn about their experiences and their interests and things like that on a more personable level. So that's been a really pleasant and sort of new aspect of the experience for me this year."
Willoughby, who walked the Lawn when she received her bachelor's degree in 2019, is on track to earn her master's in May. She hopes to be back in New York with the Liberty by then.
"There's a small overlap between the start of the season and the remainder of the school year," Willoughby said, "so the plan is to finish the degree, but I won't physically be in Charlottesville for the entirety of the semester."
Only a handful of the players who were her teammates at UVA are still in the program. Willoughby attended the Cavaliers' home opener and said it "was nice to be able to be back in JPJ after kind of an abrupt ending to my [college] career."
When she sees current members of the women's team, it's usually "in passing" at JPJ, Willoughby said. "It's one of those things where I'm trying to respect their process and their space, but it's also a program I played for and I invested a lot in, so I will always be supportive of them. But it's somewhat of a distant relationship. I think everyone at this point knows who I am, even if it's not to a very close degree, because there are so many new players."
She's eager to resume her playing career. As she gets closer to her second UVA degree, however, Willoughby is thinking about what her life after basketball might look like.
"There are more interests and passions that I've kind of realized that are meaningful to me," Willoughby said. "The cool thing about Batten is, it's both leadership and public policy, and I really, really enjoy the leadership aspect and thinking about organizational behavior, cultures, and just leadership in general."
She would also be interested, Willoughby said, in "some type of, I guess, consulting: looking at different organizations, how they're functioning, what their deficiencies are, and being able to kind of diagnose and help solve some of those voids in terms of leadership or culture, I think that's something I would really enjoy, and then I'm also pretty interested in this idea of affordable housing and making it accessible. Obviously in the pandemic that's a pretty big issue, but even pre-pandemic it's been a challenge."
Willoughby isn't sure exactly what her role would be, "but I think something that enables me to provide housing at an affordable rate, particularly to low-income, minority communities, would be something I would really enjoy doing."
To receive Jeff White's articles by email, click here and subscribe.