By Jeff White (jwhite@virginia.edu)
VirginiaSports.com
CHARLOTTESVILLE –– With the score 2-2 in the bottom of the fifth inning, the University of Virginia softball team had the bases loaded with one out at Palmer Park, and a series sweep of No. 24 Notre Dame appeared tantalizingly close.
Alas for the Cavaliers, they were unable to push a run across, and the Fighting Irish ended up securing a 3-2 victory Sunday in the series finale. Still, the defeat did not spoil the weekend for UVA, which opened ACC play Friday by sweeping a doubleheader from Notre Dame. (The teams did not meet Saturday.)
The series win was the Wahoos' first over a nationally ranked opponent since 2010.
"I just take away that our team across the board has been playing very well, very consistently," said Virginia's Aly Rayle, who pitched five innings of scoreless relief Sunday. "I think it's all coming together for us. These games are tough where it doesn't go our way, but we were right there the whole game and we put ourselves in a position multiple times to pull it out."
UVA (15-10 overall) closes a five-game homestand Tuesday at 5 p.m. against North Dakota State (13-12) at Palmer Park.
"It's so nice to be home," said head coach Joanna Hardin, whose team played its first 21 games on the road. "This crew will enjoy the positives [from the Notre Dame series] and learn, and then it's back to work."
This is the Hoos' sixth season under Hardin, and they've already won as many games as they did in 2021, when they finished 15-33 overall and 10-27 in the ACC.
"This team is fun to watch," said Melanie Mitchell, a former UVA standout who's followed the program closely since graduating in 2013.
Mitchell, who provides analysis on ACC Network Extra broadcasts of many Virginia games, posted a 27-18 record as a freshman in 2010 to help the Hoos advance to the NCAA tournament for the first time.
Twelve years later, they're still seeking their second appearance. It's too early to know if this UVA team is good enough to contend for a spot in the NCAA tournament, but there are clear signs of progress.
"I would say the difference is the total belief and confidence that we have," said Rayle, a senior. "Of all the years I've been here, this is the most confident team that I've played with. And it's more than just confidence. It's confidence that's backed up. We've seen how we can perform and we know we can pull through in these games."
If this turns out to be special season for the Cavaliers, they may well point to the opening game of their series with Notre Dame as a turning point. Heading into the bottom of the seventh, Virginia trailed 5-2.
An unforgettable rally followed. With two outs, Tori Gilbert drove in two runs with a bases-loaded single, and then pinch-hitter Abby Weaver crushed a three-run home run to left field to end the game.
"That was awesome from Abby," said Rayle, who threw a complete-game four-hitter in the second game Friday. "That just gave us momentum for the rest of the weekend and it gives us momentum more than just for the weekend. We have a lot of good ACC series coming up. So that definitely gave us momentum going into those and a lot of confidence, too."
Hardin said: "Every program, when you're teetering, you need a moment that proves to you that what you've been hoping for and what you've been believing and trusting in is real. If you never see anything, you start to question that. And so I think for us Friday was affirmation that what we're doing is the right thing. We're going in the right direction. We are the team that we believe that we are, and so that was huge thing for us Friday."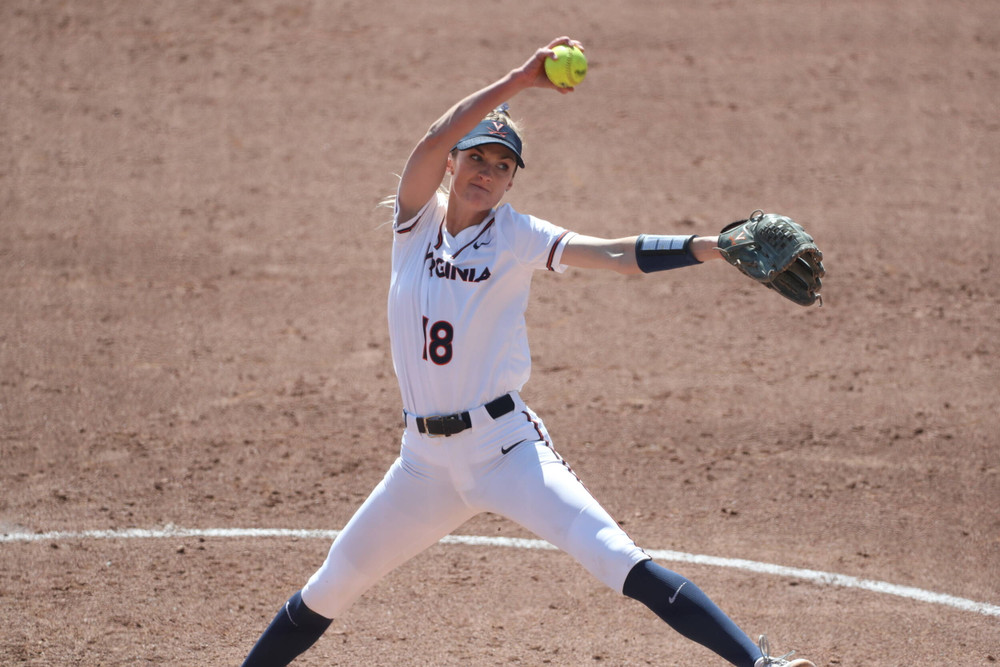 In the series finale against the Irish (17-6, 1-2), Hardin said, "I thought we played really well. We played clean defensively. We outhit them. We didn't have the timely hit, but there's a lot of positives to take away. Aly threw extremely well on the weekend. I don't know who's going to be [ACC] pitcher of the week but she's my pitcher of the week and I'm really proud of her as a veteran of the staff."
Virginia's starting pitcher, Mikayla Houge, struggled Sunday, but Rayle and Madison Harris shined in relief.
"I think we take away clarity on our pitching staff and clarity on our offense," Hardin said. "I think we're going in the right direction. We just got to keep grinding. There's no magic bullet on this thing. It's just keep grinding and keep fighting."
UVA totaled 10 hits on Sunday, to six for Notre Dame. Three players had multiple hits for the Cavaliers: Gilbert (2 for 4), Weaver (2 for 3), and Lauren VanAssche (2 for 4). VanAssche had an RBI, as did cleanup hitter Gabby Baylog (1 for 4).
Such production was rare for Virginia in 2021. As a team, the Hoos hit only .226, with 24 home runs, and averaged 3.0 runs per game. This season, they're hitting .278 and already have 23 homers, and they're averaging 5.2 runs per game.
Six Cavaliers are hitting at least .300, led by freshman Sarah Coon (.364).
"The hitting has definitely improved," Mitchell said, "and it seems like the more seasoned players are more comfortable in their at-bats and attacking pitches more instead of waiting for a certain pitch to hit. Their energy is up overall, and Sarah Coon in the lead-off spot has brought good intensity as a freshman."
Rayle said: "It's a lot easier to pitch when you've got the offense backing you up, and the defense has been lights out this year, too. We've had some great plays on defense and big swings and a lot more consistency of offense, which has been great."
Hardin saluted assistant coach Jake Sidwell, who works with the Hoos' hitters.
"He's been grinding in his development plan," Hardin said, "and he has been extremely intentional in what he's been doing and how he's been training our athletes. And so to me, it starts with him, it starts with our hitting coach. And then the other part of that is our athletes. They've bought into it. They trusted him. He puts a huge emphasis on strike-zone awareness. He felt like last year we were swinging out of the zone a lot and taking pitches in the zone that we can handle, and so our walk-to-strikeout ratio is much better than it's been. Jake's done an awesome job. I challenged him pretty significantly in the last couple of years, and he's really risen to that."
Shannon Becker (6-1) pitched a complete game for Notre Dame on Sunday. In the fifth, with the Hoos threatening to break the game open, Becker got out of the inning with no damage, and that proved pivotal.
"She had a great changeup," Hardin said, "and we didn't really adjust well to the changeup all day. We fought off a couple of tough ones, took a couple of tough ones. But tip your cap to her. She did a good job. We've been talking about this since day one. If we keep putting ourselves in the right positions, we're going to come through. I thought we came through Friday and it was awesome to see Abby get her moment."
Sunday played out differently for the Cavaliers, "but we're getting in this situation," Hardin said. "We just gotta get one hit at the right moment."