By Jeff White (jwhite@virginia.edu)
VirginiaSports.com
CHARLOTTESVILLE – On the morning when the University of Virginia's new head women's basketball coach was officially introduced, Brice Calip was 980 miles away in Springfield, Missouri. Felisha Legette-Jack was 450 miles away in Buffalo, New York.
Both, however, were cheering on Amaka Agugua-Hamilton (Uh-mah-kuh Uh-goo-gwa) from afar.
"I just have all the confidence in the world, all the love for her, and just wish nothing but the best for her, because that's what she did for me," said Calip, a guard who was a three-time All-Missouri Valley Conference selection for Agugua-Hamilton at Missouri State. "I never would have been the player that I am today without her."
Legette-Jack is the head women's coach at the University of Buffalo. Agugua-Hamilton played for her at Hofstra University and later spent two seasons as an assistant coach on Legette-Jack's staff at Indiana University.
"I loved her then, I love her now," Legette-Jack said. "I'm so proud of her, and UVA has got one of the best coaches that I've ever been around, who just happens to be my former player. Her upside is ridiculous."
Agugua-Hamilton, who goes by Coach Mox, was introduced Thursday morning at a press conference at John Paul Jones Arena. Sitting nearby were her husband, Billy Hamilton, and their son, Eze. Others in the audience included former UVA head coach Debbie Ryan, a legend in the sport.
"It's a blessing to be leading a program with such rich women's basketball history, academic excellence and global name recognition," said Agugua-Hamilton, 38, who grew up in Northern Virginia and graduated from Oakton High School.
Since her hiring was announced Monday morning, Agugua-Hamilton said, she's heard from some of the program's most illustrious alumni, including Ryan, Dawn Staley, Tammi Reiss and Wendy Palmer, who showered her "with love and support … I thank you all for welcoming me and my family into the Wahoo family."
She succeeds Tina Thompson, whose record in four seasons at UVA was 30-63. The Cavaliers finished 5-22 overall and 2-14 in ACC play this season, after which Thompson's contract was terminated.
In Agugua-Hamilton, UVA landed a rising star in the profession. In her three seasons as Missouri State's head coach, she posted a record of 74-15, including a 46-6 mark in the MVC. If not for the COVID-19 pandemic, the Lady Bears would have advanced to the NCAA Tournament in each of those seasons. They reached the Sweet Sixteen in 2020-21.
"I think her teams play extremely hard, and I really am impressed with her coaching acuity," said Ryan, who guided the Wahoos to three Final Fours in her 34 seasons as head coach. "She's able to strategize quickly. She's a really good floor coach. She knows when to call timeouts, when not to call timeouts. She gives a lot of independence to her players, yet they understand that with freedom comes responsibility. And that's one of the key things in being a great coach."
UVA athletics director Carla Williams spoke before introducing Agugua-Hamilton at the press conference.
"An elite program requires selflessness by all involved, a team-first approach, a commitment to integrity, a relentless work ethic, a determined pursuit of excellence on and off the court, talented and coachable players, a dedicated staff, and lastly a leader that can bring these people and these ideals together, a leader who can inspire others to believe," Williams said. "And Coach Mox is that person for us here at the University of Virginia."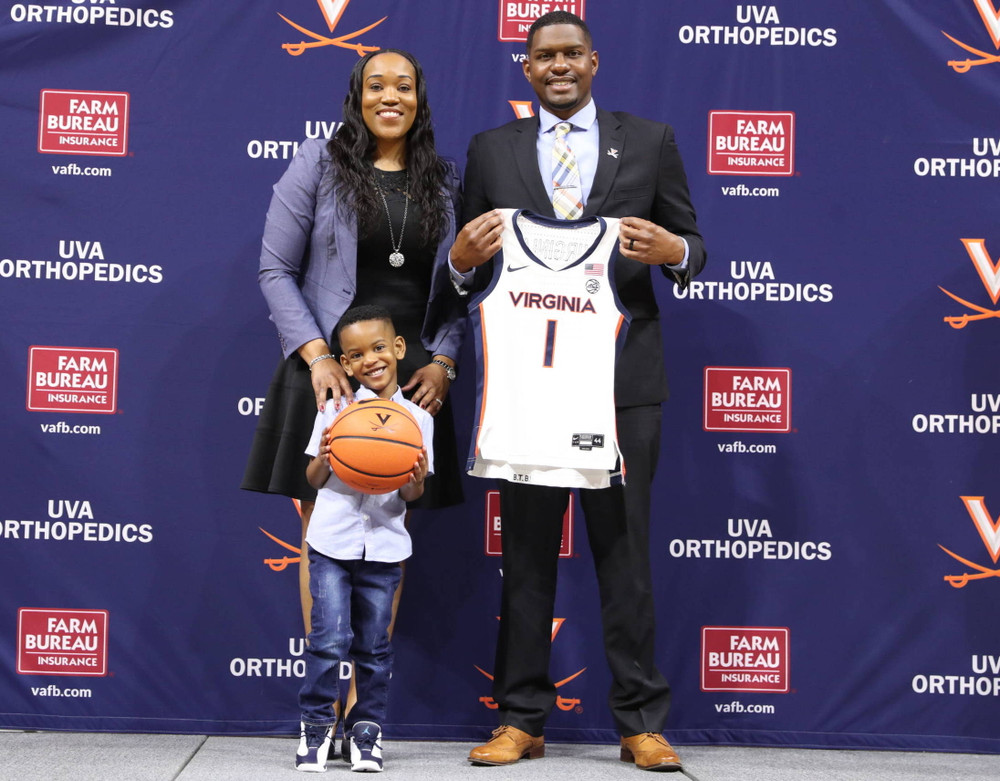 Agugua-Hamilton has spent most of her coaching career in the Midwest: first at Indiana, then at Michigan State, where she was associate head coach; and most recently at Missouri State. But she has numerous relatives in the Washington, D.C., area, and she's thrilled to be close to them again.
"Being home, there's no better feeling, to be honest," said Agugua-Hamilton, who also has been an assistant coach at Virginia Commonwealth and at Old Dominion. She received a master's degree in sports leadership and administration from VCU in 2007.
"I grew up around family," Agugua-Hamilton. "We have a huge family. Lots of cousins, aunts, uncles, things like that. I want my son to be able to grow up in that atmosphere. My husband is excited to be closer to family. There's nothing like it. I think it's the best possible situation for me personally and professionally."
UVA players who did not have class Thursday morning attended the press conference. To them, Agugua-Hamilton said, "I look forward to the journey ahead. I look forward to building relationships, winning on the court, winning in the classroom and winning in the community.
"There will be some ups and downs, some good times and bad, but we'll get through them together. There's a lot of work to be done here, but there's a lot of blessings ahead. There are banners to be hung. This community is hungry for more, and so am I."
Agugua-Hamilton said she's bringing her staff from Missouri State to UVA. She uses an acronym––FAB––to describe her coaching philosophy. It stands for family, academics, basketball.
"Family," Agugua-Hamilton said. "We'll have to work at this. It's not going to be something we say, it's going to be who we are. You'll be accountable to the person on your right and your left and will understand that you are part of something that's bigger than yourself. I take the relationship-building piece very seriously. I invest in people. I'm tough when I need to be, but I love always.
"Academics. You have to be able to take care of your business in the classroom, just as much as you take care of your business on the court. My job is not only to make you a better basketball player and to win games, but it's also to prepare you for life after basketball. I take a lot of pride in that. Everyone will be pushed to do their best, which will ultimately be different for each kid. We will celebrate your success off the court just as much as we celebrate your success on the court.
"Basketball's last in that order, but it's certainly not least. It's a big reason why we're here. The tradition here for many, many years was to pursue championships and to put up banners in the stands. We will get back to that. Player development will be key. Recruiting will be essential. We need to rejuvenate this community. Bringing back alums, getting butts in those seats, all that will help the process.
"One thing you'll hear me say all the time is progress is the process. We just have to keep taking steps forward. We'll be disciplined, hard-working, relentless competitors day in, day out. But we will enjoy the journey."
Her immediate priority, Agugua-Hamilton said, is "getting to know the players that are here, building relationships and getting to work on the court. I take a lot of pride in player development."
Recruiting is also critical, she said. "We already hit the ground running with that. Obviously, I like to recruit the four-year kid, but the transfer portal has also changed some things. We're looking at some good transfers that are going to fit our culture, but also can be competitive on the floor.
"I'll be bringing my staff, so that will be an easy transition for me, and I'll be able to delegate and get organized pretty quickly. So that will help. But we've got to develop these kids and we've got to recruit. Those are the two things that need to happen here in the next couple of months."
The connection between the women's program and the local community, as well as with former players, has weakened in recent years, and Agugua-Hamilton wants to strengthen that.
"I'm somebody who loves to go out and talk," she said. "I want people to get to know me, get to know my vision, get to know our players. It's not just going to be me. Our players will be in the community as well."
At Hofstra, where knee injuries marred her playing career, Agugua-Hamilton was the proverbial coach on the floor. "She was my twin," Legette-Jack said, laughing.
The 2005-06 season was Agugua-Hamilton's last at Hofstra, from which she has a bachelor's degree in business management. Legette-Jack left Long Island that year, too, to become head coach at Indiana, and Agugua-Hamilton wanted to join her staff in Bloomington.
Legette-Jack didn't believe she was ready, however, and so Agugua-Hamilton became a graduate assistant at VCU in 2006-07. She spent the next two seasons as one of the Rams' full-time assistants and then was reunited with Legette-Jack, in 2009-10, at Indiana.
"She's the most organized person you're ever going to meet," Legette-Jack said. "She's an engaging person, she's a passionate person, but not to a point you get overwhelmed by that passion that you want to back away."
In 2018-19, its last season under head coach Kellie Harper, Missouri State advanced to the NCAA Tournament's Sweet Sixteen. In 2019-20, the Lady Bears' first season under Agugua-Hamilton, they posted a 26-4 record before the pandemic shut down college sports.
Her three years in Springfield, Agugua-Hamilton said, taught her that "you can lead with your heart. You can value people. You can impact lives, impact communities. When people look at my journey at Missouri State, they just think that I walked into something and it happened. There's a lot of hard work that went into that. And the culture I built there and how I developed those student-athletes, me and my staff, it's not an easy thing to do.
"So, if you dive in and really look at what we accomplished, you know that it can be accomplished here as well."
Her Missouri State teams broke a lot of records and "etched our names in those history books," Agugua-Hamilton said. "And that's what I want to do here. I want to inspire these kids, even the ones we're looking to bring in, and help them walk with that confidence on and off the court and get them to believe in something bigger than themselves."
In this coaching search, Williams said, UVA was "more targeted" than in the one that ended with Thompson's hiring in 2018. "I know Virginia better now," Williams said. "So I have a better understanding of the university, of the institution, of the culture."
Agugua-Hamilton favors an uptempo offense. "We'll play fast, make or miss," she said.
Her teams at Missouri State ranked among the nation's best in scoring defense, Agugua-Hamilton said, "and in rebounding … because that's a staple. That's who we're going to be."
Those are cornerstones of the UVA other's basketball program, too. Tony Bennett, who led the Virginia men's team to the NCAA title in 2018-19, attended the press conference Thursday morning, along with most of his staff members.
"I have a lot of respect for Coach Bennett and what he's done here," Agugua-Hamilton said. "And he doesn't even know this, but actually the continuity offense that we run is mover-blocker, and we studied that a lot from him and his father … So I'm excited to pick his brain on that a little bit. I respect his style of play and what he does. But I have my own thing and my philosophy, and I think the community's going to enjoy it."
Agugua-Hamilton is well-versed in the history of the women's program, and she sees no reason why the Hoos can't return to prominence.
"I just think that the potential is endless," she said. "We're going to get this thing going. And I'm just excited."
So are UVA's returning players.
"Last season was difficult," said McKenna Dale, a reserve guard for the Cavaliers in 2021-22. "No team likes to lose, but I think we're really just looking forward to a new season and a new coach and a new culture."
Ryan said she believes Agugua-Hamilton will "do extremely well here, but it's a process. It's not going to happen overnight. She's got a big job ahead of her, but she's hitting the ground running, she cannot wait to get started. I don't think we need to worry about any of that. If we just give her enough time to get her own players in and help the players that are here develop, I think we'll be fine."
To receive Jeff White's articles by email, click the appropriate box in this link to subscribe.