By Jeff White (jwhite@virginia.edu)
VirginiaSports.com
GREENVILLE, N.C. — They did it the hard way last year in Columbia, S.C., and now the Virginia Cavaliers will have to follow a similar path to advance to an NCAA super regional for the second straight season.
In a winners bracket game Saturday night, second-seeded UVA fell 4-2 to top-seeded East Carolina in front of 5,603 fans — the largest and, in all likelihood, loudest crowd in the history of Clark-LeClair Stadium. The Cavaliers loaded the bases with one out in the top of the ninth inning, but relief pitcher Zach Agnos, who played shortstop most of the night, struck out the next two batters to secure the win for the Pirates.
"Man, what a college baseball game that was, right down to the last second," said ECU head coach Cliff Godwin, a good friend of his UVA counterpart, Brian O'Connor, and UVA associate head coach Kevin McMullan.
For the Pirates (44-18), seeded No. 8 overall in the NCAA tournament, the victory was their 20th straight and puts them in an enviable position.
The Wahoos, meanwhile, have no more room for error. At 1 p.m. Sunday, Virginia (39-18) takes on third-seeded Coastal Carolina (37-19-1) in an elimination game. The winner will meet ECU at 6 p.m. Sunday. If the Pirates lose that game, there will be a winner-take-all rematch on Monday.
En route to the program's fifth College World Series appearance, UVA came out of the losers' bracket to win the Columbia regional last season. After dropping their opener in Columbia, Hoos won four consecutive games, the last two over top-seeded Old Dominion. They'll have to win three in a row to advance to a super regional this year, but O'Connor doesn't want his players focusing on the enormity of the task facing them.
"You can't think of it as three games," O'Connor said Saturday night. "It's too much. We have an opportunity to play a great baseball team tomorrow, and I'm sure they'll be pitching an outstanding pitcher. We've just got to play a great baseball game and try to get to tomorrow night. And then you assess and say, 'OK, what pitching do you have left and what's the plan to try to win the next one?' "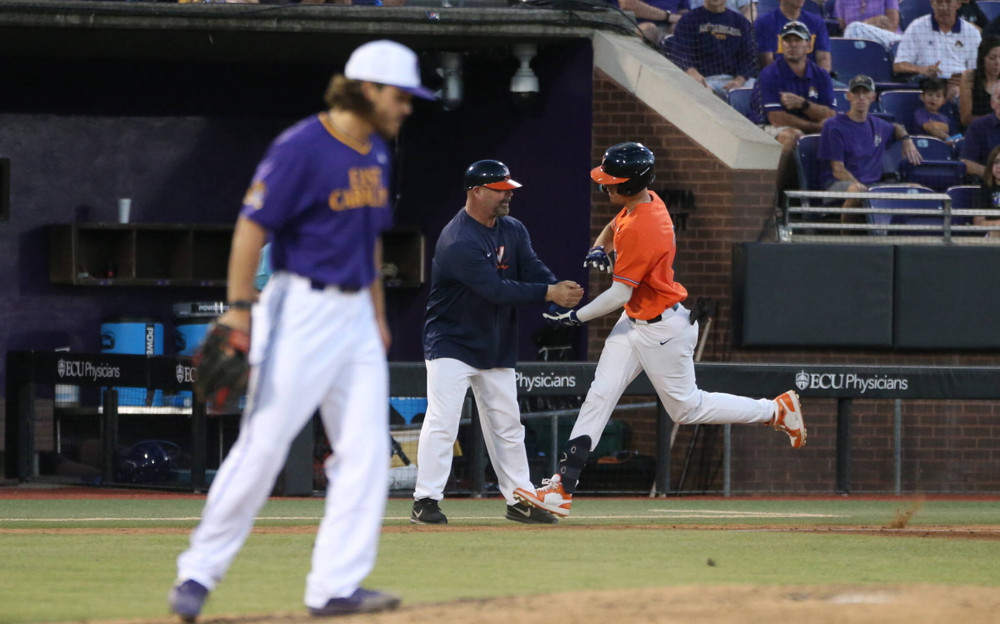 In the second game of this regional, Virginia rallied to defeat Coastal 7-2 on Friday night. The Chanticleers, saving most of their top pitchers for Sunday, ousted fourth-seeded Coppin State 10-8 in the first game Saturday.
The Hoos fell behind 2-0 against Coastal on Friday, and they found themselves in the same position against ECU after starter Brian Gursky gave up a two-run home run in the second inning. This time the Cavaliers couldn't erase their deficit.
Senior center-fielder Chris Newell's home run in the fifth made it 2-1, but the Pirates answered with a solo homer in the bottom half of that inning. In the seventh, UVA freshman Casey Saucke's double moved sophomore Kyle Teel to third, and freshman Ethan Anderson followed with an RBI groundout that cut East Carolina's lead to 3-2.
Again, though, the Pirates responded immediately. In the bottom of the seventh, ECU's Alec Makarewicz drew a leadoff walk and then took second on a passed ball. A sacrifice bunt moved Makarewicz to third, and he came home on a sacrifice fly that made it 4-2.
A throwing error in the second also hurt the Cavaliers. They were able to overcome their mistakes Friday against Coastal, but ECU was less forgiving.
"We talk about it all the time, we teach it all the time, we practice it all the time," O'Connor said, "the small details, they make the difference this time of the year and you get exposed when you [make mistakes] … So, certainly it has cost us. I talked a little bit coming into this tournament that I felt like our defense for most of the year has really been a good asset for us, and it just hasn't been to that level the last week or so."
The Cavaliers' offense wasn't in peak form either Saturday night. UVA totaled only six hits against ECU pitchers C.J. Mayhue, Garrett Saylor, Carter Spivey and Agnos, a Virginian whose family O'Connor knows well. Agnos' older brother, Jake, pitched for Team USA when O'Connor was its pitching coach in 2018.
"We just couldn't get a big hit," O'Connor said.
In the ninth, after Spivey gave up back-to-back one-out singles to Teel and Saucke, ECU turned to Zach Agnos, who made the short trip from shortstop to the mound. Agnos walked Anderson, the first batter he faced, but then, with 5,000-plus fans on their feet, fanned Newell and junior Max Cotier.
His players battled, O'Connor said, but "unfortunately, Agnos is a big-time player. You've got somebody that plays shortstop for you and then closes the game of that magnitude, it's pretty, pretty special."
Gursky, a second-team All-ACC selection, worked 5.2 innings before giving way to Dylan Bowers. A graduate transfer from the University Southern California who's in his first year at Virginia, Gursky allowed six hits, struck out two and walked one.
"After that two-run inning, I thought he settled down and did what he needed to do," O'Connor said. "You have a starter that goes out there and goes five-plus and gives up three runs in the NCAA tournament, that gives you a chance to win the game. And I thought he settled down and ate the game up for us and gave us a chance. Unfortunately, we just couldn't do enough and that's credit to their pitching and their defense. It was very, very good. And so we'll have another opportunity tomorrow. We've got to shake this one off and be ready to go tomorrow."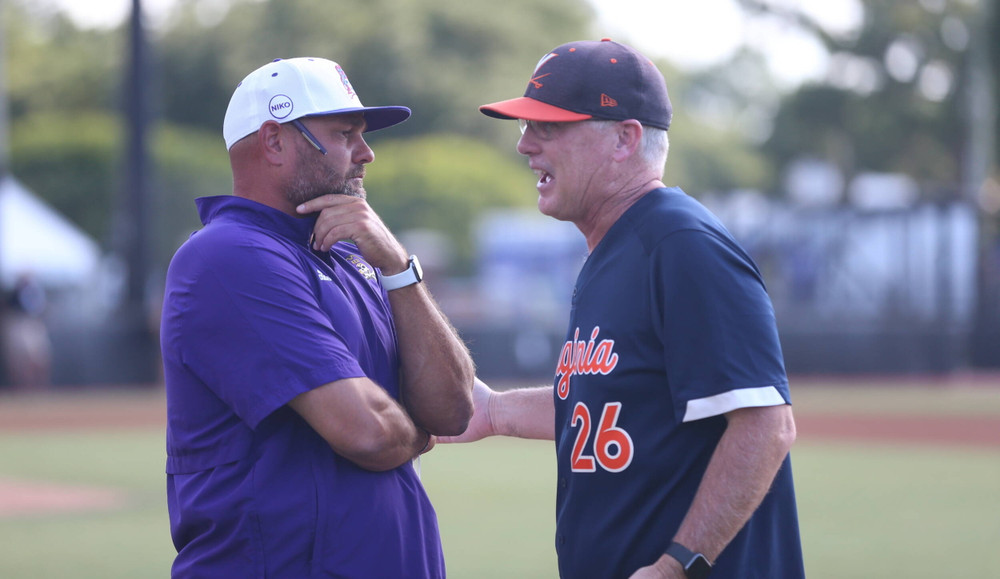 For Gursky, the game marked his NCAA tournament debut, and he won't soon forget pitching on that stage.
"It was a lot of fun," he said. "They have great fans. They have a good team as well. They have some big guys who just had a couple of really nice swings. Gotta give credit to them. The crowd was great. It was one of the better environments I've ever played in, for sure."
Bowers, a graduate transfer from the University of Northern Colorado, recorded the final out in the sixth. Virginia's closer, senior left-hander Brandon Neeck, pitched the final two innings.
"Even though we were down, I felt like it was a closing situation," O'Connor said. "You want to try to win the 1-0 game. [In a regional], it doesn't matter if you go 1-0 if you don't go 2-0. There's really no advantage … So that's why I went to Neeck. I felt like we couldn't give up another run. Unfortunately, he did and we just couldn't muster another one."
Saucke, who starts in right field, was the only Cavalier with multiple hits Saturday night. He was finishing up high school at this time last year, but his older teammates have filled him in on Virginia's run to Omaha. The Hoos won six straight elimination games in last season's NCAA tournament.
"Being the underdog a little bit kind of fuels us," Saucke said. "It's all about just winning games, and now that we lost we're facing elimination … We just need to advance now. We can't lose."
O'Connor emphasized to his players after the game Saturday night that they cannot afford to dwell on the loss to East Carolina.
"I typically do not turn the page very well, I typically do not handle losing very well," O'Connor said at his postgame press conference, "but in this scenario, I told the players that I know they're very disappointed, because I thought they fought to the end and just couldn't get that one hit with a chance to tie the game. And I told them, ultimately, part of how they'll be judged I think is how they respond, and that might not be winning the game tomorrow. How they play the game is what's important … They need to put this one behind them and give themselves a chance to play tomorrow night."
To receive Jeff White's articles by email, click the appropriate box in this link to subscribe.