By Jeff White (jwhite@virginia.edu)
VirginiaSports.com
CHARLOTTESVILLE — He holds a degree from the University of Virginia and earns a handsome salary in the National Football League. Life is good for Philadelphia Eagles safety Anthony Harris, but he hasn't forgotten where he came from or that not everyone is so fortunate.
The former UVA standout started the Anthony Harris Foundation to help at-risk youths, and he finds countless other ways to give back to those in need. As part of the NFL's My Cause, My Cleats initiative, Harris publicly supports the One Love Foundation, which was started after the 2010 murder of UVA student Yeardley Love, and in February he stepped forward to escort an 11-year-old girl to a father-daughter dance at a church in Texas. The girl's father and grandfather had died in the past year.
Harris, who's heading into his eighth NFL season, also gives generously to his alma mater, from which he graduated in 2014.
"I think it's something that I've always had," Harris said on a Zoom from Florida, where he's training for the coming season. "Coming from a family where we're builders, we tend to try to form relationships with people that we come in touch with. And the one thing my mom always says is, anything that we touch, we should try to leave it in better condition that we found it. So, for me, that's just trying to take care of the relationships that I have with different people, and my relationship with UVA is one that's very special. A lot of opportunities have been given me through attending the University, whether that's the opportunity to play football and get a great education or the opportunity just to experience new things in life and gain a new perspective. So I've just been trying to give it back along my way. Not only in college, but just growing up, I've received a lot of blessings. So what I try to do is just be a blessing to others when I can."
Harris grew up in the Richmond area and attended L.C. Bird High School in Chesterfield County. He enrolled at UVA in 2011 and played in every game as a true freshman that fall. Harris became a starter as a sophomore and led the nation in interceptions as a junior. He left Virginia as a two-time All-ACC selection and impressed coaches, teammates, administrators and professors during his four years on Grounds.
"That kid is what college football's all about, the way he conducts himself, the way he leads other kids," Evan Marcus, then UVA's strength and conditioning coach for football, said in 2013. "When you're talking about athletics in college, you're talking about the development of the person and the legacy that person will leave behind. This kid has made an impact on his teammates. He's a model to look up to for young guys. He does everything right."
Harris' productivity in head coach Mike London's program notwithstanding, NFL teams passed over him in the 2015 draft. It didn't help that as a senior he'd played through a shoulder injury that required surgery after the season. That kept Harris from participating in the NFL scouting combine or at UVA's pro day. But he'd overcome obstacles in high school, including another significant injury, and he was undeterred when his name wasn't called in the draft.
"For me, that was my path," Harris said. "I think that's kind of been my journey the entire way."
He met with NFL teams ahead of the draft, which allowed them to get a sense of his personality and character and football IQ. Still, he wasn't able to do "anything physical for them," Harris said, "and a lot of times that's what they want to see."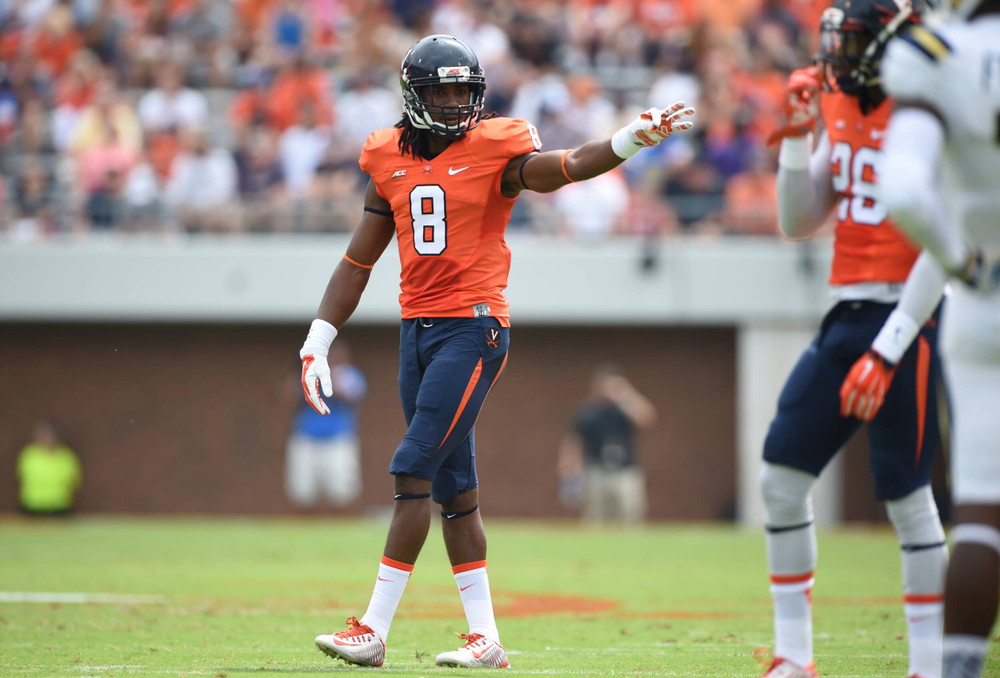 Harris signed with the Minnesota Vikings as an undrafted free agent in 2015, made the team and started two games that season. He started three games in 2016 and again in 2017, nine in 2018, all 14 in 2019, and all 16 in 2020.
Reflecting on his football career, Harris said, in "each phase I feel as though I've proved I'm able to play at that next level, at a high level. At each level, I've showcased that I have a talent. So whether that was going to college or the NFL, it may not have been a path which seemed like the easiest, but at that time, in the moment, I was just like, 'This is my starting point.'
"Once I was able to get to college, and once I was able to first enter the NFL, I was able to stay focused and work hard, letting my work ethic continue to close the gap between the players at that level. And because of that, I've been able to find success just through learning from other guys on the team, whether that was in college or the NFL, learning from coaching staffs at each level, and then just taking all the things I'm learning and working on extremely hard in the offseason."
In March 2021, as a free agent, Harris signed a one-year contract—worth $5 million, according to his agent—with the Eagles. He's back with Philadelphia again this year, and he likes being based on the East Coast. He still has relatives in the Richmond area, and Charlottesville is an easy drive from Philly.
"It's been great," Harris said. "It's been a lot easier to get back and forth to home, and also to have family and friends travel to me a little bit easier."
He makes a point of staying connected to UVA football. Whenever the Cavaliers are playing, "I'm tuning in," Harris said. "That's kind of the routine of the NFL life. You practice all week, you focus on your opponent. You travel on Saturdays, or if it's a home game, you come into the facility for day meetings or evening meetings."
Wherever they may be on the weekends, Harris said, NFL players are "talking about college football. We understand that outside of the NFL that's very powerful in our arena. So a lot of guys are talking about what teams are doing, who's going to win the conference, different matchups, rivalry weeks and all those sorts of things. So it's just another opportunity for me to follow the Wahoos and continue to cheer them on, whether that's on social media or supporting any way I can. And I try to get back when I can. If there's a bye week, I look to try to do that. When I was in Minnesota, it was a little bit tougher to travel during those windows. But now that I'm back on the East Coast, I take a look when I have a bye and see if I can get down to a game and things of that sort."
Harris returned to Charlottesville in late April for the Hoos' Blue-White game, the conclusion to their first spring under head coach Tony Elliott, who succeeded Bronco Mendenhall in December.
"Any time since I've left and there's been coaching turnover, one of the first things that I've tried to do is reach out and let [the new coaches] know that I'm available if they ever want to talk or need anything from me, and just let them know that they have my support," Harris said. "So it was great to get down, meet Coach Elliott, meet some of the new staff, and talk to some of the older staff who have been there."
Harris also talked to some of the current players. "I'm trying to support those guys and let them know that people at the next level who attended the University are following, cheering for them, and we're there as a resource if they need anything as well."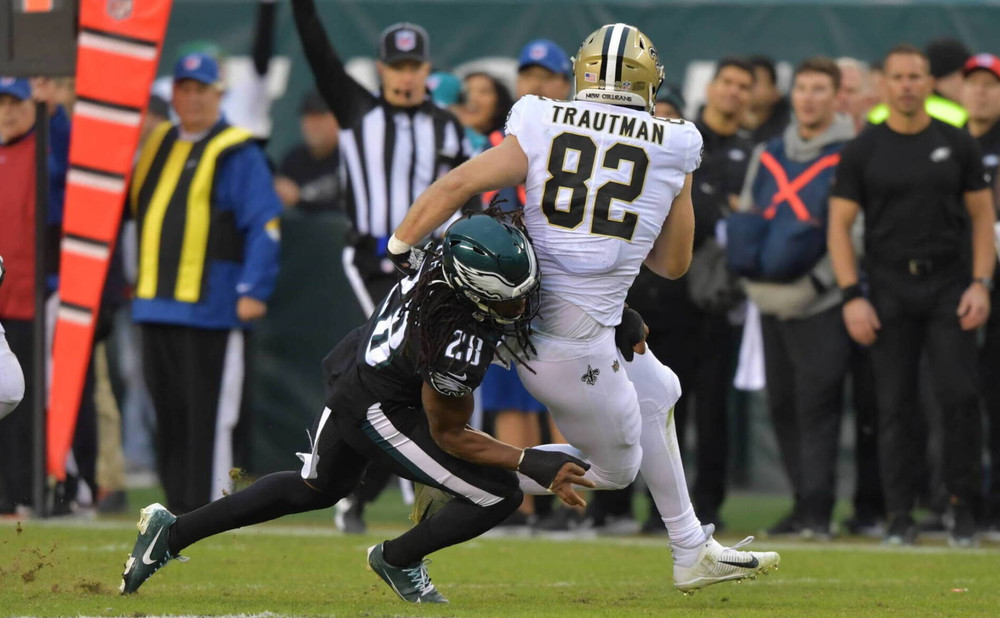 Carla Williams took over as UVA's director of athletics in December 2017, and she was proactive from the start, Harris said, about reaching out to former Cavalier football players "and just trying to gather as much information as possible about the University and about their previous experiences, getting different ideas, letting people know what her vision is for the [department], and also letting us know how we can help."
Several of Virginia's athletic facilities are outdated, including the McCue Center, and Williams has prioritized improvements on that front. Last month, UVA officials broke ground on a 90,000-square football operations center that's scheduled to open in spring of 2024. The $80 million building will include locker rooms, strength and conditioning space, nutrition spaces, meeting rooms, coaches' offices, video operations and sports medicine areas for treatment and recovery.
"I think she's done a great job of coming in and evaluating where things are, evaluating what's happened in the past, figuring out ways to improve in any way possible," Harris said, "and what she's been doing over the past few years is just building a foundation. It's been one step at a time. We continue to talk moving forward. And she's just continuing to ask different questions about how can she improve, how things look from the outside, how things look from an NFL perspective, from an alum perspective, and just trying to continue to find ways to grow in any way she can."
Harris understands the importance of facilities in college athletics, and he's been happy to support the department's initiatives.
"For me, just attending the University, being from the state of Virginia, being a proud alum, being a person who wants to be a part of something that's big, something special, I just feel as though that's something that I can do: help give back to a university that gave me a lot, that gave me an opportunity," Harris said. "I can help be a support system and give guidance to other players coming up, not per se so they can follow my footsteps, but so they can chase a dream of their own. I'm just trying to help in any way, not only the players but administrators and the University as a whole."
He keeps up with a number of his former UVA teammates, and he forged many other relationships outside athletics as an undergraduate. When he's traveling, Harris said, he'll often see familiar faces in airports.
"I'm not quite sure with names, but we stop and we look at each other and UVA comes up," he said. "And that's kind of a remembrance of our time there. It just brings back good memories and good experiences."
To receive Jeff White's articles by email, click the appropriate box in this link to subscribe.