By Jeff White (jwhite@virginia.edu)
VirginiaSports.com
CHARLOTTESVILLE — Spread out around the practice gym, University of Virginia women's basketball players began shooting free throws at John Paul Jones Arena.
As a team, the Cavaliers made four in a row, six in a row, seven in a row before someone missed. That wasn't enough. In a drill that new head coach Amaka Agugua-Hamilton brought with her to UVA, a team collectively has to make 16 consecutive free throws before stopping.
How long that takes depends on the players' accuracy. On Thursday, the Wahoos needed only a few minutes to hit the mark. When freshman Cady Pauley's free throw dropped through the net, the count reached 16, and she and her teammates celebrated. And so ended another workout in Virginia's first summer under Agugua-Hamilton, who posted a 74-15 record in three seasons as Missouri State's head coach.
"I do a lot of different free throw drills," Agugua-Hamilton said, "and there's always pressure behind it. When you get on the line in a game, it's a pressure situation, whether it's beginning of the game or the end of the game. So I try to simulate as much pressure as I can in practice, in all aspects of the game, just so that they get used to the pressure. Then when we get to the game they can relax and it's just muscle memory at that point."
Agugua-Hamilton, who goes by "Coach Mox," took over a program that finished 5-22 overall and 2-14 in the ACC in 2021-22, the Cavaliers' final season under Tina Thompson. To the seven returning players from that team, Agugua-Hamilton has added four newcomers: transfers Samantha Brunelle (Notre Dame) and Alexia Smith (Minnesota) and freshmen Yonta Vaughan and Pauley.
Assistant coaches Alysiah Bond, CJ Jones and Tori Jankoska followed Agugua-Hamilton from Missouri State to UVA, as did strength and conditioning coach Chris Toland, and "I really just feel like there is a new energy," said forward McKenna Dale, who joined the program last summer after graduating from Brown University.
"I love it!" senior forward London Clarkson said of Agugua-Hamilton's approach.
Dale said: "We have a new team and a new coaching staff, and they're really consistent with the energy they bring every day, and that's been reflected in all of our workouts. They pay a lot of attention to player development, so we've been working with our position groups on our weaknesses and our strengths, and they are able to use their energy and use their knowledge to really bring the best out of us players."
Of the free-throw drill that concluded practice Thursday, Dale said, "There's pressure, for sure, but it's good pressure. You know that even if you miss it, your teammates have your back and you're going to get another shot. But it's a great way to practice, because those are the kind of shots that we're going to have to make in a game."
At this practice the players wore shirts that bore two messages: GRIND NOW on the front and SHINE LATER on the back. Dale said she and the Hoos' other returning players are determined not to experience another season like the last one.
"One hundred percent," she said. "We're trying not to dwell on the past and think too much about last season, but those of us who are returning, we definitely won't forget it. I think we're going to use our disappointment, our frustration from last year to translate into this year, and I think we're hungrier, we're more ambitious, and we're more excited than we've been."
Agugua-Hamilton said: "I think every single person in this program wants to win. And that's important. Those are the kind of people that I want around me in this program."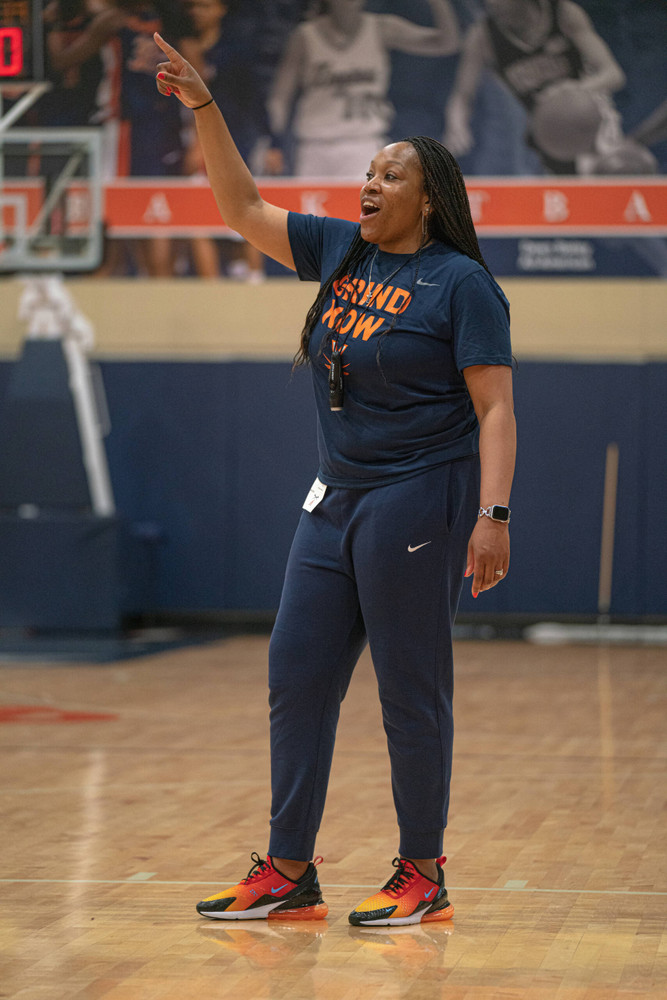 Early in practice Thursday morning, she gathered her players around her near midcourt.
"Progress is a process," Agugua-Hamilton said, and she knows laying the foundation will take some time. But her philosophy includes what UVA head men's coach Tony Bennett calls "non-negotiables."
"You can't play for me if you're not tough," Agugua-Hamilton told her players, who have practiced not only as a team but in small groups this summer.
After practice, she expanded on that statement. "If you're able to push through mistakes and push through fatigue, that's a mental toughness thing," Agugua-Hamilton said. "And then there's the physicality of it all and just the aggression that goes with that, and just understanding that we want to be one of the best rebounding teams in the country. We want to hold people to a certain number of points defensively, and our stats should be [among the best] in the country. So that's a toughness thing. We play fast offensively, but we play very aggressively and physically on defense. So we have to be able to mentally push through and be able to do that on both sides of the ball."
She's been encouraged by what's seen from her team this summer. Of the Cavaliers' top six scorers from 2021-22, five are back, including 6-foot-2 forward Camryn Taylor (12.8 ppg, 6.1 rpg), who played in only 12 games last season.
"I think we do have talent, for sure, returners and newcomers," Agugua-Hamilton said. "I think we have a talented squad, and I think everybody's hungry and willing to work and sacrifice and do what it takes to win. At the end of the day everybody here wants to win. And that's a common mindset and a common goal. So now it's just getting better in every aspect, individually and as a team."
At Missouri State, she elevated a program that was already successful. She faces a different challenge at Virginia. The Hoos have a storied history in women's hoops, but they were 30-63 in four seasons under Thompson.
"Coming off of a five-win season, of course, you have to change your mindset, and I think that's the beauty of these small workouts," Agugua-Hamilton said. "You can do that in those, and then when you put the whole team together it kind of carries over. So every drill we do, there's a winner and a loser. Everything is competitive, and you just build that winning mentality in those small drills and small groups, and then that trickles over to when you get into five-on-five and things like that. So there's never a drill or an activity that we're doing that doesn't result in a winner and a loser, because that's what games do, and you build that mentality and that expectation to win. And then when you get to games, there's an expectation there."
She expects her players to encourage and support each other, and when they fail to do so during a practice, the coaches hold them accountable.
"You have to give in life," Agugua-Hamilton said. "That's what I do, that's who I am, and I believe things come back to you ten-fold. So when you're tired as a player and you're sitting there thinking, 'Oh, my gosh, I'm so tired, I can't go,' or 'Oh, my goodness, I missed that shot,' then you're not really staying present. You're not helping anybody else out and you're gonna continue to make mistakes. But when you don't focus on your mistakes and you focus on helping a teammate out or cheering for a teammate, next thing you know, you don't realize how tired you are. So our players are starting understand that mentality."
Under NCAA rules, a Division I women's team is allowed to as many as 15 scholarship players. The Hoos will have 11 in their first season under Agugua-Hamilton.
"I think in a perfect world I would like 13," she said. "That's a good number. Eleven, there's not a lot of room for injuries or anything like that. But at the same time, it should be a pretty tight, cohesive group that has a lot of synergy. We should be able to go pretty deep in the roster because of the way we play. You've got to be able to keep people fresh. And I think we have a talented roster where everyone can contribute, so I don't mind the number."
To receive Jeff White's articles by email, click the appropriate box in this link to subscribe.