By Jeff White (jwhite@virginia.edu)
VirginiaSports.com
CHARLOTTESVILLE — During a pause in the postgame celebration that engulfed the home locker room at Scott Stadium, University of Virginia football players beseeched their head coach to show off his dance moves. Tony Elliott declined, but that didn't spoil the party.
Before the Cavaliers dispersed Saturday afternoon, senior linebacker Nick Jackson presented Elliott with the game ball.
"We love you, Coach," said Jackson, whose teammates shouted their approval.
"This is special right here," Elliott said, clutching the ball.
Some nine months after he came to UVA from Clemson, where he spent 11 seasons on Dabo Swinney's staff, Elliott made his debut as a head coach Saturday. There were some shaky moments, but overall it went well. After giving up an early touchdown, Virginia rallied for a 34-17 victory over Richmond before a crowd of 41,122.
"It's been a long nine months to get to this point," said Jackson, who led the Cavaliers with 14 tackles. "So for him, for the future of the program, and for us it was awesome."
Elliott saluted UVA students, who turned out in force Saturday on a hot, humid afternoon.
"I'm gonna get after the rest of the folks," Elliott said, smiling, "because there were a lot of seats in the upper deck that weren't full, but hopefully they got a glimpse of where we're taking this program and what we can be."
Brennan Armstrong, a three-year starter at quarterback for UVA, was characteristically productive in the season-opener. He rushed for 105 yards and one touchdown and completed 21 of 33 passes for 246 yards and two TDs. Armstrong's 64-yard touchdown run early in the second quarter made him the Cavaliers' all-time leader in total offense.
"You just love everything about what his DNA is," Elliott said, "and I'm just happy that he's here for me to come alongside, because at the end of the day, the vision I have is only going to come to life with the belief of those guys, and he's paramount in in our success going forward."
Perris Jones' résumé doesn't match that of Armstrong, but the senior tailback shined Saturday, too. In his first career start, Jones rushed 19 times for 104 yards and one TD, his first as a Cavalier. The former walk-on also caught an 11-yard touchdown pass from Armstrong that effectively sealed the victory for UVA in the fourth quarter.
Not since 2018 had Virginia had two 100-yard rushers in the same game.
"I'm just super proud of him," Armstrong said of Jones. "That's just the bottom line. You're happy when you see someone like that work so hard to get an opportunity to play like that."
Jones is "an unbelievable young man," Elliott said. "He's the epitome of what commitment looks like. He works hard every single day."
After the game, the Wahoos stayed on the field and faced the student section as the marching band played the "Good Old Song." Elliott said he stood next to Jones and "got to rub on his head and tell him how proud I was of him, because he stayed the course."
The Cavaliers' offense totaled 505 yards, 56 of which came on a first-quarter touchdown pass from Armstrong to wide receiver Lavel Davis Jr. It was the first game since the 2020 finale for Davis, who missed last season while recovering from a torn ACL.
When he reached the end zone, Davis said after the game, so "much emotion went through my body. I was just so happy … It was a really good moment."
The Hoos went into halftime leading 28-10 but turned the ball over on each of their first two possessions of the third quarter.
"I wasn't pleased with the second half," Elliott said. "I challenged the guys in the locker room [after the game] that we got to finish. We're gonna find out the maturity level and the makeup of this team in the second half, and I felt like the guys just were excited about the [first-half- success]. They were focusing on the first half and didn't finish the second half. So it's a great opportunity to teach these guys how to finish games, because games are going to be won in the fourth quarter, and it was also credit to Richmond."
Richmond competes in the Football Championship Subdivision and usually fields a strong team. This one has a lot of weapons, starting with quarterback Reece Udinski. The Spiders (0-1) battled to the end, as Virginia expected they would.
"They're a good team, no doubt about it," Jackson said.
UR's tailbacks, Savon Smith and Aaron Dykes, rushed for 88 and 76 yards, respectively. With a game at Illinois next on the schedule, UVA's run defense has work to do.
"It's something that we're gonna have to make sure that we're a lot better at next week," said Virginia's new defensive coordinator, John Rudzinski. "We know that we'll face a great opponent that will want to run the ball, and so there's a lot to learn from."
The Cavaliers are intent on running the ball, too, and much is being asked of their inexperienced offensive line, whose starters against Richmond included true freshman McKale Boley and sophomores Ty Furnish and Logan Taylor.
"As I've said, we want to establish the run and then everything opens up off of that," Elliott said, "getting the safeties to fit on some of your play-action stuff and then you're able to hit some seam balls down the field. So it was just good to see the offensive line [in a game]. That was the first time they played together."
The line gave up one sack, "so there are some things to clean up," new offensive coordinator Des Kitchings said, "but that group is starting to gel, and I'm fairly certain they'll get better next week as well."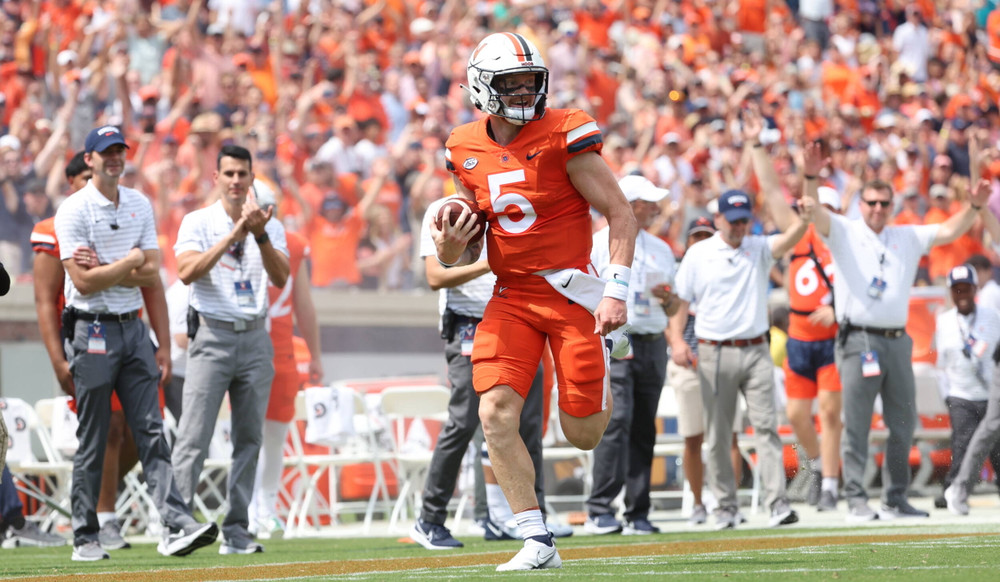 TURNING POINT: Virginia led 28-17 midway through the third quarter when the Spiders began a drive at their 3-yard line. Five first downs later, UR was threatening to make it a one-possession game. But on third-and-1 from the UVA 36, junior linebacker Josh Ahern stopped Dykes for no gain. The Spiders went for it on fourth down, and Ahern again dropped Dykes for no gain.
"We needed those stops," Elliott said, "just from a confidence standpoint for the defense, because they'd been giving up a lot in the run game, just too much on first down, not playing in [Richmond's] backfield."
The offense, sparked by Ahern's heroics, responded with a 64-yard drive that ended with Armstrong's TD pass to Jones, who ran the wrong route but was uncovered.
"It was imperative [that the offense score]," Jones said. "Our defense worked their tails off to get that fourth-down stop, and we wanted to keep that momentum going and just build upon it. So it was crucial."
Ahern was ejected from UVA's final game last season for targeting and so had to sit out the first half Saturday. When he finally entered the game, No. 33 was everywhere, it seemed. Ahern recorded five tackles, including his first career sack, and had an interception that, alas, was negated by a penalty.
"That's what we've been talking about the whole offseason," said Jackson, one of Ahern's closest friends. "This dude right here, he's been working his tail off the entire offseason. I know there was some buzz about him in fall camp and everything like that, so I'm just glad he just got up there and just played his game. He was all over the field. Josh is going to be a weapon for us this year."
A knee injury hindered Ahern for most of last season, but he's healthy now and eager to reach his potential.
"Ahern, he's a football player," Elliott said.
UP NEXT: Virginia (1-0) visits Big Ten country for a clash with Illinois (1-1). In a game to air on ESPNU, the Fighting Illini host the Cavaliers at 4 p.m. Eastern next Saturday at Memorial Stadium in Champaign.
Illinois played two games before the Hoos took the field for their season-opener this year. The Illini, who opened with a 38-6 win over Wyoming, lost 23-20 at Indiana in a Big Ten game Friday night.
Illinois, which lost 42-14 at Scott Stadium last year, is in its second season under head coach Bret Bielema. The Illini lead the series 2-1.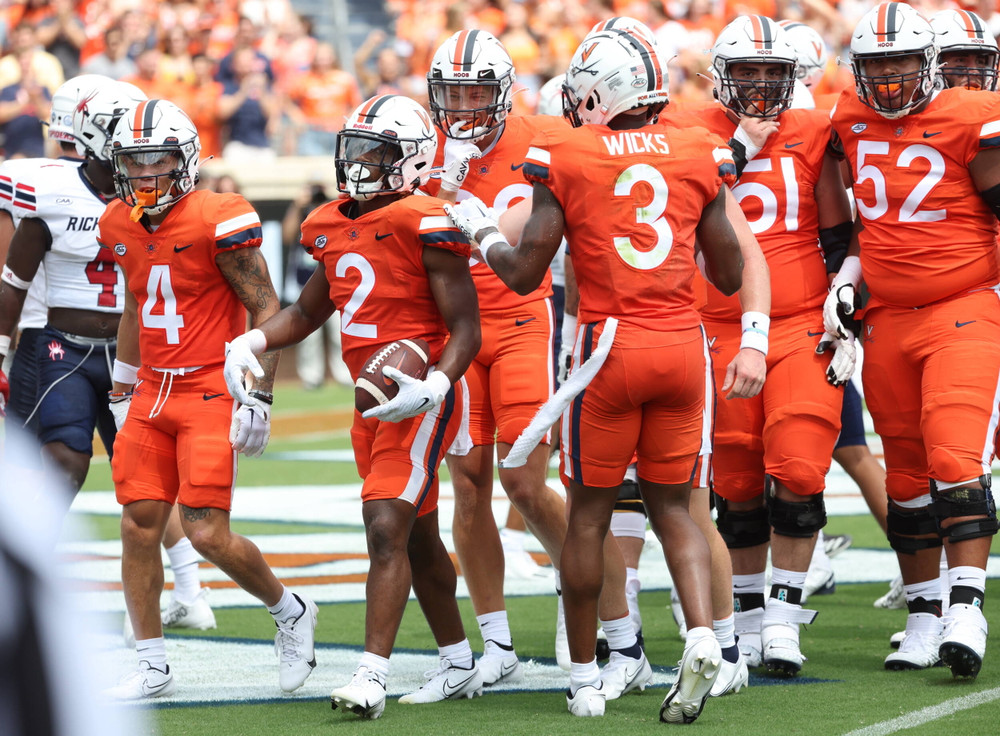 SOUND BITES: UVA has won six straight season-openers for the first time in 90 years (1927-32). Elliott became only the second head coach since 1965 to win his first game with the Cavaliers. Among the postgame comments at Scott Stadium:
* Armstrong: "We came out here to get the win in any shape or form, and we did that. We've got a lot to clean up, but it was a good start."
* Davis on Jones' performance: "I feel amazing for him. Perris works so hard. People don't see the hard work that he really puts in. He's been here for five years. Perris is like a big brother to me, and to see him go out and perform like this, that's amazing."
* Kitchings: "That's the Perris Jones we saw in camp. You saw a scrappy guy competing. He's got the ability to make some guys miss in the open field, so we've got to get him dialed up ready to go next week. Going up there to Champaign, it'll be a different test."
* Elliott on his debut as a head coach: "I think in this profession, you can be fast and take the wrong job. But I believe I was I was patient and the Lord opened up the right door and I'm in the right place. And all the confirmation I needed was to see the joy in the locker room of those guys experiencing victory."
* Elliott on the scene at Scott Stadium: "Pregame, I thought the atmosphere was really, really good. We're gonna continue to improve upon that. So all the pieces are here that I was looking for to build something special. And for me it's just building something special that everybody that's a part of it can be proud of."
* Jones on his role in the offense: "I prayed for it and I worked very hard for it. I was hopeful that when my opportunity came, I wanted to make sure that I was ready. So today, the work that I've put in over the years showed itself, and I'm very happy about that."
* Rudzinski on Ahern's impact: "It's a testament to that young man. He did a nice job of staying in tune. He does a great job preparing. The stage was definitely not too big for him."
* Elliott on the offensive line: "I liked the ability to protect the quarterback. And now what we've got to do is, we've got to continue to grind and grind and grind in the run game to be able to be consistent running the ball and moving people and creating holes for the backs. And then the backs gotta reward the offensive line [by hitting the correct holes]."
To receive Jeff White's articles by email, click the appropriate box in this link to subscribe.