By Jeff White (jwhite@virginia.edu)
VirginiaSports.com
CHARLOTTESVILLE — Sixty-one ticks of the scoreboard clock. That's how much time the Virginia Cavaliers had to avoid an ugly loss Saturday after Old Dominion took a one-point lead at Scott Stadium.
"More than enough time," UVA wide receiver Keytaon Thompson said.
Sure enough, after a momentum-changing 37-yard kickoff return by Demick Starling, Virginia moved quickly into scoring range. After throwing an incompletion on first down, quarterback Brennan Armstrong connected with wideout Lavel Davis Jr. for a 30-yard gain. Armstrong then scrambled for 13 yards, after which a ODU defensive back interfered with wideout Dontayvion Wicks in the end zone, setting up first-and-goal at the 5 for the Wahoos.
Two plays later, Brendan Farrell booted a 26-yard field goal as time expired to lift UVA to a heart-stopping 16-14 victory.
"I'm proud of you guys for finding a way to win," first-year head coach Tony Elliott told his players in the locker room.
Proud, yes, but Elliott also was realistic. He knew that a game in which the Hoos' offense piled up 513 yards should not have come down to a last-second goal.
"I'm going to be conservative and say we left at least 20 points out there," Elliott said. "And then the thing about it is, if you capitalize on those scoring opportunities, then now that just puts more pressure on their offense, and so then now their offense has to press a little bit, which lets the defense have opportunities to get the ball back."
Virginia (2-1) fumbled three times and lost every one of them. Worse, two of those turnovers came inside the Monarchs' 10-yard line. The other fumble, in the final minute of the second half, helped ODU (1-2) end the half with a touchdown that cut UVA's lead to 10-7.
The Cavaliers also committed costly penalties on both sides of the ball. Moreover, Farrell missed a 36-yard field-goal attempt that would have put Virginia up 16-7 with 3:07 remaining.
"It worked out well, but we gotta make 'em all," said Farrell, who finished 3-for-4 on field goals.
UVA's lone touchdown came late in the first quarter on a 1-yard run by tailback Mike Hollins, who later had a costly fumble.
"We just couldn't figure out how to put the ball in the end zone, and that was frustrating," said Armstrong, who with a fourth-quarter completion to Davis became the program's leader in career passing yards.
Armstrong, a three-year starter, is at 7,534 passing yards and counting as a Cavalier, but he wasn't inclined to celebrate his feat after the game.
"I'm pretty frustrated right now about not being able to punch the ball in," Armstrong said.. "I know a win's a win, but I'm hard on myself … But no, [the record is] cool. That's cool. I'll remember it when I'm like 30."
Its red-zone struggles notwithstanding, Virginia had no shortage of standouts on offense. True freshman Xavier Brown rushed nine times for 88 yards, and Perris Jones, who started at tailback, had 11 carries for 56 yards. Thompson caught nine passes for 118 yards, and Wicks had four receptions for 85 yards. Davis caught only two passes, but they gained 47 yards.
Also encouraging was the play of UVA's inexperienced offensive line, which had been overwhelmed last weekend in a 24-3 loss at Illinois. The line opened running holes and generally provided good protection for Armstrong, who completed 20 of 37 passes for 284 yards Saturday, with no interceptions, and rushed for 54 yards.
"There's glimpses," said first-year offensive coordinator Des Kitchings, "but when you have three turnovers, particularly down in the red area, that's hard, that's tough. That puts the team in a big bind."
UVA's defense sacked Hayden Wolff three times and held the Monarchs, who had opened the season with a win over Virginia Tech in Norfolk, to 324 yards. When the Cavaliers most needed to make a stand defensively, however, they were unable to do so.
With 1:17 remaining, ODU faced fourth-and-15 from the Virginia 33, and the Hoos had an opportunity to end the game there. But a pass interference penalty on cornerback Anthony Johnson gave the Monarchs a first down, and two plays later Wolff lofted a pass to 6-foot-8 tight end Zack Kuntz for an 18-yard TD. Ethan Sanchez's extra point made it 14-13, and UVA trailed for the first time Saturday.
"It's disappointing that we didn't finish the game and win the game on defense," said Virginia's new defensive coordinator, John Rudzinski. "We really would have liked to have done that. But again, that's why we love this game. It is the ultimate team game where it's not going to be perfect, because it never is."
Kam Butler, Chico Bennett Jr. and Aaron Faumui each had a sack for the Hoos. Safety Lex Long led UVA with nine tackles, including one for loss, and Johnson and linebacker Nick Jackson had eight stops apiece. Overall, it was another solid performance for Rudzinski's group.
"What you're seeing is they're playing with more of a sense of urgency than maybe some of the guys on offense," Elliott said. "They're playing together. You can tell that they trust each other. They believe in each other. And I think it's just taking a little bit longer on offense for us to develop that trust between all the different aspects: the offensive line, the backs, the quarterback, tight ends and receivers."
AS SCRIPTED: The Cavaliers successfully executed their two-minute offense during practice Wednesday, a hard-earned victory for No. 5 and Co.
"We finally won the two-minute drill," Armstrong. "So I guess you could say that kind of transferred over to the game today."
As an offense, Thompson said, "that's what we live for, just to have a chance to end the game with the ball, a chance to finish the game and get the victory."
Elliott said the coaching staff works "all of the situations to try and prepare these guys, and to see them not bat an eye with 1:01 left and one timeout, and go down and find a way to win the game, it tells you what's inside of them. But the key is, up until that point we've got to play with that same mentality, that same swagger, that same confidence, and learn how to finish."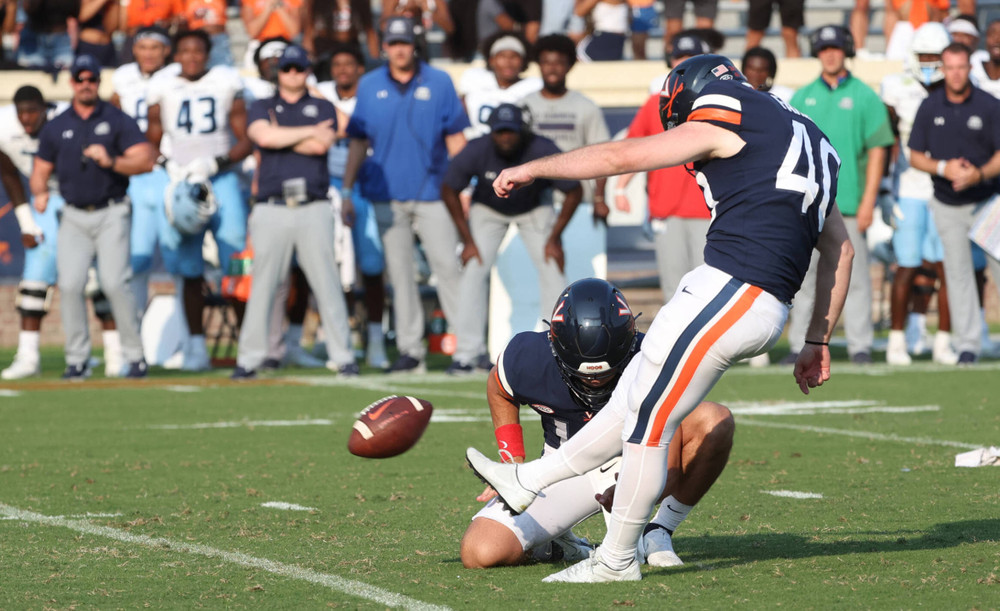 NEXT MEN UP: Two UVA starters—Billy Kemp IV and Antonio Clary—were late scratches for medical reasons. Kemp is a veteran wide receiver who's also the Cavaliers' No. 1 punt-returner. Clary starts at safety and is the No. 2 punt-returner.
With neither Kemp nor Clary available, sophomore Ethan Davies returned punts against Old Dominion. Davies, who joined the program last year as a walk-on, looked comfortable in that role, and one of his two returns went for 10 yards.
"Really, really happy for him," Elliott said, "proud of him."
UVA junior D'Sean Perry moved from linebacker to defensive end recently to add depth at that position, and he made four tackles Saturday, including one for loss.
"He did a really, really nice job," Rudzinski said. "His ability to play multiple spots gives us depth, and he's a heck of a player."
FRIDAY NIGHT LIGHTS: Next up for the Cavaliers is their first visit to Syracuse, N.Y., since 2005. In its ACC opener, UVA (2-1) takes on Syracuse (3-0, 1-0) at 7 p.m. Friday in the erstwhile Carrier Dome, now called the JMA Wireless Dome. ESPN will televise the game.
Virginia has won three straight over the Orange and leads the series 3-2. The teams haven't met since 2015, when the Cavaliers prevailed 44-38 in overtime at Scott Stadium.
Syracuse rallied in the final seconds to defeat visiting Purdue 32-29 on Saturday afternoon.
The Orange's offensive coordinator, Robert Anae, and quarterbacks coach, Jason Beck, held those positions on Bronco Mendenhall's staff at UVA for six seasons (2016-21).
"I know they've done a good job there of scoring points," Rudzinski said. "There's a lot to work on this week schematically, and then we'll have to be great fundamentally to go up to someone else's house on a short week."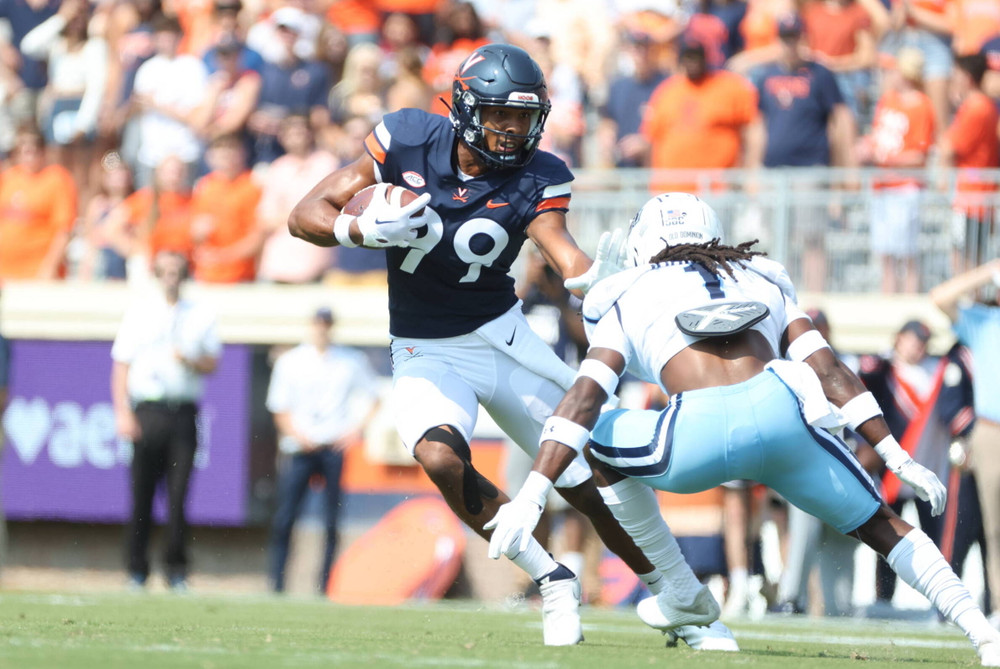 SOUND BITES: Virginia improved to 2-0 all-time against Old Dominion. Among the comments afterward:
* Elliott on Starling's decision to return the final kickoff from the end zone: "I knew [from] his body language that he was bringing that thing out. But the reason we put him back there is because he's the guy right now on kickoff return that has the ability to take it a long way. And so I'm just glad that he was able to field the ball and give us a spark that kind of put us in better field position."
* Elliott on the matchup with Syracuse: "There's going to be some outside noise around this one, and I've got to do a great job of getting my football team just to focus on what we can control, and that's how we play and how we prepare."
* Armstrong on Virginia's final drive: "We were moving the ball and all we had to get was a field goal. So I knew we were going to get the ball down there."
* Rudzinski on the game's final minutes: "It was not the way we wanted to end on defense, but it's the way we wanted to end as a team."
* Farrell on his mindset after missing the 36-yarder: "I thought, 'There's a lot that can happen still,' so I stayed in the game, stayed focused and made it happen at the end."
* Elliott on Brown: "What you saw is that the stage is not too bright for him as a first-year guy, that he's ready for the for the moment … He's got some areas to grow, but the way that he's running the football, he's putting pressure on all the other guys in the room. And as I told him in the locker room afterward, 'Hey, I'm not a discriminator [with] age or whatever. If you're the best guy, you're the best guy.' And right now he's running with the most tenacity out of all the guys."
* Brown: "I've really got to give it all to my O-line and everybody blocking up front for me. They opened the lanes for me and just made it easy."
* Kitchings: "We got a good glimpse of Xavier Brown out there. I'm glad we had him today. He made a couple big, explosive plays for us. And the kid is just totally committed. He's tough. He's smart. He's soaking in information. He's got some ability, he's got speed, he's got toughness, he's breaking tackles, so he's got to continue to build on that with him."
* Kitchings: "This team, this staff, maybe it's necessary for us to figure out how to win a game this way and build on it."
To receive Jeff White's articles by email, click the appropriate box in this link to subscribe.