By Jeff White (jwhite@virginia.edu)
VirginiaSports.com
CHARLOTTESVILLE — The Virginia Cavaliers haven't played a football game at Syracuse since 2005, when Al Groh was their head coach, so the team's current players have little idea what to expect inside the ACC's only domed stadium.
UVA's new head coach can help them out. During Tony Elliott's 11 years as a Clemson assistant coach, the Tigers played five times in what was then called the Carrier Dome. Clemson went 4-1 against Syracuse in those games.
"Definitely they create a home-field advantage," Elliott told reporters Tuesday during his weekly press conference at John Paul Jones Arena. "They do a great job regardless of the size of the crowd. They find a way to make it loud in there. Those guys, in my experience, they always play tough at home. You've got to go in, and you've got to take it from them."
In its ACC opener, UVA (2-1) meets Syracuse (3-0, 1-0) at 7 p.m. Friday in the 49,057-seat JMA Wireless Dome. ESPN will televise the game.
When the Wahoos played at Illinois on Sept. 7, they did not see the inside of Memorial Stadium until they arrived for the game. This road trip will be different.
Elliott said the Hoos will stop by the Dome so the players can "go in, see it, see the locker room, walk around on the field, see the new ceiling that they put in for guys that are going to be catching balls in the lights. We're definitely going to get there early so those guys can see the [JMA Wireless] Dome."
In 2017, when the Tigers were ranked No. 2 nationally, they lost 27-24 to the Orange at the Carrier Dome. Elliott, who's also been part of big Clemson wins at Syracuse, is preparing his players for what awaits them Friday night.
Orange fans "do a good job of creating a really good atmosphere for those guys to play in, which makes it tough for opposing offenses when they get to go in and the noise is [deafening]," Elliott said. "If you give them momentum, they're going to capitalize."
Only two UVA players have suited up at the Dome: defensive end Chico Bennett Jr., when he was at Georgia Tech; and cornerback Anthony Johnson, when he was at Louisville. (Bennett played at Syracuse during the COVID-19 pandemic, and no fans were in the stands.)
The rest of the Cavaliers are about to experience it for the first time. "Should be fun," tailback Perris Jones said Tuesday. "It's a historic field, so I'm very, very much so looking forward to it."
So is wide receiver Dontayvion Wicks. "It's gonna be a fun game. I know that the fans down there, they're going to be electric. They're going to be looking to quiet us down. But we've just got to play through it and not worry about that and just do what we do."
Virginia has won three straight over the Orange and leads the series 3-2. But the teams haven't met since 2015, when the Hoos won 44-38 in overtime at Scott Stadium.
BUSINESS AS USUAL: Syracuse head coach Dino Babers' staff included two new assistants who spent the past six seasons working for Elliott's predecessor, Bronco Mendenhall, at UVA. Robert Anae is the offensive coordinator, and Jason Beck coaches the quarterbacks.
"To be honest with you … I haven't been following the storyline," Elliott said when asked about Anae and Beck. "I don't know what the storyline is. The only challenge that I [gave] to my guys, because they do have relationships with those individuals, is let's not make it bigger than what it needs to be. It's all about the game. Let's focus on what we can control."
Syracuse, which has yet to turn the ball over this season, is averaging 37.0 points per game. The Orange has an elite tailback in Sean Tucker, who has rushed for 2,376 career yards, and a bruising dual-threat quarterback in 6-foot-4, 228-pound Garrett Shrader.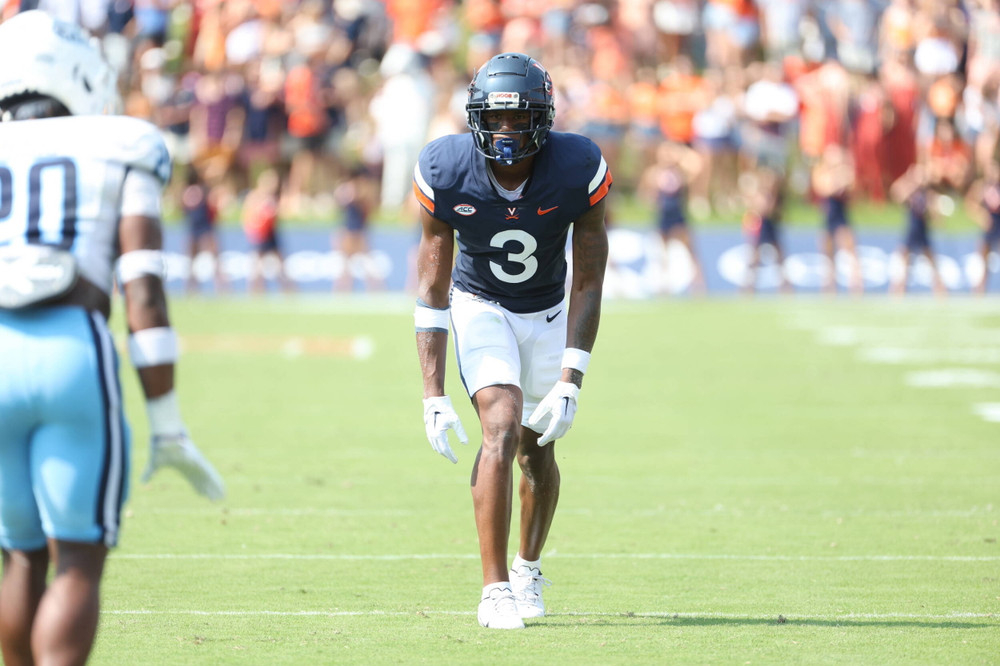 SIGNS OF PROGRESS: The Cavaliers are averaging only 17.7 points per game, in part because they've hurt themselves with penalties and turnovers. But Virginia gained 505 yards in its season-opening victory over Richmond and 513 on Saturday in a win over Old Dominion.
Against ODU, the Hoos turned the ball over three times—twice in the red zone—and were penalized eight times for 80 yards. "But the positive was we moved the ball," Elliott said. "I felt like we moved the ball, and if you just clean that up, man, look what you can potentially be."
Elliott and new offensive coordinator Des Kitchings want to establish a potent running game, and their system differs from the one Anae installed at UVA. There have been ups and downs so far, Elliott acknowledged, but "we're not going to throw the baby out with the bath water. We're not going to scrap everything."
The Cavaliers gained only 222 yards in a 24-3 loss to Illinois, a regrettable showing by their offense. "There's no getting around that," Elliott said.
The other games featured many more offensive highlights. Neither Richmond nor ODU is a Power Five program, "but still," Elliott said, "you had 500-plus [yards] in two games, and you're balanced, you're running the football, you're over 200 yards twice rushing. That's something that we as an objective have."
On its final drive Saturday, Virginia sliced through the Monarchs' defense, setting up the 26-yard field goal that Brendan Farrell made with no time remaining.
"I feel like it gave us momentum going into the next game and gave us confidence," Wicks said Tuesday, "just showing us that we're capable of doing that."
Wicks hasn't lost faith in the offense or the receiving corps. "I feel we're getting better day by day, and it's going to come," he said. "That time is going to come."
MEDICAL REPORT: Billy Kemp IV, the Cavaliers' top punt-returner and a starting wideout, missed the ODU game after falling ill and is unlikely to play at Syracuse, Elliott said.
Another starter, safety Antonio Clary, has been dealing with a stinger and was held out of the ODU game. Clary's availability Friday night will probably be a game-time decision, Elliott said. "Antonio is day to day."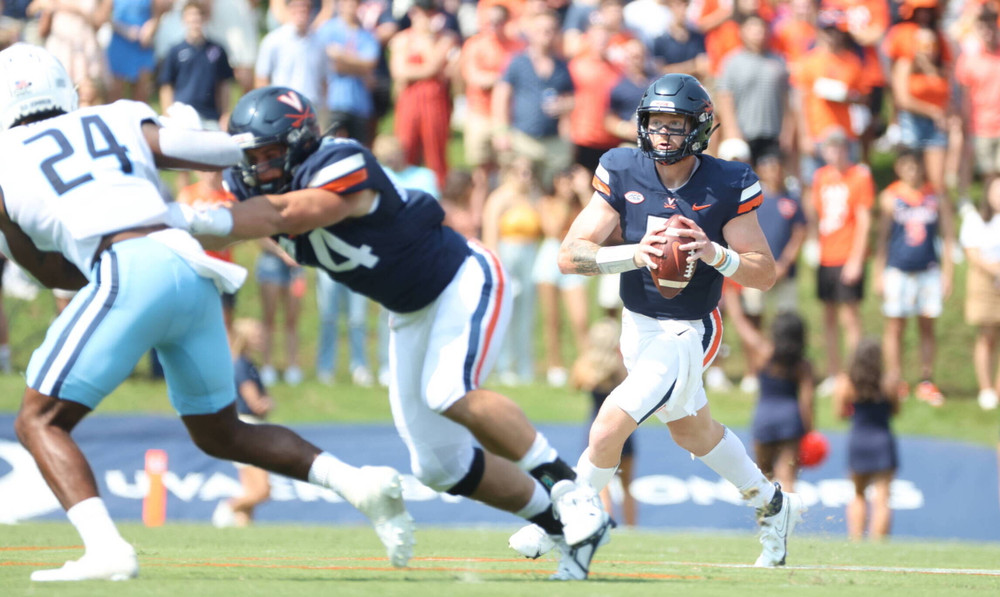 PERIOD OF TRANSITION: Armstrong, a fifth-year senior, is Virginia's second-leading rusher, behind Jones, but he hasn't been sharp throwing the ball. He's 54-of-102 passing (52.9 percent) for 710 yards and two touchdowns, with three interceptions.
His receivers haven't always helped him—drops have been a problem for that group—and Armstrong is still adjusting to the new offense.
Elliott said the key for Armstrong is to "just quit worrying about everything. Just quit worrying about what's going on, what's being said, and just focus on controlling what you can control."
Armstrong can be a master of improvisation when he drops back to pass, and there are "times when you want him to go make a play," Elliott said. But the coaching staff doesn't want Armstrong to show poor footwork "and drift in the pocket," Elliott said.
No. 5 should be confident that he can make every throw, Elliott said, but he needs to do so "within the framework of the system. And where I want to see him grow, too, is from a quarterback standpoint of just managing the game, and I think that's an area where he's working every single day."
BACK ON TRACK: After rushing for only 42 yards in its loss at Illinois, UVA ran for 229 yards against ODU.
True freshman tailback Xavier Brown rushed for 88 yards (on only nine carries) against the Monarchs.. Jones, a fifth-year senior, and Armstrong ran for 56 and 54 yards, respectively.
"It felt great," Jones said, "just to get back to what we know we can do and build that confidence with the O-line and build our chemistry. It was really a very, very good confidence-booster to be able to do that."
To receive Jeff White's articles by email, click the appropriate box in this link to subscribe.