By Jeff White (jwhite@virginia.edu)
VirginiaSports.com
SYRACUSE, N.Y. — On the positive side of the ledger went the four takeaways, the six sacks, tailback Perris Jones' runs, wide receiver Keytaon Thompson's all-around brilliance, and the third-down stops that forced unbeaten Syracuse to settle for field goals five times Friday night at the JMA Wireless Dome.
But for the University of Virginia football team, there were plenty of entries on the other side, too, including multiple breakdowns on special teams, 12 penalties and an inconsistent passing attack. It all added up to a 22-20 defeat for the Cavaliers, who for the second straight week had a chance to rally for a last-minute victory.
Against Old Dominion on Sept. 17, Brendan Farrell kicked a field goal as time expired to lift UVA to a 16-14 win at Scott Stadium. Against Syracuse (4-0 overall, 2-0 ACC), the Wahoos (2-2, 0-1) drove to their 47-yard line before turning the ball over on downs with 27 seconds left.
"It's a [disappointed] locker room in there," first-year head coach Tony Elliott said after the nationally televised game. "There's guys looking for answers and the truth is, we can't continue to lose to ourselves."
His team played hard, Elliott said, but there must be "precision with the effort. That's where we're falling a little bit short. Our guys work extremely hard. The program has always worked extremely hard. Everybody knows that the guys worked extremely hard for Bronco [Mendenhall]. But in order for us to take the next step as a program, we've got to make sure that we're putting precision and technique with the effort and we're not just going out there trying to have sweat equity. We've got to get things accomplished. We've got to have achievement and not just activity."
Syracuse, whose offensive coordinator, Robert Anae, held the same title at UVA from 2016-21, came in averaging 37.0 points per game and had not turned the ball over all season. Its statistics took a hit Friday night. The Orange returned the opening kickoff 63 yards and needed only six plays to score a touchdown, but Virginia's defense stiffened thereafter.
UVA held Syracuse's star tailback, Sean Tucker, to 60 yards on 21 carries. "I thought we did a solid job in the run game today," said John Rudzinski, who's in his first year as the Cavaliers' defensive coordinator.
Among the standouts in Rudzinski's group were Chico Bennett Jr., who had two sacks, and Nick Jackson, Jahmeer Carter, Aaron Faumui and Paul Akere, who had one apiece. Lex Long, Kam Butler and Jonathan Horton each forced a fumble, and Bennett, Jonas Sanker and Donovan Johnson each recovered one.
Sanker also intercepted a pass, and the sophomore safety tied Jackson, a senior linebacker, for the team lead in tackles (10). Jackson, however, racked up all those stops in about two-and-a-half quarters. He was ejected with 5:13 left in the third quarter after being called for targeting.
Hunter Stewart, a junior, replaced Jackson and generally acquitted himself well. But with about four minutes left, on a critical third-down play, Stewart grabbed Garrett Shrader's facemask while sacking the Syracuse quarterback for a 6-yard loss. Instead of having to punt, the Orange were able to extend a drive that ended with Andre Szmyt's fifth field goal with 1:14 remaining.
"Hunter's just trying to make a play," Elliott said, but the penalty proved crucial on a night when Szmyt (5 for 5) didn't miss.
"There's definitely some learning lessons," Rudzinski said. "I would have liked to get off the field in that last series, and we had a chance to."
In a close game, mistakes are magnified, and Farrell missed two field-goal attempts in the first quarter: the first from 50 yards and the second from 48. Elliott then turned to true freshman Will Bettridge, who followed Thompson's 1-yard touchdown run with an extra point to cut Syracuse's lead to 16-7 early in the third quarter.
Bettridge's second PAT, however, was blocked, largely because of a poor snap, Elliott said. That came with 9:26 left in the third quarter after Jones' 4-yard TD run had made it 16-13.
UVA's final touchdown came on a 4-yard pass from quarterback Brennan Armstrong to wideout Lavel Davis Jr., who ran a slant pattern on fourth-and-goal. Bettridge added the extra point, and with 5:51 remaining, the Cavaliers had their first lead.
"Brennan threw a hell of a ball there," said Des Kitchings, Virginia's first-year offensive coordinator.
Alas for the Cavaliers, the lead didn't last. Virginia's defense needed at least one more stop and couldn't get it.
"We made some mistakes at critical moments," said Carter, a junior defensive tackle. "Again, it's a learning lesson. We're going to move forward, we're going to learn from our mistakes, and then next week we'll be better."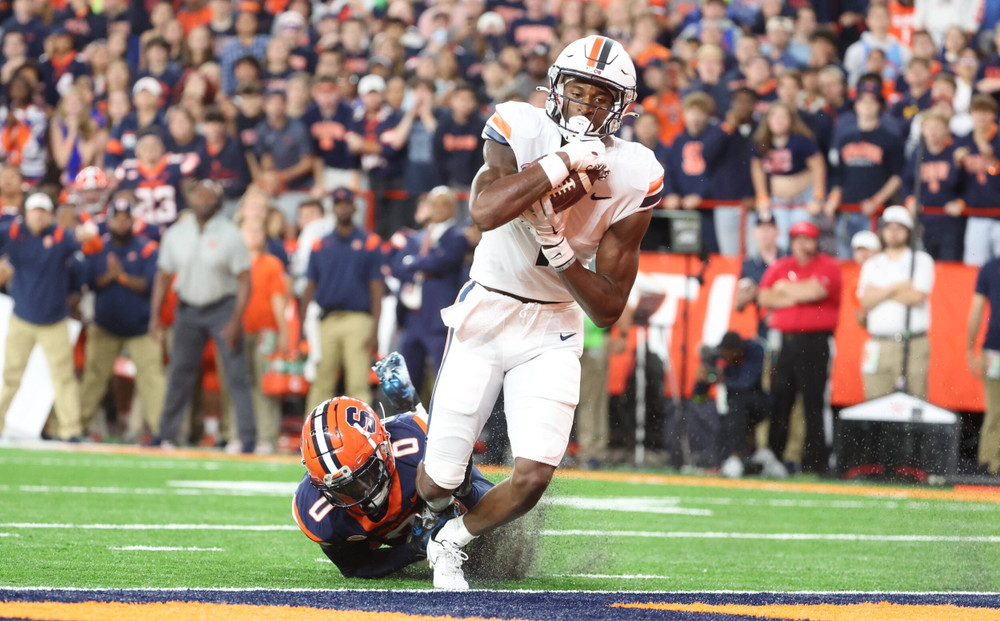 UVA's offense totaled only 287 yards, more than half of which came on the ground. Jones, a graduate student, carried 13 times for 87 yards and a TD. In the second half, offensive line coach Garett Tujague replaced starting center Ty Furnish with Jestus Johnson, and the move paid dividends in the running game.
"We knew that we needed to control the line of scrimmage, and that would give us our best chance to open things up downfield for Brennan," Jones said. "So that's what we did. The O-line came off the ball, got some great blocks, and it made my job easy."
Thompson, a sixth-year senior, carried two times for 10 yards and a TD and had a game-high eight receptions for 55 yards.
"You're seeing a guy that's competing," Elliott said. "He's trying to do everything he can to will his team to victory, but it's football, it's all 11 being on the same page, especially offensive football. That's what I've been trying to tell these guys. It's all about chemistry. It's all about cohesion, it's all about timing. It's spacing, it's angles, it's numbers, and all that stuff works together. And if you got one guy that's out of sync, more than likely you're not going to have a successful play."
Armstrong's uneven season continues. Through four games, he's completed only 52.1 percent of his passes and has thrown more interceptions (four) than touchdowns (three). Against Syracuse, he was 19-for-38 passing for 138 yards and one TD. He lost a fumble in the first quarter after colliding with a teammate and in the fourth quarter had an ill-advised pass picked off moments after Bennett's fumble recovery had given Virginia possession at the Syracuse 36.
UVA's defense continues "to play hard," Elliott said, "and your heart goes out to those guys, because we need to play complementary football and it's three phases: offense, defense, special teams."
The challenge, he added, is to maintain the defense's confidence "as we build the confidence of the offense. It's there offensively. Perfect example is fourth down, game on the line, Brennan sets his feet, pressure off the edge, delivers a strike [to Davis]. Then there's other times, we're drifting in the pocket, we're moving right, we're not settling our feet, we're seeing too much of the pressure, we're delivering the ball out of bounds."
UP NEXT: UVA and Duke rarely play each other under the lights, but the Coastal Division rivals will meet at 7:30 p.m. next Saturday at Wallace Wade Stadium in Durham, N.C.
The Blue Devils (3-0) are off to a fast start under their new head coach, Mike Elko. Duke, which has yet to play an ACC game, visits Kansas (3-0) on Saturday afternoon.
Virginia has won seven straight over Duke and leads the series 40-33.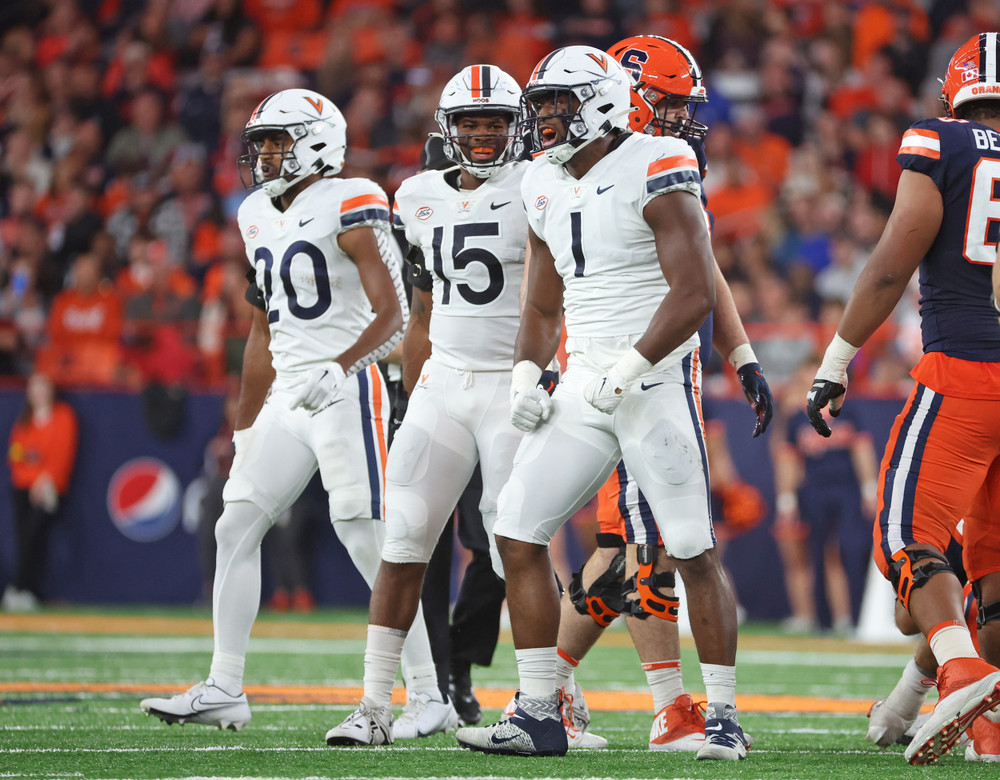 SOUND BITES: The Orange snapped UVA's three-game winning streak in the series, which is now tied 3-3. Among the comments after the Cavaliers' first visit to Syracuse since 2005:
* Jones on Elliott's halftime message: "Coach just basically came in and preached that we gotta fight. We're beating ourselves, and if we stop beating ourselves and we get back to playing our brand of football, then we're going to be hard to beat."
* Jones on the offense's slow starts: "I think we put too much pressure on ourselves, and we just gotta play. We're capable of doing what we did in the second half all game."
* Bennett on the punishing tackle by Horton that forced on a third-quarter kickoff: "It put a fire in everybody."
* Carter: "Despite the outcome, we know we did some good things. We did some bad things we have to learn from, but ultimately we're going to move forward and keep pushing."
* Rudzinski on Sanker: "As a young guy, he's in tune to making sure he's great with preparation, and so we're really fortunate to be able to work with him on a daily basis."
* Elliott on the offense's first-half woes: "Guys started to abandon their technique and go away from the things that we've been teaching them to do and just trying to play ball, and that's just not who I am. That's not who we are as a program, and because of that, we're not playing complementary football. Defense gave us some short fields. We couldn't capitalize. As soon as we'd hit a big play, then we'd have a mental mistake, we'd have a holding call or false start, something that gets us behind the chains."
* Elliott on his players' resilience: "They fought back in the second half and they started to have some success and then you saw a little bit of momentum, what it does. Now, we didn't have the [explosive plays] that we're accustomed to and that we'd like to have, but we found a way to score some points, and defense kept us in the game long enough and kept giving us opportunities. But overall, when you have 12 penalties, and [force four turnovers] and you don't come away with points off those turnovers like you should, then you haven't earned the right to win the game."
* Elliott on Jones' performance: "It was good to see him be consistent and just goes to show you the character that the young man has. He took ownership of a previous opportunity that he let get away from him, and he took advantage of what he had today. We're gonna stay committed to running the football. We'll go back, and we've got an extra day to kind of evaluate ourselves before we dive into Duke, and we're gonna go to work. We've got to get better as coaches. There were a couple of calls that I should have vetoed, but we're still trying to be aggressive, trying to show these guys that we're coaching to win, we're calling the game to win. But we've also got to make sure that we're always sound and putting them in the best position to be successful."
To receive Jeff White's articles by email, click the appropriate box in this link to subscribe.