By Jeff White (jwhite@virginia.edu)
VirginiaSports.com
DURHAM, N.C. — The Virginia Cavaliers are nearing the midpoint of their first regular season under head coach Tony Elliott, and they have yet to play a game in which they earned high marks in all three phases: offense, defense and special teams.
UVA came closest in its season-opening win over Richmond, but breakdowns in multiple phases marred its subsequent performances against Illinois, Old Dominion, Syracuse and Duke. Not coincidentally, the Cavaliers dropped three of those games, and they needed a last-second field goal to edge ODU.
"We're not playing smart football," Elliott said. "We're not playing complementary football, and we're struggling when the bullets start flying to just come together as a team, hunker down, battle for each other."
Elliott made those comments late Saturday night after Virginia's 38-17 loss to Coastal Division rival Duke. But they would have rung true after most of the Wahoos' other games this season, too.
Coming off an error-filled loss at Syracuse last weekend, UVA rolled into Wallace Wade Stadium looking to make amends against Duke. Instead, the Hoos (2-3 overall, 0-2 ACC) self-destructed again.
The Blue Devils (4-1, 1-0) led 21-0 early in the second quarter and had little trouble thereafter. With a complete performance, Duke emphatically ended Virginia's seven-game winning streak in the series.
"I gotta do a better job," said Elliott, who came to UVA after 11 years as a Clemson assistant. "Credit to Duke, but we gotta coach better. I gotta do a better job of preparing them, and the kids gotta play better."
In the first half, Virginia had a punt blocked, lost a fumble on a kickoff return, and was penalized three times for 42 yards. For the game, the Cavaliers were penalized six times for 84 yards.
"Self-inflicted wounds," said Des Kitchings, the Wahoos' first-year offensive coordinator.
"We've got to stop getting in our own way," senior tailback Perris Jones said.
Jones scored the Hoos' first touchdown on an 11-yard pass from quarterback Brennan Armstrong late in the second quarter. Will Bettridge added the extra point to send Virginia into halftime trailing 21-7. The Cavaliers had the ball first in the third quarter, and another touchdown, or even a field goal, would have added some suspense to the proceedings. Virginia went three-and-out, however, and the Devils needed only six plays to extend their lead to 28-7.
"It was definitely imperative to try to come away with some points on that drive," Jones said. "So it was disappointing that we didn't, but we'll try to keep battling and change the tide."
The game matched two first-year head coaches: Elliott and Duke's Mike Elko, whose team graded out well in all three phases. The Devils played stout defense and had no turnovers, and their quarterback, Riley Leonard, punished Virginia with his arm and his feet.
Leonard came in having completed an ACC-best 71.3 percent of his passes, and he picked apart the Hoos with short passes, completing 18 of 24 attempts for 129 yards and one touchdown. What made Leonard especially effective, though, was his running ability. He carried nine times for 59 yards and two TDs.
"He's a good football player," UVA linebacker Nick Jackson said. "He made plays and he flew around. I was very impressed with him tonight."
His counterpart, Armstrong, was 19-for-37 passing for 202 yards and had a hand in both of Virginia's touchdowns. Jones' score came on the 55th TD pass of Armstrong's career—only Matt Schaub (56) has thrown more as a Cavalier—and he ran five yards for a touchdown early in the fourth quarter.
Bettridge, a true freshman, provided the rest of UVA's points. He was 2 for 2 on extra points and kicked a 34-yard field goal in the third quarter. That was his first field goal for Virginia.
UVA wide receiver Billy Kemp IV, who'd missed the previous two games with an illness, suffered an injury early in the first quarter Saturday night and didn't return.
The Hoos, who totaled only 93 yards rushing, had more success in the passing game—senior wide receiver Keytaon Thompson had six receptions for 61 yards—but drops continued to hinder the offense, and a new issue arose Saturday night. The Devils knocked down about a half-dozen Armstrong passes.
"They did a good job of timing up when they couldn't get [a pass rush], just getting a hand up when the ball was coming out," Kitchings said. "That hadn't happened all year, really, and it happened tonight."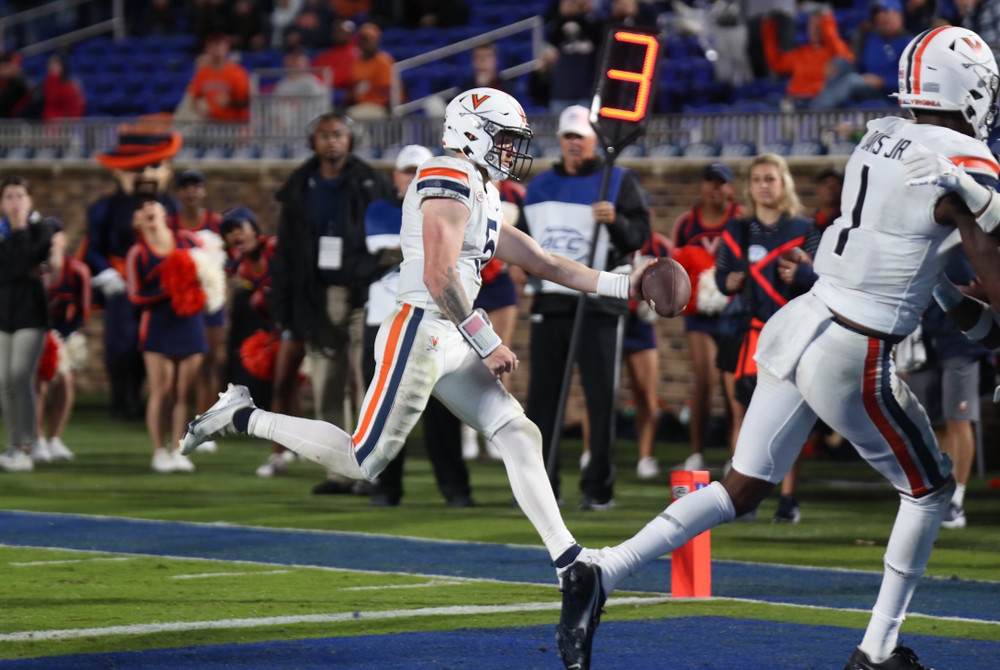 Twice this season Virginia has forced four turnovers in a game. The Cavaliers had no takeaways Saturday night, and that helped Duke maintain control of the game. Jonas Sanker, a sophomore safety, finished with a career-best 11 tackles, and linebacker Nick Jackson had 10, all of which came in the second half. Jackson, a senior who's a three-year starter, had to sit out the first half after being ejected for targeting at Syracuse.
Another UVA linebacker, sophomore James Jackson (no relation), made nine stops, and senior cornerback Anthony Johnson had a game-high three tackles for loss and his team's only pass break-up.
The score was 7-0 when Duke blocked Daniel Sparks' punt late in the first quarter. Aided by a roughing-the-passer penalty on UVA and a 17-yard run by Leonard, the Devils methodically drove for their second touchdown.
Virginia's Demick Starling ran back the ensuing kickoff 38 yards but lost the ball at the end of his return, and Duke recovered his fumble 40 yards from the end zone. Nine plays later, it was 21-0.
"The frustrating thing is, one of our keys to victory in our plan to win is to be special on special teams," Elliott said, "and right now we're hit or miss. Some games we'll do our job on special teams and some games we won't. It goes back to … guys just truly understanding that to play complementary football, every play matters. There's no giveaway plays, especially when you're competing at the level we're competing and the margin for error is really, really small."
FAMILIAR SURROUNDINGS: Three of their past four games have been on the road, but the Cavaliers are back at Scott Stadium next weekend. In a game to air on ACC Network, UVA will host Louisville (2-3, 0-3) at noon Saturday.
In a series that's tied 5-5, Virginia has won two straight and three of the past four games. Last year in Louisville, the Hoos trailed by 17 points after three quarters and rallied for a 34-33 victory.
The Cardinals played Saturday afternoon and lost 34-33 to Boston College in Chestnut Hill, Mass. Louisville's veteran quarterback, Malik Cunningham, took a blow to the head in the second half and didn't finish the game.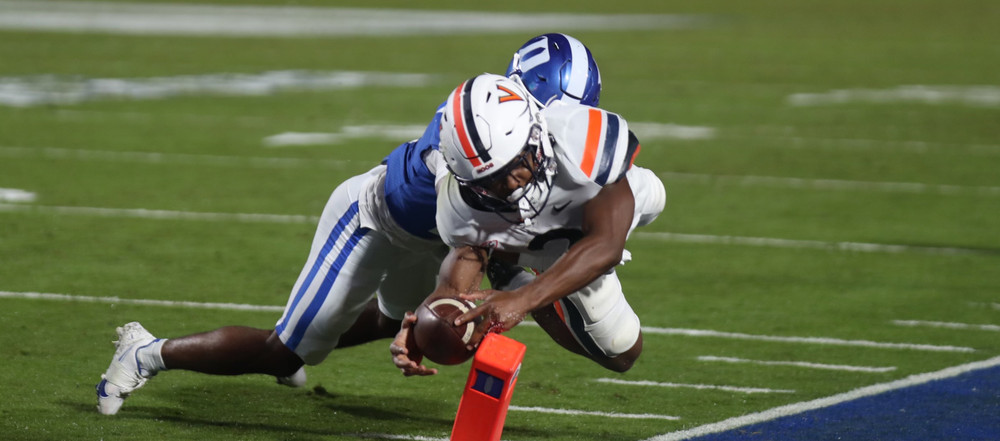 SOUND BITES: Duke's win trimmed Virginia's series lead to 40-34. Among the postgame comments Saturday night:
* Sanker: "It's really clear the reasons we're losing. So I really put none of that on the coaching and a lot of that more as on the players not being mentally sound, making crucial mistakes at crucial times, whether it's penalties, missed assignments, or just simply when the play comes your way, not making the play, missing tackles, things like that. So we've got to be better. We've got to take more accountability, and our leaders are going to step up, they're going call people out, they're going to make sure that we're growing from this."
* Duke's Leonard: "A lot of people look at me as a pocket passer, but I've kind of always been a runner. A lot of people just don't know that just the way I look and the way I run sometimes, but I like to get outside the pocket."
* UVA defensive coordinator John Rudzinski on his group's costly penalties: "We can't give opponents free yards, and we did that today."
* Rudzinski on starting cornerback Fentrell Cypress, who missed the game with an illness: "We hope to get him back soon."
* Kitchings on Armstrong: "He made some throws, got through his progressions and hit some second or third guys in the progression, so there's growth. It's not the growth we want obviously, at the time we want it, because we felt like we let another opportunity get away from us as a team, as an offense."
* Kitchings on why the offense has started so slowly in games: "I don't know. I don't have that answer."
* Elliott on UVA's ongoing issue with penalties: "I told the coaches that if I continue to see it, I'm just not gonna play guys [who commit them] … There's a bunch of good young men in that locker room. Now, there's a lot that they have to learn about how to be a team, how to win as a team, how to play disciplined football, and I want them to do it. But if we continue to have these problems, then ultimately I'm going to have to make decisions, because the one thing I'm not going to sacrifice is the core values of this program, and it's embarrassing."
* Elliott on Armstrong: "Brennan was a lot more comfortable in the pocket. He was staying in the pocket, he was stepping up in the pocket, and he delivered some strikes. We had a couple of drops that we should have made … I'm proud of him, and that's what I told him at the end of the game. I said, 'Man, I apologize to you. I gotta do a better job of helping you by getting all these guys to buy in,' because I thought he looked as comfortable as he's looked thus far in the system."
* Elliott: "Again, they're all good young men in our locker room, but we've got to take it to another level. Go back to work, and that's what we're gonna do. We're gonna take this bus ride home, and we're gonna own it. We just lost. That's on us. We can't blame anybody else. You tip your hat to Duke, but we've got to own what we just put on film."
To receive Jeff White's articles by email, click the appropriate box in this link to subscribe.