By Jeff White (jwhite@virginia.edu)
VirginiaSports.com
CHARLOTTESVILLE — The University of Virginia football team heads into its bye week with some soul searching to do. When adversity has struck the Cavaliers this season, more often than not they've unraveled.
So it was again Saturday at Scott Stadium, where UVA scored the first 10 points and appeared in control early against Louisville. But the first of UVA's three turnovers—a red-zone fumble by quarterback Brennan Armstrong—gave the Cardinals a reprieve, and their comeback began.
By halftime, the Cards led 13-10, and they pulled away for a 34-17 victory before a Homecomings crowd of 38,009 on a crisp fall afternoon. Playing without its game-breaking quarterback, Malik Cunningham, and its leading tackler, safety Kenderick Duncan, Louisville totaled 473 yards while allowing only 319.
The loss was the third straight for the Wahoos (2-4 overall, 0-3 ACC), who have yet to defeat a Power Five opponent.
"We gotta do a better job of not laying down," UVA safety Antonio Clary said.
"We just gotta learn to win," Armstrong said. "We just don't know how to win. We don't know how to come back [from adversity]."
Virginia turned the ball over three times—Armstrong threw two interceptions—and netted only six yards rushing. The Cavaliers' wide receivers dropped several passes that would have extended drives, and the offensive line struggled to protect Armstrong, whom Louisville (3-3, 1-3) sacked six times. Even so, the fifth-year senior still completed 24 of 34 passes for a season-high 313 yards and one touchdown, a 40-yard strike to wideout Dontayvion Wicks in the first quarter.
That was Armstrong's 56th TD pass as a Cavalier, and he's now tied with former great Matt Schaub for first place in program history.
For the Hoos to break through, it's going "to take four quarters of guys just relaxing and just playing football," offensive coordinator Des Kitchings said. "Brennan has been doing that, and I'm proud of him. For us, it was his best game today. Unfortunately, we didn't get the victory that we wanted. He obviously has some plays he wants back, but he was [at] 71 percent completion, and that's a win. We just have to play complementary football with him."
The Cavaliers don't play again until Oct. 20, when they meet Coastal Division rival Georgia Tech (3-3, 2-1) in Atlanta on ESPN's Thursday night showcase. The Yellow Jackets, who are off next weekend, too, have won two straight since the dismissal of head coach Geoff Collins.
UVA needs to use the extra time to get "guys healthy, get guys' minds right, let guys sit and reflect on the past six games we just played," Clary said. "So it kind of gives guys a chance to sit down, reflect and get their mind right to buy in because that's all it is. We've got to buy in as a whole team, and the bye week will give us a chance to do that."
The Cavaliers recorded no sacks or tackles for loss Saturday, but they came up with two takeaways: interceptions by Clary and cornerback Anthony Johnson, who began his college career at Louisville. Johnson also broke up three passes.
The bye week, Johnson said, is an opportunity for the Hoos to get some injured players back and "lock in on our details and the small things and just really come together. Just buy in and find our heart and just figure out what it is we need to do collectively as a team to turn this thing around."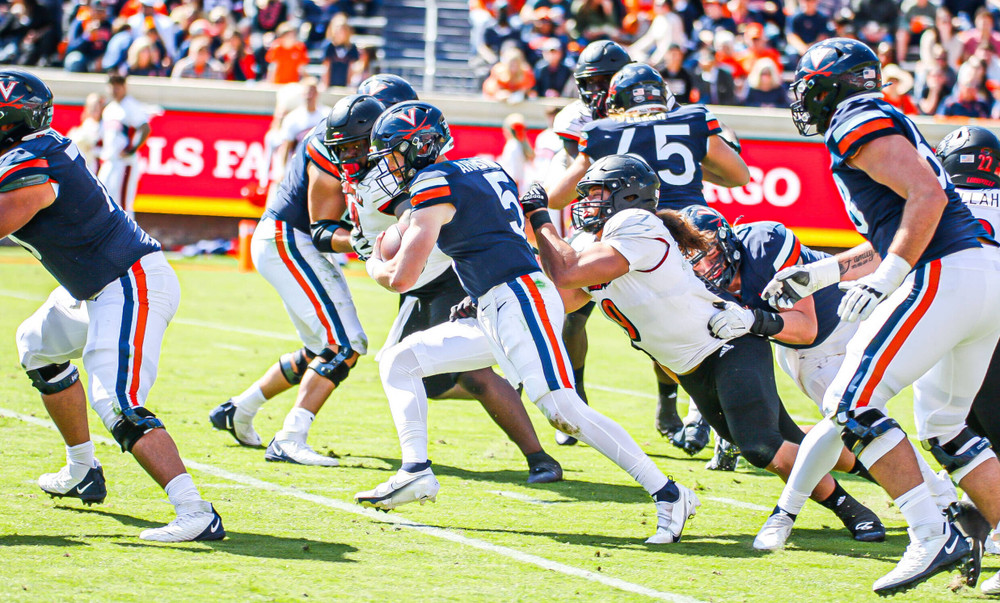 The Hoos were coming off a 38-17 road loss to Duke, a game in which they fell behind 21-0.
"I felt last week at Duke, we didn't come out with the right energy," said Tony Elliott, Virginia's first-year coach. "I felt like the guys came out with really good energy [against Louisville]. They had good focus, they had a great pregame warmup, and boom, we get off to a fast start."
And then, with a chance to extend their lead to 13-0 or 17-0, the Cavaliers turned the ball over. But UVA's defense forced a punt, and it was still 10-0 when Armstrong and the offense got the ball back with 56 seconds left in the first quarter.
"Once we had the fumble, we've got to be mentally tougher to lock in and not let it steamroll downhill," Kitchings said.
But the Hoos' offense began to sputter, and Louisville began to click on both sides of the ball.
A field goal with 10:19 left in the second quarter cut Virginia's lead to 10-3, and the Cardinals tied the game on their next possession. A blown assignment by sophomore safety Jonas Sanker created a running lane for quarterback Brock Domann, who sprinted 44 yards for a touchdown. Another field goal, on the final play of the first half, put the Cards ahead to stay.
"We didn't put the nail in the coffin like we could have early on," Armstrong said.
As a result, the Cavaliers are still seeking their first ACC win under Elliott, a former Clemson assistant coach who replaced Bronco Mendenhall in December.
"There's a lot of expectations," Elliott said. "I have expectations. [Players] have expectations. The fans have expectations. The administration has expectations of this program. But before you can reach your expectations, it starts with a decision. You've got to decide to be successful. And you got to decide that every single play, you're gonna play to win, that you're not going to take a play off, that you're going to decide that our core values—running on and off the field; dressing like a team; being disciplined, which we're not doing a great job of right now—ultimately, that's what we're playing for. And so I've gotta do a better job as the head football coach of making sure that that is clear within the organization."
UVA wideout Keytaon Thompson caught a game-high nine passes for 98 yards, and tight end Sackett Wood Jr. had a career game, with three receptions for 48 yards.
"We've just got to come together," Kitchings said. "It's been a quarter here, a half here. We've just got to put it all together, because the margin of error is so small. It's so small. That mental toughness, that mental fortitude, just straining through play after play at the play. It's a grind, but we've got to be able to do that."
RUNNING ON EMPTY: The Cavaliers' six yards rushing were their fewest in a game since 2017, when they ran for five yards against Virginia Tech.
Armstrong scored Virginia's second touchdown Saturday on an 11-yard run. Tailbacks Xavier Brown and Perris Jones combined for 13 yards on 10 carries.
With the offensive line unable to open holes, the Hoos "had to throw the ball," Kitchings said, "and the second half that's what it became."
The Cavaliers came into the game averaging 154.4 yards per game rushing. The linemen's inability to win one-on-one battles was disappointing, Elliott said, but "we're not gonna abandon the run. We'regonna go back and go to work. And these guys have got to get better, because we can't allow teams and make us one-dimensional.
"Now, that doesn't mean we got to rush for a ton of yards. But we've got to be efficient, we've got to be effective with the running game, because off of that it sets up a lot of the other things, and when you can't run the ball, then now you're strictly in dropback pass."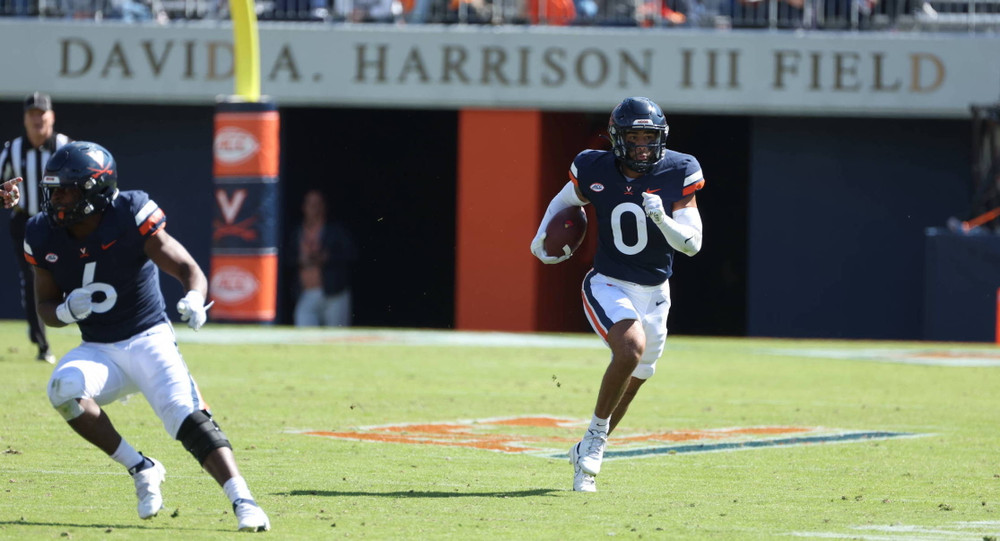 SOUND BITES: UVA fell to 0-3 in ACC play for the first time since 2013. Among the postgame comments Saturday:
* Defensive coordinator John Rudzinski on Virginia's ineffective pass rush: "They're a real experienced offensive line we faced. They did a nice job as far as mixing some draws and some screen to complement each other. We're more than capable [of pressuring the quarterback], but now we've got to put that on film."
* Kitchings: "Self-inflicted wounds are killing us."
* Kitchings on the dropped passes and turnovers that continue to plague the offense: "We're just not capable enough to overcome those. It's not about Louisville. We had a good plan to come in here. We executed at times, but it's not consistent enough, and that's why we're not winning. We're turning the ball over and not executing consistently enough."
* Elliott on his team's inconsistency: "You can't play to the scoreboard. When you play to the scoreboard, you're externally motivated, so then it's easy for you to make justifications to not give your best effort. But when you're internally motivated, and you're playing from inside out for your teammates, grateful for that opportunity, then you push yourself a little bit harder, because there's some collective accountability. So I think it's twofold: the guys are struggling to handle success when they have success. And then when adversity hits we're all looking around, and we just don't have guys right now that are stepping forward and saying, 'Hey, I'm gonna be the guy that's gonna make the play.' They wait on Brennan, and unfortunately, when they wait on Brennan, it's forcing Brennan to be in a tough predicament to make a play. And then he tries to and his buddies don't help him out."
* Elliott's on UVA's inability to pressure Domann: "I was disappointed that we didn't get to the quarterback. And there were some times I thought early on that [pass-rushers] were getting close. But I think as the game wears on, their quarterback builds confidence. And if you watch it, his confidence built over the course of the game. He wasn't on target early on. But then as the momentum shifted, he gains a little more confidence, he starts making some plays and then, he's ready to pull the ball down, move in the pocket, do all those kinds of things, because he's feeling good."
* Armstrong: "Adversity hits and things happen. We never bounce back with a good drive once something happens. We aren't working together to get it done, and we're stalling out on the little things."
To receive Jeff White's articles by email, click the appropriate box in this link to subscribe.