By Jeff White (jwhite@virginia.edu)
VirginiaSports.com
When the preseason poll for ACC women's basketball is released next week, Virginia is unlikely to be anywhere near the top spot. Given how the Cavaliers fared last season, when they finished 5-22 overall and 2-14 in conference, that's understandable, and that's fine with their new head coach.
"I like being overlooked or being an underdog," Amaka Agugua-Hamilton said Tuesday at ACC Tipoff in Charlotte, N.C.
Agugua-Hamilton came to UVA from Missouri State, where in three seasons as head coach she posted a 74-15 record, including a 46-6 mark in the Missouri Valley Conference.
At Virginia, she took over a program that posted an overall record of 30-63 in four seasons under Tina Thompson. The Wahoos have struggled in recent years, but "I am very confident and excited about what we have, the pieces that we have," Agugua-Hamilton said. "I'm very confident in my ability and my staff's ability to put them in positions to be successful."
Back from the 2021-22 roster are Camryn Taylor, Taylor Valladay, Carole Miller, Mir McLean, Kaydan Lawson, London Clarkson and McKenna Dale. New to the program are freshmen Yonta Vaughan and Cady Pauley and transfers Sam Brunelle (Notre Dame) and Alexia Smith (Minnesota).
From the start, said Agugua-Hamilton, whose assistant coaches (Alysiah Bond, Tori Jankoska and CJ Jones) followed her from Missouri State, the players have embraced her vision for the program, and she expects to have a successful first season with the Cavaliers.
"Now, what does that look like?" said Agugua-Hamilton, who goes by Coach Mox. "I'm not going to come out here and be like, 'Oh, we're gonna win a national championship.' Like I tell [the players], progress is the process. We say that almost every day. So I just want to continue to take steps forward … If we just keep our focus on the little, small victories, I think we'll be all right."
Accompanying their coach to the ACC's annual media day were 6-foot-2 forwards Taylor and Brunelle, who billed themselves as the Sam and Cam Show.
"These two, they've been an integral part of that buy-in and culture shift and all that," Agugua-Hamilton saod. "They've been great leaders, and they come in with great attitudes, and they're talented players, obviously."
Taylor, who began her college career at Marquette, averaged 12.8 points and 6.1 rebounds for UVA last season, but she opted out for personal reasons after 12 games. She's in a much better place this season and has been a positive presence on the court and in the locker room.
"She brings that energy, brings that passion and just truly is staying present and trying to enjoy the journey," Agugua-Hamilton said, "and she's helping our players do that. But she's also ultra-competitive, and she holds people accountable. She's raising the level, she's understanding the standards, she's echoing things that I say and the staff says. She's really coming in and just walking into her purpose and her passion and her potential, and I just couldn't be more proud of that kid."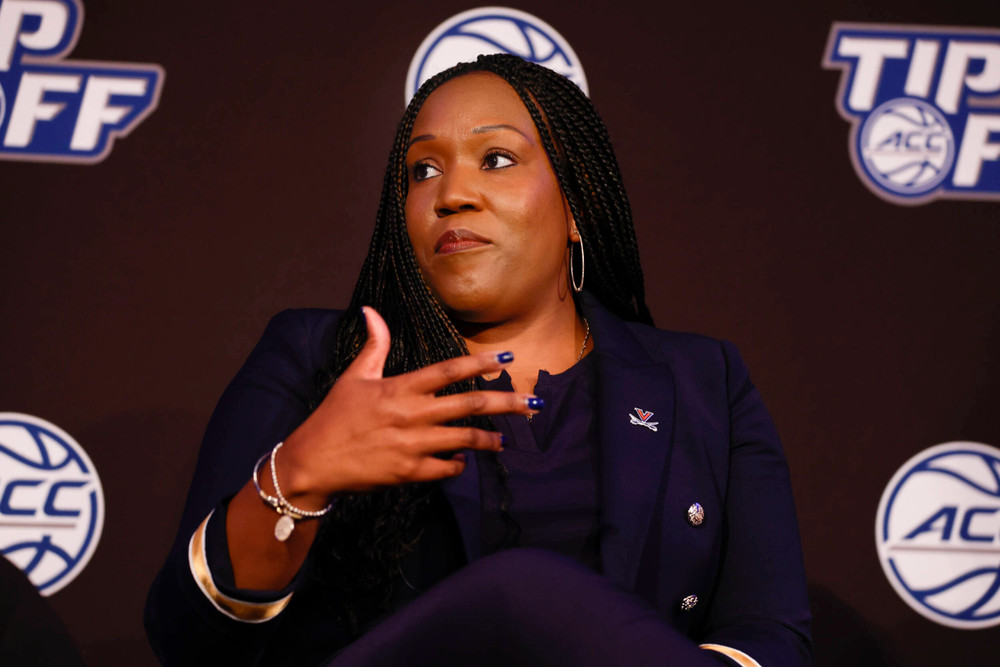 Brunelle grew up near Charlottesville, in Greene County, and she was a ball girl at UVA women's games at John Paul Jones Arena. After graduating from William Monroe High School, where she became one of the nation's most sought-after recruits, Brunelle spent three seasons at Notre Dame.
Injuries hindered her career there. Still, Brunelle played in 80 games for the Fighting Irish, with 31 starts, and averaged 10.0 and 4.0 rebounds per game. She graduated from Notre Dame this summer and, with two seasons of eligibility remaining, decided to become a Cavalier.
She was the first recruit Agugua-Hamilton landed after being hired at UVA, and Brunelle's presence figures to accelerate the rebuilding process at JPJ.
"To me, she's like an ambassador for the sport," Agugua-Hamilton said, "and she gets the bigger picture."
Brunelle had offseason shoulder surgery, and "she's just getting back to the swing of things," Agugua-Hamilton said, "but [she's a] great shooter, so that stretches a defense for us. She also can rip and drive a lot, so we've been working on that. But I think the thing that people don't talk about with her is her ability to pass the ball. And so that changes a lot that we can do, because she's a phenomenal passer."
For Brunelle, being "able to come back home was huge for me," she said, "and to be with a group of girls who really care about each other, really care about the process to get better and are dying to be successful, is great. I said coming back that it's going to be great to be part of the process to rebuild UVA back up to what it used to be. I grew up watching it and so I know it can be great again, we just need the pieces, and everybody's so bought in to making that happen."
Taylor agreed. "We have a great mentality," she said. "We're coming in every single day buying in. I feel like the energy just around our whole program right now is just great. It's very positive, very energetic, and I'm just really excited in general.
Taylor is from Peoria, Ill. Agugua-Hamilton, like Brunelle, grew up in Virginia. She graduated from Oakton High School in Vienna, and she's been an assistant coach at Virginia Commonwealth and Old Dominion (as well as at Indiana and Michigan State).
When the job at UVA opened last spring, it was "a no-brainer for me," Agugua-Hamilton said. "When I was growing up, [Virginia] was in the forefront of women's basketball: Final Fours, Elite Eights … Dawn Staley, Tammi Reiss, Wendy Palmer, all those players that came through. That's what my vision of Virginia women's basketball was. So I was fortunate. We did some great things at Missouri State, and then when I got called, it was just like a dream come true to me."
The bond she established with UVA athletics director Carla Williams was another selling point, Agugua-Hamilton said. "Her vision for the program and her vision for athletics really lined up with mine, and just being under a leader like that was something that really intrigued me, and then just having all the resources and facilities and everything they allocate towards women's basketball. It's a community that loves women's basketball. So just helping bring that excitement back to it is something that I take pride in, and the icing on the cake is I'm home."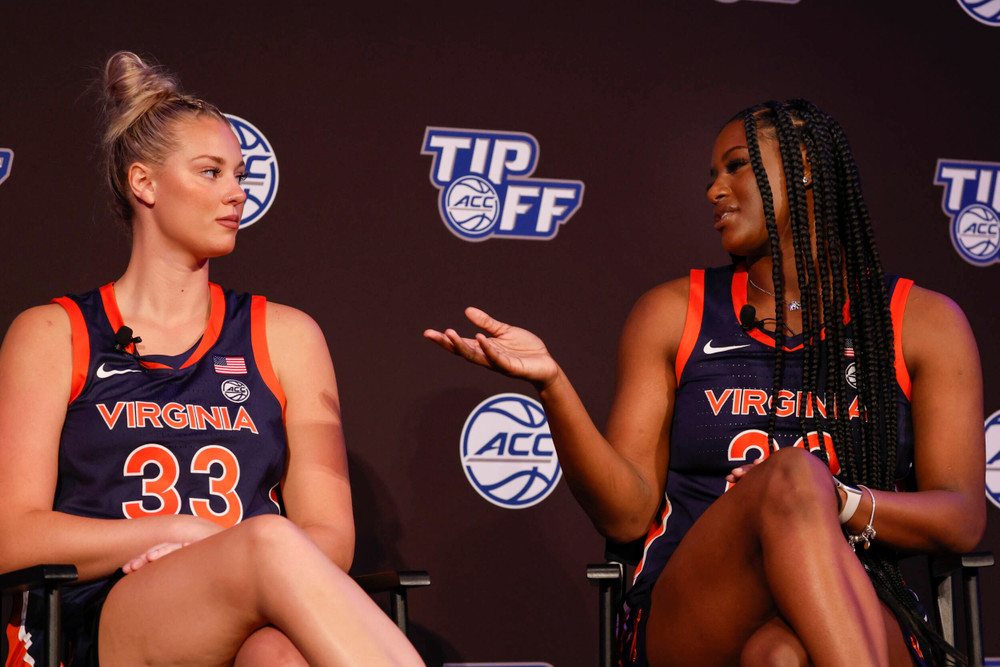 Missouri State played two teams from the ACC last season. The Lady Bears defeated Virginia Tech during the regular season and knocked off Florida State in the NCAA tournament's first round.
"So that helped me kind of just get an idea of what to expect," Agugua-Hamilton said. "But I've watched this league. I grew up in ACC country, so no matter where I was, even when I was in the Big Ten, I always had an eye on ACC, just kind of seeing what was going on, and I know what to expect from this league. And I feel like we have the tools to be successful. Now, what that looks like, we'll see."
Of the Cavaliers' top six scorers in 2021-22, five are back: Taylor, 5-foot-11 Mir McLean (11.4 ppg), 5-foot-7 Taylor Valladay (9.5 ppg), 6-foot-2 London Clarkson (5.2 ppg) and 6-foot Carole Miller (5.1 ppg).
McLean, who began her college career at Connecticut, averaged a team-high 8.3 rebounds per game, and Valladay led the Hoos in assists and steals.
Dale, a 6-foot guard who transferred to UVA last year after graduating from Brown, averaged only 2.9 points per game in her first season in the ACC. But she's probably been the Cavaliers' most improved player in preseason.
"A lot of people look at her and think she's a flat-out shooter, but she's getting to the rim more and doing thing outside of her comfort zone," Agugua-Hamilton said. "We like to utilize our versatility, so we push kids outside their comfort zone, and she's flourished with that."
Dale is not the only player who's elevated her game.
"I honestly think that all 11 players on our roster can contribute in some capacity to our success, so that's awesome," Agugua-Hamilton said. "Everybody's like, 'How are you gonna figure out playing time and starters and all that?' But that's a great problem to have, because I'm somebody that likes versatility. We recruit that, so to have that on my roster right now is beneficial.
"If I need a shooting lineup or an athletic lineup or a defensive lineup, I feel like we have the pieces to put that in place. So that's been a plus, but just who they are as people brings more joy coming into work, because they've just been great and have bought in."
Virginia opens the season Nov. 7 against George Washington at JPJ. The Cavaliers' ACC opener comes six days later, against Wake Forest, also at JPJ.
To receive Jeff White's articles by email, click the appropriate box in this link to subscribe.