CHARLOTTESVILLE, Va. – "Coach's Corner with Tony Elliott" returns on Tuesday (Oct. 11) live on the Virginia Sports Radio Network at BJ's Restaurant & Brewhouse located off Route 29, Seminole Trail at 3924 Lenox Ave. in Charlottesville. The weekly radio show airs from 7-8 p.m. (ET).
Hosted by John Freeman, the "Voice of the Cavaliers", this week's show will feature Fralin Family Head Football Coach Tony Elliott and UVA offensive lineman John Paul Flores. Fans can e-mail questions to the show through the home page of the mobile app, by emailing askcoach@virginiasp.com / askjohn@virginiasp.com or by tweeting @johnfreemanuva.
Fans are encouraged to come to BJ's Restaurant and Brewhouse to watch and interact with the show. BJ's full menu will be available which includes the world-famous Pizookie, the official dessert of UVA Athletics. Ticket and merchandise giveaways will occur during each show and fans will have an opportunity to have items signed by Coach Elliott.
During the season, a Cavalier player will also join the show for a segment. There are a number of ways for fans to listen to and interact with the program. Radio affiliates across the Virginia Sports Radio Network are scheduled broadcast the show. Free online audio is also available at VirginiaSports.com and through the Virginia Sports App as well as a live video stream will be available on the @VirginiaCavaliers official Facebook page.
2022 Coach's Corner with Tony Elliott Season Schedule – All Shows Start at 7:06p.m.
Tuesday, Oct. 11
Tuesday, Oct. 18
Tuesday, Oct. 25
Tuesday, Nov. 1
Tuesday, Nov. 8
Tuesday, Nov. 15
Tuesday, Nov. 22
Wednesday Nov. 30
(Dates subject to change)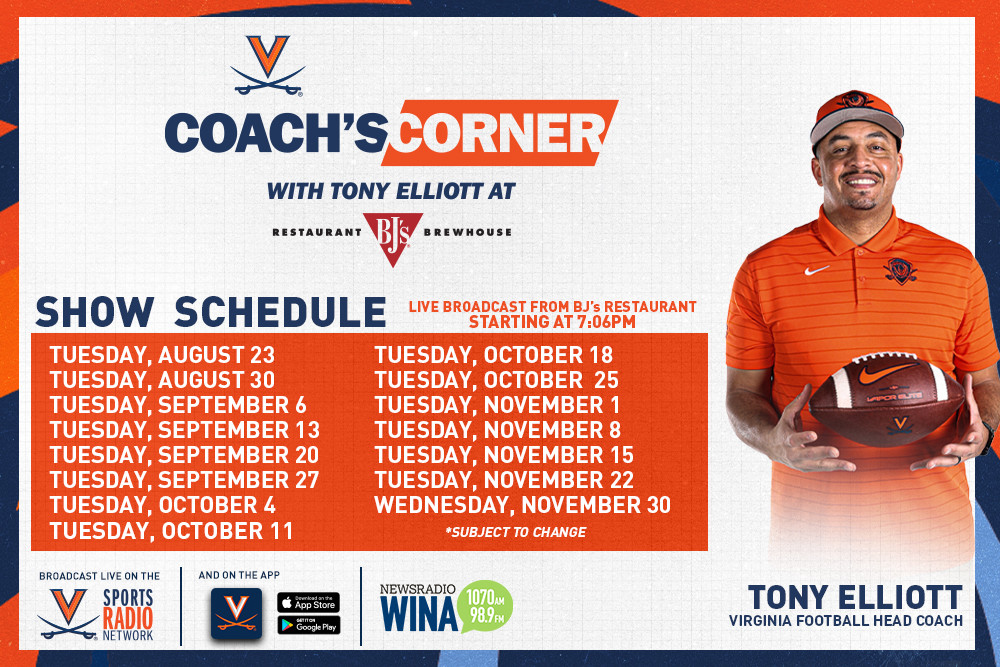 Expanded Regular Season Radio Coverage Freeman will host the Virginia pregame show one hour prior to kickoff as well as handle the play-by-play duties for the 2022 season. He will be joined on the broadcasts by former Cavalier defensive back Tony Covington (color analyst) and Jay James (sidelines). This upcoming season will mark the return of the Virginia Sports Radio Network on TuneIn Radio after a multi-year hiatus. Broadcasts will continue to be carried by Sirius XM Radio and will also accessible on the Virginia Sports App. The Virginia Sports Radio Network can be heard both on terrestrial radio in Virginia, for a full list of radio affiliates, see www.virginiasports.com/radio. New this year, WXVA-AM 610 & FM 102.9 will carry VSRN broadcasts in Winchester, giving further access to the northern part of the Commonwealth.