By Jeff White (jwhite@virginia.edu)
VirginiaSports.com
CHARLOTTESVILLE — For the University of Virginia women's basketball team, the 1992-93 season started with eight consecutive victories. It ended with an appearance in the NCAA tournament's Elite Eight.
Thirty years later, UVA is 8-0 for the first time since 1992-93. Nobody's predicting a deep run in the NCAA tournament for this team, but in the Wahoos' first season under head coach Amaka Agugua-Hamilton, they're erasing memories of the tradition-rich program's recent struggles.
After the Hoos advanced to the NCAA tournament's second round in 2017-18, their final season under head coach Joanne Boyle, they posted a 12-19 overall record in 2018-19, their first under Tina Thompson.
The Cavaliers went 13-17 in 2019-20, and they were 0-5 when their 2020-21 season was canceled because of concerns about the team's health and safety during the COVID-19 pandemic.
The Hoos finished 5-22 last season, after which Thompson was dismissed as head coach. Agugua-Hamilton, who goes by Coach Mox, was hired to revive a program that, under Debbie Ryan, was a fixture in the NCAA tournament and made three Final Four appearances.
Agugua-Hamilton arrived with impressive credentials. In three seasons as Missouri State's head coach, she posted a 74-15 record, including a 46-6 mark in the Missouri Valley Conference. Her assistant coaches at Missouri State—Alysiah Bond, Tori Jankoska and CJ Jones—followed her to Charlottesville, as did strength and conditioning coach Chris Toland.
From the new coaching staff's first workouts in the spring with the Cavaliers' seven returning players—Camryn Taylor, Mir McLean, London Clarkson, Taylor Valladay, Carole Miller, Kaydan Lawson and McKenna Dale—Agugua-Hamilton expressed optimism about the team's prospects. The addition of four newcomers—freshmen Yonta Vaughan and Cady Pauley and transfers Sam Brunelle (Notre Dame) and Alexia Smith (Minnesota)—bolstered her confidence.
"I told them even in preseason that we could be really, really good," Agugua-Hamilton said Sunday at John Paul Jones Arena. "Once it really clicks and we play together and just understand we get confidence from our preparation, we can be good. And I tell them [that] all the time and it's something that I truly believe …. I take it one game at a time, for sure, but I go into the games very confident. because I believe in the talent we have and the character we have and then also the family we have."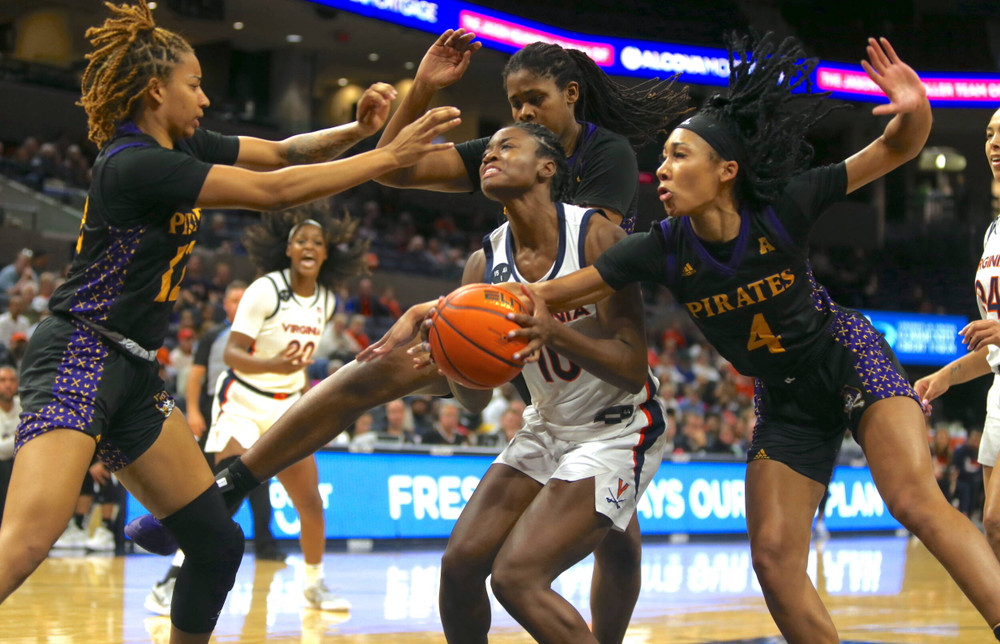 Brunelle came to UVA from a winning program, so this success is nothing new for her. For the players who endured the Cavaliers' 2021-22 season, though, the turnaround has been especially gratifying.
"One hundred percent," said Dale, who joined UVA program last year after graduating from Brown. "I think we've really moved forward as a program. We keep in our minds what happened last season, but I think as a team, we're just focused on this year and what we can do, and our coaches did a great job prepping us for this season. From game one, we were ready to go, and that's translated. We've gotten better every single game, and I think you can definitely see that. We have our ups and downs, but I think we have improvements every single game, and that's just a great feeling to be a part of."
This is Lawson's third season as a Cavalier, and "this year it's easier for us to come together knowing that we can win and knowing how to win," she said Sunday, "with the help of Coach Mox, of course. It's easier to just come together and know what to do and what it takes to get a win."
Virginia opened the Coach Mox era with an 85-59 win over George Washington at JPJ. One-sided victories over UMBC (101-46) and ACC rival Wake Forest (72-52) followed, both also at home. On the road for the first time this season, UVA edged Loyola 68-62 in Chicago and then defeated American 74-60 in Washington, D.C.
The visit to American started a stretch of four games in eight days for the Hoos. Virginia defeated Campbell 62-41 at JPJ on Nov. 23 and then, over Thanksgiving weekend, hosted the Cavalier Classic.
The Cavaliers held off Minnesota 73-70 on Saturday and then crushed East Carolina 72-50 on Sunday. The winning streak is the program's longest since 2017-18, when UVa won eight in a row from Dec. 17 to Jan. 11.
Against ECU, Virginia led by only six points at halftime, then dominated the final two quarters.
"I'm definitely proud of our team," Agugua-Hamilton said. "I thought the second half we got better, for sure. It's been a long month, as far as how many games we've been playing, and we've had quick turnarounds, a lot of one-day preps, things like that. So we really haven't had a chance to work on ourselves."
The Pirates (5-2), whose head coach is former UVA assistant Kim McNeil, played a zone defense that succeeded in disrupting the Cavaliers' offense before the break. Virginia hasn't faced many zones this season, in practice or in games, so "I think the first half we had to kind of settle in and find our rhythm," Agugua-Hamilton said, "and then we did that in the second half."
There was little flow to the game. The officials called 47 fouls, and the teams combined for 48 turnovers. Thirty of those were by UVA, which came in averaging 12.9 turnovers per game.
"I was hoping nobody was gonna bring that up," Agugua-Hamilton said with a smile during a postgame press conference at which Lawson and Dale joined her.
"We talked about that. We had 18 turnovers at halftime. That's just so uncharacteristic of us. But again, I think we just got a little rattled with how they were playing their zone. A lot of people play 2-3, which is a little bit easier to go against if you haven't been [able to prepare extensively in] practice, but 3-2 is a little different. So once we settled in, we were better, but 30 turnovers is just not good. But there were so many other things on [the stat sheet] that were good, and I'm proud of these two that are sitting next to me as well."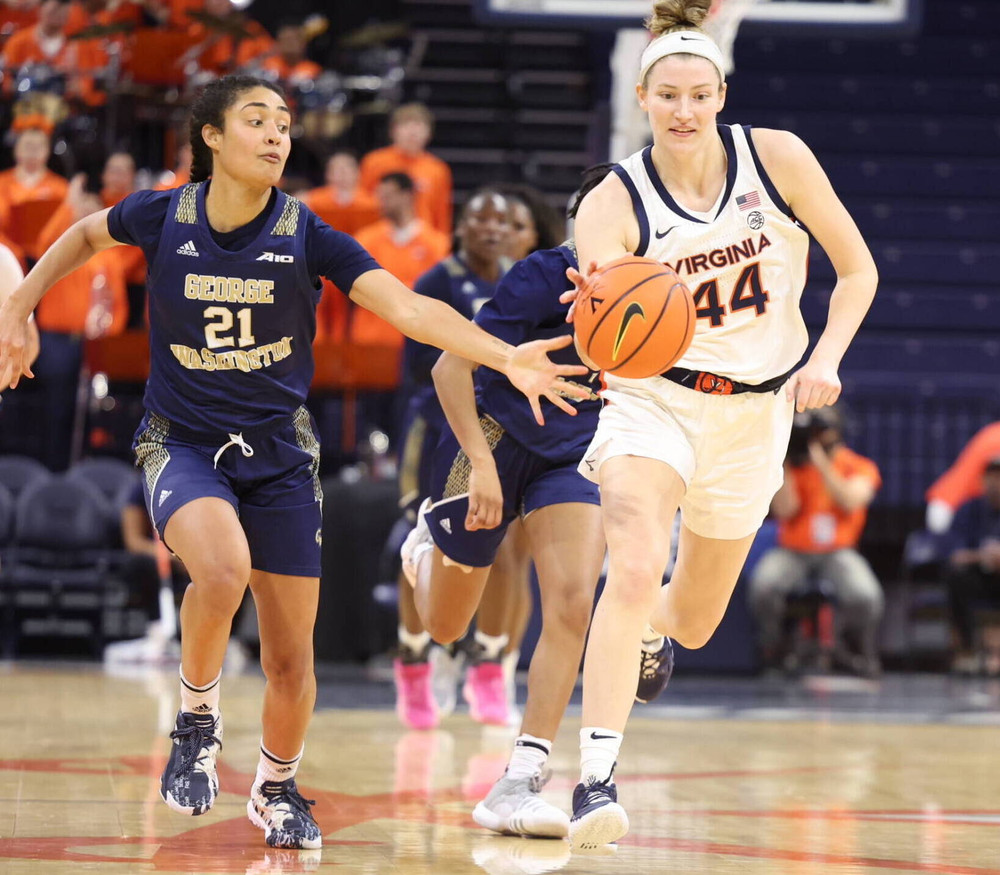 Lawson totaled 11 points, six rebounds, two blocked shots and one steal. Dale, who was 0 for 15 from 3-point range before Sunday, hit 3 of 6 shots from beyond the arc and finished with 10 points and eight rebounds.
"She kind of got that monkey off her back, and now we're good," Agugua-Hamilton said.
Dale said: "Obviously, I'd been struggling a little with my shooting this year, but this team makes it really easy for me to gain my confidence back. In practice if I miss a shot, everyone in the gym just tells me, 'Keep your head up, you're gonna make the next shot.' "
Brunelle, a graduate student who grew up in nearby Greene County, led Virginia with 15 points Sunday. Junior forward Mir McLean contributed 11 points, a game-high 14 rebounds and four steals in about 24 minutes.
The double-double was the third in Virginia's past four games for McLean, who began her college career at Connecticut. At 5-foot-11, she's not the tallest Cavalier, but she's averaging a team-high 9.0 rebounds per game.
"She's freaky athletic," Agugua-Hamilton said, "but also, she just plays hard. She doesn't give up on plays. And she's very physical too. I think people kind of underestimate how physical she is. So she's able to kind of squeeze her way in there and then elevate over everybody, but she has just a good eye for where the ball is coming off. Some people just have that, and that's not something that you really teach. They just know where it's coming off and they can go get it, and I think that's part of what makes her great at [rebounding]."
Overall, UVA outrebounded the Pirates 56-25 and allowed them to shoot only 31.3 percent from the floor.
"That's a staple for what we do, defend and rebound, and I think we did that at an elite level today," Agugua-Hamilton said. "But I think also the beauty of our team is that we're deep. We have played a lot of games. This is our eighth game in this month, nine counting the exhibition game, but we are able to sub and keep people fresh."
Of the 11 players on the roster, all average at least nine minutes per game. The Hoos have outscored opponents by an average of 20.9 points per game. Even more impressive: Virginia is plus-65 (152 points to 87) in third quarters this season.
"We've been talking about that a lot, just starting games better," Agugua-Hamilton said. "But once we can just see some adjustments and understand how people are playing us, we do a good job of implementing that."
The Hoos will look to extend their winning streak Wednesday night in State College, Pa., where they'll meet Penn State (7-0) in an ACC/Big Ten Challenge game. Not since 2008-09 has Virginia won nine games in a row.
To receive Jeff White's articles by email, click the appropriate box in this link to subscribe.