By Jeff White (jwhite@virginia.edu)
VirginiaSports.com
CHARLOTTESVILLE — As the win total for the University of Virginia women's basketball team continues to increase, so does attendance at John Paul Jones Arena.
UVA's final home game of 2022 drew a season-high 3,749 fans, many of them clad in orange, and they made their presence known Thursday night.
"It's a blessing," head coach Amaka Agugua-Hamilton said after Virginia rallied to defeat ACC rival Georgia Tech 69-63. "I think every game we get more butts in the seats, and that's been the goal, and the buzz around the community has been really inspiring and it's extra motivation for us."
The Wahoos (13-1 overall, 2-1 ACC) were playing at JPJ for the first time since Dec. 18, when they drew 3,706 fans for a non-conference game with Morgan State. Virginia rolled 84-28 that night and didn't need extra help from the crowd, but the situation was different Thursday.
"We know every game in this conference is going to be a dogfight," Agugua-Hamilton said.
The Yellow Jackets (9-4, 0-2), who made the NCAA tournament last season, led by seven points early in the third quarter. Junior forward Mir McLean started the Cavaliers' comeback by scoring on a driving layup, and the volume level rose inside JPJ as the second half went on.
"I thought we had an amazing crowd today," said Agugua-Hamilton, who's in her first season at UVA. "I thought they were loud. They helped us over the hump. When we needed to get a big defensive stop, they were cheering and really supporting our players. So just really blessed to have that kind of support system here in this community, and I hope everybody continues to come out."
Among those in the crowd Thursday night was former UVA great Wendy Palmer, with whom Agugua-Hamilton coached at VCU. Palmer spoke to Virginia's players in the locker room Thursday, and she and her fellow alumni are delighting in the resurgence of a program that, under head coach Debbie Ryan, made three Final Four appearances.
"It really fills me up," Agugua-Hamilton said, "because I just want these young ladies to be able to leave a legacy. I want them to be the ones that brought this back to the glory days. So just to be a part of that as a blessing."
Agugua-Hamilton took over a program that won five games in 2021-22. When she decided to leave Missouri State for UVA, Agugua-Hamilton knew the magnitude of the challenge awaiting her in Charlottesville. Powerful programs abound in the ACC, but that was part of the appeal for Agugua-Hamilton, a graduate of Oakton High School in Vienna.
"I grew up in ACC country," she said. "I'm from Virginia. So coaching in the ACC is like a dream come true, and being at this school and having my state across our chest is just a blessing. So I don't take any of that for granted."
Virginia won its first 12 games under Coach Mox. Then came a trip to Durham, N.C., where Duke knocked off UVA 70-56 on Dec. 21, a result that irked Agugua-Hamilton.
"At Duke, it wasn't necessarily our effort," she said Thursday night. "I thought that we played hard there. We just didn't really stick to the game plan, and we didn't really stay together."
And so, when the Cavaliers reconvened at JPJ after Christmas, Agugua-Hamilton put them through grueling practices.
The goal, she said, was for the team to face "adversity so that we can learn to come together and stay together, and then also learn to play through fatigue and just give to one another, because in a game there's gonna be ebbs and flows, ups and downs, there's going to be so many things that happen, and if we don't understand we've got to stay together … and take it out on the other team, then we're gonna struggle some. So in practice, that was really what we worked on. Obviously, we got better at offense and certain things we need to work on defensively, but to me it was just the trust factor that I wanted to focus on. And they bought into that."
Agugua-Hamilton didn't expect the Hoos to go unbeaten, "but it's about how you lose," she said. "If it's self-inflicted stuff, that's where it's hard to kind of move on. But if you just die trying and then you lose a game, well, then we just got to continue to work and get better and be ready for the next one. So I think everyone felt that way after Duke. It was like, 'Wow, we let this one kind of slip away.' I give credit to Duke—they played really hard and had a great game plan—but I think that we didn't play our best and we just kind of had some self-inflicted mistakes and blown possessions and things like that."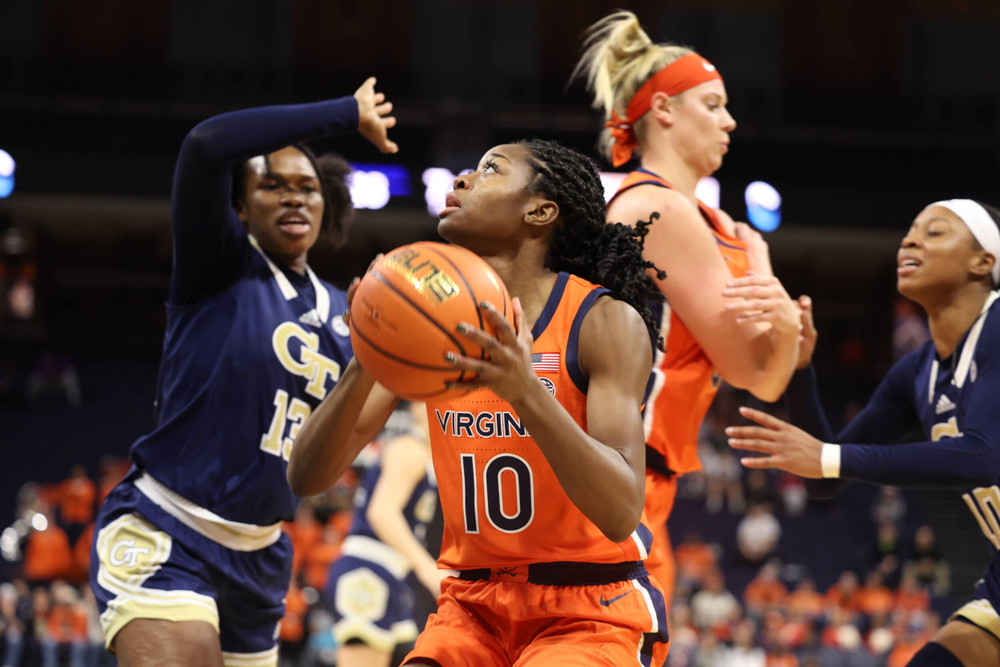 Against Georgia Tech, Virginia trailed 31-28 at halftime. The 5-foot-11 McLean, who came in leading UVA in scoring and rebounding, had no points and two boards at the break, partly because of early foul trouble and partly because of a strained hamstring that limited her participation in practice this week.
"So just to see her dig deep and push through that was really, really good," Agugua-Hamilton said.
In the third quarter, McLean looked like herself again, almost single-handedly getting the Cavaliers back in the game. She scored 11 points (on 5-for-5 shooting) and grabbed four rebounds to help UVA take a 55-47 lead into the final period.
"I just felt like they didn't have an answer for her in the paint," Agugua-Hamilton said, "so we started playing her more at the four than the three and isolated her on the block. She was able to use her athleticism and create contact and get fouled. So that helped our team, and then her rebounding ability obviously helped Georgia Tech be one and done [with the ball] and then offensively give us extra possessions. I thought she did a great job sparking us in that third quarter, and then the rest of the team followed suit."
McLean finished with 13 points and nine rebounds. Guard Alexia Smith scored 10 points, and four other Cavaliers contributed at least seven points apiece: Caroline Miller (eight), Sam Brunelle (eight), Camryn Taylor (seven) and Taylor Valladay (seven). Brunelle's two free throws with 21.3 seconds left effectively sealed the win for UVA.
"Mir had an amazing third quarter," Agugua-Hamilton said, "but everybody did something good to help spark the team, and I'm just really proud of that."
Smith, a transfer from Minnesota, said the practices this week prepared the Hoos for the challenge posed by the Jackets' physical play.
"We worked together, and we didn't go our separate ways," Smith said. "We knew it was gonna be just like Duke, [but] more physical, and we came out and we got it done."
Now comes an especially daunting stretch for UVA. Its next three opponents—Virginia Tech, NC State and North Carolina—are ranked Nos. 7, 6 and 13 in the latest Associated Press poll. The Hoos play the Hokies next Thursday night in Blacksburg.
"I think the only thing we can do is build on this," Miller said, "[by] coming together in these next few days and preparing for the stretch that we have. We definitely do have more to prove, and these three games are the perfect time to do it."
The Cavaliers' mentality as they head into the new year?
"Respect all, fear none," Agugua-Hamilton said. "We talk about that. So we're going to respect those teams, and we're going to respect them by being prepared and giving our best effort, but it's an opportunity to prove ourselves and we don't take that for granted. So we're excited about it. Our players are excited about it, but first we've got to recover."
She's looking forward to her introduction to the UVA-Virginia Tech rivalry. Such games "always brings out an extra level of competition or competitive spirit," Agugua-Hamilton said, "and we also understand that we want to own this state, and that's one of our goals. So it's a school in our state. We want to be the best team in this state. There's a lot that goes into that, but we're not going to get too high on it. It's the next game. It's most important game on our schedule because it's the next game."
 To receive Jeff White's articles by email, click the appropriate box in this link to subscribe.