By Jeff White (jwhite@virginia.edu)
VirginiaSports.com
BLACKSBURG — A taxing stretch continues this weekend for the University of Virginia women's basketball team. The Cavaliers, who played at No. 9 Virginia Tech on Thursday night, have another road game Sunday afternoon, that one against No. 10 NC State. Then comes a date with No. 22 North Carolina at John Paul Jones Arena.
The Cavaliers were hoping to head to Raleigh, N.C., on a winning streak, but they stumbled at Cassell Coliseum. On a night when the Hokies were missing 6-foot-6 Elizabeth Kitley, the ACC Player of the Year in 2021-22, her teammates ramped up their production in a 74-66 win over the Wahoos before a boisterous crowd of 2,630.
"Obviously, you plan for an All-American-type player like Kitley," UVA head coach Amaka Agugua-Hamilton said, "and [she] was a big part of our game plan. But I knew that they had other players that could step up … We've still got to be able to compete at a high level."
The Cavaliers (13-2, 2-2) are their first season under Agugua-Hamilton, and this was her introduction to the Smithfield Commonwealth Clash competition. Her counterpart, Kenny Brooks, called Tech's victory one of his proudest moments as a coach. Without the injured Kitley, who's averaging 18.3 points and 10.9 rebounds per game, the other Hokies "really adjusted on the fly," Brooks said. "Everybody stepped up."
The game, tied at the half, turned in the third quarter. UVA went four minutes without scoring, and Tech (13-2, 3-2) built an eight-point lead. Once the Hoos started scoring again, they narrowed the gap. But every time in the final 11 minutes that UVA pushed forward, the Hokies pulled away.
"We hit very timely shots," Brooks said after his team's third straight win over Virginia.
Four of those shots stood out.
On the final play of the third quarter, guard Georgia Amoore sank a 3-pointer to extend Tech's lead to 51-45. With 7:17 to play, Kayana Taylor's trey put the Hokies ahead 58-52. With 3:05 left, a Cayla King 3-pointer pushed Tech's lead to 67-60. Virginia responded with back-to-back baskets by 6-foot-2 post player Camryn Taylor to make it 67-64, but the Hokies answered yet again.
Amoore's fourth 3-pointer made it 70-64 with 1:53 remaining, and the Cavaliers could get no closer.
"Those were big shots," Agugua-Hamilton said. "Those are like daggers. You start to make a run and then they hit a big shot. It kind of takes the wind out of you a little bit, but we tried to fight back, especially when we started pressing. I think we dug deep in that time because we had a little bit of fatigue, but they hit some big shots, and that's what big-time players do. They hit big shots."
And those shots, Agugua-Hamilton added, give a "team momentum, especially at home. They had a great crowd here. So that gives their team a little bit more energy."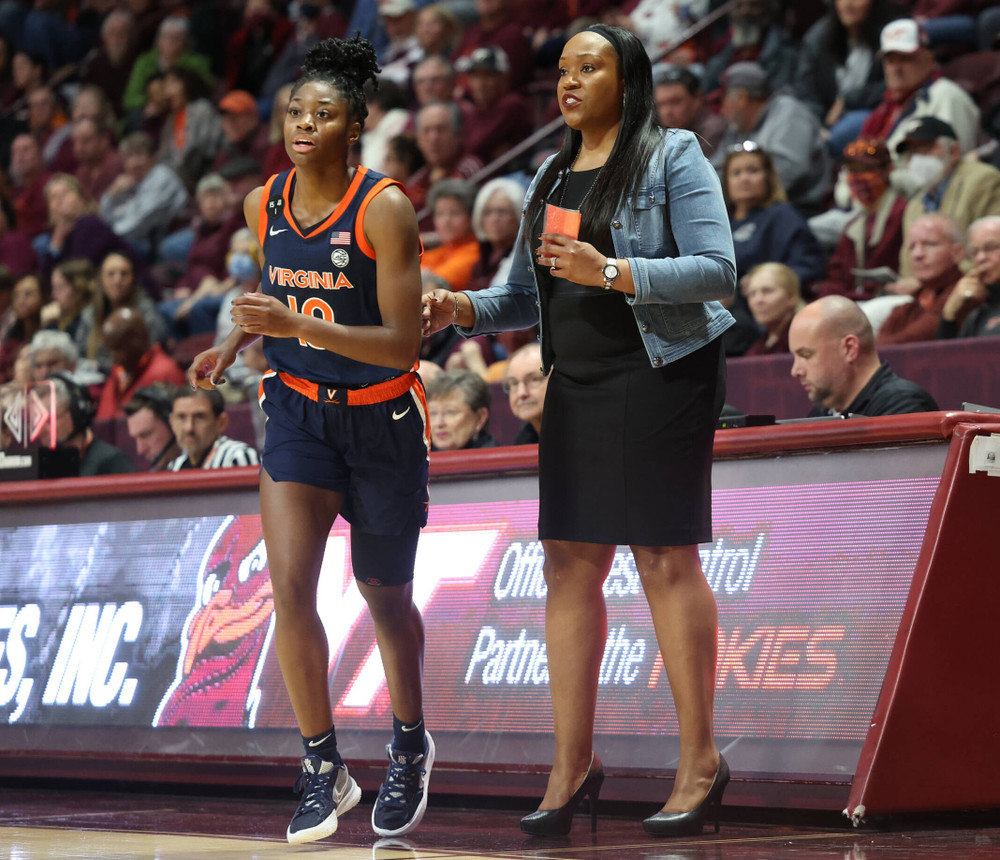 Taylor led Virginia with 18 points, and forwards Sam Brunelle and Mir McLean added 11 points apiece. Carole Miller, a 6-foot guard, pulled down a team-high nine rebounds, which matched her career high.
"Really proud of her effort on the glass," Agugua-Hamilton said of Miller, a senior from Alexandria. "That was one thing that we were talking about in the huddles, and she just took it upon herself to try and go get rebounds."
Taylor fouled out with 55 seconds remaining. McLean, who had fouled out of Virginia's previous two games, picked up two early personals and played only six minutes in the first half. She finished with four fouls. Overall, officials called 23 fouls on the Hoos, to 16 on the Hokies.
"I don't want to take away how aggressive we're trying to play, and I don't want to take away just the intensity and things like that," Agugua-Hamilton said. "But we do have to be smarter about fouls, because we need people on the floor."
Tech, which went 14 of 16 from the free-throw line, received big contributions from Amoore (22 points) and forwards Taylor Soule (18 points, 10 rebounds) and D'asia Gregg (10 points, 10 rebounds). On defense, the Hokies occasionally played man-to-man, but more often went with a zone—a 2-3 or a 3-2—against which Virginia struggled.
The Cavaliers made only 4 of 17 shots from beyond the arc.
"They kind made us a little bit stagnant when they went zone," Agugua-Hamilton said. "And we've seen a lot of zone this year and we've shredded zone. So I was a little bit surprised to see us get rattled by that. But at the end of the day, it's just an opportunity to grow and learn. We know this is the best conference in the country, so every game is going to be like this. Every game is going to be competitive. You got to bring your A-game every day."
UVA will have an opportunity to avenge this defeat when the Hokies visit JPJ on Jan. 29. To lose at Cassell Coliseum was disappointing, Agugua-Hamilton said, "but I thought Virginia Tech was the better team today. They faced a lot of adversity, had some kids out and some kids stepped up. And I didn't think that we completely executed the game plan, which is frustrating, but at the end of the day, it's an opportunity for us to learn and grow and get to that level."
Taylor agreed.
"I think as a team we've just got to hold ourselves accountable," she said. "Defensively, it wasn't really a great game for us."
The Hoos will practice twice before taking on the Wolfpack, which Boston College upset Thursday night in Raleigh. "Another big team coming up," Taylor said, "so we're just looking ahead and making sure we're doing what we're supposed to do. "
To receive Jeff White's articles by email, click the appropriate box in this link to subscribe.