CHARLOTTESVILLE, Va. – Saturday (Jan. 21) the Virginia football program held its annual awards banquet to recognize team and individual accomplishments from the 2022 season. The event was held in the George Welsh Indoor Practice Facility.
Captains Awards – Daniel Sparks, Brennan Armstrong, Perris Jones, Nick Jackson and Anthony Johnson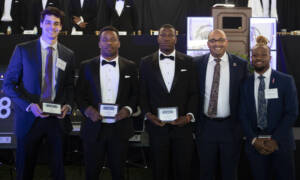 Each week during the season several players were selected to represent the team as game captains. Based on their leadership, work ethic and performance, the players voted punter Daniel Sparks, quarterback Brennan Armstrong, running back Perris Jones, linebacker Nick Jackson and cornerback Anthony Johnson as 2022 Season Captains.
Offense Awards
MVP – Keytaon Thompson
A third-team All-ACC selection, wide receiver Keytaon Thompson led the offense with 53 receptions and averaged 10.9 yards per catch in eight games before being sidelined by injury. He was second in the ACC and 12th in the nation this season with an average of 6.6 receptions per game.
Most Improved – Ty Furnish
After playing just three games as a true freshman in 2021, Ty Furnish was called on to help lead the offensive line in 2022 from the center position. He put in the work during the summer to gain weight and strength and finished the season starting nine of the 10 games he played in.
Rookie of the Year – Xavier Brown
As a true freshman, tailback Xavier Brown played in all 10 games and had the third most rushes among the UVA running backs. He was versatile, consistent and durable in his first season, averaging 4.2 yards per carry and also caught nine passes. He had the longest rush on the season by a running back and scored his first career touchdown in the North Carolina game.
Impact Players – JR Wilson and Logan Taylor
The Offensive Impact Player of the Year award was shared by sophomore offensive tackle Logan Tayor and freshman wide receiver JR Wilson. Logan went from playing two games as a freshman in 2021 to starting all 10 games last year at offensive tackle. With injuries impacting the wide receiver position, JR Wilson emerged late in the season as a valuable asset at the position. He had eight total catches in the final two games of the season after playing primarily on special teams earlier in the season.
12th Man Award – Noah Josey
After playing just once as a true freshman in 2021, offensive lineman Noah Josey emerged from the offensive line unit as a valuable reserve early in the season at offensive guard to a player who started the final four games of the season.
Defense Awards
MVP – Nick Jackson
A second-team All-ACC pick, inside linebacker Nick Jackson led the ACC and was ninth nationally with an average of 10.4 tackles per game. During the season he also had career highs in sacks with five and tackles for loss with seven. The 2022 campaign marked the third consecutive season Jackson managed at least 100 tackles.
Most Improved – James Jackson
Inside linebacker James Jackson went from making three tackles in 2021 to finishing third on the team in 2022 with 60 total tackles, including a season high of 11 against North Carolina.
Rookie of the Year – Mike Diatta
Defensive tackle Mike Diatta appeared in nine games and became a disruptive force in the trenches. He recorded his first sack in the win at Georgia Tech and finished the season with five tackles.
Impact – Terrell Jones, Stevie Bracey, Trey McDonald
A trio of freshmen shared the Defensive Impact Player award – linebackers Stevie Bracey and Trey McDonald and defensive lineman Terrell Jones. All three worked their way up the depth chart and managed to see playing time during their first collegiate seasons.
12th Man Award – Paul Akere
A graduate transfer from Columbia, defensive end Paul Akere was the winner of the Defensive 12th-Man Award. In 10 games he made a total of 22 tackles from his defensive end position and was third on the team in sacks including two in the win at Georgia Tech.
Special Teams Awards
Specialist of the Year – Daniel Sparks
Punter Daniel Sparks was a second-team All-ACC selection in 2022. In his first season on Grounds, he tied the UVA single-season punting average record while leading the ACC and finishing eighth nationally with a 45.9 yard average per punt. Against Pitt, he became the first UVA punter to ever record three punts of 60-plus yards in a single game.
Most Improved – Eli Gaines
The Most Improved Special Teams player for the 2022 season was sophomore Elijah Gaines. He was selected for his outstanding effort, hustle and grit on multiple special teams.
Rookie of the Year – Will Bettridge
Freshman place kicker Will Bettridge took over the kicking duties at the Syracuse game and made seven of 10 field goals during the year, including a perfect four-for-four effort against Miami.
Additional Awards
H.E.A.R.T. Award – Jahmeer Carter
Head coach Tony Elliott's foundation for the Virginia Football program is the acronym H.E.A.R.T. That stands for humility, effort, accountability, respect and toughness. Junior nose tackle Jahmeer Carter was the recipient of the H.E.A.R.T. Award. Carter started all 10 games this season and posted his best season with 29 tackles.
Cav Code – Jared Rayman
The ultimate game plan for Virginia football is to develop the student-athletes to win the game of life. To help accomplish that, head coach Tony Elliott established the Cav Code to develop and empower team members to become men of service to impact others throughout their lives. CODE is an acronym for Character, Opportunity, Duty and Engagement. This year's Cav CODE winner was quarterback/holder Jared Rayman.
A quarterback who was awarded a scholarship this season, Rayman is a leader in the team's community outreach efforts. One example of Jared's devotion to the Cav Code came last Spring at the program's inaugural Faculty Appreciation Day. He invited the director of the University's American Sign Language program to attend the event. Rayman is passionate about the program due to a personal auditory deficiency. He has been instrumental in promoting the program and encouraging several teammates to learn sign language.
Academic Awards
The Academic Awards recognize the UVA players who have achieved the highest grade point averages for their respective classes. This year's recipients:
First Years: Running back Logan Kotter (team-high 3.95 GPA)
Second Years: Long Snapper Luke Byrne ( 3.62 GPA)
Third Years: Punter Daniel Sparks (3.50 GPA)
Fourth Years: Quarterback/Holder Jared Rayman (3.37 GPA)
Fifth Years: Defensive End Paul Akere (3.87 GPA)
This fall Akere was named an All-District Academic All-American for the second time during his collegiate career
Strength and Conditioning
NCSA Strength and Conditioning All-American – Nick Jackson
Each year the National Strength Coaches Association selects an All-America team based on academic achievement, personal integrity, athletic accomplishments and dedication to strength training and conditioning. This year, UVA inside linebacker Nick Jackson received the honor. In addition to his football accomplishments, in the weight room Jackson managed a 605-pound squat, a 440-pound front squat, a 340-pound power clean and 21 reps on the 225-pound bench press rep test.
Strength and Conditioning Dedication Award – Jahmeer Carter & Perris Jones
UVA's Strength and Conditioning Dedication Award recognizes work ethic and leadership in strength training as examples to others. These individuals place the team above individual accomplishments and are committed to all areas of training and performance enhancements. The award is voted on by the team.
Power Hour Award – Caleb Stoltz
At Virginia, the Power Hour is a unit made up of developmental players who train four to five days a week, learning technique, developing strength, power and mass and striving to establish personal record throughout the fall. The Power Hour Award is voted on by this group to recognize the player who epitomizes work ethic, consistency and leadership in all areas of the program. This year's recipient is junior defensive lineman Caleb Stoltz, who joined the team as a walk-on last fall.