By Jeff White (jwhite@virginia.edu)
VirginiaSports.com
CHARLOTTESVILLE, Va. — She still mourns the loss of her mother, who was her best friend, and she always will. But in her second year at the University of Virginia, Camryn Taylor is healing, and she's thriving.
That wasn't the case in her first year at UVA, to which Taylor had transferred after two years at Marquette University. Her mother, Nichole Handy, passed away on Oct. 21, 2021, of Li-Fraumeni Syndrome, a rare genetic disorder, after fighting cancer for most of her 43 years.
After attending the memorial service in her hometown of Peoria, Ill., Taylor returned to Charlottesville and, three days later, played in the UVA women's basketball team's season-opener in Harrisonburg.
On the court, the 6-foot-2 post player was productive for the Cavaliers—she averaged a team-high 12.8 points per game in 2021-22—but she struggled to keep her mind on basketball. After her 12thappearance of the season, against NC State on Jan. 13, 2022, Taylor took a leave of absence from the team. She didn't touch a basketball for the rest of the semester.
"Last year was definitely just a tough, tough time," Taylor recalled this week at John Paul Jones Arena. "Losing your mom isn't easy. It's traumatizing, honestly, and it was really, really hard, the mental aspect."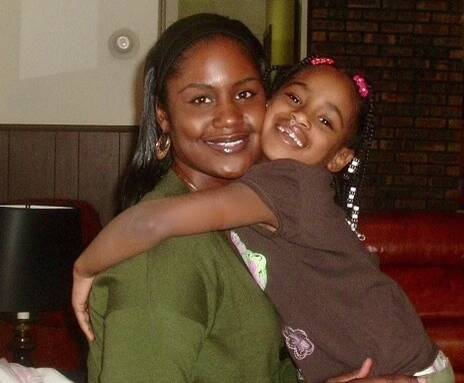 A coaching change followed a season in which the Wahoos finished 5-21 overall and 2-16 in ACC play. UVA dismissed Tina Thompson and hired Amaka Agugua-Hamilton, who goes by Coach Mox. Agugua-Hamilton, who lost her mother to breast cancer in 2008, bonded immediately with Taylor.
"When I had my first meeting with her, it went really well," Taylor recalled in the fall. "She wasn't rushing me at all to come back. She said, 'Look, take your time, and whenever you're ready, I'm ready. We're excited to help you, but first and foremost take care of yourself.' "
During the 2021-22 season, Taylor said, basketball became secondary for her. Had she  continued playing, Taylor said, she wouldn't have been "effective for the team, for anybody, for myself. But obviously when I came back, I was like, 'OK, the fire is back. I'm here, and I want to do this to honor my mom, to honor myself.' "
In the Hoos' first season under Agugua-Hamilton, they've become relevant again, and Taylor has been pivotal in their revival. She ranks first on the team in scoring (13.3 ppg) and second in rebounding (6.0 per game). With 19 blocked shots, she leads Virginia in that category, too, and she's tied for second with 23 steals.
"She just wants to win," Agugua-Hamilton said. "Cam wants to do whatever she can do to win. She's super competitive, and she's a fiery player. I think sometimes great players have a little bit of that in them."
Taylor said: "A year ago, I wouldn't probably see myself in this position now, but also just with how the team was doing, it was hard to grieve in the right way. And that's why, looking back now, I'm glad I took that step back to kind of regain my focus and work on my mental health.
"Compared to last year, of course I'm happier. I'm in a great place. Obviously, I still have grief. Grief never goes away. You just kind of learn how to cope with it and live with it every single day. I just think I have grown as a person. I've grown as [Handy's] daughter who she taught to be strong. So it's really helped me out, and I think with Coach Mox and the new coaching staff and support staff, it's been easier to kind of get that joy back, because they're so positive and they believe in us and they love to build relationships with everybody. It's just a great culture and environment."
Taylor made the Big East's All-Freshman team in 2019-20 and averaged 12.0 points and 6.9 rebounds per game as a Marquette sophomore. She wasn't happy at Marquette, though, and she transferred from the Big East school to UVA, as did point guard Taylor Valladay.
From her first workout with the new coaching staff, Taylor impressed, even if she was out of shape. She opened the 2022-23 season with a double-double (22 points, 13 rebounds) in a win over George Washington, and she's established herself as one of the ACC's top players.
"I think she's doing exactly what she needs to do," Agugua-Hamilton said. "She's being a force in the paint, and she's also stretching her game and scoring in versatile ways. She's got to continue to do that for us."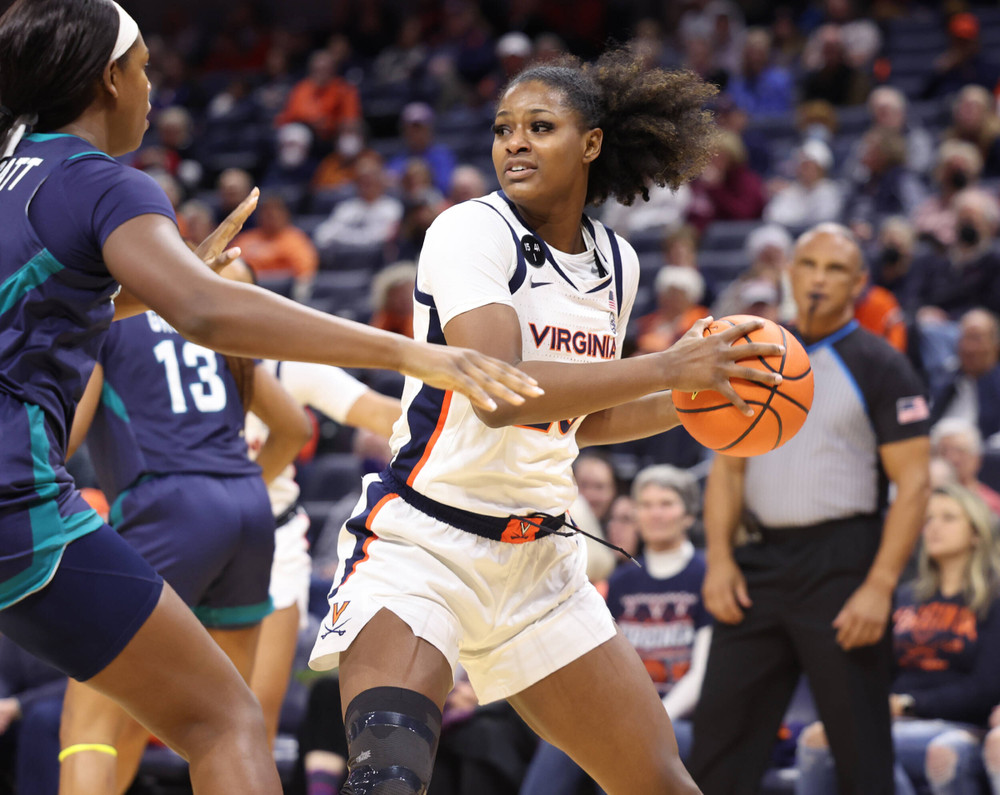 In a Smithfield Commonwealth Clash game at JPJ, UVA (14-7, 3-7) hosts No. 12 Virginia Tech (16-4, 6-4) at 6 p.m. Sunday. When the longtime rivals met Jan. 5 in Blacksburg, Taylor scored a team-high 18 points, but the Hokies prevailed 74-66.
Mir McLean played for Virginia in that game, but the explosive forward suffered a season-ending knee injury three nights later in a loss to NC State. The loss of McLean (12.2 ppg, 9.6 rpg) was a huge blow to the Cavaliers, who have won only once since the NC State game.
"We have to remember that we're playing for her, too," Taylor said. "She can't play right now, so we just have to be accountable. She was our leading rebounder, so we have to step up."
That responsibility doesn't fall solely on Taylor, Agugua-Hamilton said. "Even when Mir was here, we were talking about rebounding. With Mir down, it's by committee. Everybody has to step up in that area. Cam's had some games where she's had 10 rebounds; she's had some games where she's had four. So she just has to be more consistent."
As good as she's been this season, Taylor has ample room to grow as a player, Agugua-Hamilton said. "I want to see her rebound consistently at an elite level and also be more confident in her 3-ball, because she shoots them in practice, she works at them. Right now her 15-footer is really good, her driving is good and her low-post game is good."
UVA's post players, Taylor and 6-foot-2 London Clarkson, face a formidable challenge Sunday night. The Hokies' stars include 6-foot-6 Elizabeth Kitley, who was the ACC Player of the Year in 2021-22. Kitley missed the Jan. 5 game in Blacksburg with an injury, but she's healthy now and averaging 17.9 points and 11.2 rebounds per game.
"She has a great shot, great touch around the rim," Taylor said. "But we do too. We're just not as tall. We have ways we're able to use our athleticism and our speed to get around people, and it's something we've been doing all year and I'm proud of our post group for doing that."
The atmosphere for women's games at JPJ has improved markedly this season, and the change hasn't gone unnoticed by the Cavaliers.
"It's dope," said Taylor, who has another season of eligibility. "Last year it wasn't there, but now I think people are seeing the change [in the program] and seeing the joy that we have. Obviously, we've had a couple of disappointing losses and things that didn't go our way, but I think the fans are really just believing in us. They know that we've been through a lot of adversity as a team."
Taylor and several of her teammates were close friends with the UVA football players who were shot and killed Nov. 13 on Grounds—Devin Chandler, Lavel Davis Jr. and D'Sean Perry.
"We've dealt with a lot, and I think it's so great to see all these fans show up," Taylor said, smiling. "We kind of have a little student section. I've never seen that before. So I'm really excited. It's just great for the community to get back into women's basketball at Virginia."
To receive Jeff White's articles by email, click the appropriate box in this link to subscribe.