By Jeff White (jwhite@virginia.edu)
VirginiaSports.com
CHARLOTTESVILLE, Va. — Her role with the Kay Yow Cancer Fund has kept Audra Smith in perpetual motion this month, attending Play4Kay basketball games around the country. She'll be back on Grounds this weekend for the University of Virginia women's Play4Kay matchup with ACC rival Duke at John Paul Jones Arena, but this won't be an extended visit.
Don't be surprised, though, if Smith and her husband, former UVA men's basketball player Anthony Oliver, make Charlottesville their home again one day.
"We're there, I would say, two or three times out of the year," Smith said on a Zoom call from their home in Birmingham, Ala. "We were just there for Christmas, and Anthony tells me our retirement home will be in Charlottesville. He goes, 'I think we should just go back where it all started,' and I said, 'OK.' "
Retirement is not imminent for either Smith or Oliver, who's worked for a Birmingham-based company for nearly two decades. Smith, 53, loves her job with the Kay Yow Cancer Fund, a national non-profit that raises money for research on all cancers affecting women. Smith started as vice president of Play4Kay last summer.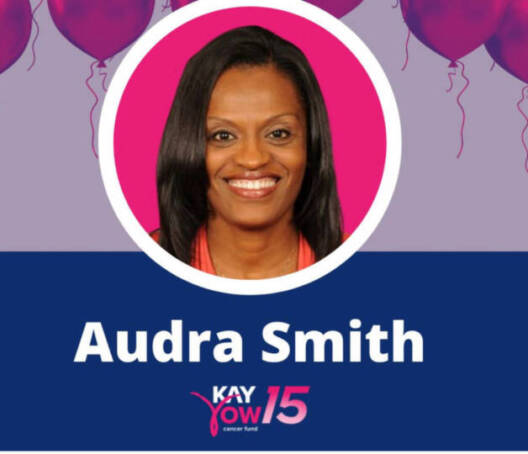 For most of her adult life, she's been a basketball coach, first as an assistant at UVA under Debbie Ryan and later as head coach at Alabama-Birmingham, Clemson and South Carolina State, but Smith is happy to be pursuing a new challenge.
"Basketball has been great," she said. "It's given me great opportunities educationally, I've been able to travel, I've been able to expose my kids to a lot of different things. It's been great, but I'm ready for this new chapter in my life and I'm really passionate and excited about what the Kay Yow Cancer Fund is about and what we're doing, and I'm still involved with women's basketball. Still around the coaches, still around the players, so. that's great."
Ryan, a cancer survivor, is not surprised that Smith is thriving in her new position.
"She loves people, and she loves what she's doing," Ryan said. "I know she'd be highly successful as a fundraiser, just because she's so relational, and that's a big part of it. But what I really like about it is that she brings a positivity to what the ultimate mission is for the Kay Yow Fund, which is fundraising to help [researchers and doctors] discover new things and ultimately cure different cancers. She has this positivity about her. There's not much positive about cancer, but she's able to bring a positivity that you just wouldn't believe."
Smith, who grew up in Milledgeville, Ga., enrolled at UVA as part of what's considered the greatest recruiting class in program history. Her fellow first-years in 1988-89 were Dawn Staley, Tammi Reiss, Allison Moore and Melanie Wagener, and their class would help the Wahoos advance to the Final Four three times.
"Unbelievable," Smith said, "and the wonderful thing about that class is that the five of us are still friends, still sisters to this day."
When she arrived on Grounds, Smith didn't fully grasp how talented the group was. "Recruiting and the knowledge of other players was just so different back then, because there wasn't social media.," she said. "There wasn't any coverage nationally of the top high school players in the country. I remember my high school coach showed me a USA Today article and she said, 'This is Dawn Staley, this is the point guard that you're going to be playing with next year,' and I'm going, 'Oh, OK, that's cool.' And as I read the article, I was like, 'Wow, she seems like she's a pretty good player.' "
Staley, of course, became a towering figure in the sport, first as a player and now as a coach. To Smith, though, she's "the same Dawn that I met when we moved into Tuttle dorm in the fall of 1988. The same one."
Smith laughed when recounting some of her memories of being at UVA with Staley, a point guard from Philadelphia.
"We would go to the mall, Fashion Square Mall, quite a bit," Smith said, "and so there'd be tons of kids there—high school kids, little kids—and they would come up and be like, 'Oh, Dawn, can I get your autograph?' And there I am holding her jacket. And as they would walk away, as a joke I'd say, 'Do they even know I'm on the team? What am I, chopped liver?' But I was just so happy for her. These kids adored her. They're looking at her like, 'I want to be like her when I grew up. I want to be the next Dawn Staley.' "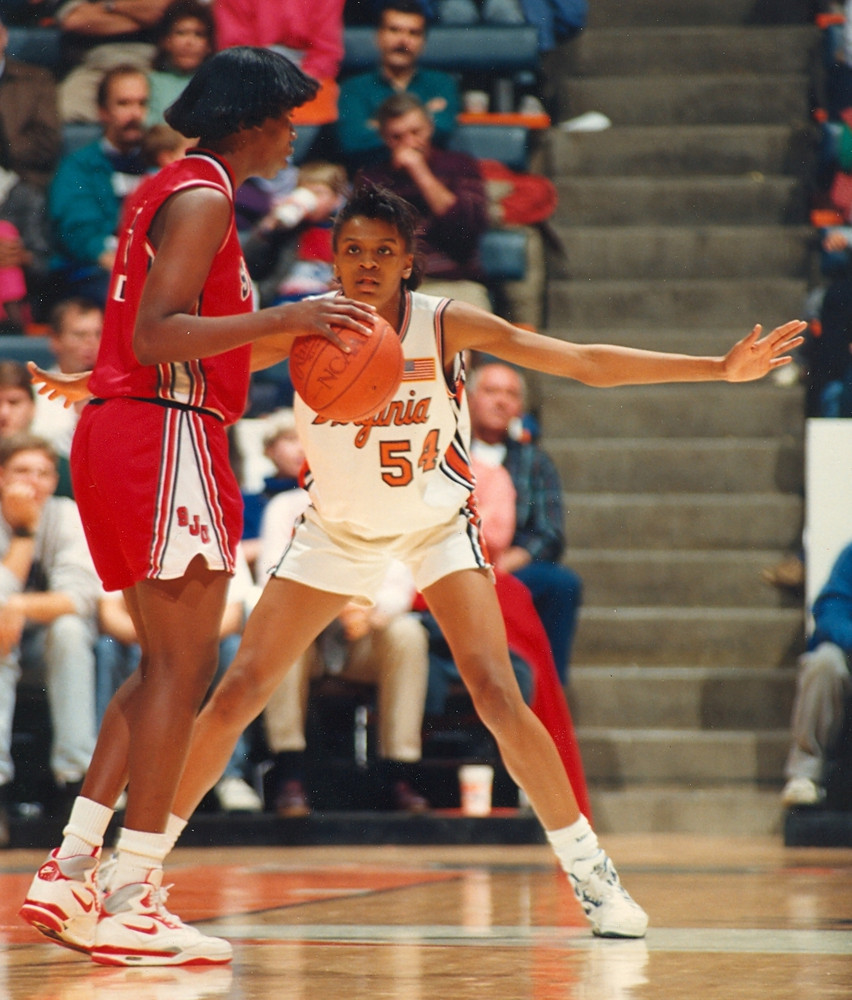 Smith, a power forward who'd been named Georgia's top player as a senior at Baldwin High School, was instrumental in the Cavaliers' success, too.
"Audra just had a vivacious personality, and it was just effervescent," Ryan said. "She has this big smile and welcomes people in, and she's just one of those people that everybody is attracted to. But as a player, she was literally one of the toughest people on the court at any given time, and she had razor-sharp elbows."
Ryan laughed. "Everybody would complain in practice, 'Audra hit me with her elbow!' But she was just one of those really aggressive post players that you didn't really see that often. You had to kind of coax it out of most people, but you didn't have to coax it out of Audra. When she went for a rebound, she went for a rebound. And she and Dawn would argue all the time, because Dawn would want the rebound, too., and Audra would just yank it away. She was a very, very tough post player who, as she developed in the program, got better and better and better."
Smith's first season at UVA ended with a one-sided loss to top-ranked Tennessee in the NCAA tournament. In 1989-90, the Hoos avenged that defeat, knocking off the Lady Volunteers in Norfolk to advance to the Final Four for the first time in program history.
"That was huge," Smith recalled, "and we were super excited. Once we got a taste of that, it was like, 'Well, this is what we're gonna do. This is our DNA. We're getting to the Final Four, we're getting to the national championship [game], we're going to win a national championship,' and we just got so close every year, in '90, '91, '92. For whatever reason, we just could not get over the hump and get that gold ring.'
In 1990, Virginia lost to Stanford in the NCAA semifinals in Knoxville, Tenn. In '91, in New Orleans, the Cavaliers advanced to the NCAA championship game and led Tennessee in overtime. The Lady Vols rallied, though, and won a 70-67 thriller.
"That was just devastating," Smith said, "But I remember talking and going, 'Hey, we got another shot, y'all. We can do this next year. We can do it.' "
Virginia made it back to the Final Four in 1992, only to suffer another excruciating loss. Stanford edged UVA 66-65 in the NCAA semifinals in Los Angeles.
As disappointed as she was not to win an NCAA title during her college career, Smith said, "I have two ACC [tournament] championship rings and three silver Final Four rings. That's nothing to shake a stick at or drop your head about. Those are huge accomplishments in four years of collegiate basketball. Those are teams that will forever be etched in history, because there hasn't been a Virginia team to get back to the Final Four since then."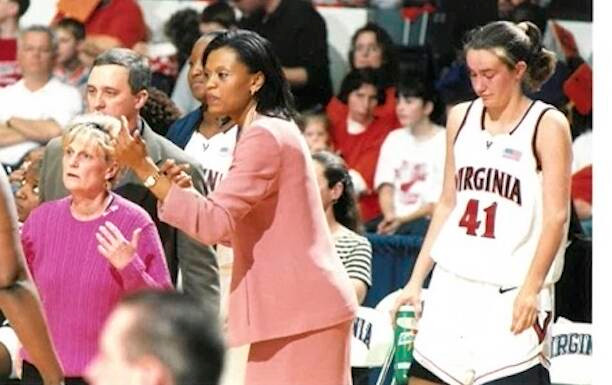 In the spring of their first year at UVA, Smith and Oliver started dating. They were apart that summer—"I was at home in Georgia working," Smith said, "and he was working in D.C."—but their relationship grew serious when they returned to Grounds for the 1989-90 academic year.
"We became exclusive in fall of '89," Smith said, "and we've been together ever since. A lot of people like to tease us and call it our Love and Basketball story."
Smith and Oliver have two children: a son, A.J., who plays basketball at Detroit Mercy, and a daughter, Adria, a former college volleyball player who's finishing her master's degree at Oklahoma.
African-Americans made up about half of Milledgeville's population when she was a girl, Smith said, and she had plenty of white classmates at Baldwin High. "So in coming to UVA, it wasn't a culture shock in terms of race, where I'd been living in an all-black town and not having interactions with a diverse population of people. It wasn't something where I had to kind of get used to. It was easy for me.
"I had a really good experience at UVA. I know there's been some [racial unrest] since, but I can't remember any time where I ever felt isolated or just unwanted there or not welcome. I never experienced any type of blatant, obvious racism with fans or people in the community or anyone on Grounds, for that matter."
After earning her bachelor's degree in sociology, Smith returned to her hometown and worked for two years as a social worker in child protective services. She and Oliver were engaged by then, and he was living in Richmond. An opportunity for them to be closer arose in 1994 when a position—then called the restricted-earnings coach—opened on Ryan's staff at UVA.
"I called her and I said, 'What do you think about coaching?' " Ryan said. "She was open to it, and I thought she'd be just an incredible recruiter, and she was. She was just a dynamic personality who was just so great with people, and I just loved the way that she approached everything."
Smith said her plan "was to go back for two or three years, save some money, and then go to grad school and get my [master's degree in social work]. So I go back in '94 and start working as restricted earnings, and '94 turns to '96, '96 turns to '97. Anthony and I get married, and '97 turns to '99, I'm still coaching and we have A.J. And then '99 turns to 2000, and we have Adria, and I'm still coaching, and I'm there until 2004. Once I got back, it was like I said to myself, 'Why did I ever leave?' "
Adria was born on Aug. 3, 2000. A few days later, Ryan was diagnosed with pancreatic cancer. Knowing she would need to focus on her treatment, Ryan called Smith. "I said to her, 'Audra, I really need you to think about coming back early if you could, because I can't be there, and I need you to run the program.' And she said, 'No problem, I can handle this.' And she stepped right into the role and welcomed all the kids back until I got back."
Smith spent 10 years on Ryan's staff, and "I believe that I would have been a lifer at UVA, but I got the itch to want to spread my wings and go out and become a head coach."
She coached for nine seasons at UAB, followed by five at Clemson and four at South Carolina State. Throughout her coaching journey, Smith stayed in close contact with Ryan.
"To have her as a friend is one of the greatest gifts you could ever receive," Ryan said.
As a head coach, Smith won 214 games. Her victories now come when "we can go to talk to these companies and go to these schools and when people are raising money and donating money to the fund," she said.
A high school in Raleigh, N.C., GRACE Christian, recently presented the Yow Fund with a check for $10,000, Smith said, and it plans to contribute more.
"That's hitting the game-winning shot when you get a nice donation like that and you know where that's money going," Smith said. "It's just been an incredible experience so far."
To receive Jeff White's articles by email, click the appropriate box in this link to subscribe.