By Jeff White (jwhite@virginia.edu)
VirginiaSports.com
CHARLOTTESVILLE, Va. — On the day he had surgery to repair the torn anterior cruciate ligament in his left knee, Grayson Sallade asked Rebecca Vozzo how long he was likely to be sidelined. It was June 3, 2022.
"And I said, 'February 3rd is eight months. That is my goal for you, and that's what we're going to do,' " recalled Vozzo, the athletic trainer for the University of Virginia men's lacrosse team.
Head coach Lars Tiffany hoped Sallade, a starting defensive midfielder, would be cleared in time to play in Virginia's fourth game this season.
"I was like, 'Nah, I'm going to play in the first game,' " Sallade recalled Wednesday with a smile.
Vozzo and Tiffany are happy their projections were wrong. Sallade was cleared in early December, six months after Dr. Stephen Brockmeier operated on his knee.
"For all the ACLs I've seen," Vozzo said, "Grayson's strength numbers at six months were amazing."
The Wahoos had concluded fall workouts by then, but when they resumed practice in late January, Sallade was a full participant. He's played in every game this season for top-ranked UVA (3-0), which hosts Richmond (3-1) at Klöckner Stadium at 6 p.m. Saturday.
Of his teammates, only faceoff specialist Petey LaSalla (20) has scooped up more ground balls than Sallade (eight), who was named ACC Defensive Player of the Week for his performance in UVA's season-opening win over Michigan.
"I would have thought best-case scenario, the Richmond game is his first game," Tiffany said. "But here he was, seven-and-a-half months [after surgery], running around at practice and making us coaches and everyone else quickly forget that he tore his ACL. It's a distant memory nine months later. That's what's shocking about it."
Vozzo said: "With ACLs, you typically think a year. You're back playing earlier, but you don't usually see athletes trusting their bodies, trusting themselves on the field and feeling really settled and comfortable until about a year."
And then there's Sallade. "I was able to kind of slowly ease into things," he said, "but I was definitely feeling pretty good by mid-January."
As a freshman in 2019, when Virginia captured the program's sixth NCAA title, Sallade missed much of the regular season after breaking a bone in his left foot. The injury required surgery, but he rehabbed diligently and played in the Cavaliers' final two games: wins over Duke and Yale in Philadelphia.
The COVID-19 pandemic shut down college sports in March 2020, long before postseason tournaments were scheduled to begin, but UVA won another NCAA title in 2021. A year later, the Hoos knocked off Brown in the NCAA tournament's first round to advance to a quarterfinal matchup with top-seeded Maryland in Columbus, Ohio. The eventual NCAA champion Terrapins dominated that game, and a bad day got worse for Virginia when Sallade tore his ACL in the third quarter.
"I kind of knew it right away," he said.
Sallade, who graduated last spring with a bachelor's degree in American studies, wasn't sure initially if he'd return to UVA for a fifth year. But when he learned about a master's program in civil engineering at the University, his interest was piqued. His concentration is construction engineering and management.
"I'm incredibly grateful that I decided to come back and be a part of this again," Sallade said. "It sounds like a cliché, but I did need to find a program that I was interested in and willing to put some time into and energy into, while obviously knowing that lacrosse would come beyond that."
He had an internship last summer in Northern Virginia with the Bozzuto Group, a real estate company. Sallade was on its construction team, he said, "and kind of shadowed the project manager and saw his day-to-day activities. I thought it was really interesting. We were building a 350-apartment complex, and it was right next to another 200-something apartment complex, so there was a lot going on in this little space in Alexandria, Virginia."
He recently started another internship, this one with the University of Virginia Foundation, which provides real estate and financial services for UVA. He's leaning toward a career in real estate development and he's enjoyed learning about the University's Ivy Corridor project, among other initiatives.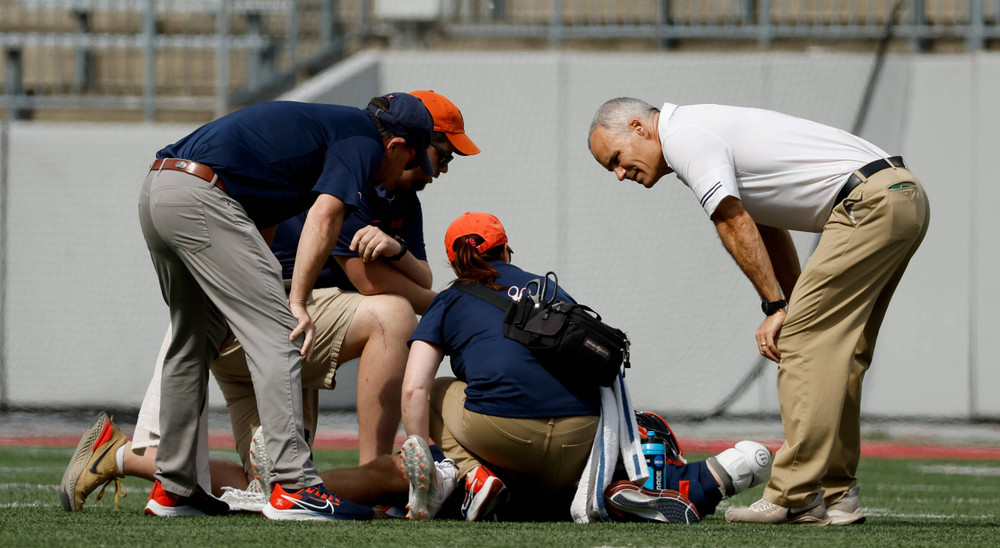 Sallade's internship in Northern Virginia started not long after his knee surgery. "On the one hand it was difficult for me," Vozzo said, "knowing he was going to be away and I couldn't work with him for that early time, but I also never once doubted that he was going to work hard and get things done."
At the Healthy Baller training facility in Alexandria, Sallade rehabbed his knee three times a week with physical therapist Harry Fischer. In addition, he rehabbed on his own, with guidance from Vozzo and Fischer, who conferred periodically.
Sallade's attitude accelerated his recovery, Vozzo believes. "He has always stayed positive and has such a positive spirit to him, and that's part of what makes him such a great leader for the team, too."
Lancaster, Pa., is not generally considered a hotbed for lacrosse, but that's where Sallade grew up. He picked up the sport from an older brother, Matt, who went on to play at Ohio State. Sallade showed immense potential at an early age and committed to UVA, whose head coach then was Dom Starsia, in December of his freshman year at Manheim Township High School.
Looking back, Sallade said, it's "crazy how early it was," but he never regretted his college decision, even after UVA made a coaching change after the 2016 season. Sallade said he'd committed first and foremost to the University, and so his college plans didn't change.
At Manheim Township High, he starred in two sports. In lacrosse, Sallade led the Blue Streaks to their first state title. In football, he set eight school records, including career rushing yards (2,651), career touchdowns (43), career points (258) and rushing yards in a game (304).
"I enjoyed playing football a lot," Sallad said. "I thought those games in high school were sometimes more fun than lacrosse games. Just being on the field on Friday nights, with the entire town there, was definitely something that I'll always remember."
In lacrosse, he totaled 41 goals and 33 assists as a senior. At UVA, the 5-foot-11, 190-pound Sallade took on a new role as a short-stick defensive midfielder.
It's a blue-collar position that doesn't appeal to every player, but "Grayson Sallade embraced it right away, and a lot of that is due to the character of the man," Tiffany said.
"There's some great D-middies out there who never second-guessed what their most vital role would be and how they could really help a team win. With Grayson, there really was no resistance. We entice D-middies at UVA a bit more than maybe some other programs with our up-and-down, up-tempo style of play and leaving them on to play some offense, and not just setting picks and running out, but going behind the goal sometimes. But at the heart of it, you do have to be committed to being dodged relentlessly, to picking up tough ground balls as faceoff wings, to being the punt-returner during the clear, and to understanding the slide schemes.
"You have able to slide and rotate as effectively as everyone else, yet you've been running up and down the field. You have to get that buy-in from someone who [in high school] was offensive-minded, most likely, to be defensive-minded and to take on all these difficult goals we ask of them."
In his transition to defensive middie, Sallade said, "there was definitely a learning curve at first. I played some defense in high school, but not primarily, so I didn't really know what's going on out there, and being a first-year and kind of thrown into a new position was definitely intimidating."
Older players like Dave Smith, Ryan Conrad and Matt Dziama tutored Sallade on the finer points of a position that, if not glamorous, is critically important. After Virginia's final game last season, Tiffany noted the dominance of Maryland's short-stick defensive middies and their impact on the game.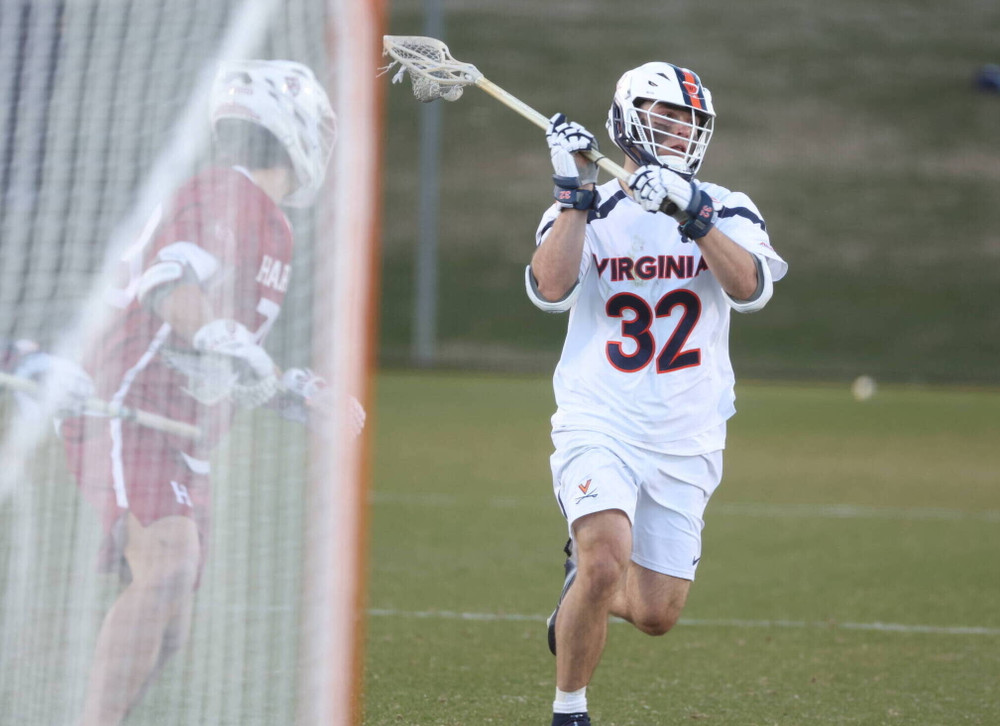 Sallade has scored five goals as a Cavalier: one in 2019 and four in 2021. He has six career assists, including two this season.
"It's definitely fun reliving the high school days and trying to score some goals out there," Sallade said, "but I think our offense is so powerful, especially this year, that sometimes you've got to learn to just give it up and only push in opportunities that really present themselves, rather than forcing things. You just give the ball to the other guys and let them do their thing."
At the end of each season, the UVA players who will return the next year vote on team captains. "The only thing I decide is how many to cut it off at," Tiffany said. "If two guys are way [out in front], I'll say, 'All right, there are two this year.' "
The Hoos have four captains this season: Sallade, defensemen Cole Kastner and Cade Saustad, and attackman Connor Shellenberger. But Sallade stands alone, according to Tiffany.
"He is the captain. We have four captains, but I don't mind being quoted, because I've talked to them," Tiffany said. "With four captains, it's a little bit more than I'm normally comfortable with. Two or three is more of a typical number, but the voting demanded four."
Tiffany recalls a meeting he had with Sallade, Shellenberger, Kastner and Saustad in the fall. "I said, 'If you get too many captains, it's a little ambiguous with who's in charge of what,' so I essentially sort of reinforced what I believed the duties should be. I looked at Grayson and said, 'Grayson, you are thecaptain. You are the voice that will hold the greatest weight. Connor, you focus on the offensive players. Kastner, you focus on being up and down the field, super positive with everybody. Cade, you focus on the defense.
"Grayson will be the man who speaks truth to me, truth to power, and he'll be the firmest with his teammates, and he's accepted it and he's done it."
In high school, Sallade was a two-time captain in both football and lacrosse, and "I think I had that aspiration since I stepped foot on Grounds to become a captain," he said. "So I was definitely very thankful to receive those votes from my teammates, which I think is important. It's not a top-down vote from the coaches. It's from your peers. Being able to have that trust from my teammates is really big, and it's something that I'm proud of and continue to work on every day."
To receive Jeff White's articles by email, click the appropriate box in this link to subscribe.