GREENSBORO, N.C. – Virginia sophomore Amanda Sambach wrapped up a record-setting performance to become the third Cavalier golfer to win the ACC Championship title on Friday in Greensboro, N.C. She took medalist honors at Sedgefield Country Club by shooting 14-under 202, the best score in the 35-year history of the championship. It was also the best 54-hole tournament score in UVA history.
Sambach posted a final-round score of 4-under 68 on Friday to finish two shots ahead of Duke's Phoebe Brinker. Sambach had rounds of 68 and 66 during Thursday's day of play. It was her second win of the season after opening the year with a victory at the ANNIKA Intercollegiate.
During the final round, Sambach played her front nine at 2-under, picking up birdies on the third and ninth holes. She posted an eagle on the par-5 10th hole to start her back nine. From there, she made six pars and had bogey on No. 14 and birdie on No. 15 to complete her round. During her 54 holes of play, she carded just two scores above par.
Sambach joins former All-Americans Brittany Altomare and Lauren Coughlin as ACC Champions. Both current members of the LPGA Tour,  Altomare won her title in 2013 and Coughlin took medalist honors in 2016.
Sambach's total topped the UVA scoring mark of 11-under 205 that Coughlin shot during the 2015-16 season. Sambach's previous best tournament outing was 9-under 207 at the ANNIKA Intercollegiate earlier this year.
The previous best individual performance at the ACC Championships was recorded by Duke freshman Brittany Lang at the 2004 tournament. Lang shot 9-under 204 while playing at the par-71 Salem Glen Country Club in Clemmons, N.C.
Virginia finished the championship fourth in the team stroke play at 1-over 865, including a final-round score of 2-over 290. UVA advances to Saturday's semifinal match play round where the No. 22 Cavaliers will face No. 2 Wake Forest. The Demons Deacons won stroke play at 19-under 845. No. 31 Duke (-11, 853) and No. 24 Clemson (-7, 857) will face off in the other match play semifinals.
Celeste Valinho was UVA's second-best finisher, placing 12th at 2-over 218. She had a final-round score of 75. Jennifer Cleary shot 72 on Friday and moved up to 32nd at 7-over 223. She finished one stroke ahead of Megan Propeck who was 34th at 224. Rebecca Skoler placed 39th at 227. Propeck had a final-round score of 75 while Skoler shot 76.
The Cavaliers' finish in stroke play also awarded a point to Virginia in the Smithfield Commonwealth Clash series between Virginia and Virginia Tech. The Hokies finished sixth at the ACC Championships with a score of 25-over 889. The win puts UVA ahead in the Clash standings 9-8.
The match play semifinal rounds get underway at 9 a.m. on Saturday. Live scoring is online at Golfstat.com.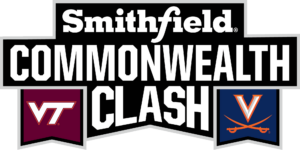 ACC Championships
Sedgefield Country Club
Greensboro, N.C.
Par 72, 6,092 yards
Final Results – Stroke Play
Team Results
 1. Wake Forest      285-276-284-845
 2. Duke             283-283-287-853
 3. Clemson          285-283-289-857
 4. Virginia         288-287-290-865
 5. Florida State    293-293-292-878
 6. Virginia Tech    290-295-300-889
 7. NC State         298-296-299-893
 7. Louisville       293-301-295-893
 9. North Carolina   301-295-293-894
 9. Notre Dame       308-291-295-894
11. Boston College   293-298-308-899
12. Miami            305-308-311-924 
Individual Leaders
1. Amanda Sambach, Virginia    68—66-68-202
2. Phoebe Brinker, Duke        71-69-64-204
3. Rachel Kuehn, Wake Forest   66-70-72-208
4. Annabelle Pancake, Clemson  70-70-69-209 
Virginia Results
 1. Amanda Sambach   68-66-68-202
12. Celeste Valinho  71-72-75-218
32. Jennifer Cleary  74-77-72-223
34. Megan Propeck    76-73-75-224
39. Rebecca Skoler   75-76-76-227