CHARLOTTESVILLE, Va. – Longtime supporter of the Virginia Baseball program, Leslie B. Disharoon, passed away on Tuesday (April 18) at the age of 90. Disharoon Park is named in honor of Leslie and his late wife, Ann Merriweather Disharoon.
Disharoon retired to the Charlottesville area in the late 1990s with his wife, Ann following a successful business career. Upon arriving in the area, Mr. Disharoon became an active supporter of Virginia Athletics, but baseball interested him the most. He became a leading voice and advocate for the baseball program, helping to advance many initiatives that can still be seen in the stadium today. His support was unwavering, and you could find him in his suite for nearly every home Cavalier Baseball game.
Head Coach Brian O'Connor statement:
"The entire Virginia baseball family is deeply saddened by the passing of my dear friend, Les Disharoon. I will miss my weekly conversations with him and I'll always be grateful to the mentorship and loyalty he showed me from the beginning of my time at UVA. I cannot overstate his importance in helping to build and grow our baseball program. The number of people, not only those affiliated with our program, who benefited from his generosity is immeasurable. He truly is the godfather of Virginia baseball. I will miss his friendship, his leadership and presence at the ballpark. I'm comforted in the fact that he is reunited with Ann and their legacy in this program's history will stand the test of time."
Prior to his arrival in Charlottesville, Disharoon served on the board of directors for the Baltimore Orioles for 20 years and was integral in securing approval for the creation of Oriole Park at Camden Yards. He is also one of the founders Caves Valley Golf Club, designed by Tom Fazio and one of the most prestigious golf courses in the United States and home to a number of professional tournaments including 2021 BMW championship and the 2005 NCAA Men's Golf Championships and 2009 NCAA Women's Golf Championships.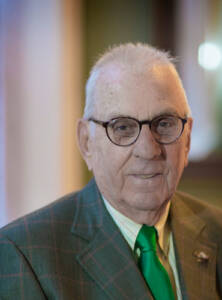 Disharoon earned his bachelor's degree from Brown University and an MBA from Columbia. He retired in 1988 as Chairman, President and CEO of Monumental Corporation, a life insurance company, where was employed from 1977 to 1988. He moved up the ranks in Connecticut Mutual Life Insurance Company from 1960 to 1977 where eventually served as a senior vice president. His affinity for academics and education led him to serve on several boards at institutions such as Johns Hopkins, Goucher College, Garrison Forest School, Randolph-Macon Woman's College and Virginia where he was a member of the Virginia Athletics Foundation Board of Trustees.